Say goodbye to Santa and hello to 2009 at Universal Orlando
Christmas has come and gone. I decided to go out and see the Macy's Holiday Parade before it ends on January 1st. I got to say hello to Uncle Sam,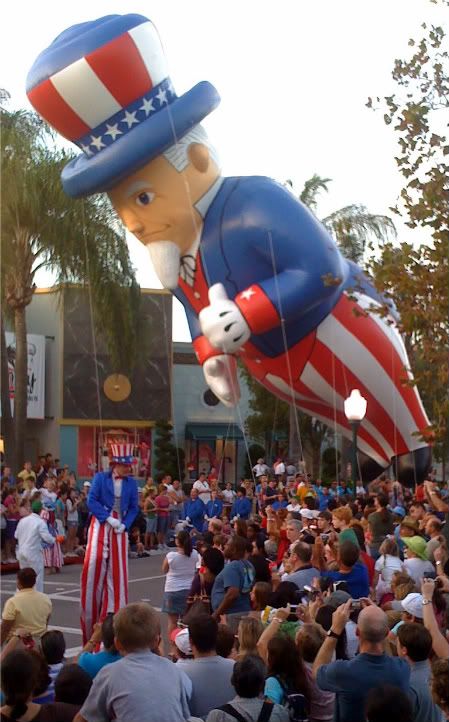 and waved goodbye to Santa as the Macy's Holiday Parade walked off into the sunset.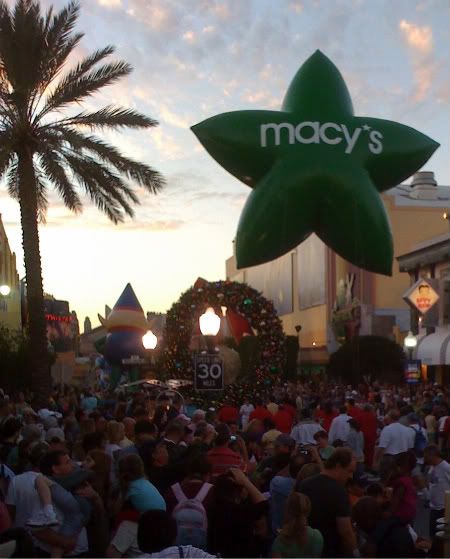 With the promising new year only hours away, Universal Orlando is hard at work getting ready for the upcoming Mardi Gras season as well as working on finishing its Hollywood Rip, Ride, Rockit coaster. In the past few weeks a lot of changes have happened in very familiar areas of Universal Studios Florida.
The first surprise is lurking behind the Christmas Tree in New York. It's a piece of the Rockit track piercing through the building and rising past the roof behind the it.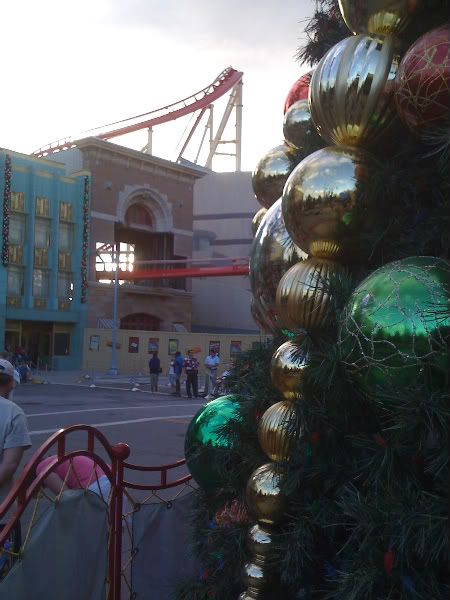 So when is Universal Orlando going to add the Hollywood Rip Ride Rockit to its Studio Directory?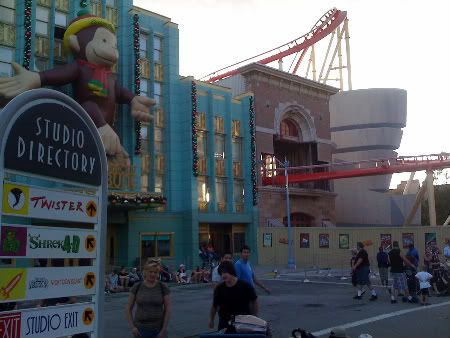 It is always an interesting sight to see a coaster go through piece of scenery.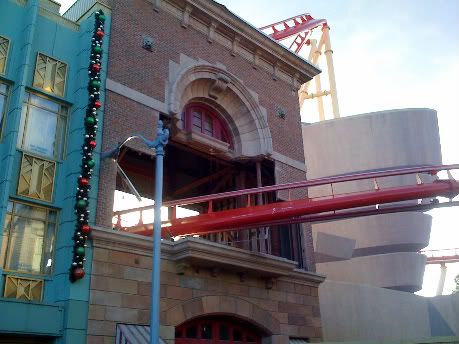 The Sharp Aquos Theare and Jimmy Neutron Stage have become a new neighbor, the Hollywood Rip Ride Rockit loading dock which is really starting to take shape.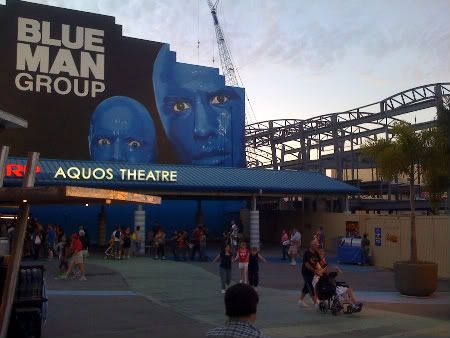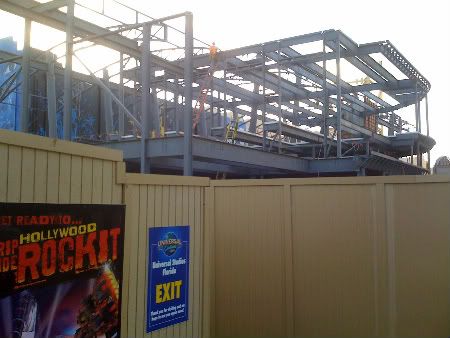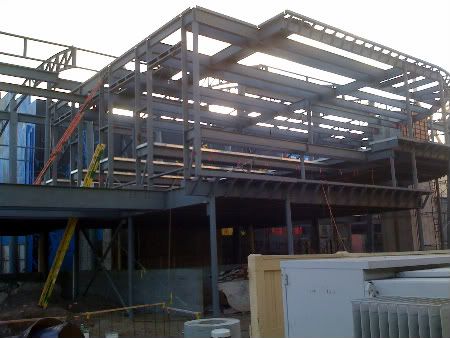 Yet the Rockit Coaster track and loading dock are not the only part of the construction happening. The installation of the Rockit Coaster includes a permanent stage in place of what has during Mardi Gras been called the "Yard Stage" between Jimmy Neutron and Twister.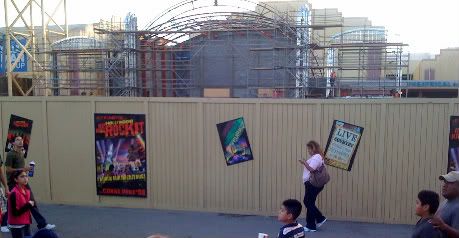 The stage is really taking shape in the traditional stage look which Universal has used for years with room for two big screens on each side of the stage.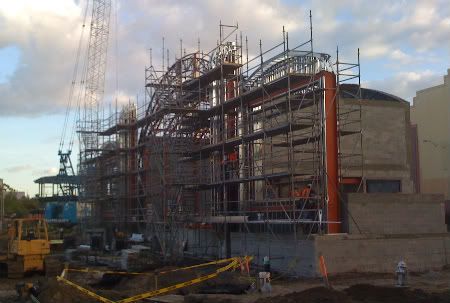 The permanent installation of the stage has me wonder if Universal will add LED Video walls instead of using rear projection screens on the outside stage.
Mardi Gras is just over a month away and set to start off its Saturday night celebrations February 7, 2009 and last until April 18, 2009. The Mardi Gras 2009 celebration is also to include Sunday, February 15, 2009 as well as Friday, March 27, 2009. I can explain Feb. 15 being added in addition to it being Valentines Day Weekend. For Friday, March 27, the only thing I could think of is it being possibly the opening weekend of the Rockit coaster, but that is just speculation on my part. The only confirmed concert date so far is KC and The Sunshine Band taking the stage to kick of Mardi Gras on February 7, 2009. (They are listed to be at Universal Studios in Orlando, FL on the bands' website) A Universal Orlando employee that I asked if he knew of any of the concert line up told me that his supervisor had only heard of one confirmed artist, Nelly. Another rumor coming from Pollstar is that Trace Atkins is to perform on April 11, 2009.
The full line up should be released by Universal Orlando very soon, more than likely as soon as the Holiday Celebrations are over.
Among all the renovations of the stairs and building next to Nascar happening and finishing (I forgot to check it out and take pictures), I did notice that the Hard Rock Building had gotten a Christmas present, a new color led video display replacing the old single color display which displayed the events happening at the Hard Rock.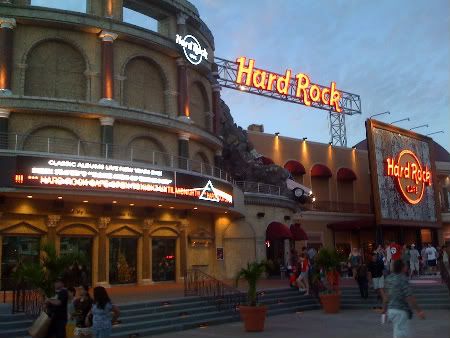 Readers' Opinions
This article has been archived and is no longer accepting comments.
More Theme Park News
Previous article: An Insider's look at the annual Rose Parade
Stories from a Theme Park Insider
What's it like to work in a theme park?
Stories from a Theme Park Insider
takes you inside the famous tunnels and backstage at Walt Disney World's Magic Kingdom for a look at how theme parks really work, sharing the funny moments and embarrassments that can happen when your job is someone else's vacation.
Order now:
Kindle
|
iBooks
|
Paperback
|
Kindle (UK)