New NASCAR-themed roller coaster, Intimidator, debuts at Carowinds
CHARLOTTE - Given the popularity of NASCAR in the United States, it seems surprising that until this year, the only NASCAR themed coaster was Speed in Las Vegas. This year, that changes, with the opening of Intimidator at Carowinds on the North Carolina/South Carolina border, and Intimidator 305 at Kings Dominion in Doswell, Virginia.
Intimidator at Carowinds is the first to debut this season (Intimidator 305 will officially open next week). Carowinds' new coaster, designed by Bolliger and Mabillard, is touted as the tallest, fastest, and longest roller coaster in the southeast. The ride features a 232-foot hill, 211-foot first drop at 74 degrees, 7 additional drops, a "panoramic u-turn," "diving spiral," and top speeds approaching 80 miles per hour. The coaster features B&M's 2nd generation hypercoaster trains with "stadium-style" staggered seating arrangement accommodating 32 riders per cycle. At optimal performance, Intimidator can handle up to 1,600 riders per hour.
As one would expect from a B&M creation, the coaster is incredibly smooth with long stretches of airtime at the top of each of the 8 massive hills.
If a coaster fan were to design a layout for the perfect B&M hypercoaster, it would probably look something like this creation. It features some of their best elements, like Nitro's turns (Six Flags Great Adventure), Goliath's quick start (Six Flags Over Georgia), and the extreme airtime of Apollo's Chariot (Busch Gardens Williamsburg). Add in the well-executed theming around one of the most popular and legendary NASCAR drivers, Dale Earnhardt Sr.,and Carowinds has themselves a sure-fire hit on their hands. With no inversions, this coaster will be more accessible than many of the other coasters at the park, and the Intimidator theme is sure to bring in NASCAR fans wanting to experience the legend that is Dale Earnhardt. Members of Dale Earnhardt Incorporated (DEI) were on hand to open the new coaster, including his oldest son, Kerry Earnhardt.
The entrance to the attraction features a number of plaques and signs commemorating the career of the late driver, including a replica of his famous #3 Chevy that is prominently displayed in front of a board that highlights every one of the driver's 76 career NASCAR race victories.
The theming is continued in the queue, which, not surprisingly, is similar in style to one of Cedar Fair's other vehicle-themed roller coasters, Top Thrill Dragster at Cedar Point.
The coaster trains themselves are designed to resemble the black #3 car with the front looking like the front end of a real race car.
As riders exit the station up the lift hill, the announcer proclaims the most famous words in motorsports, "Start your engines." Unfortunately, there are no theming elements along the course of the coaster's 5,316-foot long track. Given, there aren't too many coasters that do feature a lot of theming along their course, but some billboards, replica cars, and the like at the bottom of the hills could have created a more complete experience. Nonetheless, regular guests and uber-NASCAR fans alike should find the experience both immersive and exciting.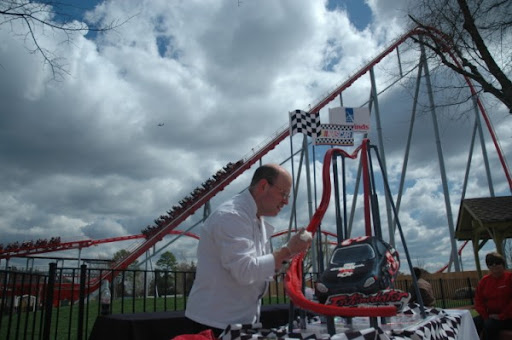 Readers' Opinions
This article has been archived and is no longer accepting comments.
More Theme Park News
Previous article: 2010 Best Theme Park Attraction: Mickey's PhilharMagic vs. Reflections of China
Theme Park Insider: Orlando 2014
Get all of Theme Park Insider's reader ratings, tips, and advice for planning a trip to Walt Disney World, Universal Orlando, or SeaWorld, in our new 2014 Orlando guidebook! It's more than 200 pages of well-tested, insider information that will help you get the most from your vacation.
Order now:
Kindle
|
iBooks
|
Paperback
|
Kindle (UK)