Happy birthday to Walt Disney World, Epcot... and the new Amway Center in Orlando
October 1 is a very special day in the Orlando area. Why is that? Today is the 39th birthday of the Walt Disney World Resort and its first theme park, the Magic Kingdom, which opened on this date in 1971.

The Magic Kingdom isn't the only Disney park celebrating a birthday. Epcot is 28, having opened October 1, 1982.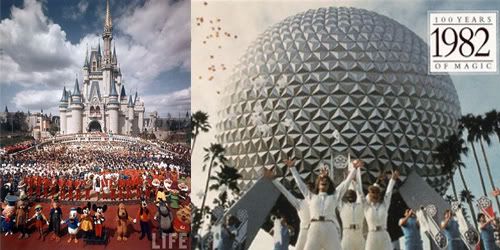 The birthdays of the Magic Kingdom and Epcot parks aren't the only ones being celebrating in Orlando today. Today at 10:01 a.m., on 10-01-2010 the ribbon was cut to Orlando's newest attraction, the brand new Amway Center.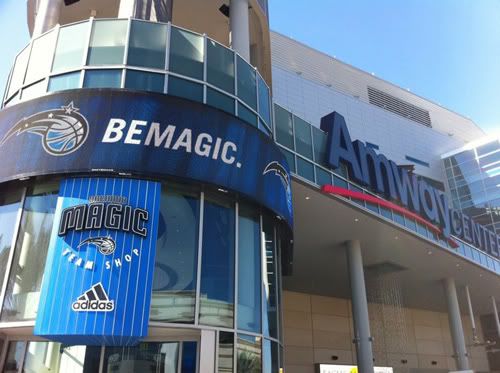 But why am I writing about a new NBA arena on a theme park website?
Because you paid for it.
Tourist tax dollars helped to pay for Orlando's new, 875,000-square-feet basketball arena, which features an 8-million LED center-hung sideboard (the tallest, most high-definition in an NBA venue, measuring 42 ft.), two LED ribbon boards on the interior fascia of the seating decks, and more than 1100 high-definition video displays.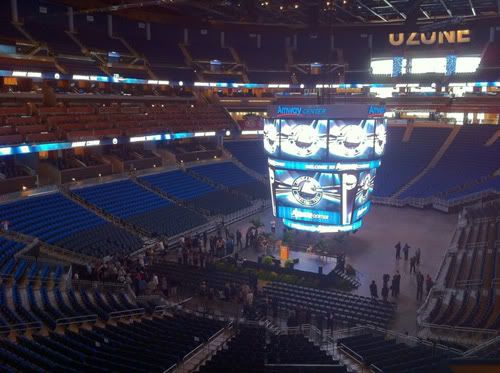 Fans attending an event in the new arena will find 37 restrooms, 227 food and beverage points of sale with 18 permanent concession stands and 37 portable units, plus 10 fan interactive areas such as the Nutrlilite Magic Fan Experience, Orlando on Demand, and Gentleman Jack Terrace to name a few.
And, yes, Disney is among the many sponsors of the new arena, the home of the National Basketball Association's Orlando Magic.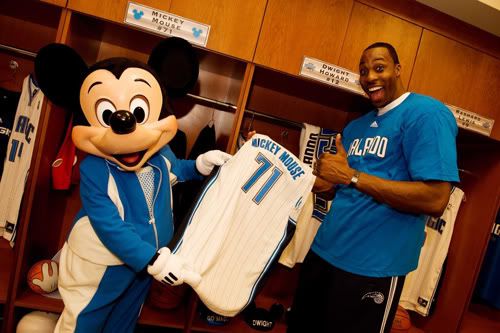 Mickey with the Magic's Dwight Howard. Photo courtesy Of The Orlando Magic
Disney is the presenting sponsor of the Amway Center atrium. As Ken Potrock, senior vice president of Disney Sports Enterprises said, "As you would expect, Disney believes in Magic."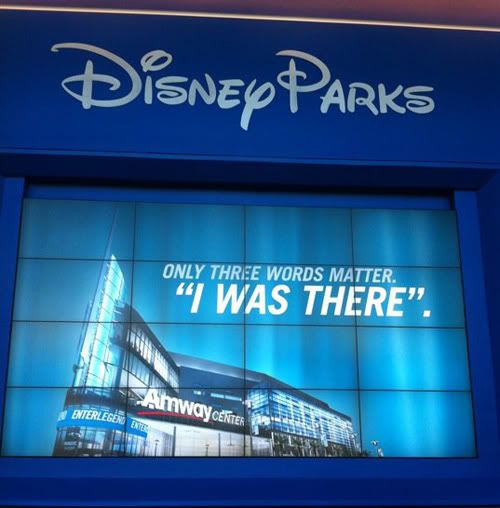 The new Amway Center will host the 2012 NBA All-Star Weekend, in addition to Magic and indoor football games. (FWIW, the Magic's old arena also was known as the Amway Center Arena, and before that, as the TD Waterhouse Centre and the Orlando Arena.)
Readers' Opinions
This article has been archived and is no longer accepting comments.
More Theme Park News
Previous article: Epcot International Food & Wine Festival Kicks Off a Day Early with First Bites Opening Reception
Stories from a Theme Park Insider
What's it like to work in a theme park?
Stories from a Theme Park Insider
takes you inside the famous tunnels and backstage at Walt Disney World's Magic Kingdom for a look at how theme parks really work, sharing the funny moments and embarrassments that can happen when your job is someone else's vacation.
Order now:
Kindle
|
iBooks
|
Paperback
|
Kindle (UK)