Jaws ride closing forever at Universal Orlando
Written by Domenik Jost
Published: December 2, 2011 at 12:42 PM
It's official! The
Jaws
attraction at
Universal Studios Florida
is closing. Universal Orlando announced to its
Facebook
fans this morning that Jaws will officially close on January 2, 2012.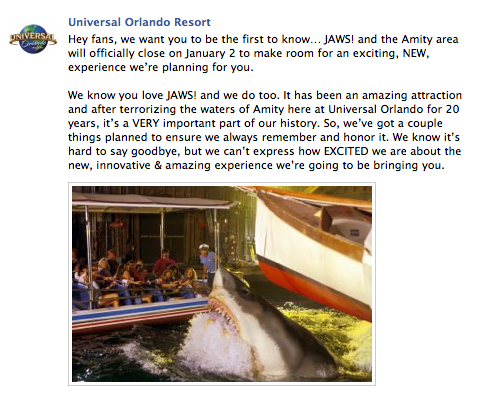 Now, the question is left, what could be put in the space that Jaws currently occupies? What new ride? Maybe Transformers? And with a new ride coming, what would the area around it be re-themed to?
Readers' Opinions
This article has been archived and is no longer accepting comments.
Previous article: Ride review - Transformers: The Ride at Universal Studios Singapore
Planning a trip to Orlando?
Insider's Pick: Get all the best advice from ThemeParkInsider.com in one convenient book! Theme Park Insider Orlando 2014 offers you the insight, background, and how-to skills that will help you enjoy Walt Disney World and Universal Orlando like, well, a theme park insider. Save yourself time and money by learning how to visit the Orlando-area theme parks the insiders' way.
Get it! In paperback | For Kindle | For iBooks