Despicable Me Minion Mayhem Update
Written by Bob Liebe
Published: May 3, 2012 at 7:15 AM
Yesterday the construction walls in front of Gru's house came down and the only ones that remain are on the left side of the show building on Minion Way. The removal of the walls revealed the entire house and garage. You now can also see part of the outdoor queue area (between the house and the gift shop) which appears to be the last section of the queue that is outside before you enter the show building. There are speakers and LCD TV's above the line queue. Universal had the audio playing but no video. The audio was setting up the storyline; Gru needs more Minions and he is going to turn us into them… though we don't know how he does it. The audio also had several multiple choice questions asking what you would do if you were a Minion.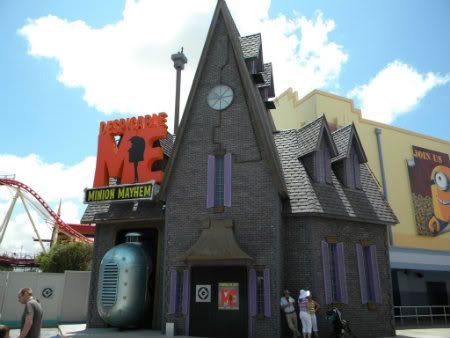 Today as I was walking by the ride building I noticed a side door open. Inside was Universal Creative President, Mark Woodbury. He was accompanied by a few other important looking people. I was about to take a picture, but they closed the doors before I had a chance. From what I could see inside, it looked similar to the concept pictures that were released. Also on a side note, the sign for the ride now lights up at night as well. It appears that Universal is moving quickly to open the ride which makes sense due to the closing of Jaws.
Readers' Opinions
This article has been archived and is no longer accepting comments.
Previous article: Theme park wayback machine: The Magic Key ticket
What's it like to work at Disney World?
Insider's Pick: Ever wondered what it would be like to work at the Walt Disney World Resort? Stories from a Theme Park Insider offers more than 100 pages of fun, insightful, and even sometimes touching stories from people who've worked at Disney World's Magic Kingdom. It's a great way to get in the mood for your next trip to Orlando, or just to keep the memories of a Disney World visit alive.
Get it! In paperback | For Kindle | For iBooks