A soft-opening look at Busch Gardens' Verbolten
Busch Gardens Williamsburg' s Verbolten had a soft opening this weekend starting on Friday May 11th. It was open all three days of the weekend for the soft opening. I heard about the soft opening from a friend on Friday and even saw posts on Twitter & Facebook from Busch Gardens about it.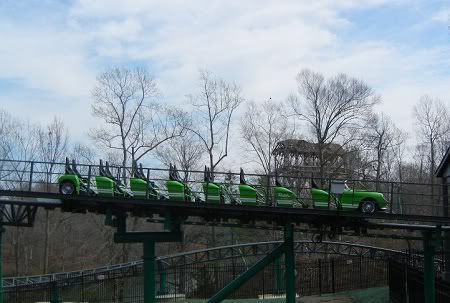 Verbolten's coaster train. Photo by TPI member Tom Rigg
I got to the park around 3pm on Friday and the wait time was shown to be around 45 minutes. It seem as the day went along the wait time got shorter. I rode it three times before 5pm. I was able to ride it in the middle row, front row and back row. The queue and the station for the ride have a lot of little details in it. They were running four trains on Friday and like Cheetah Hunt in Tampa they loaded two trains at a time. This helps make the line move a lot quicker. You will need to go through the queue multiple times to be able to see all the little details that are in it. After I saw the final showing of the day of Celtic Fyre I came back over to the ride and rode it twice more. On my final ride the car before me had about half the cast from Celtic Fyre in it as they had come over to the ride after the final performance of the show that day.
The ride itself is different depending on which scenario you get in the Black Forest. There are three different scenarios you could encounter in the Black Forest and they are a Storm, a Spirit or the Wolf. I only encounter two of them in my five rides, but know of people who encountered all three of them. The experience for the ride is basically the same for every train except if you are at the loading station and get in the back train instead of the front train. The back train will pull out of the station and stop for a few seconds and you will hear sounds like a car engine trying to rev up. The train will then head down the track toward the Black Forest building. Right before you enter the Black Forest is the first launch of two. Inside the Black Forest it will be dark and you will see different lighting effects. Before you exit the building you will get one of the three scenarios while you are stopped and than the train will drop. You will then go down a little incline before being launched out of the building toward the worn down bridge. When you reach the bridge the train slows down and you hear the sound of creaking like the bridge is going to give out before you go down the drop over the Rhine River.
They didn't have the video available during the soft opening, but you were able to buy a photo of yourself on the ride. They have also added sound effects to the wrecked car outside the queue. The ride itself seems short, but is a worthy replacement for the Big Bad Wolf. I expect this ride to top many peoples top coaster lists after they ride it.
The seats on the train are comfortable and when you pull the restraint toward you it isn't tight like Apollo's Chariot. They do have a seat outside the building that you can try out before you get in line.
Readers' Opinions
This article has been archived and is no longer accepting comments.
Previous article: Vote of the week: What's the parade you most want to see in Orlando this summer?
Stories from a Theme Park Insider
Stories from a Theme Park Insider offers a warm and often-funny look at what it's like to work inside the world's most popular theme park. It's a great read for theme park fans!
Kindle | iBooks | Paperback
Top U.S. Theme Parks
Walt Disney World's Magic Kingdom
Disneyland
Epcot
Disney's Animal Kingdom
Disney's Hollywood Studios
Universal's Islands of Adventure
Disney California Adventure
Universal Studios Florida
Universal Studios Hollywood
SeaWorld Orlando
SeaWorld San Diego
Busch Gardens Tampa
Other Top International Parks
Tokyo Disneyland
Tokyo DisneySea
Disneyland Paris
Universal Studios Japan
Hong Kong Disneyland
Walt Disney Studios Paris
Europa Park
Efteling
Universal Studios Singapore
Readers' Top Themed Rides
Journey to the Center of the Earth
Transformers: The Ride
The Amazing Adventures of Spider-Man
Mystic Manor
Indiana Jones - Temple of the Crystal Skull

Top Roller Coasters
El Toro
Bizarro
Outlaw Run
Intimidator
Apollo's Chariot

Top Theme Park Shows
Fantasmic!
Aladdin
IllumiNations: Reflections of Earth
World of Color
Impressions de France

Features, News and Advice
eBook: "Stories from a Theme Park Insider"
The Theme Park Insider Awards
What's under construction for 2014/5?
How to stay safe at a theme park
2014 Blog Posts
Jan.
Feb.
Mar.
Apr.
2013 Blog Posts
Jan.
Feb.
Mar.
Apr.
May
Jun.
Jul.
Aug.
Sep.
Oct.
Nov.
Dec.
2012 Blog Posts
Jan.
Feb.
Mar.
Apr.
May
Jun.
Jul.
Aug.
Sep.
Oct.
Nov.
Dec.
2011 Blog Posts
Jan.
Feb.
Mar.
Apr.
May
Jun.
Jul.
Aug.
Sep.
Oct.
Nov.
Dec.
2010 Blog Posts
Jan.
Feb.
Mar.
Apr.
May
Jun.
Jul.
Aug.
Sep.
Oct.
Nov.
Dec.
2009 Blog Posts
Jan.
Feb.
Mar.
Apr.
May
Jun.
Jul.
Aug.
Sep.
Oct.
Nov.
Dec.
2008 Blog Posts
Jan.
Feb.
Mar.
Apr.
May
Jun.
Jul.
Aug.
Sep.
Oct.
Nov.
Dec.
2007 Blog Posts
Jan.
Feb.
Mar.
Apr.
May
Jun.
Jul.
Aug.
Sep.
Oct.
Nov.
Dec.
2006 Blog Posts
Jan.
Feb.
Mar.
Apr.
May
Jun.
Jul.
Aug.
Sep.
Oct.
Nov.
Dec.
2005 Blog Posts
Dec.
2004-2005
Staff column archive