Universal Orlando Trip Report July 2013
Universal Orlando: This resort has changed so much in a year

Let's start with the hotel (Hard Rock). Pretty much the same as last year except they had live music set up in the relaxation area adjacent to the lobby for a couple of days. The large circular staircase that leads to the pool lobby was blocked off for 2 days, but most people tend to use the elevators regardless.

Unlimited Express - You no longer use your room key for Express at the rides, there are kiosks set up in the lobby that you slide your room key into (after you check in), then it snaps a pic and your Express is printed on a waterproof paper version, just like the park tickets.

The hotel was near capacity as far as I could tell, and the cleaning crew was always polishing, dusting or vacuuming something. They do a great job of keeping their hotels spotless.

CityWalk - Aside from some new video screens and kiosks dedicated to Despicable Me, it hasn't changed all that much since the Mini Golf went in. The cleaning crew was always visible and doing a great job of letting you know they are keeping the area looking great.

As much as I love Margaritaville, it is one of the most expensive places to eat at the CityWalk. Pat O'Briens was much cheaper, even with a couple of monster Hurricane cocktails.

Islands of Adventure - Besides the obvious Potter construction near the Dragon Challenge, and some room being cleared out in the Jurassic Park area for what I assume is the new midway games area, the park hasn't changed all that much. You could easily see almost every building had a fresh coat of paint on it as the colors popped like they were brand new in 1999.

WWoHP - We rode Forbidden Journey several times and it certainly looks like they increased the contrast on the parabolic screens so the video didn't appear washed out and slightly dull as it did in the past.

The Three Broomsticks now takes walk-ins at any time of the day and it didn't seem nearly as crowded as it did in the past. We always enjoy the traditional English Breakfast and you never leave hungry.

Dragon Challenge - They now announce which coaster has the "lead" as they exit the station, which would go along with the new chase theme vs the dueling aspect of the ride. The trains seemed a bit smoother than in the past as they may have put fresh wheels on them recently. You can easily see the size of the train station and the newly laid tracks for the Hogwarts Express. The construction is 24/7 and frantic. Our hotel view overlooked both parks and the cranes were going all day and night.

Mythos - A pleasure as always and one of the least expensive dinners we had. I ordered the Lobster Bisque and Beef medallions (rare) with Truffle Butter. This place is still top notch in my book.

The other lands looked freshly painted as well, but the park seemed like it was taking second place to Universal next door, especially in the noon to 6PM time range. It was pretty empty and wait times for every area except Potter were reasonable compared to years past.

Universal Studios - Where do I begin....?

Despicable Me - I can't imagine Jimmy Neutron ever had lines like I saw for DM every single day, all day. (see below)
We rode DM last year during soft opening and you could tell they were working out the kinks. Everything went much smoother this time around and the 4K video is spectacular. I think they tweaked the contrast on this as well.
Transformers 3D - I had expectations of a Spidey clone with different footage, but I couldn't have been more wrong. They took whatever they learned the first time around and cranked the knob to 11 (Spinal Tap reference) on this ride. The motion simulation is far beyond what I thought was possible with this ride type. The video quality was spectacular and the immersion of live props that blends into the video screens is flawless. Earlier, I posted I would reserve judgment as to whether I would put this above Spider-Man. This is without a doubt, one of the best rides anywhere, in my opinion. You can see below that EVERYONE wanted to experience this ride.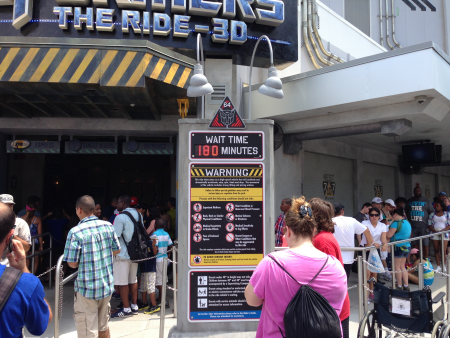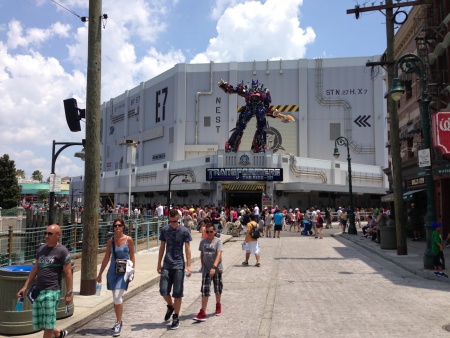 Rip Ride Rockit - The addition of Express to this ride was brilliant and they did a great job of managing the regular queue, single riders and Express. It did feel a bit rough to me as I understand they are slowly replacing the trains with new ones that are smoother. Wait times for Express were always under 15 minutes regardless of the regular queue.
MIB - I noticed right away that the scoring system had been changed to about 50% of what it used to be. I would typically have 70-80K coming out of the training area, but I could barely break 30K on every ride. I did manage to rack up about 800K with the bonus, but it took a lot of attempts to get anywhere near 700K. We did manage to get seated with two single riders that went 999,999 and we all scored over 500K, which put our average at around 600K for the entire car. The other team averaged about 20K. We haven't lost to the other side in years...
They have a (new?) meet / greet outside the ride at certain times of the day with two MIB agents and a pug (Frank / Agent F) in a tux. They will even take pictures for you with your own camera if you like, just like at Transformers.
These are my daughters Jordan and Paige. The other agent stepped away for a moment, but he was carrying a rather large and convincing prop gun from the movie. Everyone wanted to get a picture but the wait was less than 5 minutes.
Simpsons Area - This time around, the ride took second place to the new restaurants they just opened. The place was mobbed all day, but we only had to wait about 5 minutes to enter the area where you can order whatever you like and all tables are reserved for people who purchased food vs the ones who just want to sit and cool off. Very organized and we were seated right away.
The Flaming Moe was pretty good, basically a citrus flavored and very sweet carbonated beverage with dry ice in a special cup with a filter built right in. You probably wouldn't go back for more like a Butterbeer (I had four this trip) due to the price and the fact that it just made you thirstier. We all tried the Chicken and Waffles sandwich at Cletus' Chicken Shack. A pretty good sandwich but very filling. I was the only one to finish. Without the extra maple infused mayo, it would be a bit dry.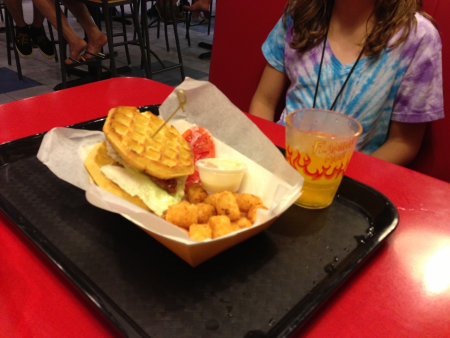 We hit Twister several times as it is still one of our favorite movies and attraction at Universal. Everything worked perfectly as the last time we visited, it seemed one element always failed. One time the tree didn't split, another time the drive-in sign never moved etc..
You could tell Universal is currently stealing the show from IOA because not only was Twister packed to capacity every time, but so was T2-3D, Disaster, E.T., Horror Make Up show, Animal Actors, and every other attraction that is considered "older".
You already get the feeling that Universal will be considered the premier park compared to IOA due to all the new additions, but Potter London will put this park back on the map as one of the best in the world come 2014.
Sea World Orlando - Well, another disappointing visit. Manta broke all three times we tried to get on and they had everyone clear the queue. The new Antarctica attraction.... no, just no. The park still seems like a Six Flags to me with it's ridiculously long, complicated winding paths that give you a view of nothing for ten minutes at a time. We resigned ourselves to visiting most of the interactive animal exhibits like the sea lions, stingrays etc.. the moving sidewalk that goes through the tunnel aquarium was moving at about 2 inches per second and the bottleneck in the exhibit was brutal. Not only that, but the air wasn't working in half the shops we went into. The park seems to be going downhill, at least from my perspective. Broken rides and badly maintained hardware made this visit one of our last attempts to enjoy this park.
I'll post more pics of the freshly painted areas in both parks as soon as I can go through the 800+ pictures I snapped on this visit. Thanks for taking the time to read this mini-novel.
NB
Fantastic work, NB. Really wish I could have crossed paths with you. I'd have paid for the hurricanes.
Next time!
What? Don't keep us hanging like that.
You sort of feel like you are trapped in the badly done fake snow walls in 98 degree heat and don't even get me started on the ride.
Your only escape is an indoor eating area that is actually way too cold to be comfortable. I think it's about 40 degrees in there.
Sea World is off my visit list as of now. I would rather Trek to Busch Gardens Tampa any day.
Rob, I found it very hard to find anything to complain about this trip. We had a blast.
One question about Forbidden Journey - one often reads about broken effects and animatronics (please insert your own Yeti bashing comment here - I am too tired of ranting on the subject myself), did you notice any issues with upkeep on this attraction in particular? Just curious. My understanding is that JK Rowling set pretty high standards for maintaining the HP stuff, so I think the overly critical fanboy community is just blowing smoke. What say you?
As for SWO, other than the coasters (Kraken still stands as one of my favorites of all time - how was it riding this visit?), I have have never been a big fan of the place - it is nice an all, but for $80+ per day, one would and should expect Disney/Universal quality and that is not quite the case. Further, SeaWorld has been hit hard by the growth at Universal over the past few years, so you have to expect that revenues are down. Sadly, the park put everything into Antarctica, but the end result seems, from all reports, to be underwhelming at best and completely lacking at worst. Their old M.O., build huge, unique coasters for the thrill seekers and stellar marine based shows for the family, might be something to which they should return....?
Anyway, thanks again for the report!
It lasted about 2-3 minutes, then the ride started back up. The lights inside went off as soon as the "observatory" spell was cast by Hermoine, so no bid deal. I think something fell on the track and they had to clear it off.
As far as I could tell, every other element was working, except the mist screen that shows your faces is incredibly hard to see any detail on these days. The first time we ever rode it, you could make out all sorts of detail.
My wife noticed the video looked better all the way around, which means they may have just replaced some of the projectors or they adjusted them. The colors were popping like it was brand new.
One more thing, it seemed like the audio / video was out of sync on one run through the queue where they are telling you to meet them in the room of requirement. It snowed out of nowhere and the dialog was a few seconds off.
I won't say the ride is showing wear just yet, because it was perfect on almost every run whereas the last statue that pops up on the right side of the Mummy was finally fixed after a couple years.
Lastly, there were a couple hesitations on the Mummy as well. The room with the fire ceiling seemed to wait a couple seconds before launching you through the final set of track, but not every time.
I also didn't know that Moaning Myrtle was audible in the ladies restroom until my daughter told me about it.
Glad you liked Transformers, I've been to the Hollywood version several times and its simply awesome and you described it well.
The building would look awkward Without the huge Optimus Prime standing above the entrance. I am so glad they didn't use printed cutouts like the Hollywood version.
I am also happy they didn't try to tuck it into a corner or on one side of the street like Spider-Man where you can only see the front façade.
The street that runs down the back of the building is all set up for photo shoots with the various robots. Optimus and Bumblebee are usually out there, but Megatron makes an appearance every once in a while.
I think you will get used to it right away, considering there was a huge unused building in it's place about a year ago.
The Potter London façade is absolutely enormous, it takes some getting used to, but it should look amazing when they start to make them look like actual buildings. It is like they are building a small city in that area. You won't be able to see Gringott's until you enter, which is pretty cool.
I'm not sure if the fire breathing dragon at top will be seen from other areas (maybe on the second or third level queue for Simpsons).
You can see a small section of the Hogwarts Express track when you are in the Twister queue, right before you enter the first show building. I think they will block that view at some point.
I just stood in awe at the scope of work that is underway at the Universal lagoon and below the track for the Dragon Challenge.
Here are a few more pics....
A view of Transformers from the back of Richter's Café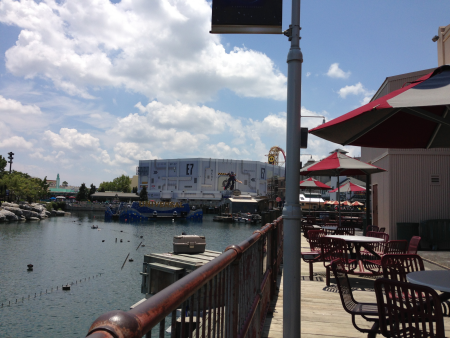 A panorama from MIB to Transformers

Potter London facade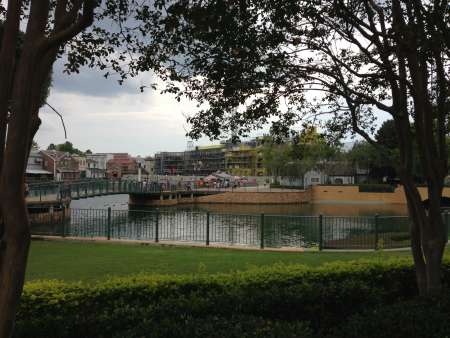 Hogwarts at sunset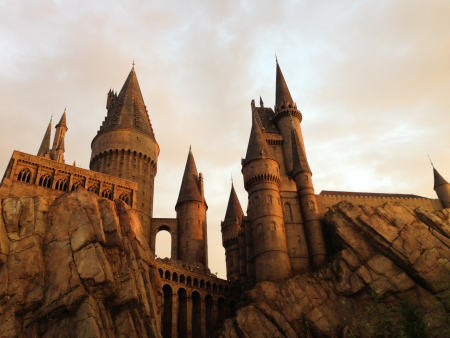 The IOA Hogwarts Express station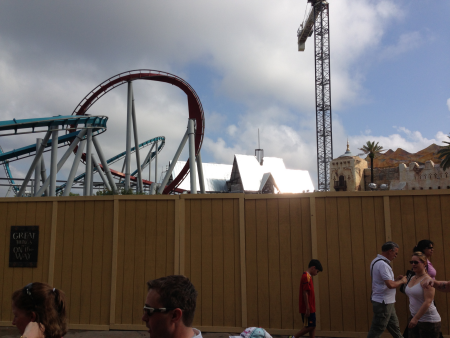 If the Express line ends right at the main entrance, you can expect 15-20 minutes from that point. You only have to go through tthree rooms to get to the loading area.
They have winding queue lines that slowly incline as you go through. When you se the bin for the 3D glasses, you are right around the corner.
The Express line only went outside the building once, which added a few extra minutes to the wait time.
Forgot to mention, you will see a few different videos explaining your mission in the Express line, but there are many more in the regular queue and you will never see the Allspark containment system.
I have only seen the rest in YouTube videos. In fact, I have never seen most of the regular queues, including the Worm Guy coffee break room on MIB until last year...