Halloween update: Opening nights for Halloween Horror Nights and Howl-O-Scream
The day has finally arrived and tonight marks the kick off for Universal Orlando's Halloween Horror Nights and Busch Gardens Tampa's Howl-O-Scream.
On Wednesday night I got to preview Halloween Horror Nights and was invited by Universal to record inside the haunted houses. (However, Universal's editing the video.) As soon as I get that video from Universal Orlando I will post it here on Theme Park Insider. *Posted. See below.
This year's event is bigger than it has ever been and it sure didn't let me down. Since Wednesday night was only a preview night and basically a dress and tech rehearsal, I don't want to prematurely rate my experience in each of the houses. I will say this, Universal has done an excellent job at incorporating the past 20 years into one event and still pulling off a very unique and new experience.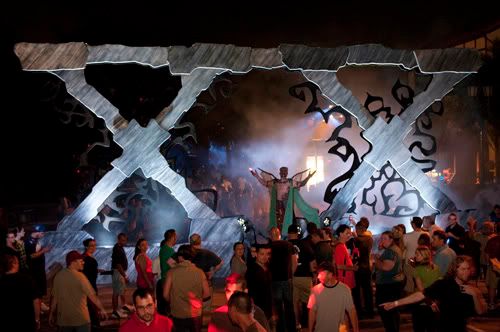 Meet 'Fear' himself inside the 'Fear Revealed' scarezone.
To kick things off tonight, Universal Orlando will do something they have never ever done before. They will be live-streaming from inside of Halloween Horror Nights. Online viewers will be able to see the event opening and a live feed from inside of the haunted houses.
The live stream will start from 6:00 - 6:30 PM EDT with the Halloween Horror Nights XX event opening ceremony. Later in the night, from 9:30 - 11:30 PM EDT, Universal will be live-streaming from inside the haunted houses.
Find the live stream by going to this link and clicking on the "Watch Live Feed" link on the upper-right of the page.
Look for a full detailed review of the opening night of Halloween Horror Nights tomorrow.
----
Universal Orlando isn't the only theme park destination kicking off its Halloween event tonight. Busch Gardens Tampa also is debuting its Howl-O-Scream event.
Thursday I got to meet Sylvie and preview part of the "My X: Revenge Rocks" haunted house. Inside the house let's just say I didn't feel welcome at all and was apparently late getting to the backstage area. It was quite dark inside of the house and I couldn't hardly see anything but I would just attribute that to having been in broad daylight and then put into a very dark house. The parts I could make out and see I definitely felt like I was in the backstage area of a concert venue. There was definitely a few times I jumped and got startled in that first half of the house. For only having seen one half of the house I don't want to rate it just yet.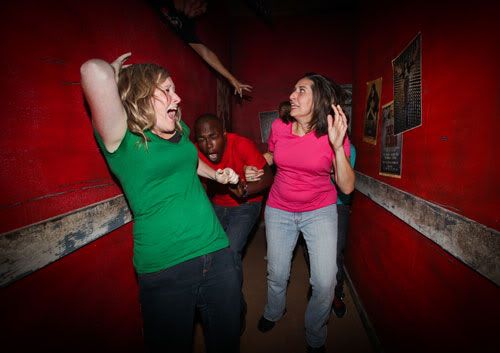 Guests getting scared inside 'My X: Revenge Rocks' house.
I'll be headed to Tampa Saturday night to get a full review of the event including the all new unique "Alone" haunted experience, and the ScreamCam footage from the 'My X: Revenge Rocks' haunted house.
*Update: And here's the video:

Replies (8)
This article has been archived and is no longer accepting comments.