Halloween update: Busch Gardens' Alone, Universal's VIP lounge, SyFy's Ghost Hunters and a Halloween wedding
After visiting
Busch Gardens Tampa's Howl-O-Scream
's first week, I followed up with a return visit this past weekend to catch two houses I missed the first time around. (Note: This visit also was an invited press admission.)
Taste of Blood: A Different View was a bit odd - vampires in the sewer and subway tunnels - but OK and decently themed, with a couple of good scare areas, though none of the actors got me.
Towards the end of the night, after a private MyX concert, seeing Blood Relations again as well as all the other houses, and riding almost all the major roller coasters in the dark, I finally got to go on my Alone adventure.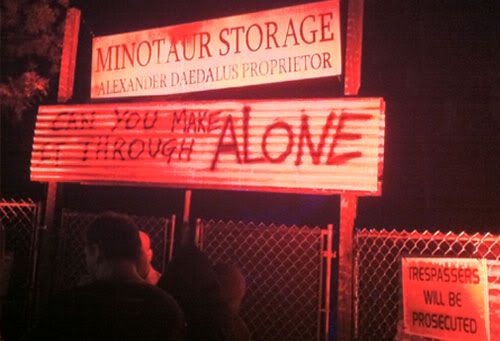 The anticipation of the house while waiting was killing me. I hadn't felt that way since a visit to Fear Factor at Universal, waiting for the floor to drop from underneath me while suspended 40 feet above the ground. Hearing that there had been three people escorted from of the house with medical supervision didn't help my anxiety, either.
Finally, it was my turn. I approached the first scene where I listened to a few words of advice, reminding me of Jigsaw from the Saw movies. That is all the spoiler you'll get from me - which really isn't much of a spoiler at all.
I have to say this, the house isn't exactly what I was expecting it to be… but in a good way. I'm just going to say that it is worth the $25 advance admission price. The way I saw it was I got a shirt that would be sold for $20 if it was being sold in stores - and a very unique experience. The house overall wasn't the type of house that scares you by having people hiding behind things and popping out at you (though there definitely are some), but it was more of a psychological challenge.
I found myself smiling throughout the entire house as I was quite thrilled at some of the cool effects, and of course the plot of the house. The house will sell out on most nights, but sometimes they open up some tickets around 10:30pm to be purchased on site.
----
Over at Universal Orlando, stop by the VIP Lounge inside the Cafe La Bamba Cantina during your Halloween Horror Nights visit for "Secrets from the Past" with concept art and memorabilia from past Halloween Horror Nights. This exclusive area, which also requires an additional $9.99 fee, features VIP drink service and prime-time views of the "Fear Revealed" Scare Zone. On Thursdays nights at 8pm and 10pm, the VIP Lounge plays host to special presentations, including:
October 7 - Legendary Truth: The Journal of Mary Agana - An in depth and revealing review of the astonishing details that went into the telling of the odd doctor's bizarre and horrifying story. 'Collective' operatives successfully tied together the elements of the event and solved a major mystery as to why they took place. (For those who don't know, Mary Agana is also known as 2008's Bloody Mary.)
October 14 - Terra Cruentas: This was the first time all Halloween Horror Nights elements were written, designed and produced to relate to each other through a detailed and complex legend of Terra Cruentas (World of Blood). Totally original and unique characters from five distinct realms depended on each other for survival, ritual and sacrifice to their Terra Queen.
October 21 - The Thing: Originally proposed to be a part of HHN 2002, the 'Thing House' wouldn't be built until 2007. The various concepts originally envisioned were modified greatly in the second design. You know what was included, now learn what did not make the final cut.
October 28 - The Icons: Halloween Horror Nights fans know all of the infamous iconic characters that hosted the event. But, there are others... that you may have heard about but do not know. Meet the creators who will describe how and why their creations were altered, hidden and/or resurrected in different form.
---
Also at Universal Orlando, this Thursday, October 7, Halloween Horror Nights guests will have the opportunity to meet Steve Gonsalves and Dave Tango from the hit SyFy Channel series, "Ghost Hunters." The autograph session is included in admission to Halloween Horror Nights and will take place in Battery Park, located right across from Mel's Drive-In, at 7:00pm and 9:30pm.
April Richardson and Adam Cochran won the Universal Orlando's Halloween Horror Nights Wedding contest. They will "tie the noose" on Friday, October 15 at Halloween Horror Nights.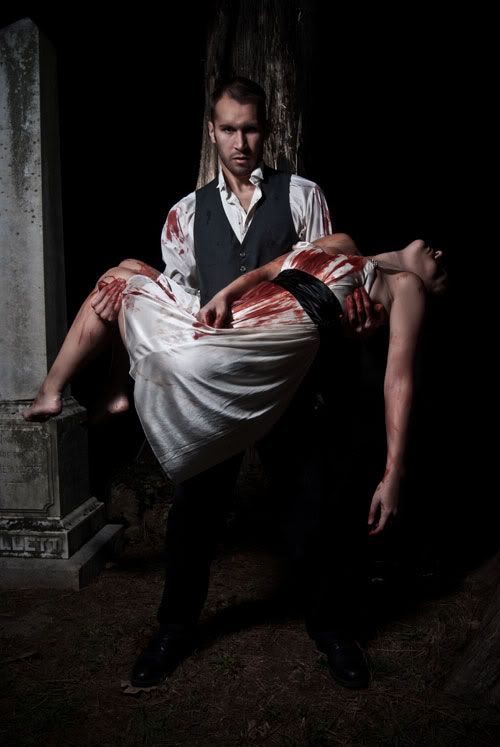 Congrats to both of them on winning the wedding to, uh, die for. Universal's offering to hitch other couples at HHN, too. If you are interested, you can book via UniversalOrlandoWeddings.com.
Replies (2)
This article has been archived and is no longer accepting comments.