Halloween update: An Insider's look at life as a Universal Orlando zombie
This past weekend,
SeaWorld Orlando
kicked off its kid-friendly Halloween Spooktacular. Kids are invited to come in costume and meet pumpkin fishes, friendly sea witches, and trick-or-treat. In addition to the candy and sea creatures, guests are invited to watch Sesame Street's "Countdown to Halloween Live Musical Stage Show" and too meet Abby Cadabby as they search for her hidden wand in a 4000-sq. ft. outdoor pathway filled with interactive puzzles, sights, and sounds.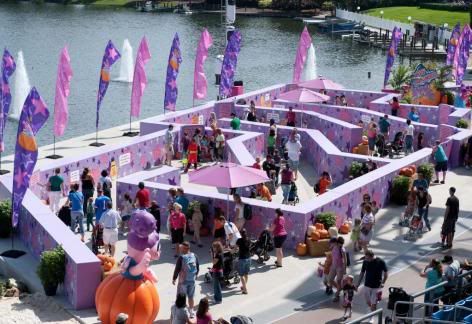 SeaWorld's Halloween Spooktacular is included with park admission and is a daytime event so all kids are wide awake to enjoy the festivities. The event runs from noon-8 p.m. every weekend through Halloween. Visit SeaWorldSpooktakular.com for more details, including information about the event at the SanDiego sister park.
---
This past weekend Universal Orlando invited me to take part in the Halloween Horror Nights Media Boo Camp 2010, where we got to scare park guests as scareactors for the night. Professional make-up artists were on hand to transform us into flesh-eating zombies. After our transformation, we were put into the Zombiegras scare zone to look for some fresh meat. It was a ton of fun but a very exhausting experience. It is especially exhausting if you miss the cue to go into the back for a break. I managed to do that and initially stayed out for nearly twice the length of everyone else before I finally got my break. I had a blast and honestly did not mind being out there longer at all. At the end of the night my final scare count was in the hundreds, had dozens of pictures take with park guests, and managed to scare four people off their feet and hitting the pavement. Did I feel bad for them going down? Naaaah, they were fine, and laughed it off. Three of them even took a picture with me afterwards. Special thanks to Universal Orlando for inviting me to take a part in this great experience.
Here have a look what goes into being a scareactor with a few introductory words by show director Mike Aiello:
---
On October 15, April Richardson and Adam Cochran tied the "noose" inside one of the haunted houses at Universal Orlando Resort's Halloween Horror Nights XX. The newlyweds then boarded a hearse and processed through Universal Studios Florida to their reception, escorted by friends, family and chainsaw-wielding "scareactor" guests.
With this Universal Orlando has officially launched its Halloween Horror Nights wedding packages. For more information about Universal Orlando weddings, visit www.UniversalOrlandoWeddings.com.
------
Finally, after taking a break before the big game on Sunday, Tampa Bay Buccaneers cheerleaders Shaniqua Brown, Nikki Fraser, Courtney Russ, Ashley Kowal, Marlana Aref, Stephanie Ritz and Lauren Cross took on Busch Garden Tampa's Howl-O-Scream.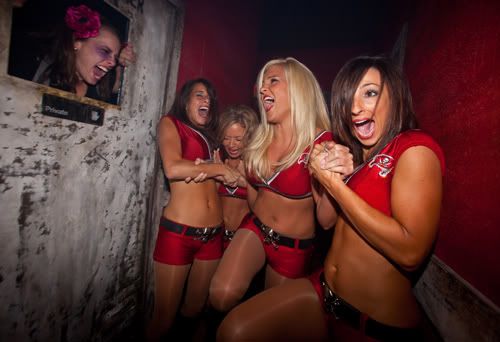 Watch their journey through other houses at Howl-O-Scream in this short video. For more details on this years Howl-O-Scream, visit MyXRocks.com.
Replies (2)
This article has been archived and is no longer accepting comments.