Review and Virtual Tour of Hollywood Drive-In Golf at Universal Orlando Resort
This past week Universal Orlando Resort
opened it's Hollywood Drive-In Golf
for business. I had a chance this week to check it out and at the bottom of this post I want to invite you to go on a virtual tour of the course with me.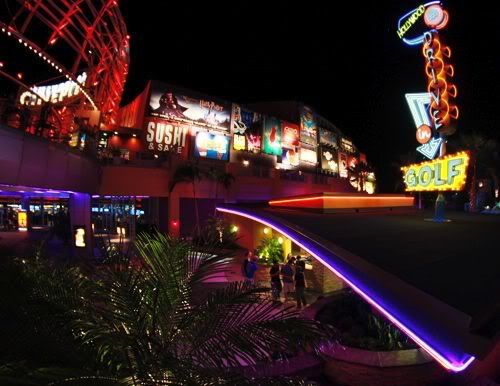 The Hollywood Drive-In Golf is located at the beginning of CityWalk between the AMC Cineplex Theater, Bubba Gump Shrimp Co, and Valet parking. It is made up of two full 18 hole mini golf courses: "The Haunting of Ghostly Greens" and "Invaders from Planet Putt".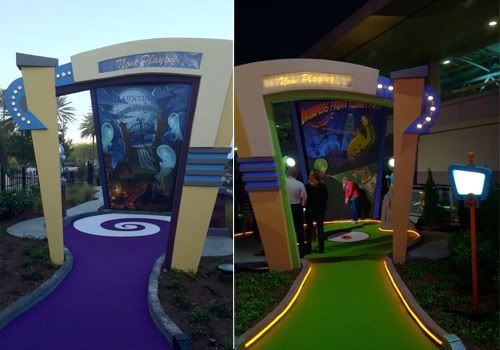 Both courses are very well themed and have appropriate music for each. On "The Haunting of Ghostly Greens" you'll hear more horror music, whereas on "Invaders from Planet Putt" you'll hear more of a 1950's science fiction mix. Throughout the courses there are many interactive elements from moving lighting, moving obstacles, to water effects that will try to throw you off your game and make that shot more difficult. The first course I tackled was "The Haunting of Ghostly Greens" which is themed to classic drive-in era horror films. The course is filled with Graves, Spiders, and classic creepy scenes that are easily recognized from classic horror films. For Jaws fans, there is even a little tribute to our favorite Bruce.
This to me was the more challenging of the two courses for me and I went over par and ended with a 45 (par 42).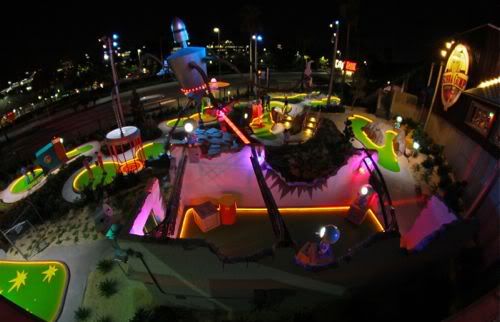 Next up was "Invaders from Planet Putt" which was themed to sci-fi films of the 1950s. There's cows, Area 51, UFOs, aliens, and even a giant alien robot.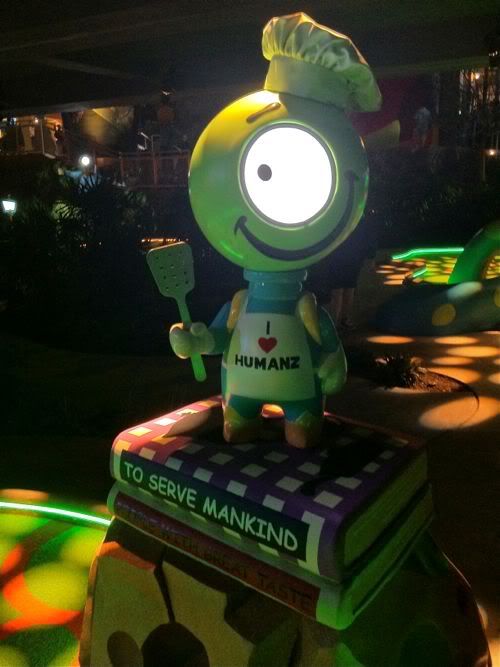 On the sci-fi side I found the course difficulty was quite a bit easier and I even got four hole in ones. Hole 18 on this course is interesting as you have to shoot the ball down the giant worms mouth. Inside the hole is moving on a rotating circle plate so it is never in the same place making it quite the challenge to get a hole in one. I ended up with a 39 (par 42) on the course and definitely by the score it was easier than the other one for me. Overall both courses have some cool challenges and obstacles to get through making for quite a fun time. Personally I find these hands down the two best mini golf courses in Orlando.
Now here's a couple of 360 virtual tour shots I made to show you some of the amazing theming Universal has done with these two courses.
There's more than a dozen more 360 virtual tour pictures I took that you can find here.
Hollywood Drive-In Golf is open to the public daily from 8 a.m. to 2 a.m. Admission rates to play one course are $13.99 plus tax for adults and $11.99 plus tax for children (ages 3 to 9). For more information on Hollywood Drive-In Golf, visit www.CityWalkOrlando.com.
Replies (4)
This article has been archived and is no longer accepting comments.