Back to back theme parks on a budget?
For those of us who can't afford to stay at a luxurious Disney resort or lakeview hotel at Cedar Point, or otherwise spend a lot of money on trips to theme parks, there are viable options. When I decided that I absolutely MUST ride Outlaw Run, the challenge was to get to
Silver Dollar City
the cheapest and most expeditious way possible. Because Coaster Mania at Cedar Point was scheduled for June 7, I decided to do Silver Dollar City the day before and then continue on to Ohio. It took a lot of searching to find a flight itinerary that would be compatible with the hours of operation at both parks but I did find one entailing a total of six flights on Southwest for slightly over $600, which was more than I could really afford but less than was being charged by other airlines and a multi-city trip is never going to be dirt cheap. Also, the advantage of flying on Southwest was that it's the only major airline offering service, with one flight change, from Philadelphia to Branson, cutting the driving time in half. (The closest the other carriers come is Springfield, Mo.)
I arrived in Branson at about 6:30pm on Wednesday, June 5 and headed out of the airport in a Toyota Avalon, recommended to me by Enterprise Rent-A-Car because it would purportedly be better for negotiating the hills in Missouri than the compact car that I had intended to drive. This was my first time in Missouri and as a city person, I was surprised to find myself driving with what appeared to be granite cliffs on either side and without seeing another car for miles. I stopped for dinner at a fast food place (I always eat cheaply while on the road) before heading to my motel, the Econo Lodge at Thousand Hills on Wildwood Drive South. The price of an overnight stay was just over $60, a bargain considering the cleanliness of the facility and high level of customer service. My room was immaculate, with a spacious area outside the bathroom for personal items, and well furnished with two beds, a table and chair. There was computer access in the lobby, enabling me to print out boarding passes and driving directions. The Econo Lodge put on a nice breakfast and the staff was extremely helpful. I would highly recommend this accommodation to anyone contemplating a visit to Silver Dollar City.
With Silver Dollar City opening at 9:30am the following day and my flight out of Branson scheduled to leave at 4:10pm, I had a limited window of time in which to experience the park. (I always like to allow a couple of hours to get gas and get to an airport in case I take a wrong turn, which I am inclined to do.) Because there were so many people trying to get into the park and I had to wait for three trams before I got one to take me to the entrance, I thought that there might be a problem getting on Outlaw Run due to long ride lines. Fortunately, this was not the case. The queue to get on was not long at all and I managed to get in six of the best and most memorable rides of my life. I cannot say enough about how good this coaster is; it's so good that it threatens to displace El Toro as my all-time favorite woodie. (I have written a full-length review of Outlaw Run which I will post on my roller coaster blog.) An 81-degree drop and double barrel roll on a wooden coaster is cause for celebration. I could have ridden it to the exclusion of everything else but thought it appropriate to try some other rides, so I rode Wildfire, which I thought was pretty good, and Powder Keg, which was fun although I can't say that it blew me away. Silver Dollar City is a lovely park and I loved the old west theming.
From Branson it was on to Chicago and then Cleveland, where I still had an hour-long drive to Sandusky. Because my flight to Cleveland was delayed, I was already tired and didn't get to Sandusky until close to midnight, I knew that there was no way I'd be able to make it to Cedar Point by 7am when Coaster Mania was scheduled to commence. I had booked a room at the Rodeway Inn a couple of miles down the road from Cedar Point for reasons of economy. An overnight stay cost me $61.32 and I got exactly what I paid for – or I should say, what I didn't pay for. This place is strictly no frills. There is no computer access and no breakfast room; the most a guest can get for breakfast is insipid muffins or lethal-looking doughnuts and a cup of coffee with powdered creamer, to be picked up at the registration desk. Much to my surprise at check-in, I discovered that most of the other guests were bikers. Yikes! As luck would have it, Coaster Mania was held contemporaneously with Ohio Bike Week. I felt somewhat apprehensive, as my image of bikers is Hell's Angels, but the desk clerk assured me that this was a fairly mellow group and that did prove to be an accurate assessment. However, it was still weird going to sleep surrounded by motorcycles. In any case, the room was clean and well furnished, the price was right and I would stay there again if I couldn't find a better rate at another facility. Except for the breakfast, the Rodeway Inn was a distinct improvement over Howard Johnson, where I had stayed on my two previous visits to Cedar Point. (At HoJo's, a plumber had to be called on the first visit and my room had to be changed on the second visit because the lights were burned out and the desk clerk couldn't find any more light bulbs, and I had to move furniture from the first room to the second because some furniture was missing from the room with the working lights.)
Whereas it had been warm in Missouri, it was cold in Ohio. The next morning I set out for Cedar Point shortly before 9am; by the time I parked, registered for Coaster Mania and got my meal pass, etc. it was probably about 9:20. It cost $38.46 to get in, as opposed to the $44.99 for online tickets for the general public, so that was another bargain. Attendees of Coaster Mania were entitled to ERT on the park's newest attraction, Gatekeeper, from 9 to 10am, so I expected to be able to get right on. Unfortunately, this was not possible. I had to wait approximately 40 minutes to get on, which meant that I probably wouldn't be able to beat the general public that would show up when the park opened at 10 to my favorite ride. (I later learned that more than 1,500 members of accredited roller coaster clubs had shown up for Coaster Mania.) In any case, I thought that Gatekeeper was wonderful and superior to Dollywood's Wild Eagle, with which comparisons are almost inevitable due to the similarity in design.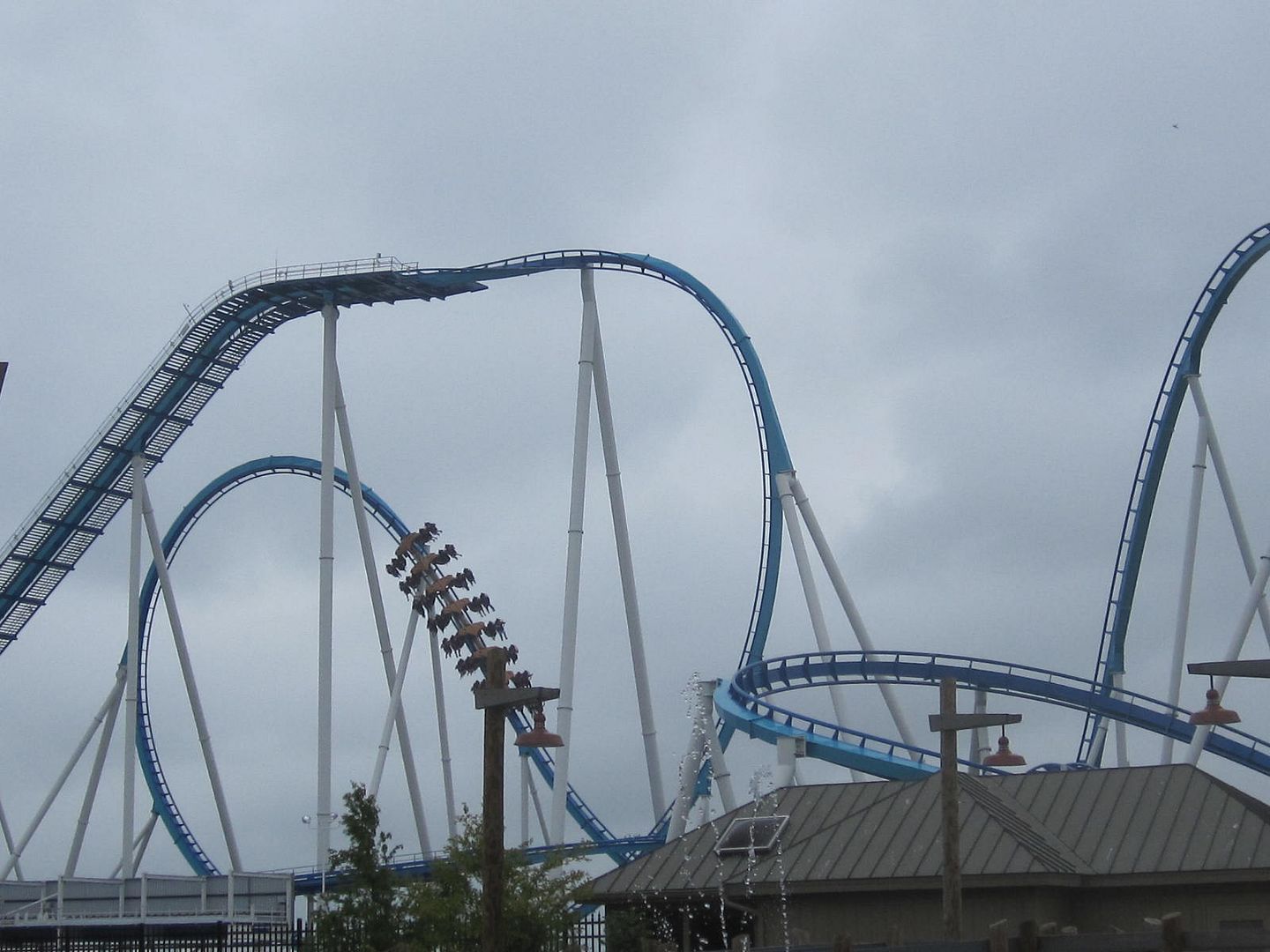 The fact that so many people uninvolved with Coaster Mania showed up at Cedar Point on such a cold, grey day struck me as odd but then Cedar Point is almost invariably crowded. I had to wait for the better part of an hour to get on Millennium Force and would have ridden it repeatedly – as I happen to think that it's one of the greatest coasters ever built – except for the increasingly long queue. With very limited time to spend at the park, I had to figure how to optimize the experience. Standing in line for extended periods is a challenge for me due to medical issues so I decided to compromise by riding one coaster I really like and then going for the one with the shortest wait time. So I rode Maverick (about a 40-minute wait), which I find wildly entertaining albeit a bit rough, and seeing that the line for Top Thrill Dragster was much too long, I thought about Raptor. I had never ridden Raptor and the line seemed to be moving pretty fast so I went for it. What a fun ride!
By now there was just enough time left to get the Gatekeeper jacket promised to everyone attending Coaster Mania. This involved standing in yet another line and by the time I reached the front of the queue, they had run out of everything but large and extra large. I take a small so was not a happy camper but settled for a large because it was free and a souvenir. With a $39.99 price tag affixed to it, it was a bargain considering that I had paid less than that to get into the park so got the rides and the jacket all for the price of one. I was actually happy to have the jacket because it was so cold on my flight from Nashville to Philadelphia (had to fly from Cleveland to Nashville to get back to Philly) that the jacket I had on wasn't warm enough.
It was a fun trip, at as minimal expense as possible, but an exhausting one. Six flights in three days is something I wouldn't want to do on a regular basis. However, I accomplished what I set out to accomplish, which was to ride Outlaw Run and Gatekeeper, but am glad to be back home with my two beautiful cats. Next trip is to Wisconsin Dells in a month, and that will be only a one-day affair.
Replies (4)
This article has been archived and is no longer accepting comments.