The Blog Flume Filter for July 25, 2013
July 25, 2013, 1:44 PM · Epcot – We're hearing speculation that the Imagination Pavilion is going to close, shuttering everything still limping along inside it, around the first of the new year. Unlike the Wonders of Life Pavilion, it's not going to be as easy for Disney to tuck away this more-prominent pavilion so that everyone forgets about it. Will Disney let another empty pavilion just stand and rot, or does it have some secret plan to knock it down and put up something cool in its place? As always, keep your browser tuned to TPI for the latest news as we attempt to solve this mystery.

Disney's Hollywood Studios – At the end of this Behind the Scenes at Lights Motor Action video, they say that you need to hurry and get to the park to see this show. She's not joking. This is one of the rides that is supposed to be closed to make way for Star Wars Land. And speaking of that development, Disney confirmed that it will offer "teasers" for its new Avatar and Star Wars lands at this month's D23 convention in Anaheim.
Disney California Adventure - World of Color is getting a new seasonal overlay, starting Nov. 15. Hosted by Olaf the Snowman, from Disney's upcoming animated feature "Frozen," World of Color - Winter Dreams show also will incorporate winter scenes from Disney films such as "Bambi," "Fantasia" and "Toy Story."

Disneyland Paris – Ever wonder what happens after the park closes? Me too, although I expected the people sweeping up the park to be dancing and singing while they swept:
Universal's Halloween Horror Nights - The Walking Dead will return to Universal Studios Florida and Universal Studios Hollywood this fall, with new mazes at both parks. In addition, scenes from The Walking Dead will provide the main themes for the scarezones at the Orlando event.

Universal Studios Japan – Biohazard The Real just opened up at this park. It is an interactive experience where you have a gun with a display that tells you how much life you have left before you join the undead. Here is an advertisement for it:
Busch Gardens Tampa – Last week the park started closing an hour earlier, and this week the park is closing two of its bigger table service restaurants, the Garden Gate Café and the Crown Colony House. Don't forget that this follows a ticket price increase earlier this year. Is attendance really so bad that there's no demand for the extra park hours or two major restaurants? Is SeaWorld corporate management getting cheap? Or is the park saving up and clearing space for some big new change that we haven't heard about yet? I would hate to think that in a market as competitive as Central Florida that anyone would dream of making such drastic changes unless there was something huge in the pipeline.

In other news, BGT is starting to really gear up for their Howl-O-Scream event with a series of short character videos.
Amusement Park Safety – It is not every day that you happen to be the right person in the right place at the right time. (I really should have bought a lottery ticket that day.) A TV station in Denver was at Elitch Gardens looking for a local angle on the Six Flags Over Texas accident, and I was there. I did not seek out an interview; I was just irritated with the coverage that the tragedy in Texas was getting and sought to head off the exploitation for political gain before it got out of control. I spoke for about 15 minutes to the reporter before they left the park without talking to anyone else, yet it is only easily digestible sound bites that made the final cut.

Six Flags Fiesta Texas – Wanting to take no chances, the park has closed down the Iron Rattler until investigators have a decent idea of what happened on the New Texas Giant. It might be just the chance they need to glue the plaster rattle back onto the end of the train.

Alton Towers – The Smiler has developed a brand new problem. According to what I have read, there has been a pretty bad heat wave in the UK to the point that many of the projectors used on the roller coaster's various theming elements are overheating and the logo stickers are starting to peel off. But the latest is even a bigger deal. People in the ride queue heard a loud ping followed by a bolt dropping onto the top of the covered queue. Not knowing where the bolt came from, the ride was shut down. It looks from the picture below that the heat caused enough stress on the rails to sheer off a bolt with the expansion and contraction as the ride is heated and cooled in the sun. No one was hurt, but this ride is going to be down for a bit as they try to figure out why this happened and get it fixed.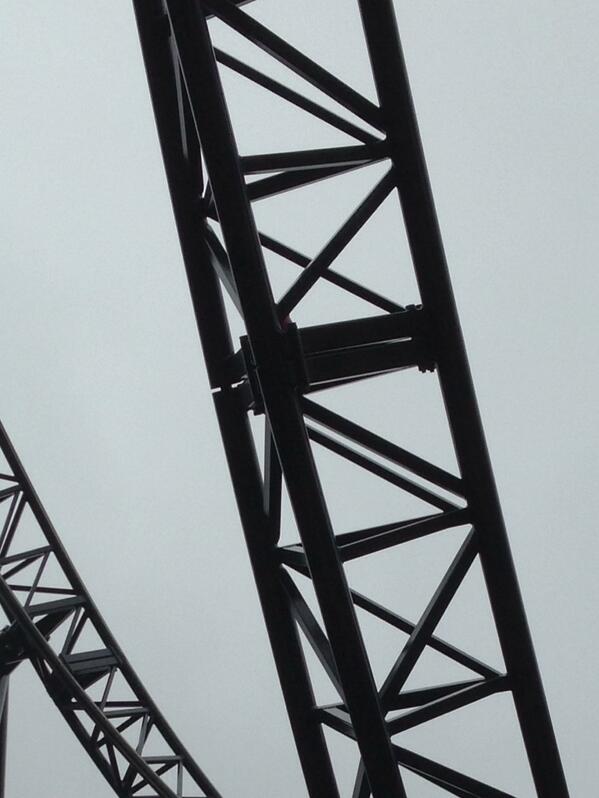 Disney Research – Whoever is in charge of this R&D at Disney needs to receive a fat bonus and a promotion, although they'd probably then get fired for spending way too much time and money on something that doesn't fit around a customer's wrist. For this device, Disney would be able to simulate someone in a 3D movie reaching out and grabbing your shoulder…and that is just the first use that comes to mind.
Lost Parks of Northern California – Luna Park – This is Episode 2 of a wonderful series. If only we can convince them to do some history for a state that is a little bit farther away from the coast… Maybe, like, Colorado, or something. I mean, even most Californians only have a vague idea of where Northern California is.
Share any other theme park news you've heard, in the comments.
Replies (12)
This article has been archived and is no longer accepting comments.