A new look, at Six Flags Great Adventure's opening day
Six Flags Great Adventure
opened for the 2014 season on Saturday, April 12, a glorious and unseasonably warm day. Since my last visit to the park in October there have been some significant changes, both in appearance and in season pass processing procedures.
The most immediately striking visual change is the addition of the three Zumanjaro drop towers to the back of Kingda Ka. Kingda Ka was not operating for reasons which will become obvious in the below photograph and is not scheduled to resume operation until the opening of Zumanjaro on May 24. The Drop of Doom will load from behind Kingda Ka.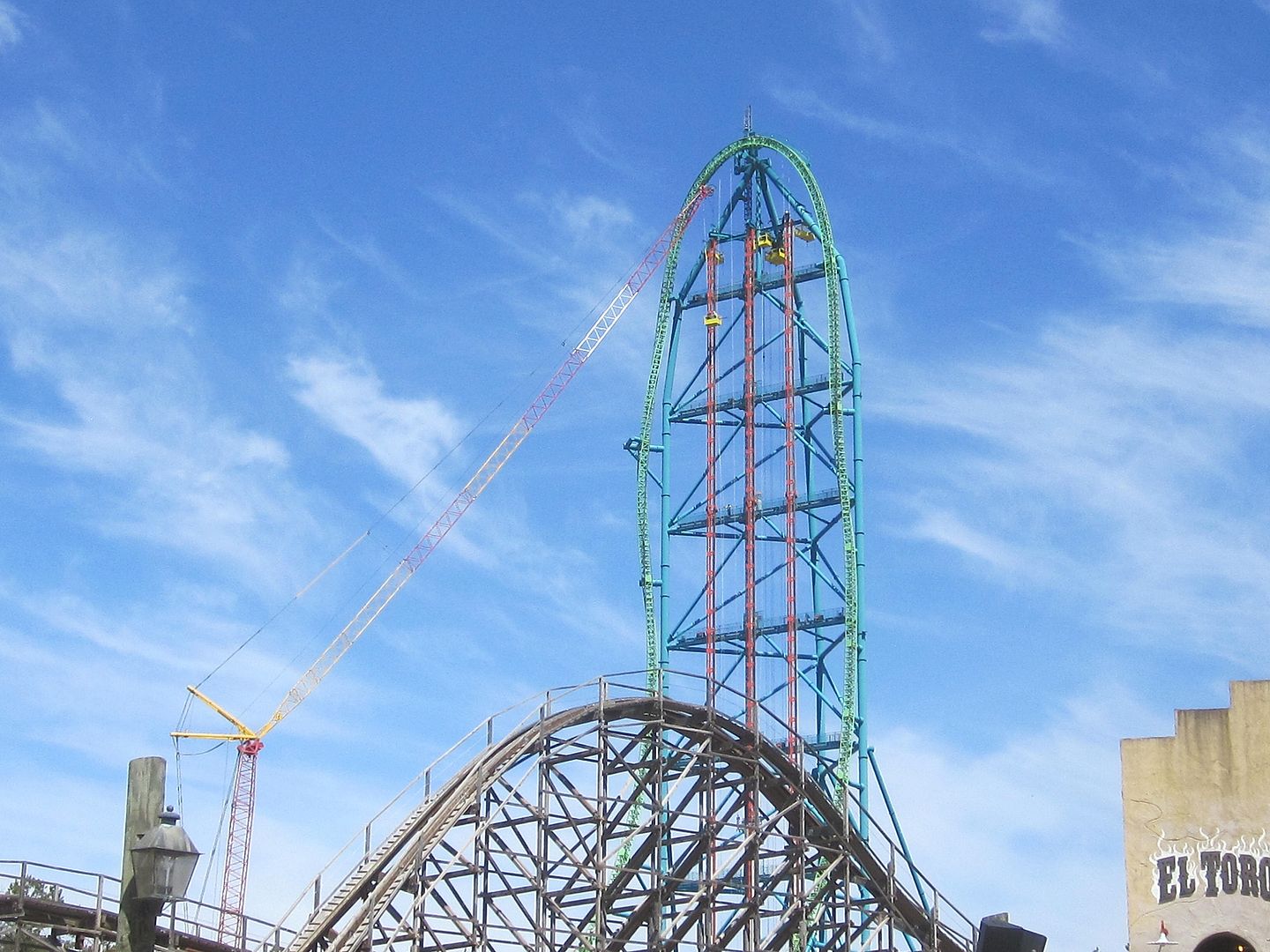 The other noticeable change is the absence of Rolling Thunder and consequent complete visibility of El Toro. Before the demolition of Rolling Thunder, El Toro's track during the latter part of the ride was obscured from view by RT. Now it's all out in the open and this is not necessarily advantageous, as it detracts from the element of surprise. The final drop, which offers some of the best ejector airtime I've ever experienced on any coaster, does not look at all prepossessing now that it is clearly visible. As oxymoronic as this sounds, the drop looked better when you couldn't really see it and it seemed to come up out of nowhere. And the fact that El Toro crossed over Rolling Thunder's track was pretty cool.
That being said, El Toro rides as well as it ever did and remains, IMHO, the best coaster in the park. Anyway, on to a new era. A small part of Rolling Thunder still remains, seen in the foreground of the photograph. This gives rise to speculation as to whether it will remain permanently in place, perhaps as a memorial?
As to season pass processing, there has been a major change. First of all, the season pass processing tent has moved from a location between Superman and Green Lantern to a location a short distance off the boardwalk. Secondly, the protocol is completely different from that of previous seasons. Historically, season pass holders have been photographed then given a plastic card featuring the photograph along with a book of coupons to bring a friend for free and other discounts. As of this season, pass holders get a plastic card with no photograph; they will be identified by fingerprint. Upon entering the park, they'll present their card and have their index finger scanned. Additionally, there are no coupon books. Coupons are available on line and will have to be uploaded onto the season pass.
It would be unrealistic to expect everything to go off without a hitch on opening day and indeed it did not. El Toro, Nitro and Bizarro all experienced "technical difficulties" while I was waiting to ride them, although park staff did a great job in getting them back up and running. A train on Superman is rumoured to have gotten stuck on the lift hill, forcing evacuation of the riders, but this is unconfirmed. All in all, a good day. The staff at Six Flags did an excellent job and it felt so very very good to get back on a roller coaster after a six-month absence!
Replies (6)
This article has been archived and is no longer accepting comments.