Monday Top 10: The Best Theme Park Halloween Events
It's October, and that means we are in prime time for Halloween events at all the major theme parks around the world. What started in the 1970s at Knott's Berry Farm in Southern California has grown into a global phenomenon, as parks look to extend their operating season into fall with Halloween-themed events. Whether they're scary haunts or candy-filled trick-or-treat opportunities, these events pack in Halloween fans. But which are the best? We've collected your votes over the past year and present our Top 10 list, based on your reader ratings. The list below also includes comments from readers and our Theme Park Insider Halloween reviewers.
10. Six Flags Magic Mountain Fright Fest
With "terror tracks" on its world-class roller coasters, multiple scare zones, and eight mazes, Fright Fest would be the hit of the town in any other city. Yet it's located in the ultra-competitive Southern California market, the birthplace of theme park Halloween events, which means that Fright Fest too often gets overlooked by busy local Halloween fans.
When the weather starts to turn cooler and the sun sets earlier over Sandusky Bay, the beautiful lake north of Ohio turns from Lake Erie to Lake "Eerie." A mysterious fog covers parts of Cedar Point. And the screams heard throughout the park don't all come from the roller coasters Cedar Point is famous for.
8. Knott's Berry Farm Halloween Haunt
The original theme park Halloween event is more fun than it is scary, and that's not a knock so much as it is noting Knott's Scary Farm's lifestyle choice. They want to be a fun, mostly PG-13 event — and if you get scared now and again, all the better.
7. Universal Studios Singapore Halloween Horror Nights
Singapore's is a fairly new event (and a fairly new park, for that matter). In a country where Halloween is not quite what it is in the United States, Universal Studios has put together a very strong event over the past four years, helping increase the popularity of the holiday in the country.
6. Busch Gardens Tampa Howl-O-Scream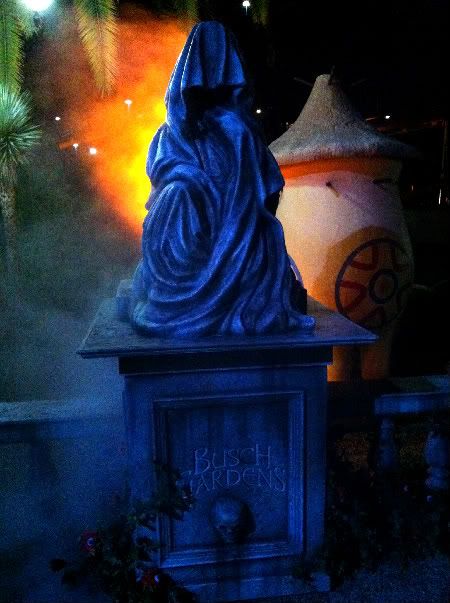 Facing tough competition up the highway from the Orlando theme parks, Busch Gardens fights back with its own aggressive mix of scares and thrill rides.
5. Busch Gardens Williamsburg Howl-O-Scream
After 15 successful years, Busch Gardens Williamsburg has a proven formula for a successful Halloween event. This year's 16th-annual edition offers much of what past guests have grown to enjoy, along with just enough change to keep the event fresh.
4. Walt Disney World Magic Kingdom Mickey's Not-So-Scary Halloween Party
Not all theme park Halloween events have to be scary. Disney has embraced the other great tradition of Halloween — trick-or-treating — with a pair of candy-fueled celebrations on each coast.
3. Disneyland Mickey's Halloween Party
Disneyland's version of the "not=so-scary" party edges ahead of its older sibling, thanks in part to a couple of great attraction overlays (available to day guests, too, during "HalloweenTime"): Space Mountain Ghost Galaxy and Haunted Mansion Holiday. Don't miss the Cadaver Dans performing on the foggy Rivers of America, either.
2. Universal Orlando Halloween Horror Nights
Knott's might have started this party, but Universal is the one that's, well, killing it these days. Halloween Horror Nights at Universal Orlando's is the Universal's oldest theme park event and the world's largest, attracting theme park fans from all over the world for its mix of scare zones, shows and mazes.
1. Universal Studios Hollywood Halloween Horror Nights
Lauren Cohan at USH's Walking Dead maze. Photo by David Sprague for Universal Studios Hollywood.
But if you want to get scared with the stars, you gotta go to Hollywood. Creative Director John Murdy sets the standard with USH's annual festival of "branded horror," bringing together the directors and stars of top TV and movie horror franchises to create unique, theme-driven houses that have fans queueing up from dusk to (nearly) dawn, until they're so overloaded by all that's happening around them that they can barely stumble home like, well, the walking dead. (Sorry, couldn't resist!)
What's your favorite theme park Halloween event?
Replies (7)
This article has been archived and is no longer accepting comments.