Last week at your amusement park...June 27, 2011
A digest of amusement park news and rumors...and a couple of rants...with a sense of humor...
Kentucky Kingdom – A deal to reopen the park is near. They say that it will take $50 to open the park. I wonder if as a group we can all look in our couches and raise that amount for them, no need to bother the state government for that one. However, I think they actually meant 50 million, at which point our host Robert Niles could look in his couch and come up with that and a couple extra mils as a tip.
Bells (Tulsa OK) – As a sure sign of defeat, Robbie Bell has finally gotten around to selling the Zingo roller coaster that was the main attraction at his former park before shenanigans of the fairgrounds forced the rapid closure and removal of all of the rides. So let them know if you are interested in an old, rough, quickly dismantled, rotting for 5 years in pieces roller coaster. I found $4.32 in my couch if that helps.
Disneyland – Get your last rides in on the Matterhorn before it goes down for an extensive rehab followed by another extensive rehab...Hollywood style...
California Adventure – Goofy's Sky School soft opened over the weekend. In a bit of a departure, today you get to try and write your own soft phallic joke. (Ok, Ok. Here it is....I didn't realize it had been open for....blah blah blah....feel better now?)
Knott's Berry Farm – A huge new rumor is starting to circulate. Just take my advice this time and don't let Togo or Mondial make it this time.
Festival Tennessee – Another theme park in Tennessee that has received a fortune in government money has just been delayed when the city leaders decided to push back a sewer expansion required by the theme park back by "a few years". The real question is whether the sewer is going to rout sewage to or from the theme park. I will bet that the Noah's Ark project doesn't have that kind of delay...
Cedar Point – Now that the WindSeeker is open, it has moved on with it dastardly plans and is now maiming riders who keep their eyes closed when the vehicles slam into each other. Expect that this ride will not be open when the wind is blowing or there are not enough riders to fill all of the vehicles. I can't imagine what the durability of this ride is going to be if the vehicles smash each other up. You know, they could re-theme this ride in the off season to a smash up derby...
Six Flags – Much like what Cedar Fair did by installing the same ride at almost all of their parks, Six Flags has approved a series of identical plans for 2013 to build loan offices right outside the gates of their parks to help people who are trying to afford their parking lot fees.
Earth Quest (Houston TX) – There have been some problems securing the money for this project. What the big surprise is that if you are really questing for the Earth: You are here! You found it! Congratulations! Put the $500 million in your pocket as profit.
Kennywood – Actual headline: "Neighborhood Gang Sells Lemonade for Family Kennywood Trip". Without reading the actual article, I would like to say how nice it is to see those nice young gang members getting out into the community and spreading goodwill and joy to all of the community members and in no way would insinuate that such an enterprise would have anything to do with money laundering because I would not like to have a knife in my belly....One cup of lemonade, please....$50 per cup? ....Sure thing....whatever you want....can I keep my wallet? ....no? ....sorry I asked....
Camelot Theme Park (UK) – The medieval theme park is planning a Knight School on July 16 for kids aged 6-12 to learn about their tournament. The theme park claims, "[Kids] will learn the art of knights' combat and medieval weaponry, get the chance to dress the horses for the jousting tournament and learn juggling skills from the park's jester." To break that desciption down to what is actually going to happen, you will be mucking out stalls, serving as pin cushions and crash test dummies to the real knights while the jester tries to convince you to juggle knives all for the love of a princess who would sooner spit in your face than look at you. No offence, but I just can't figure out why people would embrace such a high level of obvious make believe...I can't take it anymore. If you need me, I will be inside, in the air conditioning, playing my video games...
Fiesta Texas – Fireworks have been banned by the city of San Antonio, cutting off the nightly festival. Not all is lost, though, since the nightly show also incorporated video, lasers, and multimedia portions, the park has decided to simulate the fireworks by having a couple of business suit hippies stand in the middle of the crowd and at the moment the fireworks are supposed to start, they say in a loud voice, "We should give Texas back to Mexico".....and then you get your fireworks as the theme park patron's heads explode.
Disney World – A massive fire destroyed a Kissimmee hotel near Disney's Animal Kingdom over the weekend. Firefighters normally say when a fire cannot be explained that it was caused by mice with matches....hey....wait a second....
Astrodome – For the 12 years since the Astros moved to Minute Maid Park (insert your own professional athlete/maiden joke here), the original Astrodome has been sitting empty. Houston is now paying another $50,000 for a study on what to do with the Astrodome. Today's assignment is to save Houston 50 grand and come up with what they should do with the Astrodome.
Create My Caption – In the discussion thread in addition to the Astrodome assignment, post your best caption for the following picture taken during the destruction of Liberty Land. Picture borrowed from Coaster 101.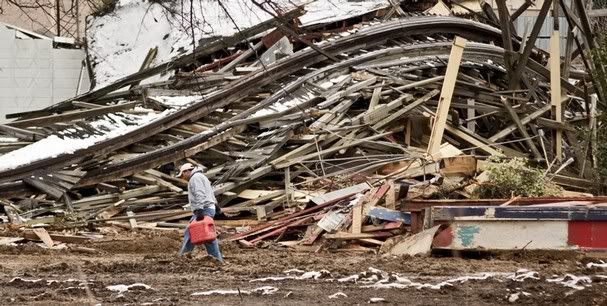 If I have missed anything (and I have, so no worries there) please post below. If you have some inside information, more news, more rumors, first rides, please share with the rest of us.
Sources: Screamscape, Amusement Today, and whatever else I happened to read this week...
From Tim W
Posted June 27, 2011 at 6:42 PM
Are you sure that isn't Expedition Everest? They minus well do that without the working yeti!
I was thinking more along the lines of:
Caption: "Gesundheit!"
or
Caption: "Does anyone have a hanky?"
I had a couple more ideas, but figure I should give someone else a chance...
"Dang... Where did I drop those matches?"
"Anyone got a light? Time for a big weenie roast!"
Caption: Oh Crap, I'm so fired!
Caption: Whoops, I guess the duct tape WAS holding it together!

Eh kids with Kennywood, if they had half a brain they'd just go buy their tickets at Giant Eagle and save their butts then $10 at a WHOOPING price tag of *GASP* $25.99! I can dig that out of my couch!
From James Rao
Posted June 29, 2011 at 4:37 AM
Very funny stuff, Jeff!
Caption -
Overheard at Worlds of Fun (KC, MO): "That should do it. I knew a basic re-tracking was all we needed. Another year of the Timber Wolf is in the bag!"
Caption: What do you mean it's rough? I thought we just fixed that...
From James Rao
Posted June 29, 2011 at 8:17 PM
Caption:
The Dinn Corporation prepares to unleash their latest wooden creation on an unsuspecting public.
This was fun to read.
I appreciate the complements.....I have fun writing these....
Caption: A local Alton Towers neighbor finally takes matters into their own hands...
Caption: Unzippin Pippin
This discussion has been archived, and is not accepting additional responses.