Last Week At Your Amusement Park......October 3
A digest of amusement park news and rumors...and a couple of rants...with a sense of humor...
Actual News: A small ultra-light plane flew into a Ferris wheel at a small festival 220 miles north of Sydney in Australia. While the picture looks pretty horrific, no one was injured. Although the two kids in the gondola two away from death were shaken up pretty well, they were rescued without incident. In fact, the two people in the plane weren't injured either. The plane was arrested for Ferris wheel abuse and booked at the local juvenile detention center. I, for one, think that they should throw the book at the plane for such a disgusting act of Ferris wheel abuse. An example needs to be made out of this plane that will keep other planes from demonstrating the same despicable behavior. I mean, at the very least, it should have waited for the ride to stop before getting on. I am completely in favor of having its season pass revoked at the very least. See the picture below....
Freestyle Music Park & Kentucky Kingdom - What is going with these idiots? Where do they think that good attraction operators come from? Of the major companies, Disney doesn't want to have anything to do with these two parks; Six Flags dumped one and doesn't want to have anything to do with the other; Cedar Fair is selling parks to try and get their debt under control; Herschends just took over management of a couple of parks and is doing a terrible job with them. Merlin and their parent company just bought the Busch parks, so they are busy. So who else is there? Ed Hart wants to take on Kentucky Kingdom, has a track record with that park, and knows how to get it done, but the greedy Fair Board has ended talks with him. This is starting to sound like Bell's in Tulsa all over again. If the fair board thinks that they can run the park, fine, let's see it happen, but we both know that getting a park above 1 million guests in under 10 years is a superhuman feet that Ed Hart already did for you once. If you are so much smarter than Ed Hart, run it into the ground, bulldoze the whole thing, and put in a dog park.....both of them. The problem is that both of these parks are going to take money to get them open....significant amounts of money....for large new attractions that will bring guests into the parks in large numbers. That is what we lay people call an investment. You will not be getting your investment money back for at least 5 years, so don't even bother to ask. But to walk away from someone who feels passionately about the park is inexcusable.
Six Flags New England - Shipwreck Falls is coming down to make way for Goliath.
Alton Towers - Construction has started on their new drop tower that is going to located near Nemesis. In other news, Alton Towers has signed a contract with B&M to possibly supply the SW7 roller coaster.
Animal Kingdom - The completely underwhelming Primeval Whirl roller coaster is partially back up and running. The far inferior left side is now open. When they said it was partially open, I was thinking that just the queue line, or only the first half of the roller coaster was open.....and then you had to roll the car manually back to the station.
Dubailand - The developer is winding back up and should be in talks soon to get four amusement parks back on the development tract. Based on how they are performing with new parks and expansions, early guesses think that Universal Studios and Legoland will be the first ones to start back up. I received a message on my cell phone earlier today asking for my signature on the last couple of documents to get the World Wonders theme park built, and I know that James Koehl was going to hold out for more money.
Legoland Florida - The opening is just a few short weeks away. They are starting to complete work on their plastic ride operators.
Knott's Berry Farm - In a bit of very very good news, the Farm is getting back Raffi Kaprelyan as the new General Manager. Raffi had previously done a stint of time at the Farm but had most recently resided as the GM of Canada's Wonderland, where the park quietly yet quite impressively positioned itself one coaster behind Cedar Point and Magic Mountain in the coaster arms race. Not that I had anything against the previous GM, but this new GM sounds like a really good fit and someone to expect a lot out of.
Disneyland - Disney is aware that Captain EO is not as good as they thought it was when they pulled it out of storage right after Michael Jackson died. As a result they are currently sifting through ideas about what to put in there. If you have any ideas, please send them to: ideastheimagineerswillsteal@disney.com. Speaking of Michael Jackson, has anyone been following the trial of the doctor that killed him? His latest defense is that the Michael Jackson that we all knew was a sophisticated animatronic that Disney has many years earlier after the real Michael Jackson had died shortly after completing the Dangerous album following a couple of months of out of control Diabonol, Wisterol, and Arsenic abuse. The doctor stated that the animatronic has always had logic issues but had recently had problems with leaking hydraulic fluid that he had been carefully replacing with the syringes before he was needing to go down for a lengthy maintenance after his European tour had completed....he was hoping that the animatronic would be able to hold out until the end of the tour without having to revert back to using the strobe light and a furniture dolly.
Levesden Studio - Harry Potter Behind the Scenes tour - It is looking like Warner Brothers is really putting some time and effort into this. Check out the first sneak preview: Click here for Pottery Goodness

Create My Caption - In the discussion thread below, post your best caption(s) for the following picture borrowed from Frank Palfreyman of the European Pressphoto Angency.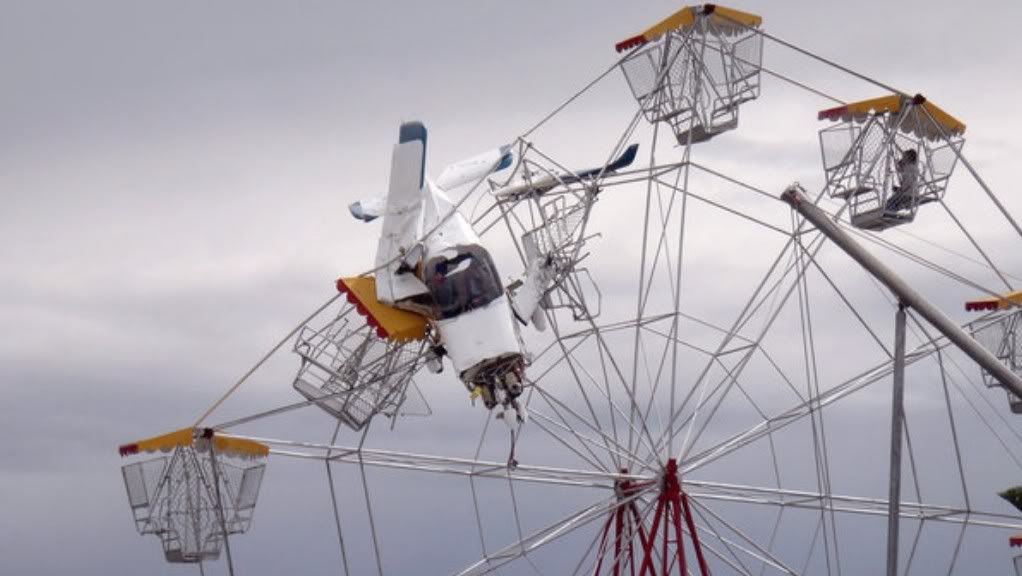 If I have missed anything (and I have, so no worries there) please post below. If you have some inside information, more news, more rumors, first rides, please share with the rest of us.
Sources: Screamscape, Amusement Today, and whatever else I happened to read this week...
Caption: Ferris Wheel rider: "That ride was just plane AWFUL!!" Can we go again?
Caption: For once, I'm glad we weren't the ones stuck at the top!
Jeff, just curious- how much did you have to pay Dubailand to use Wonders of the World Theme Park? I hope that they don't use their original intended location, the parking lot of the Dubailand Information Center. That was a really nice parking lot.
Caption: "If it's ok with you, I think I will wait to be rescued until after some fresh underpants are delivered up here."
@ James
You sound like the type of person that thinks that California Adventure should be returned to a parking lot...
It sounds like it already is. All I hear talked about is Cars this and Cars that and Carsland and Cars-some-other-darn-thing. I know that Californians are in love with their cars, but come on- an entire theme land about cars? What? Oh, you mean "Cars" the movie? Uh, never mind.
Caption: Jihad!
I read somewhere that Bells was reopening.
As for Freestyle and Kentucky Kingdom, I'm not sure why Ed Hart is now out of the picture. He was responsible for the park's success before Six Flags bought it and ran it into the ground. One would think he should be the guy. I'm not sure what the fair board is thinking here, unless either Ed wants the park open during their precious fair, or there's an issue with parking permissions/prices, etc. It seems that Freestyle park just won't die though. There's a good reason for that though, because it can work if done properly.
One glaring miss this week. Last week the industry lost a true innovater. Ron Toomer of the old Arrow Dynamics died last week at 81 years old. For those who don't know, Toomer was a rocket engineer before going to work for Arrow and was directly involved in or responsible for several innovations and amusement park staples of the past 50 years, including the tubular steel track, the log flume, a handful of Disney attractions (notably systems for Haunted Mansion, It's a Small World, and Pirates of the Carribbean), and over 100 coasters. He retired in 2000 when Arrow went under, just after he and the company built "X" at Magic Mountain.
One odd fact about him, the designer of Magnum, Viper, Loch Ness, and countless others...never rode a single one of his creations because he had a bad motion sickness problem.
Caption: "Fastpass Smastpass. I know a better way to not have to wait in line..."
This discussion has been archived, and is not accepting additional responses.