Christmas Eve crowds at Universal Orlando?
Universal Orlando:
How crowded will it be?
Thanks!
actually
gone on Christmas Eve to either the Disney or Universal parks? I read that the crowds really pick up on 12/26, so I thought Christmas Eve wouldn't be too bad...
Bryce, you're right, crowds pick up on the 26th, but that doesn't mean the parks are quiet.
But alas, that's probably hoping too much.
Also, 4th of July is not a high crowd day at Universal parks because IOA has no fireworks at all and Studios only has cinespec - which does not come close to other parks' 4h of July fireworks showings.
Here's a few notes:
1. When the park opened, it was perfect. Everyone obviously rushed to WWoHP, but we headed to Marvel Super Hero Island first. The Incredible Hulk had no wait, and the same went for The Amazing Adventures of Spider-Man and Doctor Doom's FearFall. We finished this land in no time.
2. Jurassic Park River Adventure was also a walk-on in the morning.
3. WWoHP was awful. 145 minute wait for Harry Potter and the Forbidden Journey, 60 for Flight of the Hippogriff, 70 for Dragon Challenge. You also couldn't move. We did try Forbidden Journey later, but that's another story.
4. The crowds really peaked at around 11:30. The Incredible Hulk was up to 70, The Amazing Adventures of Spider-Man was up to 110, etc.
5. Dudley Do-Right's Ripsaw Falls and Popeye & Bluto's Bilge Rat Barges were consistently 5 minute waits. We did Ripsaw Falls.
6. We tried to queue for Forbidden Journey and it started near the entrance of Jurassic Park River Adventure. I thought it wouldn't be that bad since we are just going straight to the castle. Instead, the line turned and went past the castle, past the greenhouse, behind the show building and then extended in the backstage areas of Jurassic Park. Then you had to go back to the entrance of Hogwarts and then through the regular queue. The ride kept breaking down also and then they closed it and everyone had a mad rush and we ran for the emergency exits and ended up in Jurassic Park. People were crying and it was just too horrible.
Overall, I had fun still but we should have been more wise. I was also slightly upset because it was my dad's first visit and I could tell the crowds were bothering him as much as me.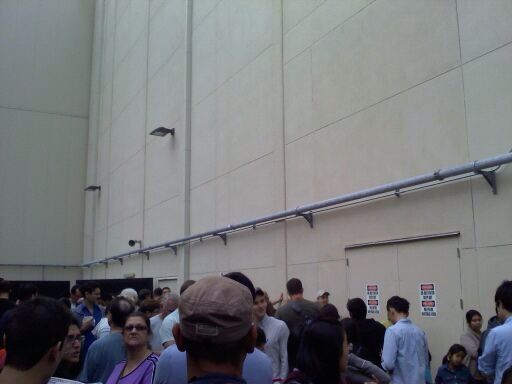 This along the side of the show building in which is basically in Jurassic Park. It was honestly never ending and this was already about 45 minutes into the line. We still had to go back to the front of Hogwarts, through the first part of the castle, the greenhouse and the rest of the castle. This is also about where we bailed.
It's crazy though compared to when we went last month. Forbidden Journey was a walk on, as was everything else basically. And I've never seen Dragon Challenge at more than a 10 minute wait. Never again.