Trip Review: Gilroy Gardens
Trip Report
Gilroy Gardens

Welcome to Gilroy Gardens
Gilroy Gardens is a small children's park located in Gilroy, California, a couple miles off of Highway 101. With a focus on teaching kids about agriculture, water cycles, and most importantly bugs, this educational children's theme park is the "Legoland of the North." Opened as Tree Haven in 1975, Michael Bonfante used his Nob Hill supermarket chain to open a tree nursery as a way for him to deal with the stress of a high risk management lifestyle. 2 years later the nursery was opened to his Nob Hill employees as a botanical garden renamed as Nob Hill Family Park that slowly grew and became ever more expansive. Rides were added, and the World Famous Circus Trees from nearby Scott's Valley were saved and moved to the park. The park was renamed again in 1988 to Hecker Pass... A Family Adventure when it was opened to other companies to utilize as a picnic grounds. In 1998 Michael Bonfante sold his Nob Hill supermarket chain to transform the park into Bonfante Gardens Theme Park. 2001 was the grand opening of the park, but the economics weren't working out causing closures earlier than projected for the first two seasons. In it's second season the name was changed to Bonfante Gardens Family Theme Park to help better identify the park. In 2003 Paramount Parks who managed the nearby Paramount's Great America were hired to help manage the parks staff and finances. By 2007 the parks name was changed again to Gilroy Gardens to help better identify the parks location. Currently the park is now financially sound with Cedar Fair now managing in place of Paramount. Recently the park created 2 very identifiable mascots and is opening a second water playground, while of course focusing on education.
Similar to both of the Legoland parks in Carlsbad and Winter Haven, Gilroy Gardens lies just off the beaten path roughly a 30 minute drive from San Jose, California. While the location of this park wasn't planned out to minimize crowds like both the Legoland parks were envisioned, it has the same effect. The location isn't hard to get to, but it is just far enough away to limit the number of people attending the park each day. Parking feels like a maze if only for the huge number of trees that surround the road as you pull in. Once at the parking toll booths you bend around a corner and are smack dab in a parking lot. I arrived with my girlfriend, Ashley, and her much younger sister just before the park opened. We grabbed our tickets and got to listen to opening gate spiel, and a fairly peaceful sounding rendition of the Star-Spangled Banner before we were admitted into the park.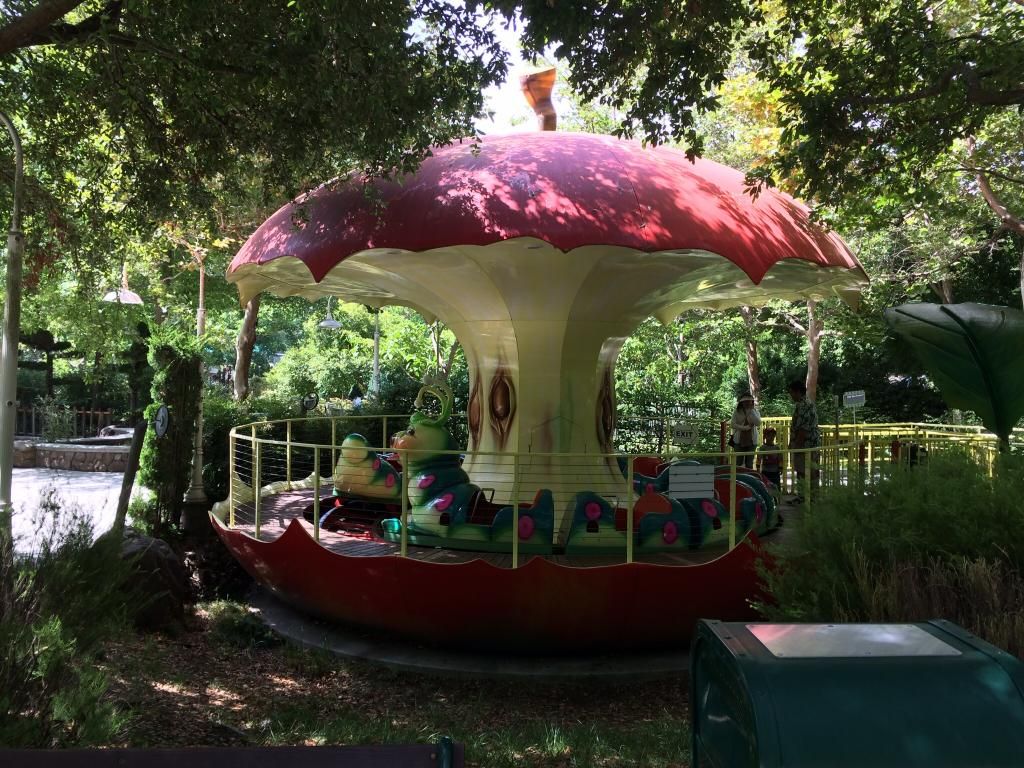 Apple and the Worm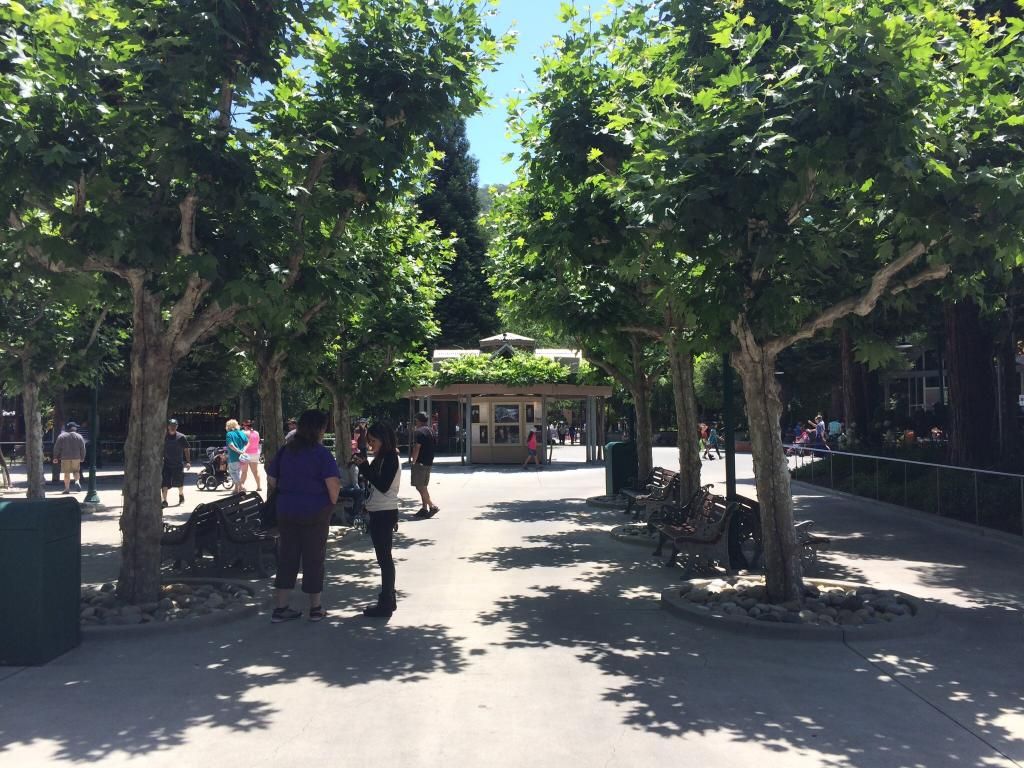 The Hub
Upon entering, you cross a very long wood planked bridge, surrounded by trees, and there are no stands or booths to make you feel as if you're at a theme park. As you pass under the train that goes overhead you reach the central main hub. Like all amusement and theme parks the gift shop is to your left entering the hub and to your right as you exit the hub. Unlike most theme parks though it's not a barrage of gift stands and shops surrounding the hub. There's the one gift shop, bathrooms, a cafe, and information. That's it. Trees and flowers take up every other nook and cranny, and at the center of the hub is a small structure that outlines the history of the park. It includes the hardships Gilroy Gardens had when it originally opened instead of just "whitewashing" those years away, as well as celebrating Michael Bonfante.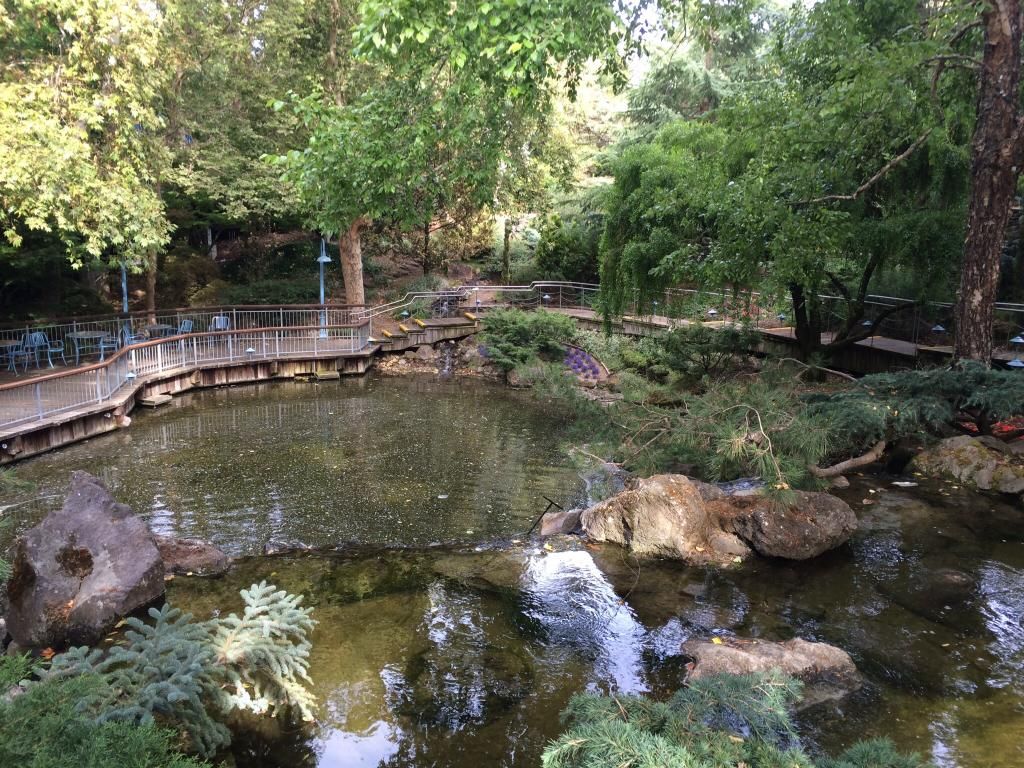 Just off of the Entrance
There isn't really anything ground breaking or innovative about the park. It doesn't have big thrill rides, there are no new ground breaking ride designs being tested here. No, what you get here are basically smaller family theme park and carnival type rides, with some of the most charm and love I have ever seen. The wave swinger ride is themed to a mushroom because it looks like a mushroom. Their teacups are themed to look like garlic buds. They have a small channel boat ride themed to flower petals going down a stream. Add in the extremely beautiful landscaping and you get a charm that can't be dismissed.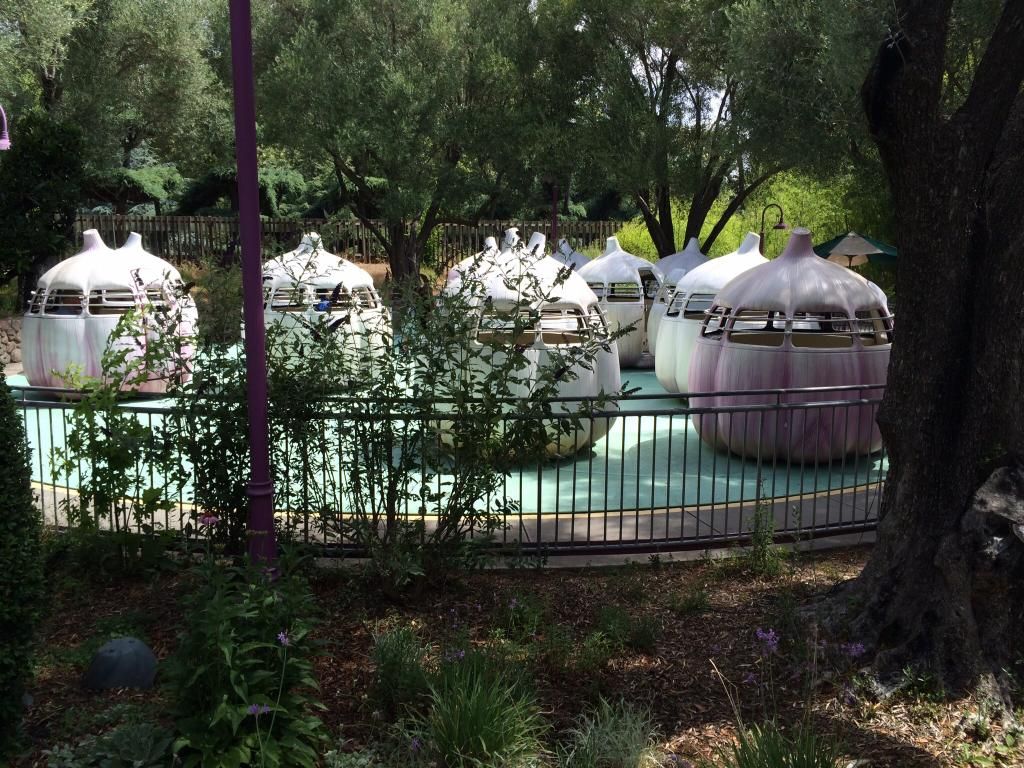 The Garlic Twist teacup ride.
Mushroom Swings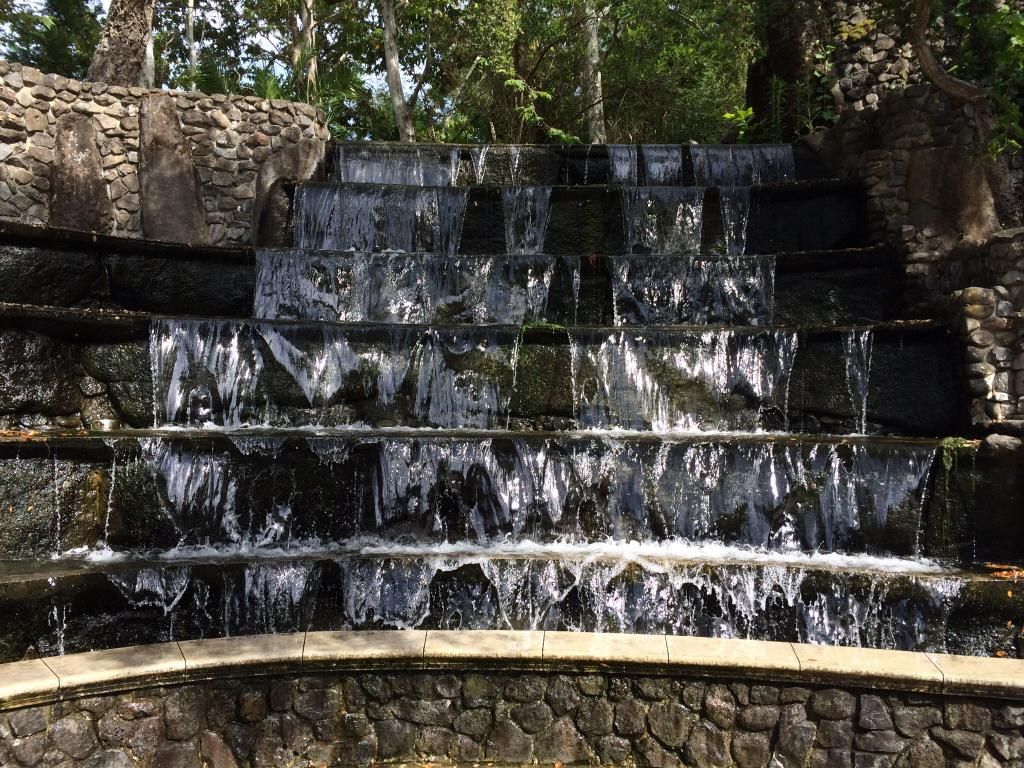 Just a waterfall here to have one!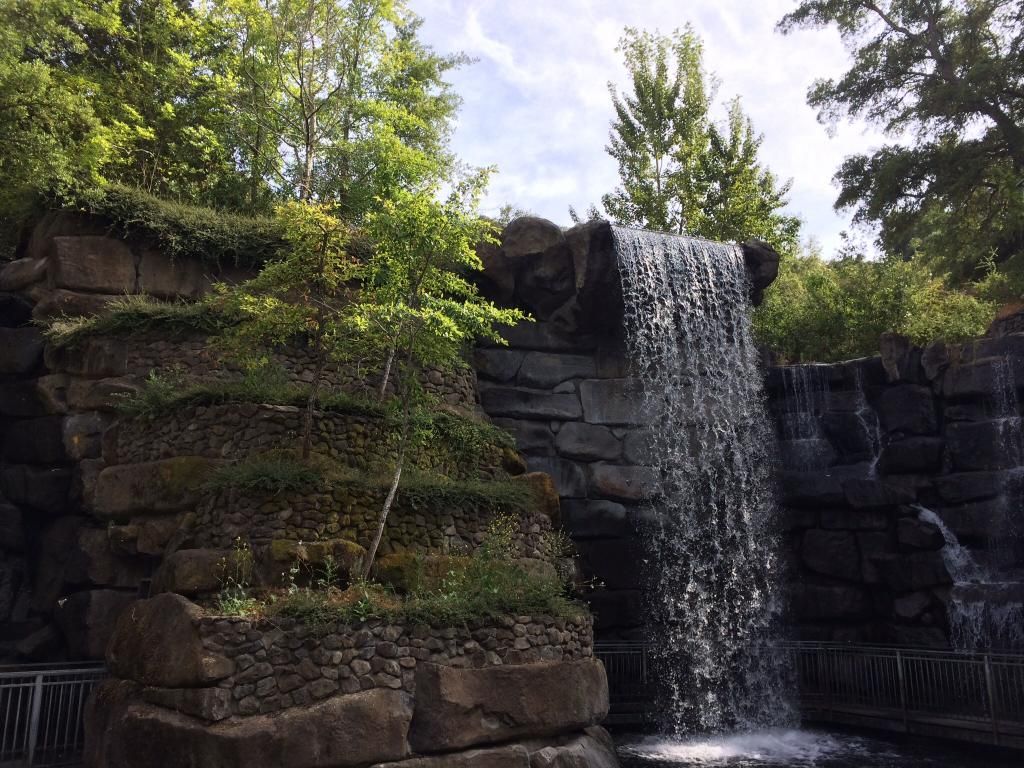 Here you can get a closer and better view of the backside of water.
A monarch butterfly pavilion is toward the back of the park showcasing more exotic plants found a little further south of the California border. Both the monorail and the train go into the pavilion as hundreds of butterflies circle around you.
Train vs Butterflies.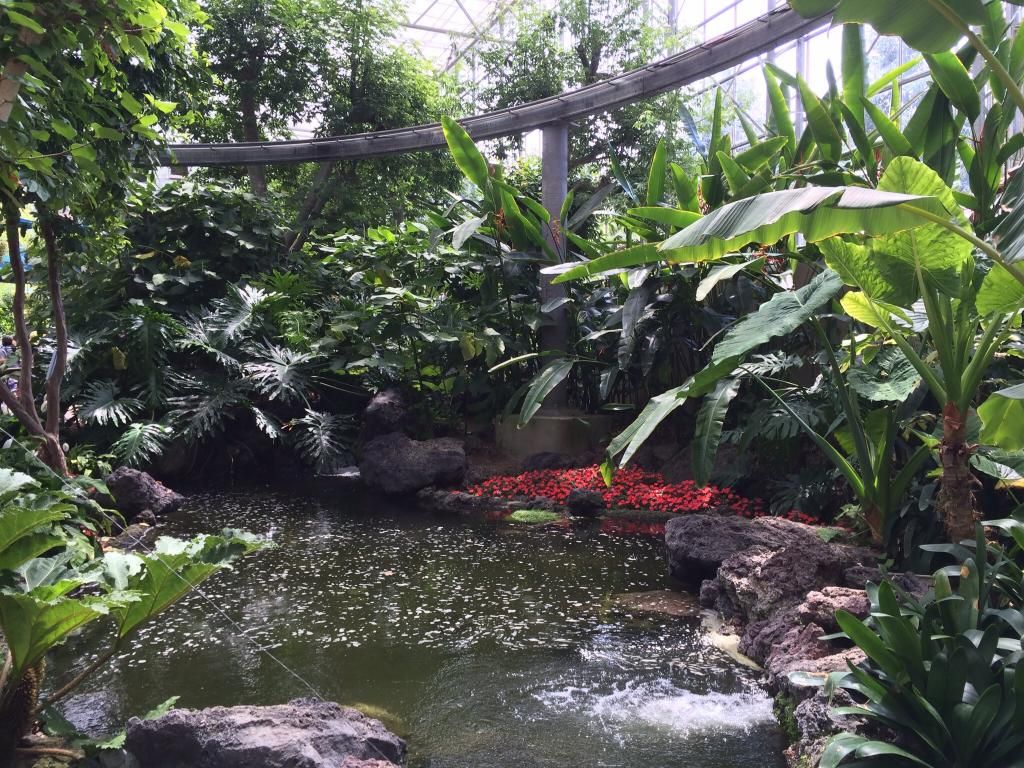 Monorail vs Butterflies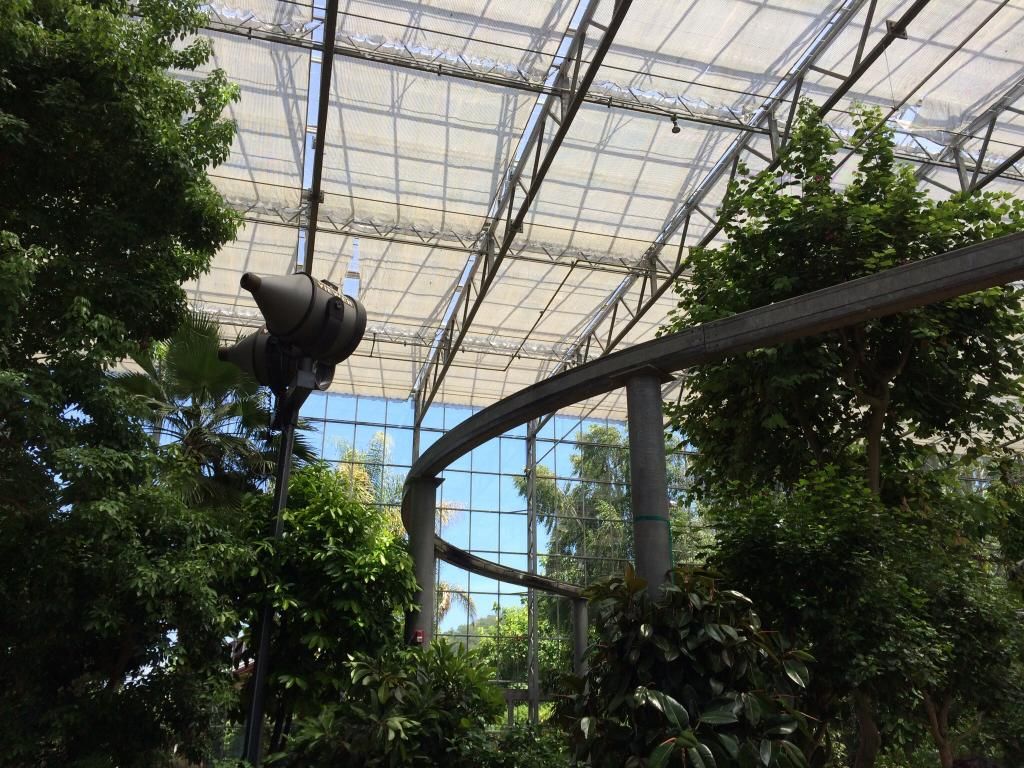 Monorail vs Butterflies 2: Bonfante's Revenge
2 Girls and a Ferris Wheel
There isn't a moment in this park where you aren't surrounded by trees. Even the Quicksilver Express, an old Morgan mine train coaster, is surrounded by trees to the point you actually give up on trying to follow the track. It's a shame that the farming section at California Adventure didn't jump on some of the ideas at this park when it opened. The landscaping alone could have made for a a solid attraction by itself at any Disney park. It's incredible and I found myself walking around gardens for 20 minutes at a time just taking in the detail.
The circus trees are another one of the big draws to this park. They remind me of something out of a Dr. Seuss book. I'm not sure if there is some sort of patent on these things but how Universal didn't manage to add these to Islands of Adventure is beyond me. There are, I think, 27 of these trees all around the park, and they are all unique and different. I haven't managed to find them all but they are a marvel to look at.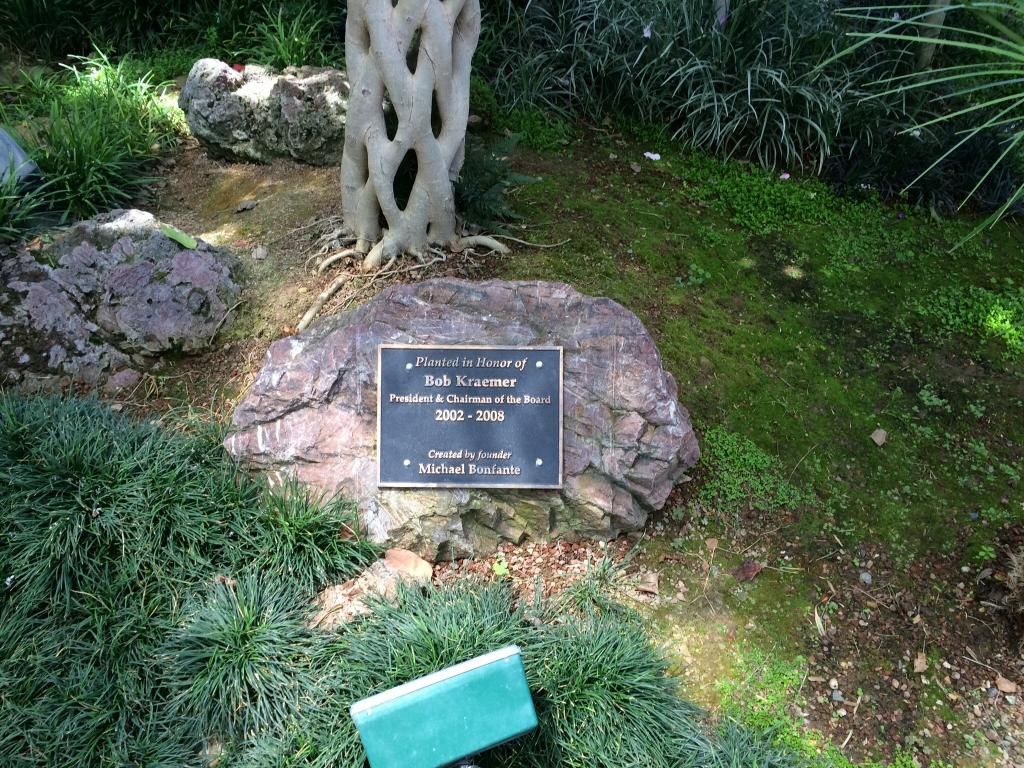 A Circus Tree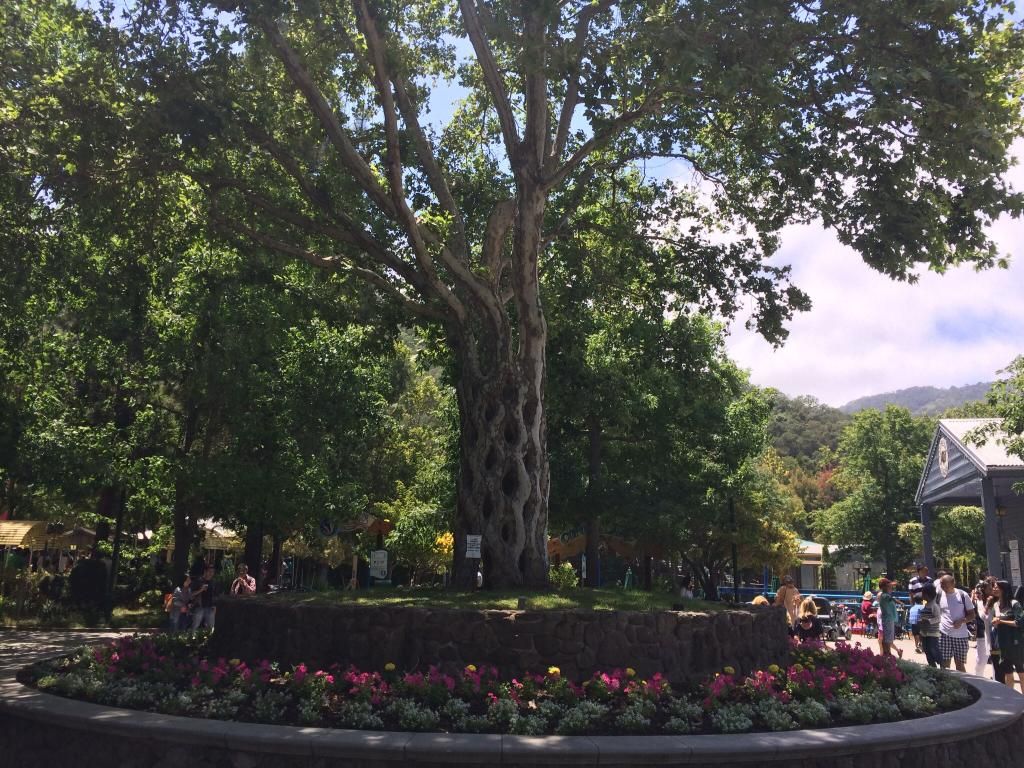 Another Circus Tree
'Nother 'Ircus Tree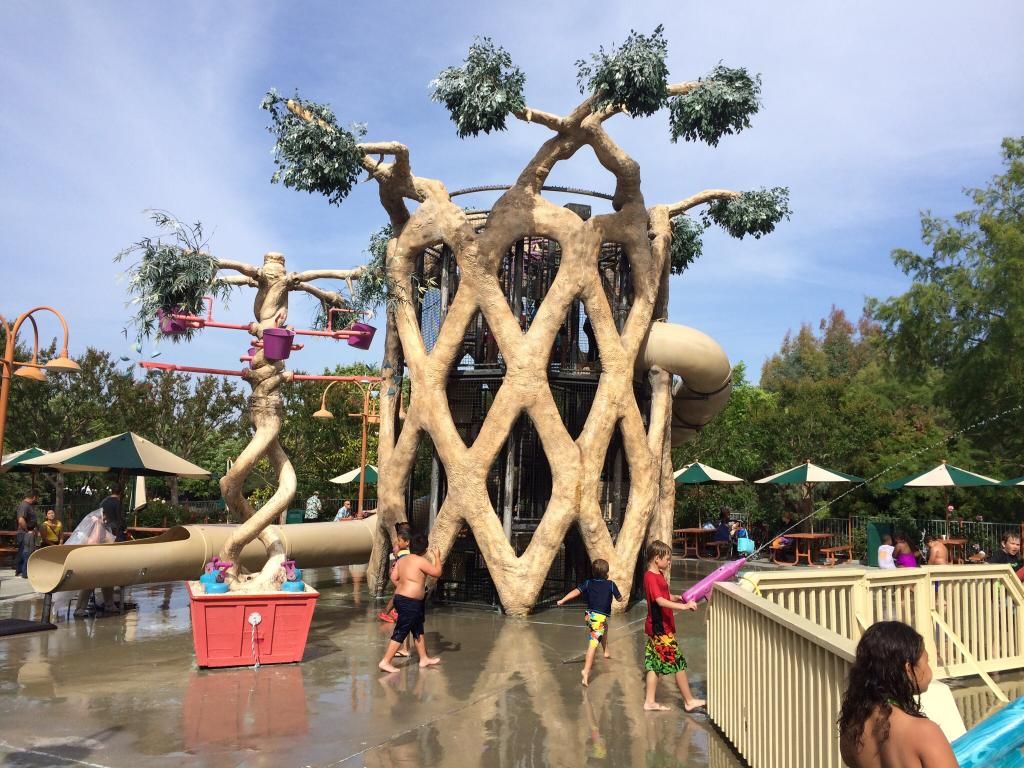 A water playground based on a Circus Tree
While all the rides and foliage are great, the park is very focused on education. It's not very big into the whole conservation humans are destroying the earth crap some other theme parks try to lay on you, but rather tries to educate kids about agriculture and farming. The park really emphasizes the importance of bugs and how some bugs are used as pest control, while others help pollinate. Then the newest section is a water play area that tries to explain the importance of the water cycle, and how it goes from rain to ground water to evaporating and so on. Even Ashley's younger sister wanted us to read her some of the boards around the park that explain how things work. When kids are having fun, they really do want to learn at the same time, and I really felt the parks slogan "learning disguised as fun" was holding true.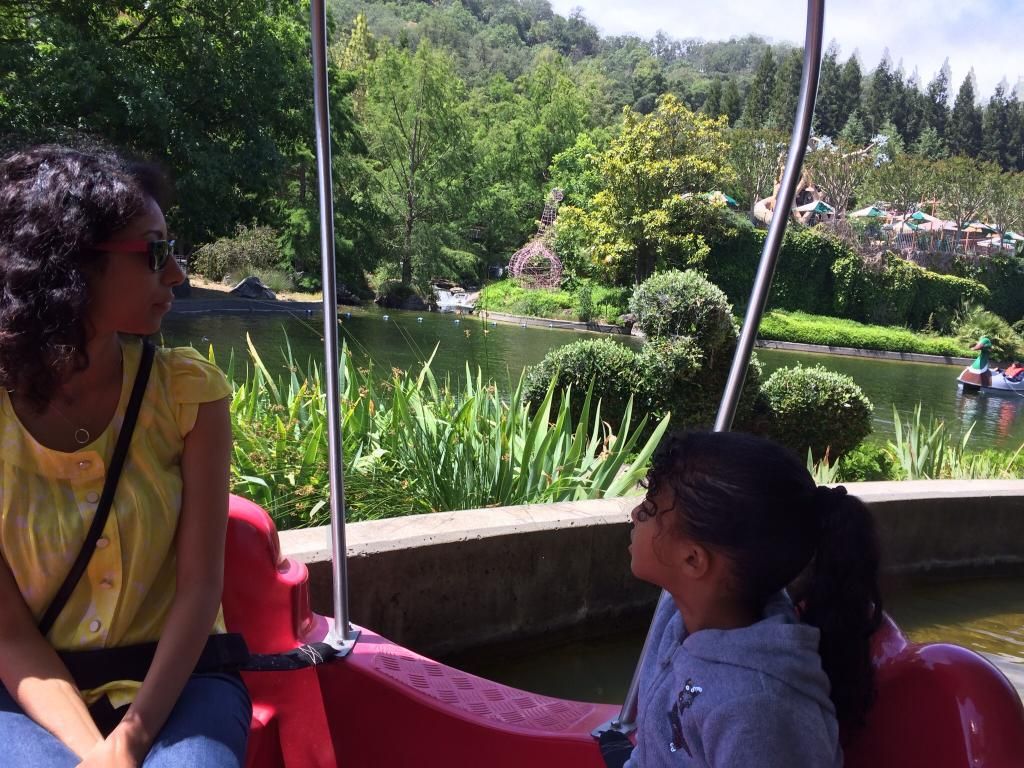 Boat Ride
The Love Boat???
Oh they also have Swan Pedal Boats. So yeah, Gilroy Gardens is awesome for that. Note that this is an extremely popular and very low capacity attraction. It's the only ride you should expect to have a long line. Wait times can easily exceed 90 minutes, and this ride does close earlier than the rest of the park. But they are Swan Pedal Boats you get to take anywhere you want on the lake for 5 to 10 minutes.
Also the food is fairly solid at this park compared to most others. The garlic fries and mini corn dogs are their speciality and are the only thing I managed to try since the park wasn't open late enough to try a second meal. But based on what I had, I can at least attest to and recommend the garlic fries. They are quite the treat!
Swan Pedal Boats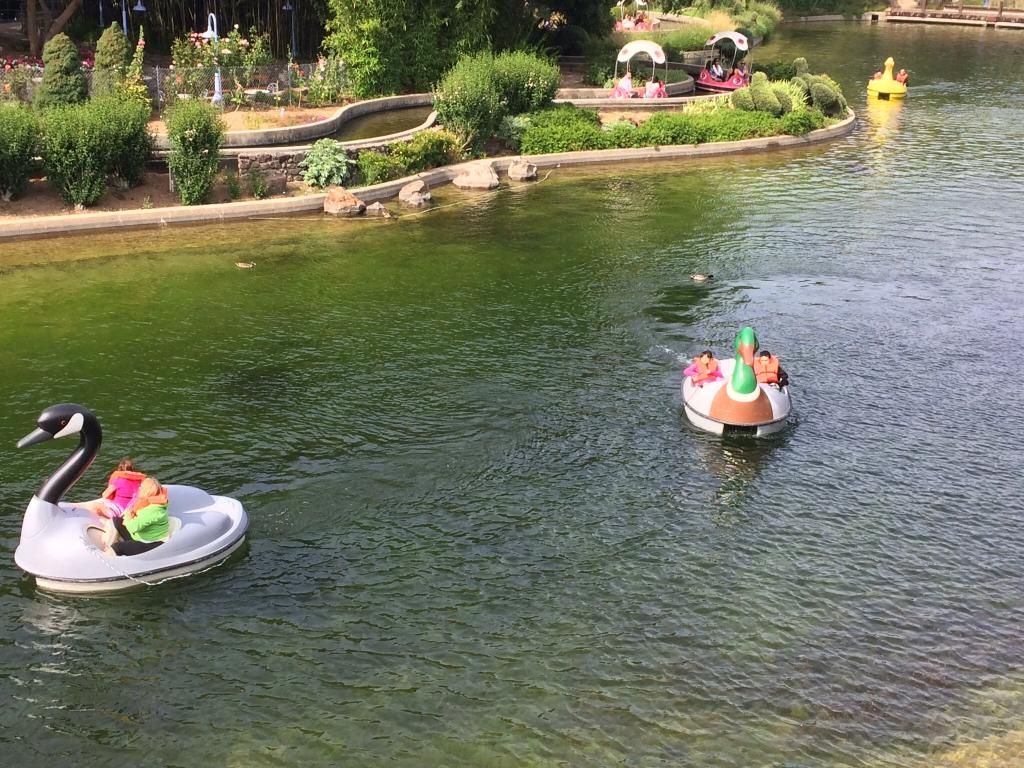 Swans vs Ducks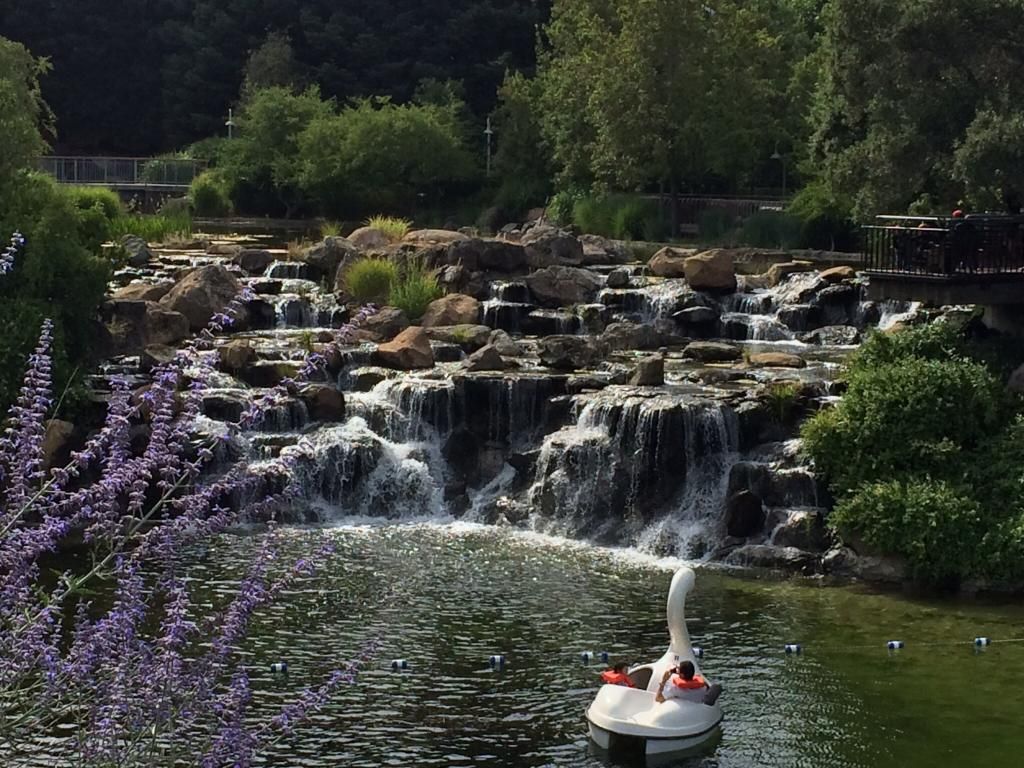 Swan vs Waterfall
So how was the experience at Gilroy Gardens? Well for me I loved it. I think the only demographic this park misses is the Tweens and Teens as they want thrill rides and superheroes. Otherwise as an adult I can appreciate the gardens themselves. You could have taken out every ride here and I'd still have loved the park. But my opinion doesn't matter at all. I'm not the main audience here. So I asked Ashley's sister how she liked the park. She loved it! Being a big brand new 7 year old, she managed to have a good time at the park, and I hope she walked out of it learning a thing or two about bugs, agriculture, or even water. There is a surprising amount of things here we didn't manage to do, mostly cause we found ourselves lost in enjoyment wandering through this botanical wonder.
Replies (0)
No responses yet. Why not be the first to reply?
This discussion has been archived and is no longer accepting responses.