Canada's Wonderland strikes gold with Yukon Striker
June 2, 2019, 12:10 PM · It's interesting to see how dive coasters have evolved since the first one, Oblivion, was installed at Alton Towers in 1998. They've become progressively sophisticated, and Yukon Striker, which opened at Canada's Wonderland on May 3 of this year, is undoubtedly the most sophisticated of all. While it lacks the splashdown elements found on some older B&M dive machines, it features a more interesting layout with four inversions. Advertised as the world's tallest, fastest and longest dive machine in existence, it's the first to incorporate a vertical loop.
While I've never been wildly enthusiastic about dive machines, Yukon Striker piqued my curiosity to the extent of prompting a visit to Canada's Wonderland. The coaster is located in the Frontier Canada section of the park and themed after the Klondike Gold Rush. Operating with three floorless trains seating eight across in three rows, it contains footrests in the second and third rows so that riders in those rows have the choice of anchoring their feet or letting them dangle freely. Featuring 3,625 feet of track, it reaches a maximum speed of 80.8 mph. An unusual feature worth noting is the system for storing riders' loose articles. These are placed in bins which travel along a conveyor system which delivers them to riders at the conclusion of the ride.
Now for the ride experience. Upon dispatch the train makes a right turn from the loading station and delightfully jiggles the riders from side to side before reaching the lift hill. After reaching the top it comes to a halt, then inches forward until riders are hanging over the edge of a precipice. And I must say that despite being somewhat of a seasoned veteran, I found this frankly terrifying, at least on my first ride in the first row. The view is an awesome one but also an unnerving one, partly from the height and partly from anticipation of what is about to come. The mountain below which forms the centerpiece of the park appears to be diminutive from that vantage point and my initial reaction was... help! (I should mention that hanging over the edge was not quite as daunting when I rode in the second row.) In any case, after some suspenseful seconds the train dives 245 feet at a 90-degree angle into a tunnel which constitutes the end of the mine shaft. It's quite an impressive drop, from which the train goes up into an impressively large Immelmann before proceeding into a zero-g winder. The zero-g winder is a pretty cool inversion which at this juncture is unique to Yukon Striker although a coaster scheduled to open in Finland in June will also feature this element. After the zero-g the train enters the vertical loop, followed by a much smaller Immelmann. Through the inversions, which take the train to 2/3 to 3/4 of the course, it's an awesome ride.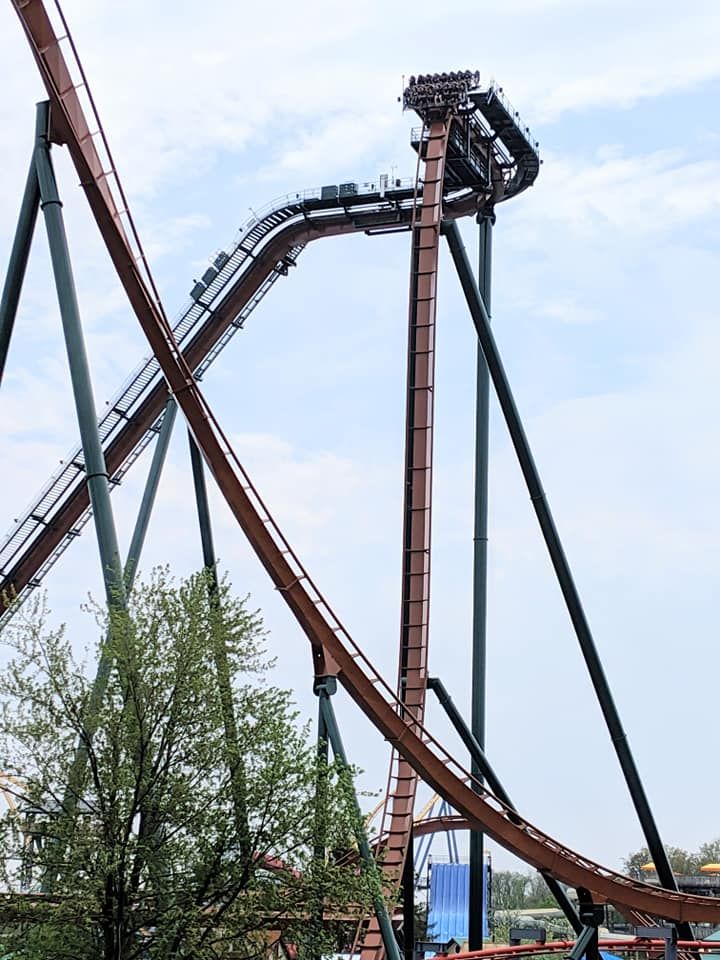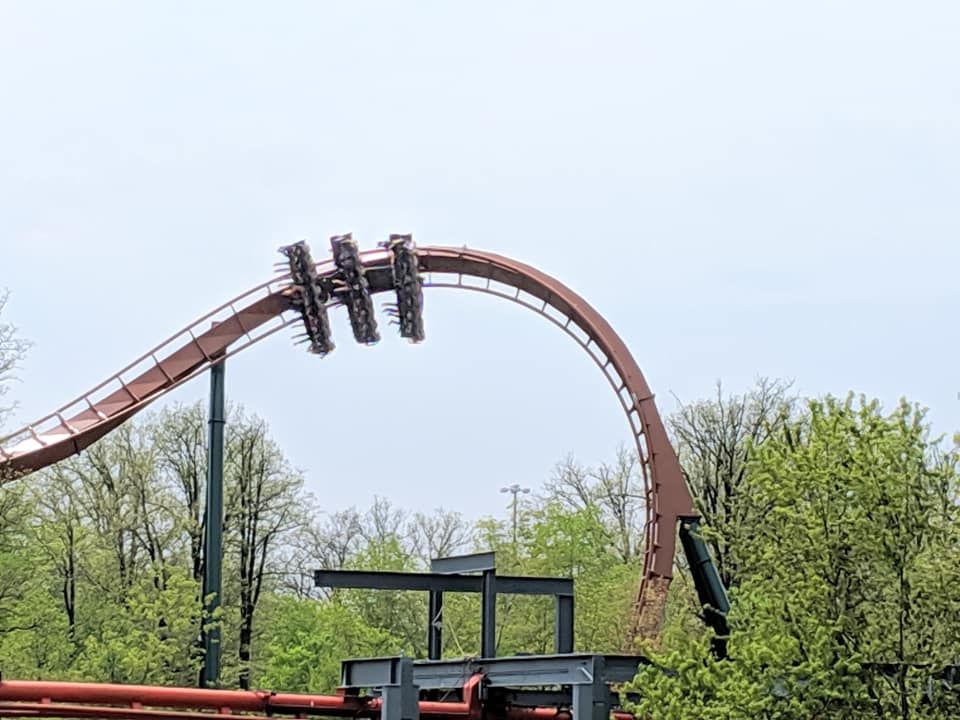 After the second Immelmann the train reaches the block brake, and this is where the ride gets somewhat off track. The small drop following the block brake struck me as rather lame. There simply isn't much to it. After this short drop the train enters a 360-degree helix - which is fine as far as helices go but does little to enhance the ride experience – before completing the course.
I was able to interview Canada's Wonderland's Direction of Communications, Grace Peacock, by telephone, and following are some excerpts from that interview.
TPI: Why a dive coaster for Canada's Wonderland versus some other type of attraction?
CW: We have two B&M coasters already, Leviathan and Behemoth. We're looking for those world class thrills for our guests, and we're always looking to keep things different and now that we have our 17th roller coaster in the park we really wanted to see a different experience in terms of what guests are going to get on that ride. So with a dive coaster and being able to work with our existing amenities – we have that pond underneath our Vortex coaster there that we're able to work with and build a tunnel - we were able to really create this dynamic experience with a dive coaster with that 90 (degree) drop and that underwater tunnel and our series of great inversions one right after the other on top of the rest of the park there and what has become a new themed area, Frontier Canada. It worked well... and the dive coaster I think has really lived up to expectations and the anticipation of the building.
I think with the footprint that we had available here in the park – we brought in a new themed area, Frontier Canada where Yukon Striker is now the showpiece – having a dive coaster here and having it interact with that tunnel through the water and the different inversions on top of the guest pathways really produced a unique thrill for our guests, one that they're not going to get with our other 16 roller coasters in the park.
TPI: What has Canada's Wonderland learned from other B&M dive coasters that influenced the design?
CW: A lot of the conversation about the design and coming up with the concept for it happened with our general manager and the B&M engineers very early on and I wasn't part of that... but I do know one interesting fact is the rails along the track for Yukon Striker are filled with sand. When Leviathan was put in they weren't filled with sand, so we had to retroactively mitigate the noise.
It was a lesson learned for bringing in Yukon Striker that that was something we'd have because we're surrounded by residential areas.
TPI: How important is it that Yukon Striker draw fans from the US and abroad? Or is the target market largely domestic?
CW: Our target market is definitely our local areas here. We call it the greater Toronto area, the different cities around us locally. The other markets and international visitors are certainly a nice bonus and this coaster has definitely been getting the attention of people worldwide because when we launched we had our local and national media here riding it and giving it great reviews. But then we also had a lot of international attention just across the border in New York and Buffalo but also from across the States and word of it when we first announced the fact that it's a world record breaking coaster, I think that got people's attention. We've had people writing articles and calling in about it from across Europe as well. So it's been fun. It's not going to make a huge impact on our business because our empire is our local market but like I said it's definitely a bonus.
TPI: The only other question I really have is, how did you come up with that ingenious conveyor system?
CW: It's loosely based on a concept that our maintenance director saw in a photo. The system so far as we know only exists at Chengdu Happy Valley in China. And we only ever saw it in a photo, but I think a lot of parks right now are very interested in finding solutions for guests' loose articles and finding solutions that don't mean necessarily taking those articles away from people.
We saw this concept and we improved upon it for all purposes here. It's bigger but it's a very efficient system. Instead of inconveniencing guests who have to give up their articles and put in lockers they're able to keep them with them throughout the queue and once they're on the load platform they can place their articles into these bins which are on a conveyer system and the conveyor system carries it slowly over the track and over onto the exit platform so that by the time that the riders go through their ride on Yukon Striker their articles are waiting for them on the other side. It works really well, and we've had a lot of positive response.
* * *
Final thoughts: while the latter part of the ride is lackluster, the rest of the ride is good enough to overshadow the anticlimactic finish. The initial drop is awesome, the inversions are all solid, the thrill factor is high, and the ride is nicely themed. Having ridden the three B&M dive coasters in the US, the one in the UK and now the one in Canada, I can say without hesitation that Yukon Striker is the most breathtaking of the lot. It's a great addition to Canada's Wonderland's landscape. Special thanks to Grace Peacock for taking the time to talk with me. POV video courtesy of Canada's Wonderland.
Replies (6)
This article has been archived and is no longer accepting comments.