As for the details of this challenge, here are the requirements for your park. You must include at least four distinguished themed sections (lands) in your park. You must also include an opening portion to your park, which has a park icon (i.e. Cinderella's Castle). In these lands, excluding the opening portion, you must have at least three attractions, at least one restaurant, and at least one shop. The three attractions can include anything from coasters to shows to thrill rides to dark rides to walkthrough exhibits and to simulators. Include BRIEF descriptions for each attraction, the type of attraction it is, and a name. As for the restaurant, it may be a sit down, character meal, quick service, or even a snack stand. You must include sample menus for every restaurant. For your stores, give a short description of what is being sold there. Include names for the restaurants and stores as well.
Good luck to the both of you!

For Walt Disney World's 50th anniversary, Disney has decided to open its fifth park in FL: Disney's Adventure Cove (DAC). This park will be dedicated to the adventures guest can have though Disney Movies.
Themed as a tropical port, this will be DAC's version of Main Street USA. Here you can find many small hut stores that sell magic tricks, swords, hats, and other souvenirs. There will also be a character breakfast/Lunch/Dinner Buffet in this land called Scarlett's (after POTC's Red Head). Here you can stuff me harties yo ho with eggs, sausage, and fresh fruit for breakfast and coconut crusted shrimp, ribs, and pineapple risotto for lunch and dinner. Going around to the tables will be Jack Sparrow, Barbossa, and Scarlett to see if you like her grub! Also, if you dare, you can enter Davy Jones' Locker and come face to face with the Sea Devil himself!
At the end of Pirates' Port will be a giant volcano surrounded by a small lagoon, spewing smoke up into the air and, every half hour, spews lava in a coriographed show (red water really and sound effects). The volcano is actually part of the Incredables Land and is one of four "obelisks" found in DAC. This will also be the central location of the fireworks show, "Adventure Awaits" which uses the three other "obelisks" as well!

After the Incredible defeated Syndrome, they decided to set up their summer house on the island (after all, Mr. Incredible knows a good DVC deal when he can find one!). It will be themed as Syndrome's Old Island Lair, but "fixed up" a bit. The Incredibles' Summer House will be at the base of the Volcano.
Come explore the Incredble's summer house which will have many of their trinkets and souvenirs from past adventures. There will be sight gags such as drawings of Spiderman and the Incredible Hulk on the fridge, a "Honey do list' for Mr. Incredible on the table, and an phone that keeps ringing and going to voice mail from Mr. Fantastic telling the Incredible to stop "ripping them off" (The Incredibles and the Fantastic Four share very similar abilities and are now both owned by Disney). In the garage, you can take a picture with the Incredibles in front of the Incredacar (and next to their Minivan).
Come back in the sands of time to ancient Alamut, an city full of mystery. Guests will enter though the gates of Alamut which will have an obelisk on one side of the gate (number two). After passing though, guests will walk though what looks like a middle eastern marketplace. These small shops, which are, in reality, one large shop, will sell Prince of Persia Merchnadise, jewelry, and other precious treasures from Persia (similar to Moracco in EPCOT).
To go forward, you must go back too! In this loop shuttle coaster, guest get into the single roller coaster train and are accelerated from 0 to 60 in three seconds into two loops back to back. Then they climb a tower until they run out of momentum and go backwards though the loops from where they just came.
Take a step though the Wardrobe to visit Narnia. This area will also be fake snow in this area and will look like an old English Town with the Castle of Prince Caspian near the back. On top of the castle spires will be the third obelisk. Here is what awaits the guests in this magical land.
This walk though attraction will take guests into the professor's home and though the wardrobe to see Mr. Tummnus and his Lightpole. There will be special effects including live actors, puppetry, and pyrotechnics. Guest will also visit the Snow Queen's Castle and witness the epic battle for the guests and for Narnia between Aslan and her.
Here is something similar Disney did when Narnia came out
That rascally sword fighting mouse is back trying to train the guests to fight the forces of evil. He is going to teach the guests how to jump high. This spinning swings attraction will be medieval tent themed and will feature wooden looking chairs. The artwork on the inside of the swing structure will show the history of the battle between the Penvinse Children and the Snow Queen.
It was once said that "The sky's the limit." Not here. This is DisneySky, where the sky is just the beginning! DisneySky pays tribute to Man's accomplishments in aeronautics, looks to the future of space flight, and celebrates our ability to see beyond the "real world" and embrace the joys of fantasy and creativity. These may not seem related, but without our innate need to push the boundaries of what is possible, to see "fantasy" as "potential", we would never have left the bounds of earth. DisneySky celebrates our amazing abilities to take our bodies wherever we want and our minds to wherever we can imagine.
DisneySky is laid-out similar to Disneyland, with "Flight Path" taking the place of Main Street, U.S.A. and leading from the entrance gate to the Central Hub, where the icon of DisneySky stands, the Castle of the Four Winds. Starting to the left of flight Path is "Cloud Port", then wrapping around the central hub is "Flights of Fantasy" and "Fantasia." Completing the circuit on the right side of Flight Path is "Space Port Infinity".
"Flight Path" is a wide plaza bordered with sleek, streamlined buildings housing several souvenir shops, a museum featuring displays on loan from the National Air and Space Museum in Washington, D.C. and a branch of their gift shop, and "Spirit of Flight", which specializes model airplane kits. There are several counter-service food facilities, and one full-service restaurant, "The Red Eye" which features all-day breakfast meals. Down the center of Flight Path will be full-size models of early flying machines, including those first conceived of by Leonardo da Vinci, the Montgolfiere Brothers and Wilbur and Orville Wright. Flight Path will open before the rest of the park, and these facilities will give early visitors a chance to get a good start to a great day at DisneySky.
Flight Path will have entrances on each side to the lands directly bordering it, "Cloud Harbor" to the left and "Space Port Infinity" on the right, but most people will be drawn to the beautiful sight at the far end of Flight Path, the most unusual iconic structure ever created for a Disney Park, "The Castle of the Four Winds".
"The Castle of the Four Winds" does not look like any other Disney castle, but is a sleek, streamlined sculpture of pointed towers 150ft. high that appear to be almost straining to reach the sky, and is faintly reminiscent of the Tower of the Winds that Disney Imagineers created for the New York World's Fair of 1964-65. Wind turbines, spinning propellers and tracer lights give it the constant feeling of movement. The bases of the towers are colored a warm copper color, which meld into gold and then silver at the tops of the towers. Misting fountains hide the base of the Castle, making it appear to be floating on a cloud. There is no attraction in the Castle, which is designed to be seen from all sides, but it is the focal point of the end-of-day production, "Infinity and Beyond", which will feature Buzz Lightyear and other Disney characters flying from the Castle to their respective lands. Fireworks, lazar beams and projections will make this a production never to be forgotten.
"Cloud Harbor" is a land where weather rules. Here are found attractions with wind, clouds, and the atmosphere as their theme. Featured attractions are "TaleSpin", a diving machine-type coaster constructed by B&M with theming based on the popular "TaleSpin" television series; "Bumper Clouds", a bumper car-type ride using technology from DisneySea's "Aquatopia"; "Wind Turbine", a Ferris wheel designed to look like a giant wind turbine that not only goes around, but is raised up one-hundred-feet into the air as it rotates; and the crown jewel of Cloud Harbor, "Storm Mountain", which brings "Stormrider" from DisneySea to southern California. A store named "Flying High" offers a huge selection of remote-controlled airplanes and helicopters and model rockets. Sky Plaza Food Court offers a wide variety of counter-service foods and provides a large area of covered tables and seating for hungry diners. "Starbucks", "Pick-a-Pizza" which provides a wide variety of personal pizza choices, and several other fast-food counter-service facilities will be found here.
"Flights of Fantasy" celebrates the classic Disney films that show the heights imagination can carry us. A variety of attractions immerse visitors into fantasy worlds that they first experienced as children or with their children. The movies celebrated in Flights of Fantasy all share two things: 1) they involve flight or flying, and 2) they require visitors to stretch their imagination beyond reality and into the fantasy worlds that Walt Disney has been bringing to film for over eighty years. These attractions include:
"Mary Poppins' Jolly Holiday!" - a dark ride where visitors board ride vehicles resembling her magical carpetbag, and are flown through such memorable scenes as the animated park with the magical carousel horses, the rooftops of London with the dancing chimney sweeps, and the sky full of kites.
"The Robinson's House of the Futu...er...Present" is a motion simulator ride based on the hit film "Meet the Robinsons". Riders board a flying time machine from the film and are taken forward in time to enjoy a hysterical look at life in "Todayland" as enjoyed by the Robinson family.
"Up"- a ride similar to the Dumbo ride at Disneyland Park. Sixteen "houses" similar in design to the house in the movie (but open-air and holding up to six riders each) rotate around a central drum themed like a mountain from the film. Each house has a cluster of "balloons" suspended overhead, and to raise and lower the house as it revolves around the mountain the riders must operate pumps to "inflate" or "deflate" the balloons. Of course they don't actually inflate, but riders do control the height of their flight.
The Fantasy Theater is home to a live-action musical production of "Dumbo", based on the Broadway production that is now in pre-production by Disney Theatrical. This will be a major entertainment must-see for every visitor, young and old, to DisneySky. Where else can you see a full-size elephant actually fly?
"Mrs. Brill's Kitchen" is a full-service restaurant themed to look like diners are eating at the kitchen table of No. 17 Cherry-Tree Lane, the home of the Banks Family. All servers will be in character at all times as they bring the world of Mary Poppins to life. The menu will be traditional British fare- many of the recipes are from the 1975 book "Mary Poppins in the Kitchen" by P.L. Travers. Entrees such as Irish Stew, Lancashire Hot Pot, and Roast Chicken and Bread Sauce, Yorkshire Pudding and Kale, and sweets (desserts) such as Lemon Soufflé, Jam Tarts and Bread and Butter Pudding will satisfy the taste buds and imaginations of the most finicky eaters.
"Mrs. Corry's Sweet Shop" sells a wide variety of English biscuits (cookies), cakes and tarts, all mentioned in the Mary Poppins stories. Date Bread, meringues, oatmeal cookies, Topsy-Turvy cake, and of course Mts. Corry's Gingerbread Stars are just some of the wonderful baked goods to be found here. There is also an amazing sampling of imported British candies, canned goods such as Mushy Peas and Treacle Cake, and enough cookbooks to keep shoppers eating like royalty for months!
"Fantasia" might seem at first to be a strange addition to DisneySky, but what other film allowed Disney animators to soar as high and stretch their imaginations as far as this classic cinematic experience? Many of the scenes involved floating and flying of the animated characters (the ice fairies and the snow flakes; the flying horses) and the entire film gives viewers the feeling of soaring through an amazing universe of color, light and movement. Fantasia is Disney imagination reaching its highest level, and is celebrated in this beautifully designed and entertaining land.

Other attractions found in the Fantasia area are: The Carousel of the Animals, where riders climb aboard creatures featured in the movie such as unicorns, ballet hippos, goldfish, and even brooms carrying water, and: Pegasus, a Dumbo-like ride where riders fly on the beautiful flying horses from the Pastoral Symphony section of the film.
"Yen Sid's Salad Garden" is a salad buffet restaurant serving hungry Fantasia visitors. The name "Yen Sid" is the name of the sorcerer in "The Sorcerer's Apprentice" section of the film (and also is Disney spelled backwards), and has dining areas both indoors themed like the sorcerer's laboratory (but not so dark- or wet!) and outdoors with shaded tables in a garden featuring very unusual looking plants such as a sorcerer would grow to use in strange potions. Diners create their own salads from a wide variety of greens,
"The Fantartic Shop" is devoted to art products, artist materials, animation, and just about everything a budding artist could ever want or need. Art supplies, paints, books, copies of the movie and recordings of the music featured are just some of the wide variety of goods available here. It is decorated to look like the scene where the ice fairies create the snow flakes, with beautiful crystalline snowflakes suspended from the ceiling.

"Space Port Infinity" is not meant to represent any one outer space port, but to blend the looks of Star Wars, Treasure Planet, Future World, Buzz Lightyear's home town, and any other science fiction setting you can imagine. Here is where the sky is not the limit, but just the beginning! The attractions found here are thrilling, intense at times, and always as much fun as Buzz Lightyear has every time he saves the galaxy.
"Mission: Space" is recreated here from its original home at Epcot. Updated technology will make this attraction more intense and memorable than the original, and like the original it will offer both the Orange Team ride (full motion with gravity increase) and Green Team ride (less motion and no gravity increase).
"Star Wars Hover Bike Rally" is a Vekoma-designed motorbike racing coaster featuring six parallel tracks and six differently designed hover (also known as speeder) bikes as seen in the Star Wars films. Each track will have a differently designed bike, and each bike can carry two riders. The tracks will follow identical paths, and computers will control the speed of the bikes (even though each driver can "pretend" to be in control) so that the winner will always be random. This is an outdoor coaster, and while it does not go very high, it makes lots of turns and jumps around and over objects.
"Treasure Planet: The Flight Home" is a motion-simulator dark ride based on the (underrated) 2002 Disney animated film, setting Treasure Island in outer space. The attraction carries "treasure-hunting adventurers" on a solar galleon being navigated by B.E.N., the robot navigator, as they arrive at Treasure Planet, accidentally set off a booby trap that causes the planet to start to self-destruct, and must fly through a wormhole to escape the exploding world and return home.
In "Treasure Planet" the Benbow Inn on the planet Montressor is the home of Jim Hawkins and his mother Sarah. At DisneySky it is a full-service restaurant designed to look like the rebuilt structure seen at the end of the film. Servers, some of whom appear to be part cyborg (thanks to Disney's costumers) offer guests good, basic pub grub with out of this world names: "Black Hole in a Nebula" (sausage and mashed potatoes), "Tuwaly Pie" (shepherd's pie), "Underfungo" (sautéed mushrooms), and "Delvin Fluffies" (angel food cakes) to name a few. All have been tested to be safe for human consumption.
"Infinity Market" is a bazaar-like shopping area made up of several dozen small shops selling an amazing selection of hand-crafted goods from all over the galaxy (and specializing on different Earth cultures). Hand-blown glass, original artwork, books featuring science fact and fiction stories,
DisneySky celebrates the never-ending triumphs of the human mind and imagination as it soars through the air, soars through space and soars through the heights of fantasy. Thrilling coasters, magical voyages, fine shopping and restaurants and world-class entertainment merge here to carry guests to those new heights of fantasy and fun. DisneySea joins its sister parks Disneyland and Disney California Adventure as a proud new member of the Disneyland Resort.
I think you've stayed pretty consistent throughout this entire season. You really know how to take great themes and create great attractions off of them. My favorite work of yours this season had to be The High Roillers Restaurant. It showed that you enjoyed creating this coaster themed restaurant for Cedar Point. Another one of my favorites was your Miss Disney Pageant. I think you really had a great and comedic theme, that would surely be a winner at DHS and a great replacement for Beauty and the Beast.
Now for this week. I think you have a great theme and I do agree that this would be a great park theme for Tokyo Disney Resort. However, you definately made it work in Disneyland, minus some complications of having it there. Unfortunately, you couldn't add Soarin', which I assume would have been a staple ride at the Tokyo version of this park. And then you could have also utilized a clone of Goofy's Sky School. Nevertheless, you pulled off putting this park in Disneyland.
As for the lands, I think you did a good job with choosing the themes. The sleek and stylish opening was a good choice.
I absolutely loved Cloud Harbour, this was definately an advantage to not having it in Tokyo, due to it being similar to Port Discovery. Great job with your choices in this land for attractions.
Flights of Fantasy was another good themed land. I liked that you were able to put Up, Mary Poppins, Dumbo, and Meet The Robinsons in this land. I only would have liked to see an Aladdin Flying Carpet ride.
As for the Fantasia land, I felt a little let down with this land. I agree that it is a little bit strange to put here. The Fantasia ride through sounds amazing, but I really think you ventured away from your theme in the park with this land, aside from the Pegasus ride.
Space Port Infinity was another good choice in theme. Space travel is directly linked to sky and air. I think you brought it home with this land. I liked the treasure planet attraction and loved the new Star Wars coaster!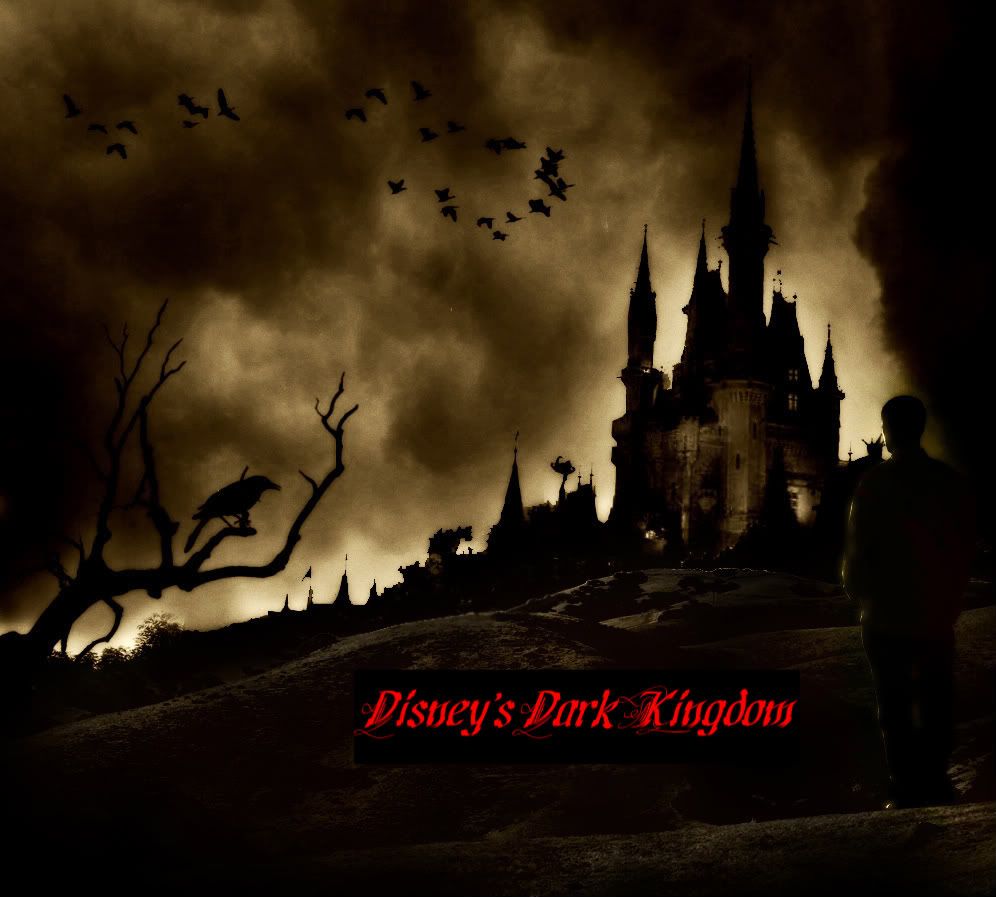 The Villains. That we love to hate, has built there own Park!
After looking at my Disney movie collection and other Disney films I've concluded that Disney films all run along the same 4 basic parts that most of the times intertwine and mingle with each other. These basics have created a backbone for and catalyst for all Disney films and attractions that writers and imagineers adhere to for all projects. This will be the basis for the lands at Disney Dark Kingdom!
Malecifant and other Disney Villains are fed up and outrage that all the 'good characters" are always in the getting the attention and accolades, while the Villains are always treated like second-class citizens. But she feels that without them being such an important part in the story then there wouldn't be a these epic battles with good against evil!
So she has decided to construct her own Kingdom, and build her own Castle and with the other Villains rule and use the Realms of Magic, Fantasy, Adventure and Tomorrow and summon and even greater power and try to take over the "Happiest Place On Earth"!
Disney Dark Kingdom will be the 5th gate at Walt Disney World and will be eerily similar to the Magic Kingdom with the spoke and wheel format with a castle being the hub and center of the park but with an…..evil feel to the Park. Unlike the MK the castle will less likable, the foliage wont be as kept up like the MK and the place will feel gloomy and unkempt. The park will have 5 lands when built starting first with Briar Rose, then right to left with the Realm of Fantasy, Realm of Adventure, the Realm of Tomorrow, and then the Realm of Magic.

The Briar Rose
Here is the first experience when Villains take over a Kingdom. Malecifant needs to have a village and so took over this tiny 17th/18th Century French village of Perrault which lays just outside of Paris but seems so far away because of the evil looming castle that is hovering over it at the end of the street!
You enter though the gates and immediately walk into a forest with tall trees and thick foliage and then into the Briar Rose. The Briar is the path that Malecifant walks to get into and out of her Kingdom and gave you the privilege to use it. The buildings are well kept and in good condition because this is what Malecifant sees and like they include Courtroom, Jail, Armory, and high wend Boutique Stores that the Villains and Malecifant would frequent. All these buildings will be various stores and sells what you would normally see at theme parks.

This Realm is run by the Shadow Blot, Big Bad Wolf, Peg-leg Pete, and Mr. Winky and his Weasels gang
This section of the Perrault is warehouses, workshops, granaries and other buildings where the citizens of Perrault come and work. Unlike Mains Street USA at the MK where the squirrels and rabbits run free thought the land, here creatures like weasels and wolf strut about like they own the place! But ever so slightly you can hear whispers where the good guys are starting to "fight" back!
Attractions:
Epic Mickey
This attraction is based on the widely popular WII game with the same name. Here Mickey Mouse, out of curiosity, enters Yen Sid's workshop through a mirror in his house and discovers the model of the land Yen Sid created and the tool used to create it, the magic paintbrush. Fiddling with the brush, Mickey accidentally creates the Shadow Blot. Panicking, Mickey quickly tries to erase the Blot by throwing paint thinner onto it, but destroys the model in the process. Mickey flees back to his house, while the Blot enters and takes control of the ruined world from its first resident, Oswald, the Lucky Rabbit.
Mickey had forgotten his past incident until the Shadow Blot enters his home through the mirror and abducts him into the ruined world, now named the Wasteland. Oswald, soon had his will from years of hiding and his mind twisted by his jealousy of Mickey's rise to fame, the Mad Doctor and the Blot formulate a plan to destroy Mickey and extract his heart, which they plan use to escape the ruined world, as all Wasteland denizens are heartless. During his journey through the Wasteland, Mickey is guided by Gremlin Gus and becomes armed with Yen Sid's brush. Mickey uses the brush to restore the Wasteland in order to atone for his destruction and win Oswald's trust.
This attraction will be a 3D shooter that you go around Wasteland with a "paint gun" and restore the Wasteland into its former glory and existence!
The Big Bad Wolf
Have you ever thought how the Three Little Pigs felt when they were being chased from house to house until they finally got into safety? Well this is your chance!
You enter through the one of the granaries and realize that while in the queue something is lurking, staring, and watching you through the boxes, bags and grains in the building. Then all of the sudden he pops out and the Three Little Pigs to prepare and hold on and they will help you get out.
This stand-up roller coaster will feature all types of surprises for guests while the pigs try to get you into a safe house but of course you go through all types of house until you find the right one!
Mr. Toads Wild Ride
Mr. Toad has built a Toad Hall in France in this village was the home of the Hall. The last time he was here though it wasn't as run down and shabby but decides he wants to take out his car and drive around.
Instead of my roller coaster from the previous challenge being built in Fantasyland Disney has decided to build the coaster in this park and land instead. I believe it fits better with the overall theme and what Im trying to get told.
The attraction is a Spinning Wild Mouse Roller Coaster with a different twist. For more details just go back into the last challenge and you will find a more detail description.
Restaurant:
Pete's Kitchen
Here you will find a quick serve counter service restaurant that features burgers, chicken fingers and other selections that appeal to a wide variety of appetites and hungers.
Shop:
Yen Sid's Laboratories
Here you will find goods that are related to the attraction Epic Mickey. Including plush's, shirts, dolls and other paraphernalia.
Realm of Adventure
This Realm is run by Davy Jones, Ursula, Blackbeard and Scar!
Malecifant needs a port to gain more power and recruits to summon an even larger dark force then her and so this is one of the reasons why she picked Perrault.
This port features pirates, cutthroats, thieves and just very bad people. This port features ships on land and tied up on the dock. The port is in easy reach of warehouses and granaries and of the village and close to the castle.
Attractions:
Queen Anne's Revenge
Soon to be Disney Villain Blackbeard is building his ship before he goes and pillage the Caribbean but needs to test and prove his vessel before he puts into the water. So he has asked you to test and see if he needs to improve the Queen Anne's Revenge!
This will a inverted swinging ship.
The Clutches of Ursula
Ursula has come on land to exact her revenge on the people of the land and you may just end up in her clutch!
This attraction is a Troika type attraction.
Davy Jones Locker
The Flying Dutchman is has docked in the port and you are invited to take a tour of the ship. But while on the tour you find a portal to Davy Jones Locker while in the captain cabin. You realize that your not on the ship and Jones and very angry that you have made it down there and there's only one way out and that's…up!
The queue winds it way through the ship and into the captains cabins thing the guy changes and you then go into the Locker and you realize that your under the water! That's right you actually under the river and the queue is surrounded by water! Until Jones sit you down and you have no clue how you are going to get out!
This inverted launch freefall starts under the water, you are then dangled high above the water and then you plunge down into the water again, and again, and again until you have enough and Jones lets you out. This will be an engineering marvel that only Disney can do!
Scars Stampede
Scar and his hyena's are up to no good again and while you are on a nice tour of the savannah they start stampedes and try to stop you in getting through to the end on the safari!
This attraction is a Dinosaur type attraction that gets wild and crazy and you have no clue where or who will be the next stampede will be!
Restaurant:
Smugglers Den
This will be a table services restaurant that will feature fish for main courses and some meat for people who don't like fish.
Shop:
Pirates Lair
This shop features goods from around the world that these pirates pillaged…..er…..purchased around the world including scrimshaw, knick-knacks and other curios from distance places.

This Realm is run by Clu from Tron: Legacy, Long John Silver, Dr. Heinz Doofenshmirtz, Auto the Autopilot, and Syndrome
This is the city of the future that Malecifant dreamed up and built. Here she has placed Clu in charge in creating the perfect Tomorrow and future for the Disney Villains!
Tron: Light Cycle Dragster
The Realm of Tomorrow will have many modern and tall buildings but the tallest in the Emcon building which will house this attraction. Clu needs "entertainment" and so has you try to fulfill this while risking your life.
This dueling launch coaster will be housed inside in a darken room which people in the queue cant see the track. It will just look empty and vast. Then as the coaster launch, like in the movie, as the coaster move they leave a light trail of color. So this attraction will emulate this as the vehicles move and pass the light will be a solid "wall" of light. This will a great effect to see especially when both coasters are launched and both of the lights mix and seem to dance in this cavernous building.
So will you survive?
Syndrome's Spin
Syndrome has returned to wreak havoc on the citizens and guests of Perrault. He has caught you and are keeping you hostages until his demands are fulfilled or at least until the Incredibles come and rescue you!
This attraction will be an Enterprise type ride.
Dr. Doofenshmirtz and the "League of Villainous Evildoers Maniacally United For Frightening Investments In Naughtiness" aka L.O.V.E M.U.F.F.I.N. (and I'm not making this up!)
Dr. Doofenshmirtz and L.O.V.E M.U.F.F.I.N are creating inventions to take over the world and Agent Perry the Platypus has recruited you to go out and find these "inators" and destory them before they become operational!
This attraction is like Buzz Lightyear Space Ranger Spin. It will be a Omni-mover shooter attraction with 3D scenes throughout the ride.
Restaurant
Auto the Autopilots Café
After being fired from piloting the ship from Wall-E Auto has found a new job a chef in this quick serve counter service restaurant featuring specialty sandwich's, wraps, and other healthy foods.
Shop
Long John Silvers
No this is not the fish restaurant but he's from Treasure Planet. He was a quartermaster in the movie which handles all that comes onto the ship. So like all corrupt quartermasters he starts to sell ships supplies before it set sails and leaves the planet. Here you find all that you need to last a long voyage to the start and distance planets including shirts, shorts, pants and other clothes and items you will need.
Realm of Magic
This Realm is run by Jafar, Dr. Facilier, and the Evil Queen
This Realm is where the citizens of Perrault lives. it's a seedy and dirty place where the citizens have forced to live out there lives. Here houses are close together and are small and in need of repair. The roads are confusing and you may get lost and mugged!
Attractions
Mirror, Mirror
This 3D shows feature most of the Disney Villains and how and why they came to Disney Dark Kingdom and know why they need them all in one place. You find out that there is also a dark force stronger, more powerful, and evil then Malecifant who she even fears but must release and cant until the night!
Cave of Wonders
There is a cave in the Realm that seems odd and almost out of place but has become the place where the citizens use to throw away there trash before Jafar got to it. He is asking for "volunteers" to go in and get the lamp and then keep anything they can get there hands on. All you have to do is get on a magic carpet and fly in, grab the lamp and some loot and get out! Easy right? Well give it a try! The only other question is will you give Jafar the lamp, keep it or something else?
This will be a lay down coaster as you fly through the Cave in search of the lamp.
Faciliers Fury
Faciliers is upset and furious that he was beat by some frogs and has returned to unleash his fury on the world! Through his magic he has cursed you on this new roller coaster!
This will be a 4th Dimension Roller Coaster like the new coaster being built called Green Lantern that is currently being built at Six Flags Magic Mountain.
Restaurant
The Queens Table
This will be a sit down full service restaurant featuring roast beef, chicken, pheasant and other luxury items. This is the Queens Table and you eat well here!
Shop
Dr. Facilier's Emporium
This shop will feature fun and exciting items to be purchased. Here you can get magic sets, wands and other magic related items,
Briar Rose
The Dark Force Arises!
Remember I hinted about an even bigger evil villain will here he comes! The Disney Villains unite and bring there powers together to bring about the most evil Disney Villain of all…Chernabog! Yes the most evil and powerful Disney Villain is behind the creation of Disney Dark Kingdom.
Here the creature is called upon to bring about the destruction of all what is good in the Disney universe! During the show one of the spires not just a normal spire but an auto-animatronics Chernabog! This spire opens up and reveals himself to the world until the Disney Heroes comes and defeats him in the show!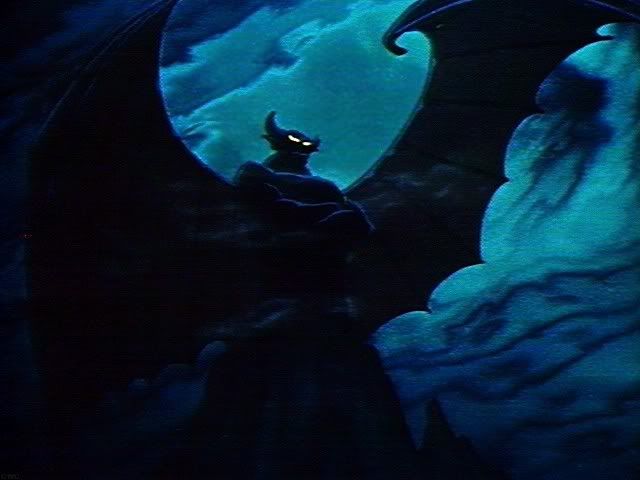 Dawn Treader

Taking place in Prince Caspian's castle, this boat ride will take guests on their very own Dawn Treader to the Islands to find Narnia's lost lords. The adventure will include animatronics and drops as guests go from Island to Island. They will avoid Slave Traders,

Shop and Resturant

Mr. Tummnis's House

Shop for your favorite Narnia merchandise as Mr. Tumnis holds an open house to sell his wares. The interior will look like a home and will include books, movies, shirts, and play weapons

Lion Head's Pub

A table service restaurant, you can find a good ol English Pub here that will pour pints of beer and offer tasty English faire such as shepards' pie, fish and chips, and, of course, Turkish Delight!

Tron

This land will be completely indoors due to the glowing lights of the Tron World. The outside will look like a giant version of Flynn's arcade. While inside, all cast members will be wearing reflective and black lit costumes to make them look like a program. There will be the Daft Punk music of Tron Legacy playing inside as well.

Lighcycles Dueling Coasters

Taking the most popular of the Arena games, the light cycle will be a dueling steel roller coaster where the guests will have to choose sides: CLU (Orange) or the User (Blue). Though the roller coaster both of these cars will race each other and try and cut each other off. One of the new technologies showcased on this roller coaster is the glowing of the track after a car has driven over it for five seconds (to make a light trail. This will look great from people watching the roller coaster as a sycronized ballet of light and sound fill the roller coaster area.

Get into the ARENA

In here, guests can play virtual games against other players such as light cyles, and flying disks. There will be a audience area for all friends and family to cheer on their favorite program, er, user. This will be free to do as long as you purchase an identity disk from the giftshop (mentioned below)

Flynn's Arcade

Come waste an hour or two playing arcade games from the 80s. This will also be the largest collection of 80s arcade games (you know, the big clunky box looking ones) in the state of FL. 80s music will play thoughout this area.

Shops and Resturant

Arena Shop

The one stop shopping area of the Tron World. Here you can get glow in the dark shirts that look like the program's lines and create and use your very own identity disk which is available in multiple colors (not just blue or orange)

Castor's Mega BYTEs and Club

Come and dance with the top entertainment program in the system. Here you can find drinks with light up lightcubes in them (they would glow) and food such as hamburgers, hotdogs, and fries. It will be a counter service place with plenty of room for a dancefloor.

Remember everyone, this was the rest of Anthony's Theme Park

During the course of this season, I think you've hit a few bumps along your path to the finale. You have told me that it does take a while for an idea to come to you, but your ideas are usually great! I think you have made some improvement from WPA to this season, and that is why you are in the finale again. My favorite work of yours this season had to be the simple, yet oh so charming Madame Hooch's Broomstick Training Carousel.

As for your theme park, I think this is the best idea you had all season. Brining the villains park that everyone has wanted to see to life, was an amazing idea. You certainly did great work and that shows. The only thing I didn't care for was the naming of lands. I think you could have created better names than reusing the original MK names, but with realm instead.

I'm positive that the opening would be spectacular and epic. It sounds great from just the description. I'd love to see the castle built! I really would have liked to see Maleficent receive her own attraction though, perhpas of Spindle (Ferris) wheel.



Very interesting land and use of characters. I loved the Epic Mickey Ride, but wish you had placed a bit more emphasis on this throughout the whole park. This land was not my favorite, but was still executed well.

Realm of Adventure-
This land sounded great! The use of villains, I think, really fit this land. This land sounded thrilling, and would obviously be excellent themed, while using some classic rides, with a disney twist.

Realm of Tomorrow-
Another really cool themed land. The villains worked well again, and I loved that you used some villains that nobody would think to use, such as Doofenshmirtz or Auto.

Realm of Magic-
My absoulte favorite land. The Mirror, Mirror show sounded great, as did the cave of wonders. I would love to see the Dr. Facillier coaster! This is where I would have loved to see that Maleficent ride, perhaps in an expansion though ;).

The nighttime show sounded great, but I wish you gave a bit more detail on this. Fantasmic! would also work very well in this park!


Anthony Disney doesnt own the rights anymore to Narnia. They sold the rights to Fox, who made the last film, and so havent done anything more with the franchise in rides and attractions. Also the reason why they pulled Prince Caspian character from DHS.

I did have trouble with the name and to be frank I couldnt piece all this together until 2 nights ago. I reread what the instructions and realized I left out the opening land then it hit me and Briar Rose came about. And everything just came into place after I came up with the village.

With the name of the lands I wanted to come up with something Villainous but also describe the land and why each character is there. Fantasy=talking animals Adventure=pirates Tomorrow=futuristic inventors Magic=characters that use magic and curses.

I didnt put into detail the fireworks show because its not like Fantasmic but like a Wishes show. So its not hard and kind-of boring to describe but to see is much better. I wanted to emphasize Chernabog and him "appearing" and coming to life on the castle and one of the spires just changing from a spire to him.

Thanks for the comments Tim.

I know they do not own it, but I wish they kept it so that they can do some kind of "Harry Potter Land"

I think you have been one of the best and certainly the most consistent contestant throughout the series. My favorite of yours this season had to be The Cave of Wonders Coaster.

As for the theme park, I think you had a really great theme.

Pirates Port-
Another great opening. It sounded great and I like that you expanded on the pirates franchise. I enjoyed the obelisk concept.

Incredible Land-
I guess I was a little let down by hearing another Incredible themed land. I've heard alot, like from Nick during the first season. Thyere all fairly similar, although I did like the Summer House.

Prince of Persia-
This was a well themed land, and the choices for rides sounded great. I love the Morrocan culture, and I think you did a great job with molding that into the Prince of Persia theme.

Narnia-
I'm glad that you agree with me when Disney should have kept this franchise. I think that this is your best land and would love to see it become a reality, althought it probably won't happen. The Dawn Treader ride, sounds awesome!

Tron-
I'm not sure I was crazy about this land being included in the Adventure theme, but it works well as a tomorrowland counterpart. The rides sound cool, and I think Tron would work best as a land, instead of just an attraction.

To tell you the truth, I am having harder and harder time every TPA because, lets face it, I am clear out of ideas. I do not want to repeat myself or anybody else.

I made the finals in the first TPA and my park was Music themed!

Anthony Im also running dry but I realish the break and one of the reasons why Im not doing the next Walt Disney tournament.

I may not make it out of octuple bypass surgery in time to vote....

Imgine where on a blimp on a 2 week journey over the rainforest with a pilot that kind-of lost there marbles and tell really funny jokes er I mean stupid jokes that havent changed in a long time.

It could a new rethemed Jungle Cruise ride with all the great stuff you find in the original just revamped and rethemed for this!

What "great stuff" are you referring to, Dan? You must have ridden a different Jungle Snooze than the one currently at the MK!

"Oh, this is the biggest one I ever had. You hear that Elizabeth? I'm coming to join you honey." ;)

Sorry, gang, but you make it too hard to choose... although it could get easier if you keep stacking your parks with thinly disguised midway spinners!!!! =)

Our Most Improved Award is going to Adam Nodjomian. Adam was eliminated in the early rounds of WPA, but this season, his ideas led him to become a favorite in the competition. I still think he should have made it further.

Our Fired to Soon award will be going to someone who actually dropped out. While they removed themselves from the competition, I do believe that Nathan Alexander had great ideas and could have made it to the end.

The New Contestant Award will be going to the person who actually played the game, did not drop out, and still gave good ideas. That person is Jeff Moon. Great Work, and I hope to see you back for the next season.

Finally, our MVA (Most Valuable Apprentice) this season will be Andy Milio. While Andy was eliminated in the first round of WPA, he improved upon his ideas, descriptions, and made him a huge favorite among voters. He is a valuable contender to TPA, and I hope that he will take home a title in a TPI competition soon, maybe even in his own competition.

As TPA comes to a close, I was hoping to announce the new International Apprentice Spin Off Game. Unfortunately, that is going to have to wait a few months while I recover from the early dropouts, and hectic end voting problems that I have encountered with running this game. I promise that I will be back with a new game, but be sure to support me and everyone else in the competition by reading The Next Walt Disney Game. It works fairly similar to TPA. But alas, I do promise to be back as soon as possible with the next TPA competition on the TPI discussion board. Thank you for everyone who has been following and participating in this game so far. PS: We should have our winner by the end of this week!

To all contenders... it has been a pleasure reading your creative entries. While duties at work and home have forced me into more of a lurker role these days, do not discount the fun you have brought to the dedicated theme park fan on a regular basis. Kudos to all!


With this I am announcing- no, not my own competition- my retirement from future TPA competitions. I've had a great time doing these past two, and have had much more success than I expected when I started doing them, but for me to do them the way I want to takes a huge amount of time and it's time to return to my real life. Plus, we need new blood in this competition. Mine's getting too old.
Tim, thanks for letting me take part. I know you had a rough time this competition. I hope this was the hardest and all future competitions will be nothing but fun for you.
Dan, congratulations! Anthony, I'm proud to be runner-up with you. You're a class act, and to all fellow competitors, it was great to compete against you. I think we all pushed each other to do better than we thought we could do.

James and Anthony you guys had great ideas and really pushed me to come up and try my hardest everyone round and especially this finale round. You guys all had great ideas and I surely felt like mine was the lesser of the 3 but fortune looked upon me this time like it has on you 2 before in other rounds and competions!

Anthony you had great and inventive ideas while staying and keeping to the either the Disney ideals and basics. The story is everything at Disney and I beleive you keeped to it even if it was a Disney round.

James I felt like we had a good rivalry going, Like the Red Sox and Yankees or Lakers and Celtics, or Ohio and Marshell. So its going to be weird without your great and detailed designs and ideas, I really did feel you had this one on me! We had some great rounds like 2 boxers slugging it out there will miss your ideas and proposals.

Thanks again for all who voted for me and supported me through to the competition and then helped me win!

Tim thanks for hosting an other great competition and installation of TPA! As always there were all great and inventive rounds that keeped me thinking and thinking outside the box!

Oh yea I will be defending the title next competition, so I'll see you there!

One of these days, I will win, and all of you will rue the day HAHAHA! Ok, that was a little dramatic, but I have always come in 2nd or 3rd in TPA.