Last Week At Your Amusement Park......September 19
A digest of amusement park news and rumors...and a couple of rants...with a sense of humor...
California's Great America - SOLD - After years of doing battle with a possible new football stadium in their parking lot and many issues over the years about gaining approvals for new rides, Cedar Fair is cutting their losses and getting rid of the park. California's Great America is being sold to JMA Ventures who owns several ski resortsand hotels but hasn't a clue about running a theme park. Hopefully they can find a couple of competent people to do that for them....maybe Herschend is looking to expand a bit, but I would stay away from PARC. You could always give it the AstroWorld treatment if you wanted to...
Golden Ticket Awards - Please check out the Awards article that I posted and make your stand for how Disneyland or Islands of Adventure are the best parks in the world despite Cedar Point winning for the 14th year in a row. The Awards.
The Apocalypse - As a sure indication that they are enjoying snow cones in Hades, someone in China has had the great idea of building a 3.2 billion dollar park themed to the Smurfs. What an awesome Smurfing idea that piece of Smurf is going to be.
Disney's Animal Kingdom - Now that Disney has been officially fined by OSHA, they are now free to reopen Primeval Whirl. I thought that rides that killed people were normally removed from a park, particularly if they are cheap, aging, and have no theming. We can only wish....
Cedar Point - The Point has giving into the peer pressure of all of the other lesser parks and raised it parking and admission fees by $2. To justify the expensive, the park claimed it was so they can afford to hire a couple of extra smart people who would never dream of putting up a WindSeeker ride. In other news, it looks as though the Mean Streak is going to close early so that they can start a lengthy refurbishment on the roller coaster. Initial indications are that the Mean Streak is going to lose the gut-punch element, the brain hemorrhage element, and the rattle your teeth out element.
World Park (China) - New Angry Birds Attraction - While initially designed as a "method for people to purge themselves and gain happiness", after three days the park goers decided to give up the new Angry Birds game and just overthrow the government for a longer lasting yet similar effect.
Legoland Florida - Less than a month before opening. There are a flood of new videos hitting the internet showing the final push and rides that are ready to open. The plastic food just showed up in the last couple of days.
Hersheypark - The park reopened this weekend with a special discount on all of the water you could carry out of the park.
Marineland (Niagra) - A major crack was found in the foundation of the Topple Tower ride and it looks like it may never open again. Well, it is called the Topple Tower isn't it? What did you expect?
Knoebels - The park reopened this weekend with 37 rides operational, all of the other rides dissolved in the water. Although one roller coaster was spotted floating down the river, making a bid at the open water of the ocean. In other news, after seeing how well it held up during the storm, the Flying Turns roller coaster is going to be changed into a waterslide.
Universal Singapore - Screamscape received a package with a whole new batch of Transformers final construction pictures. The card read "nan nana booboo...bbblllllppppptttt!!!!"
Indiana Beach - After a contentious season where the former employees of the park have picketed against unreasonable firings and unsafe rides and work conditions, the park has decided to close a week early. As a formerly nice and quaint park it really bothers me that I can't stop to use the restroom on my way to Cedar Point.
Closed Rides - Is it just me or is anyone else getting sick and tired of amusement parks raising their prices and then giving back less than what they are selling? Take Indiana Beach for instance, during the season, they were cycling through the rides, not opening some in order to hold down the cost of employees who run the rides, but the parks still expect us to pay full price. The worst two parks were last season with Magic Springs, Darien Lake, and Elitch Gardens who were having people pay full price to only have a small fraction of the rides open. Magic Springs was the worst of all of them and the reason PARC was fired from all of CNL's parks. At Magic Springs on several occasions toward the end of the season, none of the roller coasters were working and only about 5 flat rides were open, yet the park never considered giving people at least some of their money back. Now I completely understand that sometimes rides need to close for maintenance and improvements, but to have your operations strategy contain rolling closures is unforgivable. There are too many other good parks around to put up with that. I for one will not be going back to Indiana Beach until I hear that things have changed (and I have been there twice). And don't get me started on parking fees....
Theme Park Insider - Fix-It Competition - Be sure to check out the new game that I started. There are no continuous play requirements, so you can jump in and jump out as needed. Please give it a look....Fix-It Weekly Challenge - Morgan's Wonderland - Due on September 25
Create My Caption - In the discussion thread below, post your best caption(s) for the following picture borrowed from FunnyRidePhotos.com.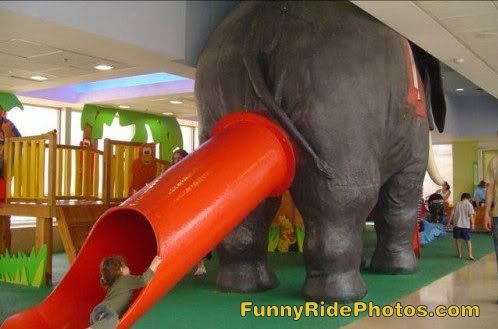 If I have missed anything (and I have, so no worries there) please post below. If you have some inside information, more news, more rumors, first rides, please share with the rest of us.
Sources: Screamscape, Amusement Today, and whatever else I happened to read this week...
Caption? Nope, too easy.
From James Rao
Posted September 20, 2011 at 6:55 AM
Caption: "The last thing I remember is that poor little kid trying to put the cork back in..."
From Tom Rigg
Posted September 20, 2011 at 9:18 AM
Caption: :"Is this another form of that sick thing Richard Gere does?"
Jeff, you could put in the big "Disney gets Avatar" news if you want.
I don't even want to know if I should put a caption for that! Ha ha ha :D
I think Robert covered the Avatar news pretty well.....I don't have anything sarcastic to say about it......yet......
This discussion has been archived, and is not accepting additional responses.