Last Week At Your Amusement Park......September 26
A digest of amusement park news and rumors...and a couple of rants...with a sense of humor...
In other Animal Kingdom news, the Imagineers are currently testing a version of Kim Possible and Sorcerers of the Magic Kingdom in Animal Kingdom. This particular game is themed to the Wilderness Explorers from the movie UP. Click here to catch a sneak peek at the testing of the new attraction: Wilderness Explorers Game
Bells (Oklahoma) - Robby Bell is going to start his rebuilding effort by rolling out some of his kiddie rides to the Flea Market. Hopefully he won't charge $20 for parking and $89 for an entrance fee.
Disney's Magic Kingdom - The parking zones at the Magic Kingdom are all getting renamed to go with the new split theme of Heroes and Villains, allowing the trams to split the parking lot in half and get people back to their cars quicker. While we do not yet have the names of all of the heroes and villains, we do have a short list. For the villains parking areas, we now have: Michael Eisner, Charles Mintz, John Pepper, Ron Miller, the Accounting Department, Roy Disney, Stanley Gold, Christine McCarthy, and the Saul Steinberg parking areas. For the heroes parking areas, we now have: Bob Iger, John Lasseter, Ed Catmull, Ub Iwerks, Ollie Johnston, Steve Jobs, Frank Thomas, Ward Kimball, and the Jim Henson parking areas.
Lead Ticket Awards - Voting has just started for the counter programming to the Golden Ticket Awards, honoring all that is bad about theme parks. Despite winning a bunch of Golden Ticket Awards, Cedar Point also won a fair share of Lead Ticket Awards as well last year. Now is your chance to get your vote in: 2011 Lead Ticket Awards. If Elitch Gardens and Magic Springs don't win about half of those awards, I will be surprised.
Freestyle Music Park - Not that we haven't heard this one before, but early rumors indicate that one of the original investors of Hard Rock Park may have gathered some new investors with the thought of purchasing and reopening the park for 2012. If that is the case, expect to see work starting soon. The key to get this park going is to invest $50 million dollars in the park, not take on any debt in the process, and fix the economy. You get all three of those and this will be a very successful park. Good Luck!
Dorney Park - Apparently in order to get out of having to install a crappy Windseeker, the park had to agree to install the robotic dino upcharge attraction. And there was much rejoicing and dancing in the streets.
Kentucky Kingdom - The government of Kentucky refused to take a vote on the $20 million that Ed Hart needs to get Kentucky Kingdom off the ground before recessing until January. Looks like the park is going to sit empty for another year, so hurry and get your abandoned theme park pictures while you still can.
Six Flags Over Texas - There is a new video of the New Texas Giant taken with a remote control helicopter. Enjoy:

Roller Coaster ! from Heli Video Productions LLC on Vimeo.
SeaWorld Orlando - Actual news article: "A government safety official said on Friday that Florida's SeaWorld knew it was putting trainers at risk by letting them interact with a 12,000-pound killer whale named Tilikum. The official cited the amusement park's five-minute "Tilly Talk," in which he said new trainers at Shamu Stadium are told "if you end up in the water with Tilikum, you're going to die." "Allowing this contact (between killer whales and employees) to proceed or continue was plain indifference," Occupational Safety and Health Administration area director Les Grove said at a federal hearing in Sanford, outside of Orlando." But it is all going to be ok, with the new floor elevator they are installing, there will be no possibility of drowning.....getting crushed by being pinned under the killer whale that was holding the trainer under the surface and also raised out of the water with you, yes, but not drowning.
Dreamworld (Australia) - In another news item dealing with trainers made out of the same stuff the animals like to eat, a tiger at Dreamworld bit its senior trainer for the second time in four months. I don't know how to tell you this, Siegfried, but maybe tiger taming is not for you. The tiger obviously knows now that you are very tasty not to mention soft and squishy with a crunchy center. How you ever thought about a career as a chartered accountant?
Disney Casting Call - I don't know of anyone else who has participated in one of these cattle calls for the Disney Corporation, but from what I have heard, these things are the antithesis of sketchy dealings. Over the last weekend, a family member of mine went down to the casting call and somehow, not through any massive display of talent, made it to the final call of this particular casting call which means that next summer this family member is required to go to Florida for a week, paid for by her parents, go to the different theme parks, paid for by her parents, and participate in further casting calls in a place where there are no programs being filmed anymore. Since absolutely no talent of any sort was on display, no acting, no singing, no dancing, not even whistling or paper airplane building, or even sleekness of physique....nothing at all was on display except for the depth of her father's pocketbook. Has anyone else done one of these and been invited to Florida? Am I just being cynical here?
Create My Caption - In the discussion thread below, post your best caption(s) for the following picture.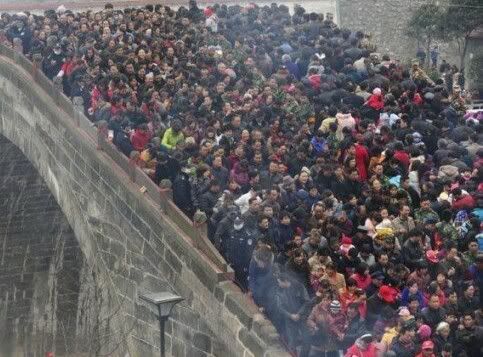 If I have missed anything (and I have, so no worries there) please post below. If you have some inside information, more news, more rumors, first rides, please share with the rest of us.
Sources: Screamscape, Amusement Today, and whatever else I happened to read this week...

Good stuff though, I enjoyed the Magic Kingdom parking lot one for some reason :P
Caption: Herd Mentality, Mooooo!
@ Andy.....I just had the same problem with the image not loading correctly.....a refresh on the site fixed it.....sounds like PhotoBucket is having issues....
Caption: "What do you mean this only the line for the lockers and not the ride itself?"
In case you are wondering, here is the original video with Karaoke words for you to sing along with. It is really unfortunate that the website looks like it has been abandoned since they released this video.

Caption: Ummmmm....guys?.....Avatarland doesn't open until 2016.....
What do you mean this IS the fast pass lane.....
Universal is giving butterbeer for free!
I loved the disco yeti video!!!