TPA: Tournament of Champions Challenge 2
Universal Studios Orlando Hotel
This challenge due date will be January 13th, at midnight website time.
THE UNIVERSAL 100 RESORT
A boutique 5 star resort, featuring 100 Suites each themed to a different Universal Studios Picture.
While staying at this one of a kind experience enjoy dinner with Hollywood's biggest star, just follow the red carpet to OSCARS'.
Details coming soon..........
James Koehl- 5 points
Nick Markham- 4 Points
Dan Babbitt- 3 Points
Jeff Elliott- 3 Points
Joseph Catlett- 1 Point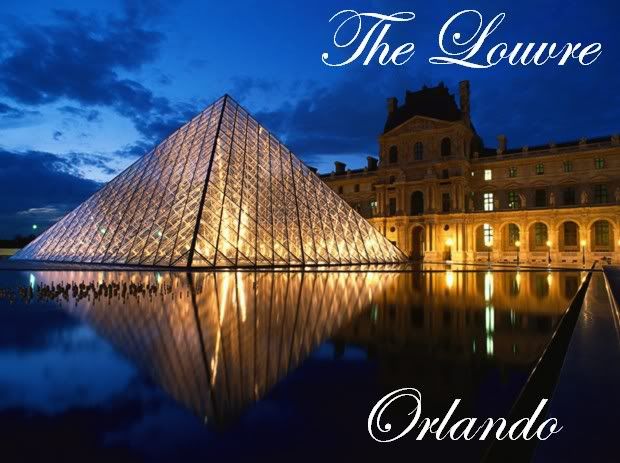 The Louvre Orlando
Why, you ask, why is there an exact replica of the famous Louvre Museum of Paris in Orlando? The answer is simple, it is on vacation. Which I understand is not that great of an answer.
The Louvre is not actually a replica, but THE Louvre from Paris……it is a long story..….it involves Vector……
Queue Music….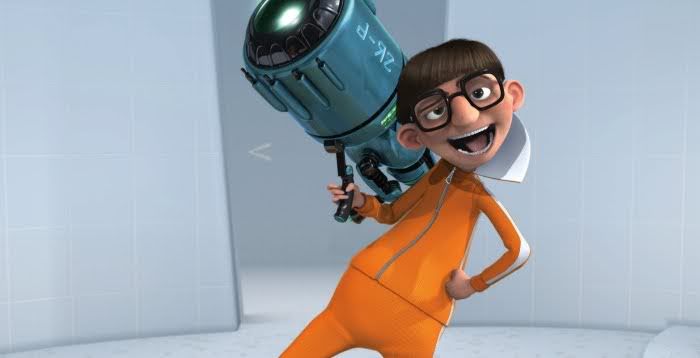 Last Summer, Vector somehow managed to get off of the moon. Don't ask me how; supervillains just have a way of doing those kinds of things. As a comeback caper, he decided to steal the most famous museum in the world, the Louvre. The heist was a success and he was able to steal the museum using the shrink ray that he had stolen and adjusted to make the shrinking permanent. As with all people who win the championship or World Series or whatever, Vector decided to celebrate his victory by going to Universal Florida. To make a long story short, the adjustments that he had made to the shrink ray only prolonged the effect, but were not permanent, and while Vector was visiting Universal Orlando, the museum that he had been carrying around in his pocket popped back to its regular size.
Since this seemed like a larger job than what a regular theme park management team could handle, we reached out to Gru and his Minions to see what they could do to help us. With the help of a replicator that Gru has been working on for years, Gru was able to quickly rebuild what is now a copy of the original Louvre where the old one has been, but after careful examination, it has been determined that the original Louvre, now sitting right next to Universal Florida, was much too fragile to move again, so it is going to have to stay where it is.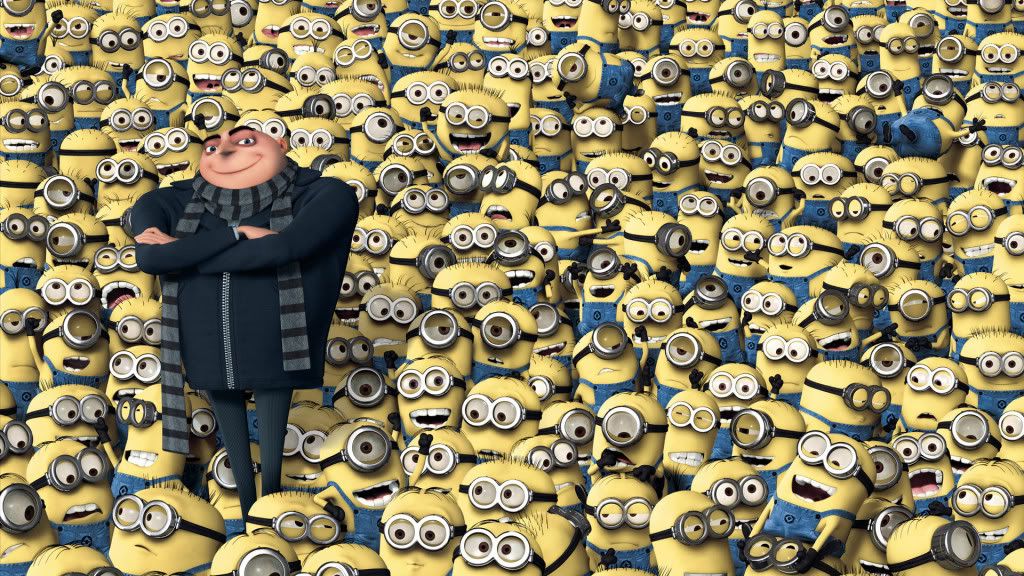 All of the artwork and exhibits from the original Louvre have been carefully transported to the replica Louvre in Paris, but from the way I understand it the officials in Paris are very happy about this switcheroo because the new Louvre doesn't have the plumbing and heating issues that the old Louvre had. Also, while the artifacts were being transported, some of the Minions did some 3D laser scans on the artwork that they were transporting back to France and have built some incredible replicas of original art that has been moved back to the replica Louvre in France, in order to make the walls here in Orlando not look that bare.
So then the question became, what do we do with this classic building that we now have to look after? Well, our answer was simple, this is one of the most beautiful buildings in the world, and it would be a shame for guests to Universal Orlando not to be able to see it and walk through it, particularly now that Gru's Minions have started replacing some of the artwork. But there is around 650,000 square feet, so it is going to take them a while to get the museum fully stocked again, particularly since they need breaks every so often to blow something up and play with fire. By our calculations, it would take 742 years for Gru's Minions to restock the Louvre, which would take entirely too long, so we needed a different plan…..which we got out of a history book.
The Louvre, when it was still in Paris, was originally used as a Palace and an Academy before becoming a museum. So Universal decided to take a little old with a little new and convert the Louvre into an elite luxury hotel, an artist academy, and a kind of free museum with a bit of the Minions art replicas lying around the place to give it some atmosphere.
The rooms are all huge, even with the smaller rooms clocking in around nearly four times the size of a double wide trailer home without the tornado hazard, and some of the larger rooms big enough to hold medium sized rock concerts. The Presidential Suite has enough room for all of the secret service people as well as the press corp, briefers, hair dresser, makeup artist, hair dressers for the makeup artists, dog walkers, IT people, people to run for coffee for people who actually do work, etc, and still have room to spread out. The second and third stories of the Louvre have all been dedicated to rooms, leaving the first floor and underground areas for the galleries, the art academy, and the spa. Each of the rooms is uniquely different and have been designed around the artist that was originally displayed in that area of the Louvre when it was still in Paris.
An example of a room would be the Leonardo Da Vinci room. Leonardo's room not only has the three full sized paintings that the Louvre owns, but many sketches from his notebooks, replicas of other paintings including in the dining room where there is a miniaturized version of the Last Supper, a couple of assembled Da Vinci models under glass, the taps in all of the bathrooms are gold plated and made to look as if Leonardo himself designed them. The seat on the commode is heated and automatically rises. There is a full kitchen with dinnerware hand crafted using designs from Leonardo's catalog of work. The bed is the very manifestation of opulence. The tub is large enough for four adults and a midget, with his and hers faucets, full body massaging showerheads, and a heat lamp above the tub. In addition to this, there is a flat panel TV on both sides of the tub, so you can watch movies while you soak. In the bedrooms, there are flat panel TV sets that rise out of the dresser.
All of the rooms will be done uniquely to their own theme, and while Da Vinci's room may end up being the most popular, don't forget about the Ancient Egyptian, Ancient Greek, and Ancient Roman wings. While the Louvre doesn't own any of MC Escher's work, there were initial plans to build a room based on his work as a master craftsman and artist, but the workers kept falling off the floor, sticking to the ceiling, ending up in parallel dimensions, and after several workman oozed under the door, the idea was scrapped and we are now just sticking with Louvre artists and themes….and we are thankful that we never quite got started on the Salvador Dali room.
The Louvre Spa is a 5 star facility all on its own, specializing in relaxing tired park goers with massages, mud baths, hair salon, makeup studio, manicure and pedicure retreats, as well as many other services to revitalize and rejuvenate the body. Since we know what kind of schedule our guests keep, the Louvre spa will be open 24 hours a day to try to keep up with when our customers are ready for their treatments. Can't sleep? Neither can we. Stop by the Louvre Spa, we are always ready for you.
The Master's Studio is what we are calling our art academy. In the Master's Studio, we will have artists of many talents not only working on stroke for stroke replicates of master work based on the original collection of the Louvre, but also creating unique pieces of art. In the Master's Studio, you are free to chat with the artists as they work and ask questions about technique and art history. Artist are also available for specialty for-hire work. Have you ever want a family portrait done in the style of Rembrandt? Here is the place to get that done. Classes for many different skill levels are offered in painting, pottery, sculpting and more. As the art hanging in the Louvre Orlando is made on site, it is all for sale. Don't worry, we can make more.
One of the most unique features of the Master's Studio is Frank Graham who is our resident Da Vinci painter. To get into the mindset of his painting, Frank dresses up like Michelangelo, and talks as if from that era, which we understand doesn't make a whole lot of sense, since he is painting works done originally by Leonardo…and Michelangelo never really liked painting, but it is interesting and very entertaining. To see a really fun response, ask "Michelangelo" about the Teenage Mutant Ninja Turtles. In addition to actual artists working on original and classic works of art, the Master's Studio has purchased several 3D printers that will attempt to recreate some of the more complex layered paint works and, for an example, see if we can reproduce Mona Lisa's eyes following you around the room by replicating raised brush strokes and dimples in the original.
L'art du Monde is one of the most exquisite and unique dining experiences in the world. Our restaurant is divided into smaller dining areas with each area themed to a different world cuisine. Reservations are required and when your reservation is made, they will ask you what dining room you would like to dine in. While some of the areas change based on what types of cuisine are in high demand, there will be standard areas that feature Italian, Chinese, Japanese, American, Mexican, French, and Seafood dining areas in addition to seating areas that will change occasionally to offer Jamaican, Moroccan, Vegan/Vegetarian, Mongolian, Indian, and many others. Each of the different areas has a kitchen area viewable from the entire seating area where you can watch and interact with the chefs as they prepare your 7-9 course meal for you. There are no menus anywhere in the restaurant, and our chefs are trained to cook just about any meal under the sun, the only limiter here is the amount of time it takes to prepare a dish and if you are willing to wait, we are willing to cook it for you. The way the flow of the meal goes, after you have ordered drinks, a concierge will come by your table and speak with you about what you would like for dinner, setting expectations, figuring out what food styles you prefer, and attempting to steer the conversation in the direction of what the chef specializes in, all in order to help you to craft your own dinner menu from scratch. After that, a runner will bring the ingredients to the chef and he will start preparing your meal as an interactive experience, letting you know what he is doing, how his is doing it, while actively adjusting recipes to your taste; and please feel from to do a taste test of your meal before it is done. Once each different course is ready, they will be hand delivered to the table by the chef just as soon as they are completed. A sophisticated computer system with millions of recipes and active preparation timers will assist the chef in making sure that your meal is one of the best you have ever had. In addition to the lead chef of the area, if your chef starts getting backed up, there are backer chefs and sous chefs that can jump in an assist in the case of busy dining areas, but do keep in mind that this is an experience and not a fast food joint.
The Louvre Orlando, it showed up here, and we needed to do something with it, so we made it fantastic!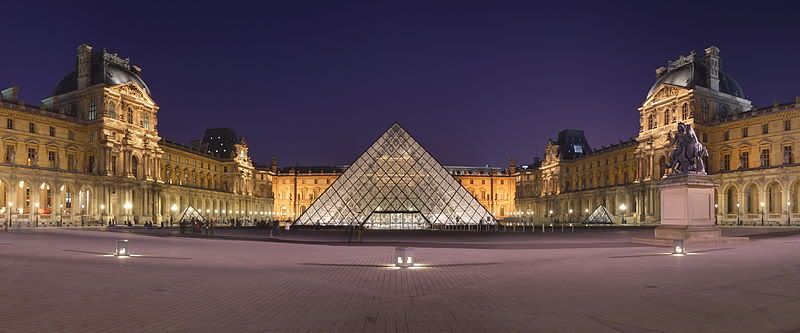 I am VERY intrigued by the "100 of Universal's finest films" concept.
Universal Studios Orlando Resort has long been known for their fun, exciting and beautifully-themed on-site hotels. Now they have decided to offer their guests a level of hotel accommodations above even these outstanding facilities. The newest hotel at Universal Studios Orlando Resort will soon take its place as the finest in the entire Orlando area, a five-star hotel with a five-star restaurant and accommodations far superior to anything previously available to central Florida visitors. Inspired by the finest hotels in London and fit for royalty, Universal Studios Orlando Resort is proud to announce the opening of The Victoria Palace Hotel.
British visitors have long made the Orlando one of their major destinations when "on holiday", and The Wizarding World of Harry Potter at Islands of Adventure and the new Diagon Alley at the Universal Studios Orlando have introduced millions of people from all over the world to the beautiful British Isles. It was the obvious choice for the first deluxe hotel at Universal Studios Orlando Resort to be steeped in British tradition, design and elegance. The exterior design of the Victoria Palace Hotel is inspired by the famous Crystal Palace of 1851, where the first world's fair was held in London's Hyde Park. The soaring central Atrium, containing the registration lobby and many guest facilities, will be a sun-filled indoor garden of palm trees, orange trees and countless baskets of flowers hanging from the surrounding balconies of this four-story structure.
Glass-walled "lifts" (elevators) will connect the ground floor lobby with the tiers of balconies surrounding it and the wide, airy hallways leading to the elegant accommodations. The gardens around the hotel exterior will be landscaped with carefully tended beds of flowers, manicured lawns, shade trees and pleasant streams, providing plenty of space for a quiet stroll or a brisk morning walk.
The Victoria Palace will combine the ambiance of the original Crystal Palace (soaring glass windows and skylights, delicate steel columns and exquisite Victorian detailing and decoration) with cutting-edge technological features, all carefully integrated to meet the needs of the modern guest who wants to enjoy the elegance of the 19th Century without sacrificing the comforts of the 21st Century. Upon arrival at the hotel's car park (no "parking lot" here- this is England, after all!) guests will be encouraged to take a traditional London cab (at no charge) to the hotel, while their luggage is transported directly to their hotel room.
Registration will be informed of their arrival at the car park, so that their check-in information packets are ready when they arrive at the hotel. Guests will be greeted by a proper British doorman, who will direct them to the appropriate registration desk with their registration materials. Upon registering, guests will be informed about some of the many remarkable benefits they enjoy by staying at The Victoria Palace. They receive all of the On-Site Guests Benefits enjoyed by guests staying at other Universal Orlando Resort Hotels, including Universal Express and early admission, along with:
· twenty-four hour room service
· twenty-four hour swimming pools
· free parking, including in-and-out privileges
· two-hour early and one-hour after park closing "private time" at either of the two Harry Potter theme areas, with all attractions and shops open only for Victoria Palace guests.
· special television channels featuring British television, such as BBC, Granada and Sky TV.
· double-decker London bus transportation to both parks
All six hundred rooms at the Victoria Palace are suites, containing a living area with sleeper sofa and at least one bedroom. Most are two bedroom suites with bathrooms attached to each bedroom, ideal for families desiring plenty of room and comfort, and many can be connected to adjacent rooms to accommodate the largest of families.
All suites have a private balcony or privacy porch overlooking the surrounding gardens, the exciting sights of the Universal Orlando Theme parks, or the outdoor swimming and recreation facilities. Those facing the recreation areas will be carefully soundproofed, so that late-night swimmers will not interrupt a good-night sleep. Each room design is named for one of the many homes lived in by Queen Victoria and her large family during her sixty-three year reign as Queen of England. Some examples of these suites and their facilities are:
· Sandringham- one king bed; living area with fold-out sofa; Jacuzzi; sleeps four
· Kensington- two bedrooms; one king bed, two queen beds; living area with fold-out sofa; sleeps eight
· Osborne- two bedrooms, one with king bed and one with twin beds; living area with fold-out sofa; sleeps six
· Balmoral- two bedrooms, each with one king bed; living area with fold-out sofa; sleeps six
· Buckingham- three bedrooms, one with king bed and two with two queen beds; living area with fold-out sofa; sleeps eight
There are nine luxury suites, each named after one of Victoria's nine children (Adelaide, Edward, Alice, Alfred, Helena, Louise, Arthur, Leopold and Beatrice, for the record). These two-story suites contain three bedrooms with a flexible number of beds in each depending on the requirements of the hotel guests reserving them. They also have a large living area and dining room, with a small efficiency kitchen.
The Prime Minister's Apartment is the second largest suite in the Victoria Palace Hotel, and would be considered the Royal Suite in most five star hotels. Along with the facilities provided in each luxury suite mentioned above, it also contains a large meeting room with attached multi-media room for high-level business meetings and a private study. This facility, like all the luxury suites, are entered from a private lobby area accessible by private elevator.
The Royal Apartment is the most elegant and spacious hotel suite in Orlando. Provided with the finest hardwood furniture and beautiful English antiques, this space is a showcase of the best craftsmanship to be found outside of a British royal palace. Four bedrooms with king beds, a two-story tall living room, a dining room that seats sixteen, a multimedia room with theater seating and a private fitness center with Jacuzzi, sauna and steam room make this three-story suite the finest facility for the most discriminating tastes (and deepest pockets).
Prices will range from $460 for a Sandringham Suite up to $2000/night for one of the luxury suites. The Prime Minister's and Royal Apartments rates are only available upon request and availability.
All guests at the Victoria Palace have access to a wide variety of services and amenities to make their stay pleasant, convenient and memorable. Indoor and outdoor pools are open 24 hours a day with lifeguards, and counter service foods are always available. There are Jacuzzi hot tubs for families and adults-only, and a large children's play area featuring Harry Potter-themed water slides and decorations.
A large state-of-the-art fitness center is open around the clock, and classes in yoga, tai chi and Pilates are available for guests. A lawn bowls pitch is available, with an expert lawn bowler on hand to teach this quintessential English game. An indoor street of shoppes called Charing Cross Row houses nearly a dozen well-known British stores such as Burberry's, Their Nibs and The British Food Shop, and will let guests feel like they are shopping in London without having to pay VAT (value added tax).
Diners at the Victoria Palace have a wide variety of establishments to choose from, ranging from casual to spectacular to the finest in five-star dining.
· "Ben's", themed on the clock tower at the New Palace of Westminster (commonly known as "Big Ben") is a twenty-four hour casual restaurant, located in the Grand Atrium of the Victoria Palace. This "sidewalk cafe" offers light meals, salads and sandwiches, and is always open to satisfy every late-night craving.
· "The Commonwealth Garden" is a garden patio located in the Atrium, where "tea" is served every afternoon, with delicate sandwiches, the finest pastries and flavourful imported teas frum throughout Her Majesty Queen Victoria's Empire.
· "The Queen Vic" is a traditional British pub, serving "pub grub" and a wide variety of British beers, ales, stouts, and distilled spirits from all over the British Isles.
· "The Great Hall" is an amazing family restaurant themed to the Great Hall of Hogwarts Castle, including the floating candles and the ceiling appearing to be the sky. Diners do not eat at long common tables with other members of their "House", but at beautifully-crafted family-sized wooden tables. Meals are all based on foods mentioned in the Harry Potter books and movies, and of course Butterbeer and Pumpkin Juice is featured. Servers are all dressed as students of Hogwarts.
· "The Royal Court" restaurant, operated by the world-famous Chef Gordon Ramsay, is a five-star dining room that has become THE center of the Orlando dining scene.
The Royal Court has rapidly earned its reputation as the finest restaurant in central Florida. Its elegant decor, outstanding service and incredible cuisine has established a new standard for five-star dining establishments. The Royal Court consists of four dining rooms, each designed to emulate a different period of British royal design: Medieval, Elizabethan, Georgian and Victorian. A small private dining room, the Presence Chamber, recreates a room in Whitehall Palace during the reign of King Henry VIII, and provides a unique dining experience for a privileged group of eight diners.
The basic menu is the same for each main dining room, with a special period-appropriate additional limited menu available for each of the four rooms. Gordon Ramsay has worked with culinary historians, exploring the foods served to English royalty throughout the centuries and updating them to satisfy contemporary tastes while retaining their historic aspects. This is a sample meal, with dishes selected from several of the historic periods featured:
Soup: Gourdes in Potage (medieval, the Court of Richard II)- a uniquely flavored broth with ground pork, butternut squash, fresh ginger, nutmeg, cinnamon and other delicate spices.
Fish: A Trout Pie (Georgian,the Court of George III)- puff pastry encases a mixture of trout, oysters and shrimp in a creamy wine sauce, seasoned with savory herbs.
Meat: Roasted Lamb Cutlets (Victorian)- carefully trimmed lamb cutlets, roasted to perfection with a lemon-wine-tarragon glaze
Vegetable: Turnips Stuffed with Spiced Fruits (Elizabethan)- white turnips, hollowed-out and simmered in wine, then filled with a seasoned mixture of apples, currents and dates and finished with a wine reduction
Dessert: Soufflé Grand Marnier (Elizabeth II)- a decadently rich soufflé flavored with Grand Marnier and served with a sauce of Grand Marnier and vanilla-flavored cream
An extensive wine list featuring wines frum all over the world is offered, with a special emphasis on wines frum the nations of the British Commonwealth. A world-class sommelier is available to assist diners in their choice of wines. Vintages frum Australia, Cyprus, New Zealand and South Africa can be enjoyed, along with beers and ales, distilled spirits and non-alcoholic beverages frum all four corners of the earth to compliment the remarkable meals prepared by Chef Gordon Ramsay and his highly-trained staff.
The Presence Chamber is, as stated before, a recreation of a room in Whitehall Palace, the primary palace of King Henry VIII. The original chamber was where the King would greet his subjects in person, where they could be in the "presence" of the King. It was one of the most magnificent rooms in the most magnificent palace of England's most famous monarch. Here, each evening in renaissance splendor, eight fortunate diners are wined, dined and entertained in a manor truly "fit for a King". Advanced reservations are required for two reasons: first, because the quality of cuisine and service is of such a high standard that the waiting list is listed not in days or weeks but in months or years, and second, because diners are contacted in advance by the master chef in charge to ascertain their food preferences and dislikes, allergies, and special dishes that they might request. This way, the chef can create a meal for this lucky group that all will be able to enjoy, a meal unique to this group of diners, who will take home with them the memories of a spectacular evening of amazing foods, remarkable wines, and a dazzling presentation in a setting that would reflect the splendor of King Henry VIII's Royal Court. The menu would not be limited to foods of the Tudor period, but would make use of modern dishes and cooking methods that the King's cooks could hardly imagine. A meal in the Presence Chamber would be the crown jewel in the dining experience of any guest at the Royal Court Restaurant of the Victoria Palace Hotel.
The Victoria Palace Hotel at Universal Orlando Resort- a five star hotel. The Royal Court Restaurant- a five star restaurant. A visit to these amazing facilities- a five star experience.

:-P
THE UNIVERSAL 100 RESORT and SPA

There are very few studios in Hollywood with the history and breadth of catalog that Universal has. Going back all the way to 1912, Universal has produced some of the most important and well loved films of all time. This 100 room, boutique, all suites hotel will feature specially themed rooms, all 100 of them, to different films in the Universal catalog.
There will be rooms themed to:
Hunchback of Notre Dame
Phantom of the Opera
Tarzan
Showboat
All Quiet on the Western Front
Dracula
Frankenstein
The Mummy
Flash Gordon
My Little Chickadee
Wolfman
Arabian Nights
The Naughty Nineties
Ma and Pa Kettle
Harvey
Francis the Talking Mule
It Came from Outer Space
Creature From the Black Lagoon
Destry
This Island Earth
Incredible shrinking Man
Operation Petticoat
Spartacus
Flower Drum Song
The Birds
McHale's navy
The Munsters
Thoroughly Modern Millie
Psycho
Anne of the 1000 Days
Airport
American Graffiti
High Plains Drifter
The Sting
Jaws
Smokey and the Bandit
Animal House
The Wiz
Buck Rogers
Battlestar Galactica
1941
The Blues Brothers
Cheech and Chong
Conan the Barbarian
ET
The Thing
Fast Times at Ridgemont High
Pirates of Penzance
Scarface
Dune
Breakfast Club
Mask
Back to the Future
Weird Science
Out of Africa
An American Tail
Harry and the Hendersons
Moon Over Parador
Do the Right Thing
Born on the 4th of July
Tremors
King Ralph
Backdraft
The Babe
Army of Darkness
Jurassic Park
The Flintstones
Apollo 13
Waterworld
Babe
Mallrats
Casino
Happy Gilmore
Twister
Fear and Loathing in Las Vegas
The Mummy
Notting Hill
Dudley Do Right
How the Grinch Stole Christmas
Fast and the Furious
Chronicles of Riddick
King Kong
Miami Vice
Mamma Mia
Despicable Me
Scott Pilgrim vs The World
Each suite will feature reproductions of the sets from these films, you will feel like you've stepped into the film itself.
For example:
The Flintstones suite will look like Fred and Wilma's house complete with sabre tooth tiger skin bed spread.
The Phantom of the Opera suite will be reminiscent of the Paris Opera house complete with grand chandelier in the center of the main room.
The Jurassic Park Suite will look like the visitor center from the first film with projections of Dinosaurs in the windows of the room and a reproduction of dino skeletons in the main room.
The Animal House Suite will be set up like the Delta fraternity house including a full wet bar with the girl with goldfish bowls for boobs painting on the wall. In case you have a toga party plan, a band can be hired for the night direct to your room. TOGA!
The American Graffiti Suite brings you back to 1962, your suite looks like a classic malt shop with Wurlitzer juke box filled with the best hits of the 50s and 60s.
The High Plains Drifter suite brings you back to the old west. Designed to look like a saloon with western memorabilia adorning the walls, with a faro table and full bar with optional bartender.
The Frankenstein Suite will look like a crumbling castle with laboratory and all the details of strange electrical components, all based on the classic 1931 film.
The Out of Africa Suite will look like an African bush lodge, complete with tsetse fly nets, projections of wild animals outside the windows and the feeling of being on the plains of the dark continent.
The Apollo 13 Suite will look like the interior of an Apollo era rocket with bedrooms looking out into a starry night above the surface of the moon.
The Thing From Another World Suite will look like a polar research station with creepy hallways and private snow playground (with REAL snow).
These are just a few examples of the 100 suites. This will be a premium experience and the price will be indicative of the fact. This will be a destination for film fans and to reserve the suite of your preference be prepared to book at least a year in advance. This concept of individually themed rooms has been done before, most famously at the Madonna Inn in California. The Madonna Inn features rooms like the Jungle Room and is VERY popular, especially amongst honeymooners.
This hotel will feature full butler and maid service with top notch service. The main lobby is themed to a Hollywood award show with limousines parked in the lobby, awards show banners and displays of awards Universal Studios has won over the years from the Oscars, Emmys and Golden Globes. Along with these displays will be dozens of costumes, props and set pieces from famous Universal films like the Blues Brothers suits and hats, Quints outfit from JAWS, props from THE THING and lab equipment from FRANKENSTEIN.
The Hotel will also obviously offer swimming pools (this pool area themed to Creature From the Black Lagoon, with a boat in the center and jungle vines around the perimeter) and top class spa and gym access with all the latest workout equipment along with masseuses and personal trainers all included in the price of your room.
Hungry after a great day at the theme parks or after a hard work out? Then please accept your invitation to dine with Hollywood's biggest star, Oscar, at
OSCAR'S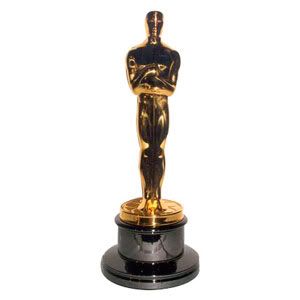 OSCARS raises the bar for fine dining experiences. Unlike most restaurants that offer a set menu with your choices for each course, OSCARS makes each meal different as the world class chef Gordon Ramsey and his team make each meal individual and a work of art. You let your server know if you have any allergies or preferences for food you will not eat, vegetarian, Kosher, Halal, et al…and the chef will design a meal just for you. There is no set menu, the chef may present you with Elk and mashed sweet potatoes, Ostrich with mustard sauce and spring vegetables, Stuffed Lobster tails, Rattlesnake with rice pilaf (don't squirm, it actually tastes great), Moose steak with red potatoes or even something as usual as New York T Bone steak…you never know, all you will know is that whatever you get is a meal worthy of an award, and coupled with a fantastic wine selection you will have the foodie experience of a lifetime.
The UNIVERSAL 100 RESORT and SPA
A Destination in and of itself.

Mine is coming soon...
-Tim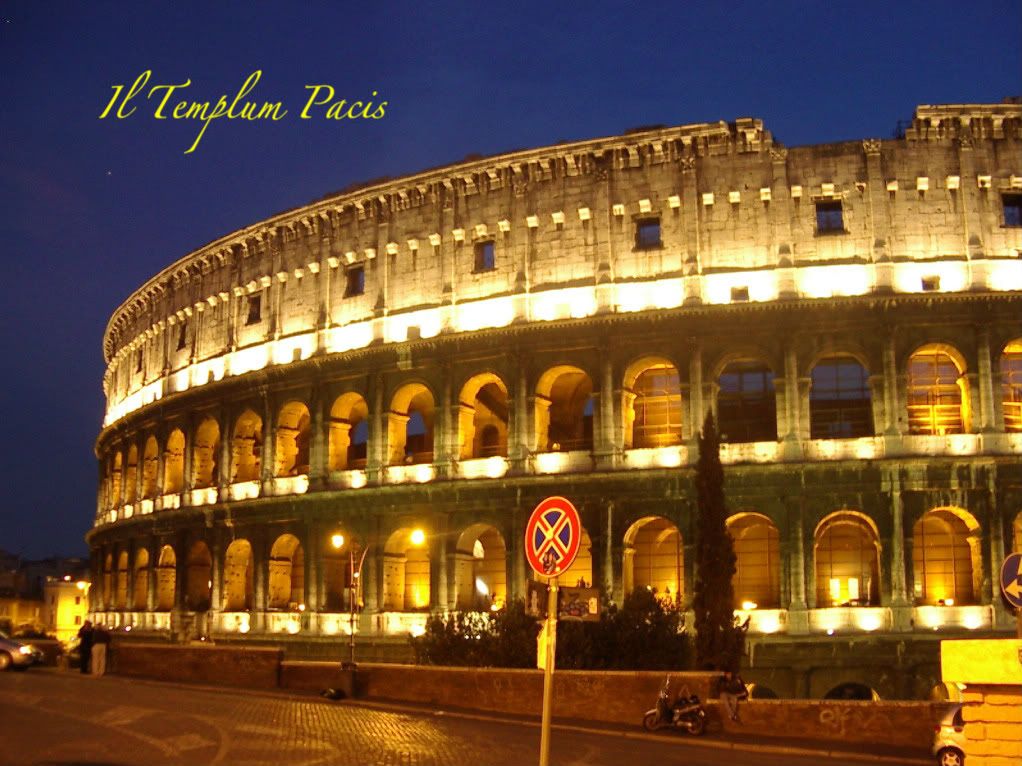 Universal Orlando Resort is excited to introduce you to the Il Templum Pacis Resort which is Latin for "The Temple of Peace". Universal Orlando Resort wants to take you back to the grandeur, splendor, and grandness of the Eternal City of Rome.
This new 200 suite luxury Resort will feature a 5 Star Restaurant called, The Pantheon, a and luxurious spa called, Baths of Trajan that will make guest leave feeling like a Roman Emperor or Empress!
Exterior
The exterior of Il Templum Pacis will replicate one of the most popular, most recognizable and one of the wonders of the world the Roman Coliseum. Yes, the Coliseum is in the Il Templum Pacis district in Rome, kind of weird right?
Of course the building will look like how it liked when it first was built by Emperor Vespasian and Titus not how it looks like today.
Interior
As guests of Il Templum Pacis walk into the registration area will walk onto a sea of marble with a Carthaginian Columns forming a long arcade on one side will be the check-in/check-out and on the other side concierge.
As you check-in and walk to your room in the arcade on one side in-between the columns will be the rooms and on the other side will be a the Gardens of Lucullus. These exquisite and beautiful garden will replace the battle grounds and arena of the Gladiators. This is where the "Pacis" part of Il Templum Pacis. Here guests can sit or walk the garden and relax and be at peace with themselves.
Hallway/Corridor
The Il Templum Pacis will feature 3 "bowls" or floors and have the same arcade design of the "hallway" to there rooms and all have a stunning view of the gardens because of the design of the resort centers on the gardens instead of an arena. Also above the gardens instead of a regular roof there will be a glass roof. So on good days the sun will shine on the gardens.
Room
Each room will be named specifically for a Roman Emperor, except for 10 Emperors and Julius Caesar which will be the "Presidents" Rooms.
Each of the rooms will feature busts and paintings of the Roman Emperor of there room and little plaques that describe the Emperor and what he did for the Empire.
Each will feature a wide and beautiful mosaic floor with images of roman life, adventure, military, gardens, the country and the sea.
Here are a couple pictures of how the rooms will be:

Guests will notice that throughout the building the color purple is not used on the décor of the of the interior and exterior of the building including the costumes by the staff. The only use of purple will be used in the rooms.
Purple was the color of the Emperors and Empress's and they were the only the ones that could wear it. So here you will truly feel like royalty because the rooms will have the color as accents and what not!
Restaurant
"The Pantheon" will be the first 5 Star rated restaurant at the Universal Orlando Resort. Here guests will drink fine wines from Italy and eat wondrous foods from all over the Empire and some traditional Roman meals.
Rome, ruling most of the world, didn't assimilate and force there ideals and traditions on the people they conquered but let them keep there gods and traditions and enfolded them into there rule.
So bringing in the tradition of Rome The Pantheon will feature food from all around the world with foods representing the cultures and people that they conquered but with an Italian and Roman influences.
Each dish will feature and paired with a fine Italian wine. Delicious main courses include pastas, spinach lasagna, parmigiana dishes and chopped calamari, chicken and steak salads.
Spa
The spa at Il Templum Pacis, The Baths of Trajan will have amenities style fit for a Emperor.
Come experience the luxury and grandeure of Loew's London Grand Hotel. Accessible via Vineland Rd., which runs along the North border of the Universal Orlando Resort, Loew's London Grand features 800-rooms, 20 family suites themed to Harry Potter, London Grand has world-class accomodations. An architectual wonder, this hotel is a vision straight out of London, styled to the likes of the Palace of Westminster. The lobby and halls are highly detailed to reflect that of the inside of the landmark itself. Big Ben may also be seen in the distance.
The hotel also features two pools (an indoor adult pool and outdoor family pool with water slide), and a massive dining shopping complex named London District that also features a replica of the London Eye. Food options include British-inspired cuisine along with American food for those picky eaters in your family. Nightly musical entertainment will be provided as tribute to traditional and modern popular British music. To top it all off, Loew's London Grand offers its guests a private entrance into Universal Studios Flroida, via the brand new Harry Potter expansion of this incredible theme park.
Make Loew's London Grand your choice in luxury and comfort today!
Jeff: I really enjoy the backstory as to how the Louvre got to Orlando, and became a hotel. I thought it was clever, and helped to combine Universal with a classy resort. This is definitely attractive to me because I have always wanted to visit the Louvre, being the artist that I am. However, I fear that it may not be as attractive to some others who may feel art is too boring. I would complete refute that comment, however. I think you did a nice job with digging up some information on the artists that will be feautred. The restaurant sounds absolutely fantastic, the perfect complement to an art inspired hotel!
James: I think you had an excellent idea to open this hotel, in relation to the Harry Potter World at Universal. London is a great theme that I figured someone would use during this challenge. I am happy that you did find a different name, as opposed to the Crystal Palace. I honestly think that this will be a great match for Disney's Grand Floridian Resort. You definitely stayed true to the British theming, and I am pleased that you did not try to add endless Harry Potter references in the hotel, besides the Great Hall restaurant. The suite layouts that you included were excellent and well crafted, and I am surprised by the amount of restaurants that you included, all sounding perfect for the hotel.
Joseph: This reminds me of a hotel that I once heard of called "The Library" or something along those lines that is in NYC. I definitely think you had the best concept of the week, using Universal movies, but still trying to remain classy. The hotel suites sounded like they would be extremely immersive and elaborately themed. I can picture families coming back numerous times to stay at as many different rooms as possible. Oscars was the best choice for a restaurant, and the name fits perfectly. The use of a celebrity and renowned chef raised the bar for the restaurant.
Dan- After learning a significant amount of ancient Roman history in my Art History class, I feel that I was able to appreciate this much more. The rooms sound luxurious and classy, while still seeming to keep a modern touch. The addition of the baths of Trajan is something I can definitely appreciate and understand why you included it in your hotel concept. I feel the naming of the restaurant might be a little bit awkward. The Pantheon was built to honor all of the gods of ancient Rome. I feel it might be mistaken when you are referring to it in this hotel as a restaurant. A more Italian name for a restaurant might have been better suited. The menu sounds awesome as I am a sucker for excellent Italian cuisine.
Nick- I'm sorry to hear that you encountered some difficulties with posting your idea. I would really suggest saving everything in a word document first, than planning everything out over the internet. I think you had an awesome logo design, which was clearly the best out of everyone. I think you did include some good ideas in your hotel, that I am sure were expanded upon. The hotel almost creates like a separate Harry Potter theme park, away from Universal. I guess this could be good or bad, depending on who you are talking to. Good for heavily marketing HP, bad for marketing Universal as a whole.

The favorite of this week was another tough one to choose. However, I have decided on making James my favorite this week. He will receive one point towards his score. I think he did the best job of providing immense detail and class in his hotel, while still retaining an enjoyable theme.
Also Im glad you got what I was going for. I thought when I was writing it that my vision of what I wanted would get lost in translation.
All in all, I just HAD to go Nick on this one. He was stellar in every way, shape, and form, and what he posted isn't even his full idea.
1-Nick:I thought that your idea was just stellar all around. I enjoyed the theme, I thought that it was clever to incorporate it with the upcoming Harry Potter expansion, and of course all of the other contestants have a logo far inferior to yours. I wish that you didn't have any posting problems, as this idea in full would be simply amazing.
2-James:I thought that your idea was also amazing. You had Disney-like theme, and it was present throughout(being picked up in a London cab, riding a double-decker bus to the parks, actual British channels on the T.V., etc.). I loved the room layout, and I would definitely want to stay at a hotel where every room's a suite:)
2a-Joesph-The main reason why I found your hotel so intriguing is because of your concept. I have never stayed in a hotel in which every single room was different. I would beg to differ on some of the choices(Grinch in the top 100 is an obvious mistake to me), but overall, your selection was good. You didn't have to make your room themeing very long, as it was self-explanatory with the theme of each movie. However, I thought you should have included more detail. It seemed like an explanation for everything other than the restaurant(pool, lobby, exterior) were just tacked on at the end or not really present. Honestly, your lack of attention on things other than the rooms and restaurant was the only reason that your not my favorite of the week.