From the Trenches of Amusement……April 30, 2012
Humor! Dancing Girls! Birthday Cake! ……and an attempt at news….
Note: Keep in mind that this is a humor article, if you want dry news, do the research and figure it out on your own…..we aim to amuse here…..if you have questions about what part is news and what part is humor, please feel free to ask in the talkback below……I may or may not answer…..but some of the other readers my set you straight…..
…………………………………………………………………………………………………………………………………..
Busch Gardens Williamsburg – Verbolten is now cycling trains through the track with regularity on schedule to open on their official opening date of May 18th. I have heard rumors that the ride may soft open any time so those of you in the area may want to start frequenting the park to see if you can get an early ride in. I have also heard rumors that there was an accident that caused damage to the yellow train, but I have also heard rumors that the moon is made of cheese and Elvis is still alive. Which is really quite silly when you think about it, since cheese is made with the fatty portions of lactation secretions from a female bovine, it would have to be one hell of a big and/or busy cow to make something the size of the moon.
Disney's Animal Kingdom – Disney has signed a contract with Proctor and Gamble to treat the Tree of Life with an industrial version of Head And Shoulders to fix its dandruff and flaking problems. Be aware if you are hanging out near the Tree of Life that some of the flakes have been up to 5lbs in weight, so be careful. Apparently the Bug's Life show in the Tree of Life has been closed until after the treatment because the actors think it is all pretty mucky.....and the fumes are probably going to be pretty bad.
Epcot – We are starting to get an idea of what the new Test Track is going to look like. Apparently you get to create a car and then put it through its paces. To me this all looks like they wanted Tron, but didn't want to go to light cycles.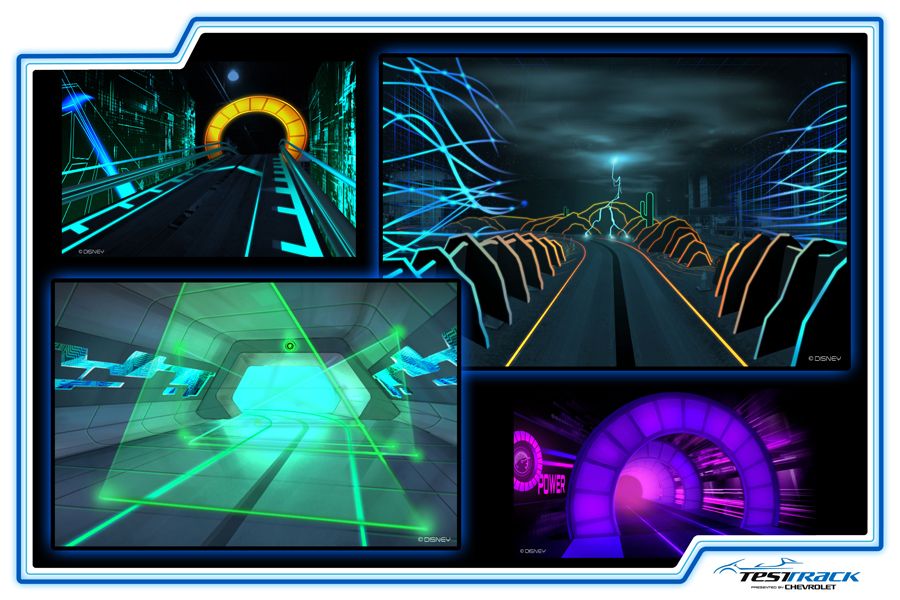 Dorney Park – What is old is now new, Stinger has just opened. If the park continues with the policy of adding used things cast off from other places, they will be adding Lindsey Lohan next year.
Universal Studios Florida – Gru's House looks like it is nearing completion. I would also expect this attraction to go into soft opening sometime in the near future. The League for the Prevention of Minion Abuse has been picketing the park for several weeks now.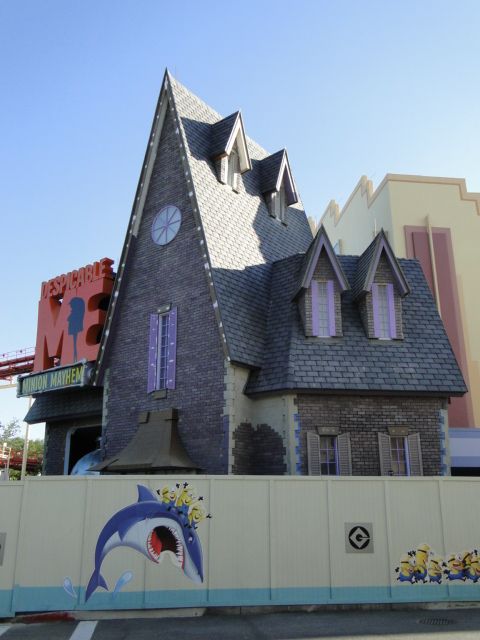 SeaWorld San Diego – Manta has begun testing and as boring as the following video looks, I think it is just another attempt to jack it in San Diego. You eat that cat poop!

Disneyland Paris – It looks like this park has finally been slated for Toy Story Mania and Star Tours 2. In addition to these two attractions, it looks like they are going to get a Jedi Academy and a Mos Eisley Cantina. It just goes to show that the one who gets it last gets the most perks.
Rocky Mountain Coasters – Even as they are currently putting topper track on the coaster they are building in Silver Dollar City, rumors are surfacing that Gwazi at Busch Gardens Tampa may be their next project, although I am still holding out hope for Rattler, Son of Beast, and Mean Streak. We have it on pretty good authority that if the Silver Dollar City coaster goes well, Dollywood may want one, too.
Six Flags Discovery Kingdom – Vertical construction has started on Superman: Ultimate Flight. At the current rate, they will have the ride open in time for the 2015 season.
Disney's Magic Kingdom – We have received some intelligence (What? Intelligence in this thread? You must be kidding!) that gives us some more firm dates on when things will be opening. The next phase opens in July, which includes Dumbo #2 and Casey Jr. Splash 'n' Soak Station. After that the next phase isn't until this coming holiday season when we get Little Mermaid, Enchanted Tales, Be Out Guest Restaurant, Gaston's (kids swilling beer) Pub, and Ariel's Grotto. The park has released a new motto in anticipation of new openings: "The Happiest Place on Earth If You Wait Around For A Little Bit".
Six Flags America – The opening of Apocalypse is getting pushed back by two weeks. Apparently the construction is being done by the same group that did all of the long delayed WindSeekers last year.
Shanghai Disneyland – Infrastructure construction is starting soon. Which means that up until now they have just been pushing dirt around for the fun of it.
Canada's Wonderland – Just in time to provide rehab for recovering hockey fans, Leviathan is now taking passengers.
Six Flags St. Louis – Mr. Freeze Reverse Blast is now taking passengers, in the only place where reversing the trains on a previously running attraction somehow counts as a net positive for the attraction count.
Las Vegas – We figured out where Speed: The Ride is going, which is just down the street from where it previously was, at the south end of the strip, and right next to where the SkyVue mega Ferris Wheel is proposed to go in.
Kings Dominion – Rumors are starting to surface that Volcano will be closing before the end of the summer in order to go into a lengthy rehab. Hopefully whatever they do will replace the boring sections after the two launches.
Universal Studios – This has been the year for wild rumors and huge announcements. We are hearing that Universal Studios Japan is lining up to get a Harry Potter Land possibly built in tandem with and sharing expenses with Hollywood and Florida. With the also new announcement of Universal Studios Russia, we may have 4 new Harry Potter lands with Singapore kicking themselves that they didn't hold out a bit for the boy wizard.
Kentucky Kingdom – This park is near official with a new name: Bluegrass Boardwalk, with the people from Holiday World coming in to getting things moving. Expect this park to open next year and have a pretty aggressive development schedule.
……………………………………………………………………………………………………………………………..…..
As always, the real information in From the Trenches of Amusement is brought to you be the letters "A-T" and "S" (Amusement Today and Screamscape)
Create My Caption - In the discussion thread below, post your best caption(s) for the following picture lovingly borrowed from "F*** Yeah Face Characters"……don't ask how I found my way to that site……
If you know of anything I missed…..first rides, interesting trips, political attack ads, or fresh smelling rumors, please post below and let us know.

Oh, and isn't Tayler Bieber's little sister?
Caption: "I honestly didn't mean it when I said Ariel is cuter....."
Jeff, do you have it on good authority that Stinger opened with Dorney this weekend? I thought it would be later.
I'll be there June 10, doing Coasting For Kids. Not too late to donate, boys and girls (Plug, Plug!)
www.firstgiving.com/fundraiser/mikegallagher
Two members of TPI have been kind enough to help out, and there's room on the train for plenty more. I'm up to $550!
Caption: This, unfortunately, is what happens when you leave the toilet seat up one too many times.
They could bring back the Smurfs and call it "Blast Through Smurf Mountain".
Nah... bad idea.
I do so wish a company with some imagination would build a Volcano-style coaster and implement some narrative touches. Cedar Fair never goes for the home run... they are enamored with "small-ball" amusements.