New permits / blueprints for water management at Universal show up online June 20th
Universal Orlando:
I decided to create another overlay using the information available online and Google Earth to show the location of the IOA train station (pic included)
From N B
Posted July 2, 2012 at 11:45 AM
Here is a quick version I made in Photoshop of the IOA station.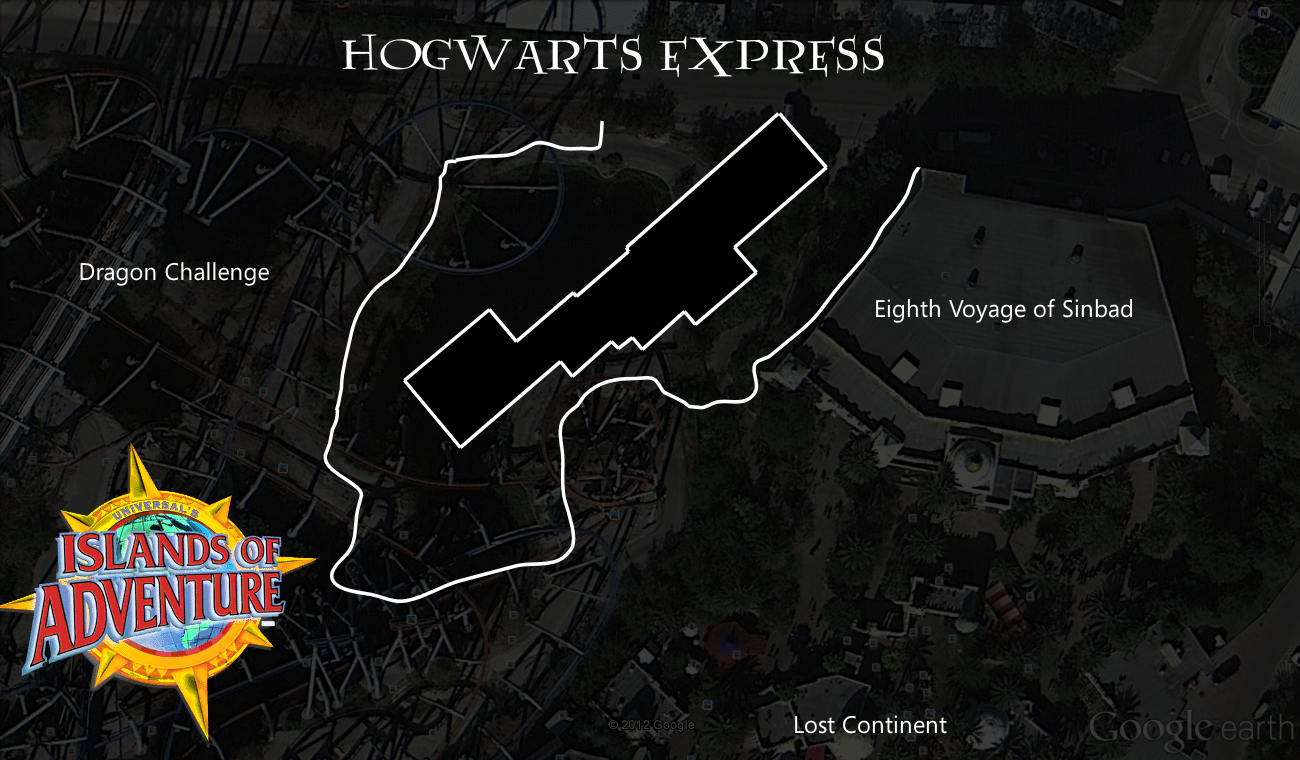 You may remember I created one for the Jaws / Gringotts area a while back: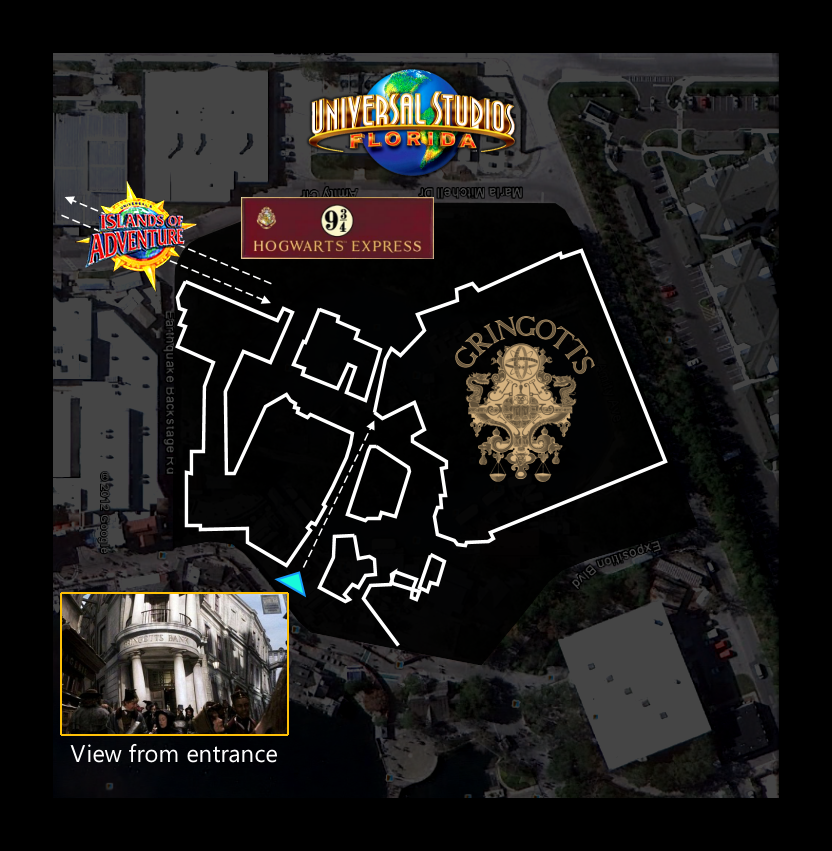 Good adaptation. Not much available space in that area, but they didn't really need the dragon shaped lagoon anyway.
From N B
Posted July 2, 2012 at 3:04 PM
I am still trying to figure out where the pathways will be, but I overlayed the actual plans on the map, so this should be very close.
I'm still not buying into this whole "Jaws/HP" thing until Universal has a massive press release and say's it's official.
Back to fence sitting for me!
From N B
Posted July 9, 2012 at 2:24 PM
Carrie,
I was skeptical too.... but these permits are public record. I am certain the Gringott's plans were leaked directly (and exclusively) to TPI back in January.

My nephew works in the Moster Cafe and he told me this past weekend they they are laying "railroad type" tracks between the two parks. Said they weren't as big as real railroad tracks but close he guesses (not a railroad expert). He said he can't find much out about a Transformers ride.
I'm confussed about the train is it going underground under the water that separtes the two parks or over
Over. Through the back portion of Islands (near Sinbad), past some of the production type buildings and behind Disaster in Studios. The depot in Studios will be near what was the far back end of the former Jaws attraction.
Hello. I'm new to TPI. I know there's probably a discussion page for newbies just like many other forum sites have (and if someone cold kindly give a link, that would be well appreciated), but I have to ask a few questions (2 & 3 kinda go hand-in-hand). I understand that some of my questions cannot be answered yet, but here it goes anyway:
1. What are the differences between riding this train between USF and IOA and park hopping tickets? I mean, is Gringotts exclusively for IOA ticket holders and Season Pass holders or can anyone in any park experience Gringotts without buying a park hopper ticket?
2. Is Universal really going to tear up part of the back lot and make a luscious landscape similar to that in the film series? IMO, it doesn't look like there's a lot of space for that.
3. What will the coaches look like? Will they closely resemble the ones in the movie or will they be more like the coaches on the Walt Disney World Railroad?
Gabriel I am pretty sure that there is no discussion board for newbies, but then again I'm not Einstein.
From N B
Posted July 30, 2012 at 5:10 PM
From what I have read, the train will look the same on the outside, but the inside will have screens to simulate the ride from London to Hogwarts and vice versa... these are supposed to go where the windows are in the train cars and be synced to appear the train is moving faster than it is.
Yes, you will need a park hopper ticket to ride between parks.
Since the train will be simulated on the inside via windows or go through a tunnel / domed roof with projection, there is no need for elaborate sets outside the train except for the two stations.
I'm not sure how Universal is going to pull this off, but it should be spectacular when finished.
They are of course going after the same kind of attendance jump (29%) at Universal Orlando that IOA had after Potter opened. Attendace actually jumped over 60% for the first few months but then leveled out around 30%. Gringotts / London will be at Universal, not IOA.
USF wants the sister park to be as popular as IOA and sell park hoppers. It's a page out of the Disney book. Who travels 1500 miles and only buys tickets for Magic Kingdom or Hollywood Studios? Disney knows most families will spring for a park hopper. I know we did every year.
This is why the new Cabana Bay hotel is going up. There are two separate hotel buildings and both will be connected to the CityWalk via water taxi. (See below)
Rumor has it that another hotel could go in the very bottom left if they can manage to fill the ones they already have and the new property. The Cabana Bay will not have have unlimited Express Plus like the other three. The room prices will also be more affordable.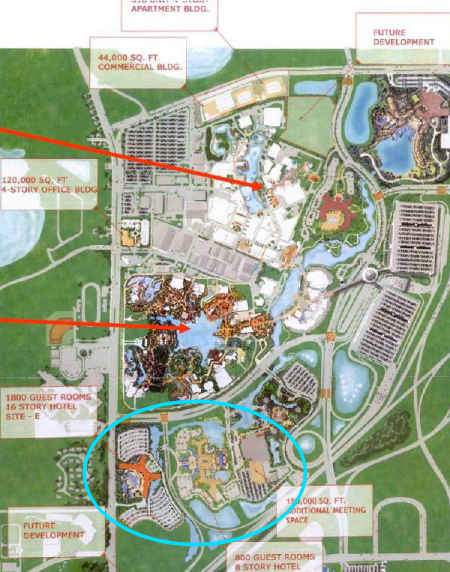 Karly: okay thank you :)
N B: oh okay. So I'm guessing that completely discredits any theory of there being a Transformers ride replacing Jaws, right (unless that was planned for another spot in the park)?
Also, I'll have to remember the Cabana Hotel the next time I go down to Orlando.
Transformers, while not confirmed, appears to be going where Soundstage 44 previously was.
From N B
Posted July 30, 2012 at 9:15 PM
The site map is from 2007.... Jaws is still there and no Hosgmeade / Hogwarts. I am not counting on Transformers going in just yet, but Potter phase 2 is a reality, according to all the building and water permits.
Cabana Bay was planned almost 5 years ago. I think the 2009 housing recession put that project on hold for a few years.
Universal and Disney are both doing great... let the expansion begin.
This discussion has been archived, and is not accepting additional responses.