Theme Park Apprentice 4: Challenge 10
New Land for Animal Kingdom
From Tim W
Posted August 5, 2012 at 4:20 PM
In preparation of the crowds that are sure to show up when Avatar opens, the managers at Disney's Animal Kingdom are hoping to fast track a new land that will keep the visitors showing up to the park during the Avatar construction and help divert guests once Avatar does open to keep it from getting too mobbed. This new land needs to have an interesting new theme but needs be done in the style of Africa and Asia with live animals as well as attractions. The land may not be a creation of Beastly Kingdom or an Avatar Land. Size of the new land is not a factor so feel free to bust down the berm and take as much land as you need.
In your land, be sure to include at least three attractions, one restaurant, one shop, and a nice smattering of different types of animals with enclosures. Do not include extreme details about any of the components to your land. Focus more on the theming of the land with the components as helpers.
The Deadline for posting is August 11th at midnight, website time. The posting thread should be up after voting for the previous week has been completed and compiled.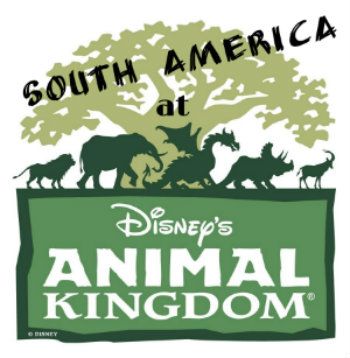 South America at Disney's Animal Kingdom
Explore the beauty and wonder of South America, only at Disney's Animal Kingdom!
Here at Disney's Animal Kingdom, we have many continents for guests to explore such as exotic Africa and adventurous Asia! But now, Disney's Animal Kingdom will be hosting a new continent all together… South America!
Experience the wonder of a small South American village as you wander the streets. Find yourself in tiny alleyways, meandering through shops and markets and even exploring the jungle that lies just beyond the village's border!
The village will be modeled after Salento, Columbia. To enter the village guests will take a left once they enter Africa (if they are coming from Discovery Island). Guests will make their way down a small sloped pathway through a dense rainforest canopy until they come across the village itself. The village is an attraction in itself with street performers performing daily dances in the streets that are common to South America such as the Samba, Mambo and Salsa. Other street performers will play different types of live music styles that are derived from Columbia itself such as bambuco, pasillo guabina, and torbellino. These street performers will be from different parts of South America such as Columbia, Brazil, Cuba and Peru.
Street vendors will man their own separate stalls where they sell authentic street food from that region such as empanadas, arepas, different types of fruit, and of course, if you choose, your favorite Mickey Mouse ice cream bars, pretzels, popcorn that you're familiar with!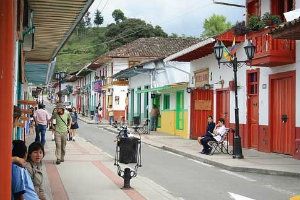 Other than street performers, the village's style of architecture will be that of many towns in north-western South America. The buildings are characterized with their white stucco walls and bright doorways, porches, paneling and window shutters (as you see above). Palm trees and dense canopy will be sticking up behind the village buildings, to enhance the feeling that you're really in the middle of a South American town. In the center left of the village, you will find the brightly colored theater-styled entrance to Goofy's Equator Escape, a 25 minute live show. To the upper right area of the village (near the end of the street) you will find the entrance to Munchu Picchu, an indoor/outdoor dining establishment with two floors of seating. Near the entrance to village, on the right hand side, you will find Callejón Goods, a canvas covered shop inbetween two buildings selling Disney merchandise and souveniers particular to the surrounding area. At the end of the street, you will find a low wall that is overgrown with large tropical trees, roots and shrubs. An old wooden sign that is overgrown with roots says "Rainforest Tours" and points to an overgrown and old archway. This is the entrance to The Forbidden Jungle, a terrifying journey through the darkest and most mysterious parts of the rainforest.
When guests walk down to the end of the street and turn left, they will find themselves enveloped in a rainforest canopy trail that leads to the Temple of the Jaguar, an animal exhibit where jaguars roam an old aztec temple. If guests take a right at the end of the street, they will find Fauna Senderos, a wildlife trail and Zipline Tours.
Goofy's Equator Escape
This 25 minute long live action show is accesible on the left side of the main street. The building is easily recognizible as a slightly dilapitated old movie theater with fading colors. Guests enter under a large awning which shows the name of the show and the times throughout the day. A castmember will direct guests to the theater which has a capacity of about 250 people. The seats are at an incline, just as any other movie theater or stage show.
The lights dim and the show begins. The story is that Goofy is flying around the world when he has some engine trouble over South America. His plane suddenly goes down and he is engulfed in a whole new environment that he has never seen before… the rainforest. Around him are many different animals such as jaguars, sloths, falcons, snakes, etc. He has to learn to adapt to the environment to survive, and a lot of laughs are supplied along the way. The animals help him recover his aircraft and fix it up so he is able to return back to his home, Disney World.
The show uses many different types of portraying the story such as puppetry, costumes and live actors. Many different special effects are used such as smoke, lasers, fireworks, whole sets, inflatable plants and more.
Munchu Picchu
This exotic eatery is located at the end of the village. It is easily recognizable by it's 3 outdoor eating areas, brighly colored windows and doorways, garden on the top of the roof and brightly colored balconies. The first eating area extends behind the building itself into a lush tropical area. It is a courtyard with a fountain in the center and a large collection of tables around the fountain. The second outside eating area is a large wrap around porch where guests can dine and overlook the street below them. The final outdoor eating area is on the roof, where there are palm trees, another fountain and access to the downstairs eating area and street.
Traditional South American dishes are served such as:
- Stir-Fried beef with oven friend potatoes
- Spicy Potatoes and corn with fried cheese
- Chicken stew with chili
- Bahia-style shrimp in coconut sauce
- Golden yuca and coconut cake
Reservations to Munchu Picchu may be made 3 days in advance. Call the Walt Disney World resort hotline to schedule your dining reservation.
Callejón Goods
Find yourself lost in a alleyway full of exotic goods that you would find in your typical South American market. Here you can purchase things such as a "Lupita" or "Luchador" doll, traditional wooden puppet dolls, miniature bongos, and even Mickey or Goofy in their own explorer outfits!
The small market is covered by a fading and slightly ratted canvas that is attached to both sides of the buildings. You can find what you want to buy in wooden carts and shelves on both sides of the wall. The service counter is located at the end of the alley.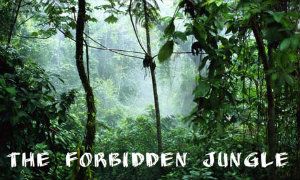 The Forbidden Jungle
Guests will immediately be drawn to the mysetrious sign, low fog and old archway at the end of the street. The sign advertises an old rainforest tour company, but it becomes evident that something went horribly wrong…
Queue
Guests enter through an old arch, overgrown with weeds. The queue winds through a misty rainforest on a dirt trail before coming across what looks to be an old, abandoned wooden building. The same sign that advertises a jungle expedition is on the building. The windows are cracked, weeds and vines overtake the structure and an old vehicle lies overturned just outside the structure. Guests walk into the building and immediately placed in a deserted and abandoned tour guide station. Castmembers direct guests into the pre-show rooms themed to an old storage room where an old television will spark on and begin a chilling video of how the forest is evil and that the video was created as a warning to leave the forest immediately.
Main Ride
Riders will emerge into a dark cavw. This is where they will board their vehicles. Castmembers dressed in tattered and worn clothing will direct riders to their rows where they can pick up their glasses and board the vehicles. Once the lap bar is pulled down, the vehicle will begin moving forward into the main ride.
The ride is a chilling adventure about what happens when you're in a place that you shouldn't be… the Forbidden Jungle. You will encounter other-worldly creatures that want you out of their territory such as spirits, demons, creatures you've never seen before and more! But hurry, you need to get out quick before you become part of the jungle… permanently.
When the ride comes to it's conclusion, guests will exit the vehicle and put their glasses in the specified bins. Guests will leave the main show building and have a short walk back through the junglle to the main path, knowing they have survived the Forbidden Jungle…
Technical Details
- The Forbidden Jungle uses the same ride system as The Amazing Adventures of Spiderman at Universal's Islands of Adventure.
- 13 screens are used to project the terrifying 3-D images.
- Real sets are used throughout the ride also, to immerse guests even farther into the jungle.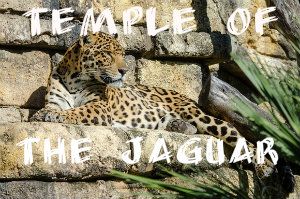 Temple of the Jaguar
If guests come to the end of the village and decide they don't want to to take on The Forbidden Jungle, take a left and walk down a small sloped pathway covered by a large canopy of tropical trees. At the end of their short jaunt, guests will discover Temple of the Jaguar!
Bearing a strong resemblance to ancient Aztec temples, guests can approach the temple to observe the jaguars. The jaguars will play, run and explore the temple grounds itself, offering guests a unique view only once possible in South America itself.
Guests can immerse themselves even further into the life of the jaguar by taking a pathway to inside the temple, where guests can see some of the smaller rainforest critters like tarantulas, frogs, toads and snakes while also getting different views of the jaguars themselves.
Fauna Senderos
Directly to the right of the entrance and exit to The Forbidden Jungle, guests will find Fauna Senderos, a wildlife trail that takes guests through mysterious caverns, dense jungle and even around waterfalls.
The trail itself is almost a mile long and provides many stands along the way that tell guests what animals they are looking at, their habitat, what they eat, and more!
Some of the wildlife that can be encountered are:
- 3-toed Sloth
- Spider Monkey
- Toucan
- Macaw
- Orangutan
- Giant Anteater
Zipline Tours
Located just next to entrance of Fauna Senderos, guests will find the queue of Zipline Tours, a soaring 4 person car suspended below a track that lets guests fly above the Fauna Senderos Wildlife trail.
Guests will move a gentle pace as they rock back and forth above waterfalls, trees, and of course, wildlife. On the Zipline Tours, guests can get a real different view of what they would see if they walked the regular trail and a fun, relaxing ride at the same time!
Using the same technology as Pteranodon Flyers, guests will board their own "Zipline cart" that seats 4 people (2 rows, 2 seats per row). Unlike Pteranodon Flyers at Universal's Islands of Adventure, any guest of any age or size can experience Zipline Tours!
Explore South America only at Disney's Animal Kingdom!
Only at Disney's Animal Kingdom will you be able to have the experience of walking through an authentic Colombian village, brave a dark and mysterious jungle, walk amongst the jaguars and soar above the rainforest!
The possibilites are endless at Disney's Animal Kingdom!

From Chad H
Posted August 9, 2012 at 6:25 PM
"We are all visitors to this time, this place... Our purpose here is to observe, to learn, to grow, to love and then we return home."
Aboriginal Proverb
Animal Kingdom presents an opportunity to experience a land buried deep in myth and legend. A land where the stories of its unique flora and fauna and the humans that share it, intermingle to become a whole much greater than themselves. A land known in latin as Terra Australis: the Great Southern Land, but better known to us all as Australia.
This new land for Disney's Animal kingdom brings to an American audience a unique (and some may say strange) collection of Flora and Fauna without having to travel for extreme lengths of time, however it goes further to also tell the stories behind the animals and the land, introducing the audiences to Aboriginal dreamtime myths to help put their experiences into the context of the land; in some ways it includes elements of a "World Showcase" style area to allow for these stories to be told.
Situated behind the Asian area, one needs only head "Across the pond" via the "Giant Coat hanger" (Sydney Harbour Bridge look alike) into the first of the collected mini-areas, Port Jackson, where they can begin their down under experience.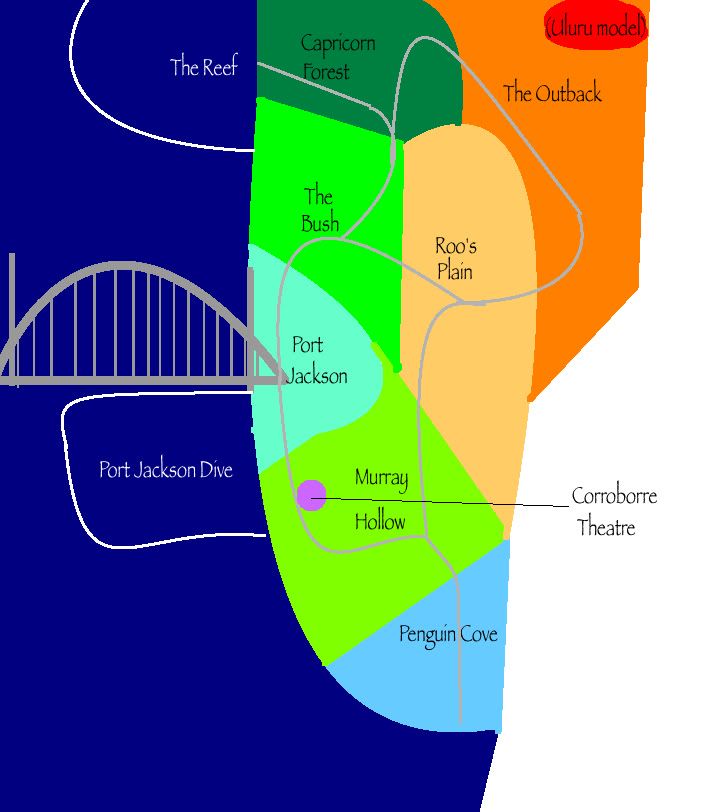 Port Jackson
Port Jackson is the main gateway into "Experience Australia". Guests enter the land across a waterway separating it from the previous territory, over a bridge modelled on the Sydney Harbour Bridge. Modelled on Sydney, you'll find the following attractions and Amenities in Port Jackson. It is named for the original English name for Sydney Harbour
HMS Endeavour
(Ride, C-D Ticket)
A sign of the shared history between Australia and the USA. Captain James Cook (RN) made his name for his voyages of discovery in the Pacific ocean, with notable achievements including the mapping of the East Coast of Australia, New Zealand and Hawaii, amongst others. Whilst waiting in the queue you can use our interactive screens to explore the voyages of Cook, and the discoveries his voyages brought.
The ride itself is otherwise a typical swinging inverter ship found elsewhere, themed as a ship in the Royal Navy.
Port Jackson Dive Centre
(Animal Experience)
Although Port Jackson only offers one animal experience, it is one not to be missed. Australian waters are home to several species of shark, including the convienently named Port Jackson Shark. At Port Jackson dive, you can head down into our underwater viewing area to see these majestic predators, or for the brave (and an upcharge) you can instead take a "Dive with the Sharks" experience.
You'll also be able to see a few of the Port Jackson Shark's uniquely shaped eggs… they look a bit like a large drill bit.
Bondi Junction
(Retail Outlet)
Named for what is Sydney's(if not Australia's) most famous beach, Bondi Junction offers a huge range of Australiana souvenirs, including stuffed animals and aboriginal inspired items. If the Dreamtime attractions caught your eye our wide selection of books detailing Aboriginal myths and Legends. The Bondi Junction building bears a somewhat striking resemblance to the Sydney Opera House
Murray Hollow
Murray Hollow is named for the Murray River, the anchor river to the Murray-Darling river system that permeates the east coast of Australia. The Murray river is to south East Australia what the Mississippi is to the USA, and is still famed for its historic riverboats which still sail the river today. True to this, Murray Hollow represents the ecosystems south eastern part of New South Wales, and Victoria.
Corroborre Theatre
– Show space for
"Dreaming the Animals"
and
"Dreamtime after Dark"
. (Show)
Corroborre Theatre takes the analogous place of Canberra in the area; Canberra being the capital and based off an Aboriginal word meaning "Meeting Place", and Corroroborre being a ceremonial meeting of Aboriginal Tribes, creating the perfect place and name for a theatre style attractionm. Corroborre Theatre offers guests an opportunity to learn the stories the people of the land tell of the Animals they share it with
During the daytime, Corroborree Theatre is home to "Dreaming the Animals". In this show you will be introduced to some of the Animals you'll find in Experience Australia; Dreamtime stories often tell that the Animals that exist now once had forms similar to humans, and explain the unusual features of some of the fauna (as well as Flora and geography, but those are out of scope for this show); however much like Western fairy tales and myths, they also include important moral and ethical lessons, or explain the laws of the tribe – they are more than just mere stories. You'll hear some of these stories as you're introduced to some of the animals you'll encounter elsewhere in the Experience Australia area.
Western Fairy tales and myths often also include monsters or ghosts to help encourage and reinforce good behaviour, on this point Aboriginal culture is no different. In "Dreamtime After Dark" you'll hear some of the stories Aboriginal tribes tell of monsters, such as the Bunyip, the Yowie, and Yara-ma-Yara-Who. Due to its scary nature, this show is not suitable for younger guests.
The River
(Animal Experience)
The Platypus is one of Australia's most iconic animals – it is so strange that the Royal Society in Britain was convinced it was a hoax when the first specimen was brought to London. A body like a rat, but with flippers and a bill like a Duck; it lays eggs, yet expresses milk for its young. Some Aboriginal tribes explain that the first Platypi came into existence after an encounter between a Duck, and a water rat; the mother rejected peer pressure to abandon her misshapen children and proudly taught them to swim; and so the Platypi have inhabited waters ever since.
In The River, you may just be able to spot a few Platypi as they forage for food, build burrows, and otherwise go about their lives in this as true-to-nature possible enclosure. They're not alone, you'll aos find Water rats, and other Australian fauna.
Penguin Cove
Themed as an Australian Beachfront, this area represents the coast of Victoria
Penguin Encounter
(Animal Experience)
Thousands of people each year visit the South coast of Victoria to see the "Penguins on Parade". In this experience you'll be able to get close with penguins of different sizes from Emperor to Fairy.
Gull's Galley
(fast food)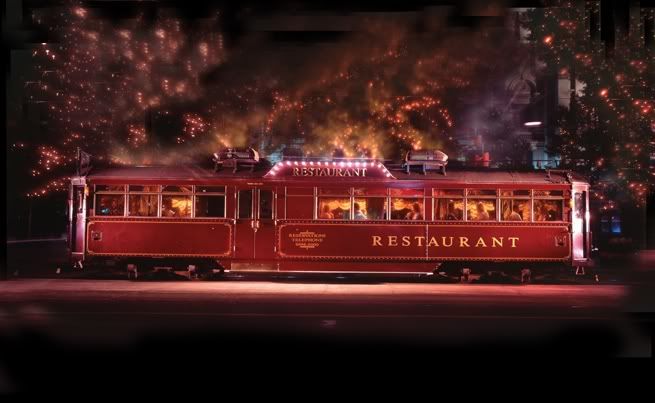 Australian beach themed fast food restaurant. On any given day you'll find thousands of Gulls staking out Australia's popular beaches looking for food, and tourists are usually happy to oblige. Although we don't allow feeing these meals to the animals, you can keep yourself fed with the range of Fast Food items available at Gull's, including Fries, Chicken Burgers, and grilled and fried fish. You can eat in one of the other Trams nearby, or al fresco in our picnic table area.
The Eatery takes the form of a traditional Melbourne Tram (Streetcar/Trolley)- fitting as it does sit in the analogous place for Melbourne in the experience, strategically placed with surrounding buildings to "hide" the kitchen-space behind it. As a nod towards its home the destination board on the tram reads "St Kilda Beach" – a popular beach in Melbourne (and also home to an amusement park).
You'll also find here a mural based on the Segulls in Finding Nemo.
The Bush
Themed as the more temperate parts of Queensland, Out Bush brings the creatures of Australia's Forests (The Bush) out for all to see.

Koala Country (Animal Experience)
Koalas (from an aboriginal word meaning "without drink" sleep 20+ hours a day and seldom leave the tree they call home, yet have become one of the most popular parts of Australian fauna.

In Koala Country either head up to our raised viewing platform where you can see Koalas as they are in the wild, or (for an upcharge) have an experience you'd normally have to travel thousands of miles for – the opportunity to cuddle one of Australia's most popular creatures.

If you look down at ground level you might just spot some other famous Australian animals – Echidna, Wombats, and Lizards.

Matilda's (Full Service Restaurant)
Once a Jolly Swagman camped by a Billabong (pond), under the shade of a Coolabah tree, and he sang as he watched and waited till his billy (kettle) boiled, You'll come a Waltzing Matilda with me....

Matilda's offers a variety of Australian style dishes in a traditional Australian "station" (Ranch) style setting. Dishes include Roast Lamb/Pork/Beef dinners, Lamb and Pork Chops and steak. All served with a selection of vegetables, Mashed potato and Gravy.

During busier seasons, some seatings also include a show from our in-house folk band, playing classic Australian songs and reciting classic Australian Poetry, such as the works of Banjo Patterson. The band often include a few "Australian to American" translations to ensure that the guests aren't lost. Guests obviously from Australia are often "Pulled out" of the audience to participate in the show.

Capricorn Forest
At the "northern" peak of the park is named for the tropic of capricorn, the semi-offical border of Australia's tropical zone. This area emulates the tropical rainforest region of Far North Queensland, and the spectacular wonder just off shore.

The Reef (Animal[?] Encounter)
Included in the price of admission is the ability to gaze through at our man-made reef based on those found in Great Barrier Reef; the tank includes coral polyps and fish such as clownfish. For an additional upcharge you can snorkel with one of our cast members who will help direct you around the various creatures included in the display.

Roo's Plain
Themed for New South Wales' and Queenslands' Western Plains, this marks the transition between the more temporate areas, and the outback.

Meet Kanga, Roo and Tigger too (Character Opportunity)
In an area named for and featuring Kangaroos, it is only appropriate that Kanga and Roo from Winnie the Pooh feature. At select times you can meet the gang from Winne the Pooh just outside of Kanga and Roo's home (That Tigger shares too), If you're there early you might just see Kanga try and give Tigger his "Medicine" (recreating a scene in one of the books/cartoons). You can also get a Cuddle and photo with the gang too (After all, Photos and Cuddles are what Tiggers do best!). Piglet, Winne, Owl, Rabbit and Eeyore also stop in from time to time.

Kangaroo Encounter (Animal Encounter)
They may not quite be able to leap buildings in a single bound, but Kangaroos are known for their famed Jumping ability – able to bounce at speeds in excess of X. Depending on how the Kangaroos feel guests have an opportunity to get up close and personal with these creatures.

The Outback

The outback serves as the "back" area of the Encounter Australia area. It contains the areas two big ride drawcards, deliberately placed at the back to draw people forward and deeper into the park and the Experience Australia area. The focus is less on animals (but they are included to a smaller extent).

Acting as a "Weenie" to help draw visitors is a scaled model of Uluru (AKA Ayres' Rock) at the north of the area. The non accessable area of the outback slowly slopes up such that the "end" of the area (and the park) is at normal treetop height, giving guests the impression as they look out over the "Desert" that it extends to the horizon; preserving its effect.

The majority of the guest accessable area is themed as a small town in the desert called "Todd Springs"; this town is built on the bank of the normally dry "Alice River" (Inspired by their counterparts Alice Springs, and the Todd River). A storm has struck upstream, and although Todd Springs might seem hot and dry, A storm "Upstream" has caused a flash flood, this flood is headed downstream at a rapid pace and is threatening the town.

Alice River Dreaming (E Ticket)
Citizens of "Todd Springs " are being evacuated by any means necessary, including riding the relatively calm and low Alice River before the main surge strikes.

The queue and station area is themed as The Alice River Sailing club, containing photos and video footage of the real "Todd River Regatta" – perhaps the only regatta in the world that is cancelled when the course is "too wet" (for those who are unfamiliar with the reference, the Todd River Regatta is a parody of a sailing regatta held on a usually dry river bed); guests who look closely might even see the "Resucers" in the station going (animatronics visible only through mouse holes and other cracks). Guests are eventually lead to their evacuation rafts.

After a few rapid twists and turns the river heads toward the Uluru model, and then as it approaches goes under, into an underground river. Whilst underground the raft enters the dreamtime (several psycholeic effects along with continued rapids mark the transition. Approximately halfway through the ride guests enter a calm pool (rafts are drawn through a conveyor just under the surface. In this area guests are treated to a series of images on all sides (and the ceiling) depicting an aboriginal creation myth (with explanatory audio) - Baiame (the Sky Father) creating the world. At the end of the cavern the calm ends and the rafts are thrown back into the raging river, going through another psychedelic transition to normal before reappearing above ground, where they reach the "End" evacuation station.

Rescue – with the Royal Flying Doctors (D-E Ticket)

The Storm that has threatened Todd Springs with flooding has cut off a remote station, where some of the occupants is in desperate need of medical help; despite the risk to themselves the Flying Doctors must get through. The guests (Medical Volunteers) must get through if lives are to be saved.

Video and photographic Scenes of everyday outback life are depicted in the "Todd Springs Airport" - People choosing to make a living in the outback usually have to do without a lot of the trappings of modern civilisation. Your neighbour may be several hours drive away, the nearest shop (never mind mall) could be a day or so travel each way, children go to school through the "School of the air" (Traditionally via CB Radio, but now usually by satellite Internet). After the queue area the guests enter a Royal Flying Doctors Aircraft (Motion Simulator)

In the simulator, the Aircraft takes off from the seemingly normal Todd Springs, and heads towards the storm. The storm has worse flying conditions than expected, the turbulence is great, but eventually the aircraft and crew do get through, bringing vital life saving materials where they are needed.

Cooper Peady General Store. (Retail)
Acting as the "exit through retail" for both "Rescue" and "Alice River Dreaming"; this store offers (in addition to a relatively smaller range of the usual DAK/Bondi Junction merchandise than the areas other retail outlet) the export its namesake is famed for – Opals. As with much of the town of Cooper Peady, this shop is presented as a man made cave.

Termite Construction Co (Animal Encounter)
Everyone has heard of termites the "white ants" that threaten to eat you out of house and home (quite literally). What most people don't realise however is that demolition is just one part of what they do. In the outback you'll encounter giant termite mounds – cities filled with termites built with termite labour. You can't get too close, but just seeing these mounds (well over 1m tall) should be inspiring enough.

Reptile Cavern (Animal Encounter)
Australia has some of the most deadly snakes in the world, as well as some of the strangest looking lizards (such as the Frill Neck lizard). This cavern is self directed, with several aboriginal style cave paintings explaining stories told about the animals on display.
This draws to a close the opening attractions in Experience Australia, another way that Animal Kingdom brings the amazing world of animals - and their stories - home.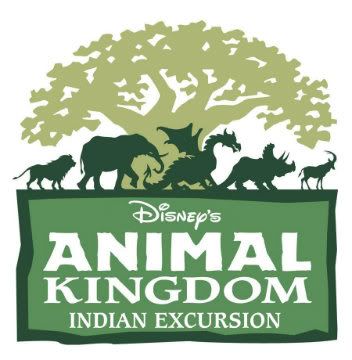 Animal Kingdom Expansion- Indian Excursion
Welcome to Indian Excursion, Disney's Animal Kingdom's newest and most exciting land! This journey through India highlights the vibrant culture and diversity of one of the world's most incredible destinations in incredible Disney fashion. From the enchanting western region that borders the Middle East, to the dense jungles that engulf the world's most mysterious ruins, Indian Excursion's thrills are sure to send chills down park-goers spines. With innovative attractions, top-notch entertainment, world-class dining, and unique shopping opportunities, Animal Kingdom's newest expansion is a guaranteed hit with guests of all ages.
Indian Excursion is split into two sections that explore distinct characteristics of Indian culture while telling classic Disney tales. To the left lies Agrabah, home to Disney's Aladdin and friends (though many will argue Aladdin is not Indian, the tale features many Indian characteristics, and India does have a Middle Eastern flare in its western-most areas). To the right is the Indian Jungle, home to The Jungle Book characters and the world-class adventurer Indiana Jones. The format of this Indian experience is so unique that it is truly unparalleled.
Agrabah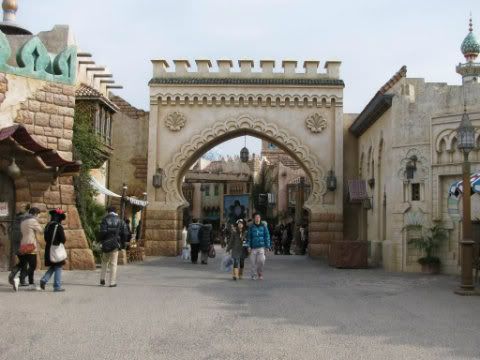 Visitors venturing left upon entering the land immediately encounter the bustling market of Agrabah. Street vendors selling bread, Indian apparel, and other classic Disney options line the pathway, cleverly disguised in Middle Eastern garb. Along the way lanterns, tents, clotheslines, and even royal guards make guests feel as if they have stepped directly into the animated Disney classic, Aladdin.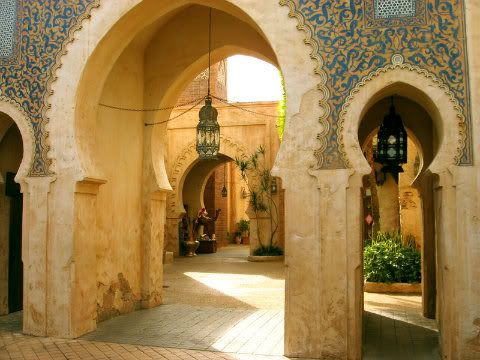 Along the ride side of the path, perched upon a small hill is one of this section's premier attractions, The Journey of Aladdin—a dark ride housed inside the mysterious Cave of Wonders. The cave's eyes glow as the line winds around the entrance. Intermittently, the cave speaks, and riders' feelings of fantasy and wonder are enhanced by the Disney magic that allows the cave to appear as if it is slowly closing.
Upon further exploration of this culturally-rich region, park-goers reach the grand commons of Agrabah Square. The Raj Ma Hall, a palace-like building which houses Aladdin: The Stage Spectacle is the centerpiece of Agrabah Square. To the left lies Ali Ababwa Bazaar, the area's central shopping location; across from the palace lies Indian Oceana, a fine dining locale.These premier attractions are bathed in elaborate décor that makes Agrabah a center of culture and a must-visit for guests.
Attractions:
The Journey of Aladdin- (Dark Ride)
Guests enter the queue in the detailed back alleys of Agrabah's streets and await their journey. Upon entering the mysterious, treasure-lined Cave of Wonders, riders are assigned their very own magic carpet, on which they fly through the story of Agrabah's most notorious street rat, Aladdin. The ride system is similar to "Peter Pan's Flight," as the carpets on which guests are seated are suspended, providing the illusion of flying. The ride highlights pivotal scenes of Aladdin, as riders soar through the Cave of Wonders, the parade through Agrabah's streets, Aladdin's flight with Jasmine, and the final battle against Jafar. "Journey of Aladdin" is similar to the new "Voyage of the Little Mermaid" attraction in state-of-the-art look and technology, as well as intricate detail.
Entertainment:
The Raj Ma Hall- (Aladdin: The Stage Spectacle)
As the unprecedented success that is Disney California Adventure's "Aladdin" stage show departs from Anaheim, the Aladdin Stage Spectacle heads east to its new home in the Raj Ma Hall—a state of the art theatre hall built especially to house this stage show (named after Princess Jasmine's tiger, of course). The building's design combines history and fiction, as it was inspired by both the Taj Mahal and the Sultan's palace from Aladdin. Guests are afforded the luxury of a giant, air-conditioned lobby waiting area (a pleasant change from the attraction's California counterpart). With three tiers of seating, the show offers an excellent escape from the madness of the park. Even more notably, this building serves as yet another Disney landmark whose dedication to detail rivals those of Tokyo DisneySea.
Parade of Prince Ali- (Parade)
Inspired wholeheartedly from the film, The Parade of Prince Ali is modeled after Aladdin's illustrious arrival in Agrabah. The parade features not only characters from Aladdin, but also from The Jungle Book, The Lion King, and other classics (including the beloved Disney canon). Featured music includes numbers from Aladdin, The Jungle Book, and old favorites as well as new originals. This decorative spectacle begins in Agrabah and ends in Asia, delighting park-goers daily.
Shopping:
Ali Ababwa Bazaar- (Agrabah Primary Shopping)
Between the Raj Ma Hall and Indian Oceana, lies Agrabah's primary gift shop. A vast amount of Aladdin merchandise, as well as classic Disney merchandise is available. The ceilings feature an elaborate Disney twist, with Aladdin-like takes on classic pieces (for example, the Genie as the Mona Lisa). While the décor exudes royalty, an air of fun-loving humor is also present in the vein of Robin Williams' genie character.
Dining:
Indian Oceana- (Agrabah Fine Dining)
Located directly across from the Raj Ma Hall, Indian Oceana is Agrabah Square's premiere dining experience. More than just a meal, this Disney dining endeavor features high-end Indian cuisine, up-scale seafood, and a majestic environment in which to enjoy said delicacies. This establishment serves alcohol and also offers kids' menu items. Perhaps the biggest draw for visitors is the seemingly larger-than-life aquarium tank that serves as the back wall of the restaurant and is home to various fish native to the Indian Ocean.

The Indian Jungle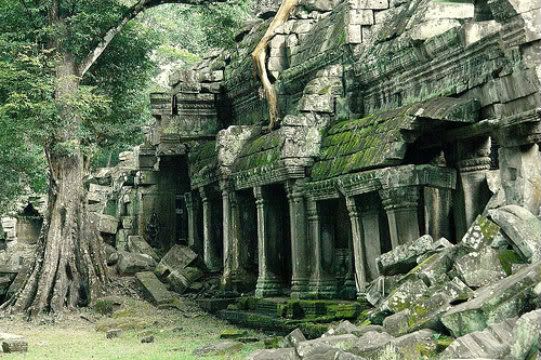 When guests venture to the right of the land's entrance, the walls of Agrabah begin to crumble, appearing to turn to ruin. Guests venture down a path into a dense jungle, passing various bird exhibits along the way. Guests are quickly met by the ruins of a once-grand temple that towers over the tree line and houses two premier attractions. To the far right resides Indiana Jones and the Hiss of Death, an E-ticket coaster attraction. On the left spires rise from a temple that fades into the hill, with a waterfall cascading from a small opening. This landmark is King Louie's Temple Falls, a dark water flume attraction inspired by Disney's 1994 live action film The Jungle Book.
Tall spires, towers, and walls (or what's left of them all) line this area. Tucked in ruin rests Bear Necessities, the primary gift shop of the area. Baloo's Bonanza, the primary restaurant for this area as well as a children's show featuring the classic cartoon cast of The Jungle Book, is located across from the gift shop, adjacent to Indiana Jones. The area's highlights include meet-and-greets with various Indiana Jones and Jungle Book characters.
To the immediate left of King Louie's Temple Falls begins the incredible walkthrough experience of The Jungle Trek, an extensive animal exhibit featuring many of India's greatest wildlife, inlcuding animals of various Disney films. The path winds extensively through several areas and ends in Agrabah Square, to the right of the Raj Ma Hall. A truly unique experience, the trek is one Animal Kingdom's best-kept secrets, hidden beneath a canopy of trees. The Indian Jungle is not only mysterious, but full of uncharted adventures waiting to be discovered.
Attractions:
Indiana Jones and the Hiss of Death- (E-ticket roller coaster)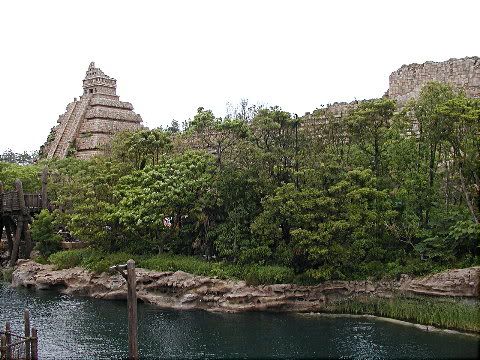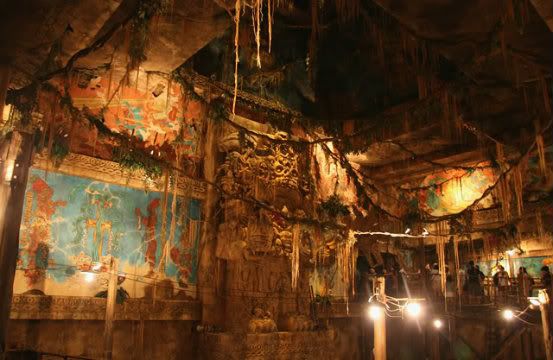 Some of the most popular E-ticket attractions among the Disney parks are Indiana Jones-related. This attraction borrows inspiration from both its Anaheim and Tokyo brethren. The coaster is both an indoor and partial outdoor coaster with detail-oriented animatronics effects. The concept for the attraction is centered on an expedition in which Indy's team must go on through a temple overrun with his worst nightmare—snakes. Appearances are made by other Indian animals, such as the black panther and multiple types of mischievous monkeys. The result is an adrenaline-filled adventure that can only be rivaled in excitement by Animal Kingdom's other marquee attraction, "Expedition Everest." The queue, like those of the other Indiana Jones attractions, is very detailed, winding through abandoned temple ruins. Intricate elements such as these make this attraction the ultimate thrill ride experience.
King Louie's Temple Falls- (D or E Ticket water flume ride)
Based off Disney's 1994 live action adaptation of The Jungle Book, this flume attraction takes riders through the ruins of an old Indian temple now inhabited by King Louie and friends. Derived in the vein of a darker "Splash Mountain," consider this attraction similar to Busch Garden's "Escape from Pompeii" but on a much grander, Disney scale. At one point the attraction leads riders to believe they are in the treasure room with a most unwelcome guest—a giant snake. Guests also encounter bears, tigers, and a friendly elephant that supplies guests with a nice shower. This attraction peeks as riders take a dive from the summit, plummeting deep into the Indian jungle. Riders will get wet—very wet—and will exit the ride feeling as if they have truly experienced The Jungle Book.
The Jungle Trek- (Animal Exhibit)
This extensive walkthrough exhibit incorporates animals from Disney's beloved Indian classics, (The Jungle Book, Aladdin, etc.). Animals include—but are certainly not limited to—Indian elephants, tigers, bears, black panthers, orangutans, various snakes, monkeys, and more. The walkthrough's entrances are located to the right of the Raj Ma Hall and King Louie's Temple Falls and are heavily shaded. Needless to say, the animals are kept in ideal conditions and are treated as jungle royalty. This trek serves as a great extended, alternate route between Agrabah and the Indian Jungle.
Dining/Entertainment:
Baloo's Bonanza- (Indian Jungle Show and Dining)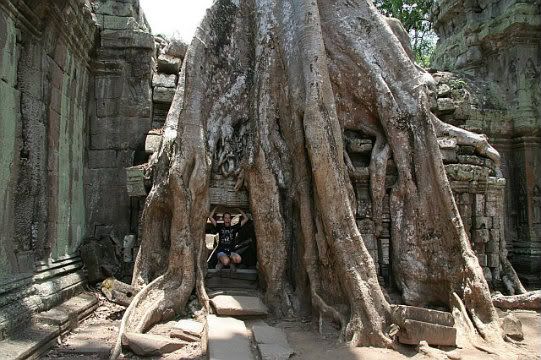 A dining establishment serving both creative Indian cuisine and classic American theme park food, the covered outdoor seating (with ceiling fans, of course) centers on a stage reminiscent of the throne area around which Baloo and King Louie danced in The Jungle Book. The live show happens several times throughout the day, and features dancing and music from the film with all its famous characters and lots of crowd involvement. This dining experience is ideal for children who love character interaction. The facility is open for dining daily, regardless of show schedule.
Shopping:
Bear Necessities- (Indian Jungle Primary Shopping)
Located in the remains of a temple is the primary gift shop of the Indian Jungle. While the shop is filled with a wide array of Jungle Book, Indiana Jones, and other classic merchandise portraying different animals, also featured are gifts that are unique to the shop, including pins and t-shirts. The interior décor is very jungle-like, giving visitors the impression that an animal could make an appearance at any given second.
Indian Excursion is the perfect addition to what is quickly becoming Walt Disney World's most exciting park. Nestled between Camp Mickey & Minnie and Africa, the area features entrances to both lands and provides a bridge to Discovery Island. This culturally and historically rich region combines a personality seldom found in other Asian countries with a Middle Eastern flare. In addition, this new land has allowed the Magic Kingdom to clear space once occupied by the "Magic Carpets of Aladdin" for, exciting additions! Come experience the magic, the wonder, and the mystery of Walt Disney World's newest masterpiece: Animal Kingdom's Indian Excursion!
From AJ Hummel
Posted August 11, 2012 at 3:34 PM
Disney's Animal Kingdom is unique among the Disney parks, as it incorporates aspects of both a regular theme park and an animal park. The park displays a variety of animals from around the world, with a focus on Africa and Asia, with a few from other regions. However, while the variety is there, one major region of the animal kingdom is absent. Animals typically live on land, swim in the sea, or soar across the skies. At Disney's Animal Kingdom, land animals are dominant and sky animals are also present, but there is a significant lack of sea life. The park's latest expansion aims to change that. Introducing…
The Lost City of Atlantis
Located on the west side of DAK, approximately opposite Asia, The Lost City of Atlantis is a ten-acre expansion of the park. Featuring three new attractions (a B-ticket, D-ticket, and E-ticket), two new dining locations (one full service and one quick service restaurant), and a new retail outlet, The Lost City of Atlantis should help to balance out the park as well as function as a distraction for patrons visiting the soon to open Avatar land.
Theme: Atlantis has risen from beneath the seas, and has quickly become a place of great interest. The native Atlanteans have capitalized on this, using it both as a method to learn about the modern world as well as educate them about the wonders of the underwater world, one about which much is still unknown.
Appearance: Atlantis is located across a bridge from Discovery Island, and appears to be on an island as well. The area looks like an ancient city, with an architectural style reminiscent of ancient Greece, but not quite the same. All the buildings also have a very weathered look, but do not look dilapidated. Behind and to the right of the city, a large volcano towers above the buildings. Cast members wear unique costumes to this area, resembling an ancient form of dress without impeding the necessary functions of the job.
Note: While there may be subtle nods to the movie, the land is not related to the 2001 movie Atlantis: The Lost Empire in any significant way. Instead, it is based more on the general mythology of the lost city.
Layout: The city is roughly laid out in a linear fashion. The entrance to the area resembles a beach, with the B-ticket attraction (a walk through) on the left hand side. The retail outlet is located in one of the first buildings on the right. Proceeding into the city, guests reach a central plaza. The temple in the center of the plaza contains the full service restaurant, while the quick service restaurant is on the south side. Street vendors fill this area, as do roaming performers. Once past this, the area splits and two separate streets lead to the D-ticket (left) and E-ticket (right) attractions (both dark rides).
Shopping:
Treasures of the Deep: Located on the right at the entrance to the city, this is a small shop selling souvenirs unique to this land. None of the standard Disney souvenirs can be purchased here, and instead unique clothing, trinkets and toys are found. The interior of the store looks just as old as the exterior, made of stone and showing signs of millenniums exposed to the elements. Fitting with the theme of the area, the store does not appear to use modern technology, as it is lit by torches (fake, but a good imitation) and purchases are calculated on an abacus (all prices are in whole numbers and include tax to make this easier for cast members), although for credit card purchases a hidden register is available.
Dining: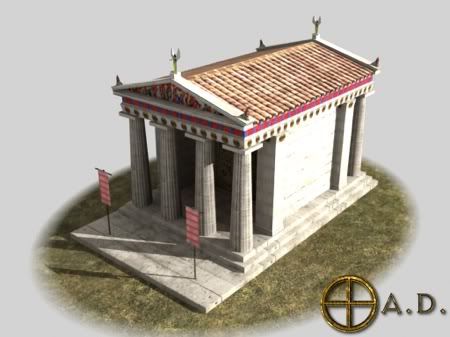 Poseidon's Kitchen: A full-service restaurant featuring Greek and Mediterranean cuisine. The restaurant is located in the temple at the center of the city. The interior of the dining area is gigantic and statues carved of stone line the walls of the building. Tapestries also hang off some of the columns supporting the roof. Tables and chairs are made of stone. Like Treasures of the Deep, the dining area appears to be lit by torches mounted on the walls. Reservations for the restaurant are accepted up to six months in advance, and can be made in the same way reservations are made at other Walt Disney World dining locations.
Saltwater Grill: A quick service restaurant serving more standard amusement park fare, but also offering a handful of unique dishes. Located on the south side of the central plaza, this restaurant simply looks like a counter in the side of a building. Benches are located nearby to give diners a place to relax while they eat and watch the roaming performers in the central plaza.
Attractions:
Creature Beach (B-ticket): A walk through attraction located on the left part of the "island". Guests follow a defined path around the beach, viewing animals that live in an aquatic environment but are not confined to underwater life. Most enclosures feature terrestrial and aquatic components, and a few have underwater viewing areas. Most animals featured are native to Europe or Africa, but others may be present as well. Signs located by each enclosure present facts about the animals present in the exhibit. The trail is approximately a half-mile long and features varied terrain, but is relatively level.
Voyage Thru Liquid Space (D-ticket): An omnimover ride simulating a journey through the ocean. After waiting in a basic queue on the docks in the southwest corner of the city, guests board two-person submersibles and travel beneath the seas, guided by an Atlantean who narrates the journey and provides information on what the riders see during their trip. The ride itself lasts approximately seven minutes and passes through five different aquarium tanks, each representing a different level of depth. Various species of marine life are seen, although none of the really large sea creatures (marine mammals and large sharks) are present in this attraction. The ride vehicles pass through tubes in the center of the tanks, giving riders a 270 degree field of vision. Unlike most omnimover vehicles, the submersibles on this attraction can rotate up to 30 degrees forward or backward in additional to the 360 degree rotation. Since all movement is controlled via an onboard joystick, guests have a wide range of view and truly feel like they are floating along underwater. In addition, the track is as minimal as possible, and is made of transparent acrylic when the ride mechanics do not need to be seen.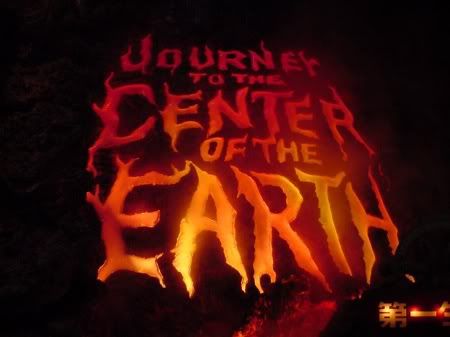 Journey to the Center of the Earth (E-ticket): Located in the volcano adjacent to the city, Journey to the Center of the Earth is a copy of the Tokyo DisneySea attraction (hailed as the greatest theme park ride ever built), but with a few changes to fit the theme of the land and the location of the ride. Guests enter the attraction through a geological camp set up to monitor seismic activity. In this version of the attraction, the Atlanteans and scientists are working together, as the citizens of the city are worried about it sinking back into the sea. Guests then continue through the mountain until they reach the terravators, special elevators that transport them to the main research area a half-mile below ground. This is the loading area for the attraction.
The ride itself is similar to its Tokyo counterpart. Guests board mine vehicles and travel through subterranean tunnels, encountering crystal caverns and a mushroom forest before an earthquake occurs and forces the car deeper underground where the surroundings become more ominous. Finally, riders encounter the lava monster before the volcano erupts, sending them back to the surface. However, unlike the DisneySea version riders never leave the volcano, but instead plunge down another tunnel and return to the scientists' research area.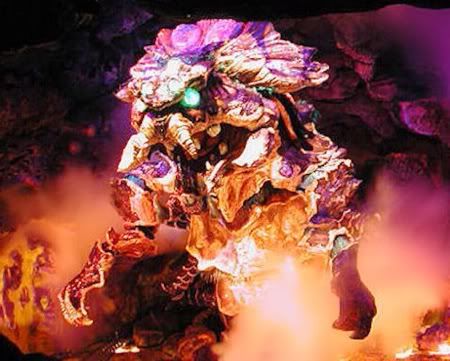 The lava monster, as seen in the Tokyo DisneySea version of the attraction.
Technologically, the attraction is similar to Test Track, but seats eight riders per vehicle (4 rows of 2). The ride is only around three minutes long, but reaches speeds of nearly 50 MPH during the journey. The ride is equipped with Fastpass (users merge into the queue at the terravators) and Single Rider (guests go up the exit and cross a bridge to the loading platform.
With new attractions, a new premium dining location, and a whole new area to explore, Disney's Animal Kingdom continues to provide unique attractions to its visitors. Additionally, with the addition of a top tier dark ride, the park has cemented itself as a must visit park for every Walt Disney World traveler.
From Tim W
Posted August 11, 2012 at 7:57 PM
Bryce- South America is one of the two obvious approaches for an Animal Kingdom land, the other being Australia. I think by far, South America might be the hardest to differentiate from the opening area of the park. I liked that you had sort of a spin on this land, modeling it after Salento, Columbia. This same thing has been done in Africa's Harambe Village and Asia's Anandapur. I think these two lands are beautifully themed, and this would be sure to match, with an immersive theming. I think you capitalized upon the right things during this proposal, focusing on the fierce jaguar as the showpiece for a walkthrough exhibit. Another nice addition was adding Goofy to the land, to have some Disney relevance within the land. While I know it has been done at Epcot's Mexico already, I did think Donald and the 2 other amigos might have made this a perfect fit in the land. The show itself sounds excellent, attracting kids and adults alike. It sounds a bit like a Goofy version of the Tokyo DisneySea's Mystic Rhythms (a beautiful show that I have only seen on youtube). The restaurant fit very well with the land, and I enjoyed the theming and name. I think this could easily rival other cultural eateries found in Animal Kingdom, such as Yak and Yeti. About halfway through the proposal, I do realize that the ambiance sounds extremely different from the mediocre hub in Animal Kingdom. With the highlight of your land, The Forbidden Jungle, I think the story could have been expanded a bit more to explain why this temple is forbidden. I would have loved to hear more about this mysterious ride, which would be a modern approach in Animal Kingdom. As for the extension of the ride into the walkthroughs, I thought this part was brilliant. I think it might actually get people to appreciate the animal life, more so than walking past it in the park. Finally, the zip lines add some extra punch and thrill to Disney's park. The long rumored park of zip lines comes into fruition here instead, fitting right in with the theming. I thought this was an excellent addition to a great proposal.
Chad- As stated above, Australia is the other obvious choice for a land at Animal Kingdom, so I am looking for something spectacular. When seeing the map, it is obvious that you have an extremely ambitious project, maybe a bit too ambitious. It seems that there is a lot going on in this land ranging from Winnie the Pooh all the way to penguins. Starting with the mini-lands, in Port Jackson, I think this would have worked fine for an aquatic themed land at the park, where you could have had an Australian spin. An excellent starting point for this land would obviously be Finding Nemo the Musical, where it would fit right in at home. The HMS Endeavour was nothing to be lauded over, but I am glad you included interactive animal experiences for the brave of heart. When the proposal shifted over to Murray Hollow, I found this area to be a great addition! I loved that you decided to make this home to a daytime and nighttime show, both of which sounded impeccable. I think the nighttime show was one of my favorites of this proposal, showing off some of Australia's mythical beasts. I could see some Chernabog and Perry the Platypus connections within this land, making for an immediate relation to Disney. I think the penguin area following this was a bit unnecessary, as I feel that guests could mistake they ventured to an Antarctic environment. The connection to Finding Nemo might feel a bit out of place in my opinion. The Bush and Roo's Plain are the two most notable lands here, making best use of their resources. I think kangaroos and koalas have such a strong connection to Australia, that this is what guests would be expecting. The Matilda's restaurant was a gem, similar to Muchu Pichu, where you immersed the guest in an Australian dinner experience. The meet and greet in Roo's was excellent and would surely distract guests from the void of Camp Minnie Mickey. When guests finally make their way to the Outback, I think they finally received their money's worth with the two excellent attractions. The river rapids would make a better themed alternative to Kali, while Rescue shows a lot of promise for this developing land. In conclusion, I do think a few of these mini-lands could be cut out to make this land more approachable, and centrally themed. While I honestly think you went way too much in depth, I think you had some excellent parts to this mini-theme park within Animal Kingdom.
AJ- I was certainly proven wrong by the previous two contestants as I claimed they took the two obvious approaches to this week's challenge. I awaited yours, not sure of what we would have received. I honestly love the theming of your land, but not sure that it is the perfect fit for Animal Kingdom. Atlantis to me has more emphasis on the lost city, than the inhabitants of the land. I did, however, think the Greek mythology was a fresh take on a new rendition of a Beastly Kingdom. The land did seem to resemble something that would be found at Epcot, as opposed to Animal Kingdom. It seemed that you wanted to capitalize on the Greek culture, instead of making animals your main priority in the beginning of your proposal. This certainly rang through the restaurants, most notably. I would have loved to hear what type of aquatic life would have been found at Creature Beach, as I myself am not sure what animal that Greece is famous for. While I did think the voyage through liquid space was an excellent idea, and had an improved ride system, I couldn't help but think of this as a second rate 20,000 leagues under the sea. I think you did include some interesting ride mechanics, such as the full rotation in the vehicle. Ending out your proposal, was a direct copy of Journey to the Center of the Earth. I thought this moved far away from the Atlantis mythology, being placed here instead of relating to the land. It seems this would be a sort of Disney crime, reusing a ride for the sake of not having to develop a new ride. While it is obviously enticing to the executives, imagineers would be stomping their feet. I think you had the chance to go a different way completely with this land, but instead you took a rather safe route this week.

I will not be doing reviews this week......I am on a workation, and have a wedding that I need to be at in about an hour......sorry.....
Don't let Jeff kid you- he's in rehab again. OK, I am REALLY just kidding!
Critiques this week were really tough, because we as judges have to get tougher on you. The challenge was a really hard one, and we are expecting you to come up with terrific, well-conceived and dazzling proposals. When you don't reach the potential that we know you have, we're going to let you know. Hopefully, when you present something that we really like, we will let you know. Now that the public is voting again, regardless of our rankings, you have to satisfy not just us, but also the voting public. But don't forget to satisfy yourself, to create a proposal that you are proud of and will fight for. If you aren't having fun doing this, you are not doing it right.
Now for my critiques:
Bryce McGibeny: "South America" as you propose it to be added to Animal Kingdom would be a magnificent addition to the park and to Disney's mission at AK to showcase the wildlife of the world. The entrance to the land through the village would be both familiar (resembling the concept of Main Street U.S.A.) and exotic with the sights, smells and sounds of the South American village. I would have like to hear how you would have attracted AK guests to find it, though. Its entrance, "down a small sloped pathway through a dense rainforest canopy" sounds extremely hard to find in a park that I personally find to be very confusing anyway. Once guests did find it, they would be impressed with the atmosphere that you created here.
I liked very much the layout of your entire written proposal. The paragraph giving an overview of the entire land and its individual parts was a great set-up, helping me to know what to expect and giving me more to look forward to. Your use of bold letters was also very helpful in featuring each attraction.
Goofy's Equator Escape sounds like a delightful show, fun, silly, and a great "Escape" from the Florida- excuse me- South American heat. But the theater building sounds way to small. 250 seats? The Theater in the Wild with "Finding Nemo" holds 1,500. I don't think that this theater needs to be that big, but 250 is not big enough and would lead to long waits and disgruntled parents whose kids want to see Goofy.
Munchu Picchu is probably the best name for a restaurant I have heard in here for a long time (though I would have gone all the way and called it Munchu Pichew- but that's just me). The menu sounds terrific, familiar enough for people to try it but exotic enough for them to know that they were eating dishes appropriate to the setting. I think the setting would be beautiful, if not a bit reminiscent of the San Angel Inn at Epcot. With the name based on Macchu Picchu in Peru, why not go all the way and set it in the ruins of that World Heritage Site?
Callejon Goods sounds like a great place to shop, explore and absorb the atmosphere of a South American village bazaar.
"The Forbidden Jungle" didn't do anything for me. It would probably be a fun, scary experience, and I know you probably wanted a thrill ride of some kind in this land, but this particular ride didn't seem to be appropriate. Perhaps I don't know enough about the rain forest, and I'm sure it's a scary enough place, but it felt like you decided to put a scary non-zombie ride (yes, the judges are still bitter about the zombie thing) here because it didn't fit anywhere else. Perhaps if it had been described in a bit more detail as to why it fits into a South American rainforest in a South American land.
You redeemed yourself with Temple of the Jaguar and Fauna Senderos. Yes, Temple of the Jaguar is reminiscent of Maharajah Jungle Trek and Fauna Senderos of Pangani Forrest Exploration Trail, but this is a case where, if you want to showcase animals in their native habitat you have to go to that habitat. One concern- you will not find an Aztec Temple in South America. The Aztecs were in Mexico and Central America. An Inca Temple would have been more appropriate and accurate, or several other ancient ruins from the Inca and pre-Inca cultures. The Zipline Tours is a welcome addition to this area, incorporating a mild thrill ride into a learning experience.
South America at Animal Kingdom will provide a great addition to the entire concept of Animal Kingdom and its mission of entertaining and educating WDW guests. It would be a wonderfully immersive cultural experience with a wide variety of activities for all guests, and would feature animals that are often overlooked by many zoos that are more African/Asian focused. It lacked an appropriate "thrill ride" but made up for it with many other interesting experiences and adventures, with a great selection of dining and shopping opportunities. Excellent work!
Chad H : "Experience Australia" was obviously a labour of love. I've read it multiple times while trying to decide what to make of it. It's too big for Epcot (but if it were there it would be the most impressive attraction by far). It's not quite big enough to be a stand-alone fifth gate (but then, neither was DHS when it opened). It has more animal exhibits than some municipal zoos (but it's not really a zoo). It has several unique upcharge animal interactions (but it's not really a "boutique" park). I do know that it is an impressive creation, possibly too big for its purpose of drawing people from "Pandora/Avatar", because once guests entered "Experience Australia" and started to do just that- experience it- they would spend so much time there that they would probably miss their Fastpass window. "Experience Australia" is a remarkable proposal, one that shows what Animal Kingdom could be with a DCA-type of redevelopment plan.
The map you provided was extremely helpful in keeping all of the various sections straight in my mind. I found that I wished you had included more photos in the proposal (something that I find a common thread in everyone's proposals). You can use an introduction logo, five pictures and a closing logo, but I don't think that anyone has done that yet. In a land as spectacular as Australia (and as foreign as another planet to many of us Yanks) using images to help us visualize what to you might be a common-place sight could be the winning detail. You take us to so many varied ecosystems that pictures might help us better appreciate what we are seeing in the various areas of Experience Australia. Pictures are not required, and a great describer like yourself can certainly "paint with words" well enough to get by without them, but why not use every weapon in your arsenal to win this? At this level of competition, you must bring your "A" game every time and plan on taking no prisoners. Your competition won't.
Back to Australia. Trying to critique in detail everything you proposed will make this longer than the proposal, so I will say that I found a vast majority of your concept first-rate, top-notch, outstanding- get the drift? I'll try to hit the high and low points.
I thought the entrance across the Sidney Harbour Bridge was a brilliant choice, making it obvious where we were headed. I am really mixed about the HMS Endeavour- while I understand wanting a well-themed mild (?) thrill ride, and the sight of a dramatically moving ride at the front of the land (I almost said "park", like you did at least once in the proposal) would attract guests attention, it comes close to looking like this is an Aussie version of Dinoland U.S.A. with carnival-type rides. The variety of animal encounters, attractions, shopping, etc. that you included in this area, and in most areas, make Port Jackson a destination in itself, and not just a place to walk-through to get to the good stuff.
Murray Hollow and its platypi animal experience would be a fascinating opportunity for guests to see this remarkable creature (which I once jokingly heard was created the only time God appointed a committee of angels to create an animal!). The shows at the Corroborre Theater sound like fascinating and beautiful experiences, but I was unclear as to what type of show it would be- live action? animated? film? This was a surprising omission.
Penguin Cove and its "Penguins on Parade" didn't give us much to go on. It would probably be an interesting attraction, but would have to be a top-notch experience to compare with the new Penguin Encounter at SeaWorld Orlando. Also, be careful of copyright, since you did title it "Penguin Encounter" in your proposal and that is the name of SeaWorld's penguin attraction. "Gull's Galley" sounds like an interesting dining location, with a local connection to Melbourne and the beach.
The Bush, its Koala Country animal experience and Matilda's restaurant sounds like the quintessential Australian experience, especially the chance to have physical contact with Koalas (which I heard described once as being a cross between a teddy bear and a eucalyptus cough drop!).
I didn't understand the purpose for Capricorn Forest other than as a backdrop for The Reef, which is itself very reminiscent of the Shark Encounter at SeaWorld.
Roo's Plain with its two features, the meet-and-greet with the often overlooked Kanga, Roo and Tigger, and their friends, and the Kangaroo Encounter would be a favorite of guests to Experience Australia. Its location would be perfect to draw them toward the Outback, an area that is a must for anyone visiting Experience Australia and a major attraction at Animal Kingdom.
I loved the backstory of Todd Springs and the Alice River, and how it fit into the recreation of the remarkable natural wonder Uluru and the surrounding desert. The "Alice River Dreaming" attraction has the potential of being both entertaining and educational, emotionally moving and stimulating, and a wonderful compliment to the many opportunities that guests will have to learn about the importance of dreams to Aboriginal Australian culture. It would be important to balance the fun of a wild raft ride with the more serious "educational" portions in the cave, or it would become another Kali River, where the message is ruined by the riders getting drenched.
"Rescue- with the Royal Flying Doctors" seemed a bit confusing to me, since I had never heard of the Royal Flying Doctors and thought that it was based on "The Rescuers Down Under". It was an interesting addition to the land, but frankly seemed to be an excuse to add a mild thrill ride. With a land of this size, it would probably be needed, but there is the question- is Experience Australia too large?
I'm afraid it is. I compared it to DCA after the redevelopment, but Disney California Adventure is a stand-alone park (sort of) and you were not challenged to design a complete park, but a land to augment the rest of Animal Kingdom. "Experience Australia" would dwarf the other lands, and probably Pandora or Avatar or whatever the final title is. It would be a magnificent park, but you were not to create a park. This labour of love took over, took on a life of its own, and you didn't resist the urge to rein it in. If it had half of the proposed attractions, with plans to expand in the future as popularity demands, it would have been much better focused. You also needed to consider the area competition- there is already a penguin attraction and a shark attraction quite close, presented by a world-class park. Focusing on animals unique to Australia that are not already featured at nearby parks and doing these attractions well would let Disney create another unique attraction without having to prove that "ours is better than theirs."
I focused on the problems and often ignored the really good stuff, and you had lots of really good stuff. Guests to "Experience Australia" would come away with great memories, exciting experiences and memories of animal encounters they could not have anywhere else but at that park. But that is not what you were to propose- you let your land morph into a complete park.

AJ Hummel: I am so mixed on your proposal for "The Lost City of Atlantis". In some ways it was the truest proposal to the challenge, in that it is a proposal for a popular set of attractions that would relieve the pressure that Avatar will put on AK. In other ways, it sets Animal Kingdom back further from its focus and mission of featuring the world's wildlife and relegates them to two very interesting but similar attractions and instead visually focuses on a mythological land. While reading it, I thought to myself, "How nice. 'Journey to Atlantis' got its very own land. I agree that marine life is ignored by AK, but using a theme already used by a local competitor (in a different way, but still in a very well-promoted way) makes it look like the Disney Imagineers ran out of original ideas. I kept thinking "just put it in the Greek Isles and there would be no problem."
Your description of the land was very well done, easy to follow and understand, and visually Atlantis would be a beautiful place. The restaurants and shopping facilities were very well themed, with the use of "period technology" such as torches and the use of an abacus a very fun addition, although guests might wonder if they had their purchases rung up correctly!
Your wildlife encounters were interesting in concept and would be well enjoyed by some of Animal Kingdom's guests. I think that most guests to Creature Beach would start out enjoying it and reading the information about the various creatures they encounter, but unless there was something to keep their interest building they might end up walking faster and reading less. It still is a pleasant attraction and would be enjoyable to many. "Voyage Thru Liquid Space" is a great name for a really enjoyable attraction. At first I thought it was another version of the old Seacabs at "The Living Seas" pavilion, but you took them far forward in being able to steer and control them to some degree, making this attraction a much more participatory experience. This would be a very fun and potentially very popular experience.
"Journey to the Center of the Earth" would be a fantastic addition to one of Disney's American parks, but here it seemed to be a very contrived excuse to put it someplace. It would be immensely popular, and most people would not really care why it was located in Animal Kingdom at all. It makes as much sense here as Expedition Everest does. Guests would flock to experience it, and if they happened to stumble on the educational animal attractions, well all the better. It is a great ride, and you did a very good job of explaining the attraction, but I didn't think that it really fit well here.
AJ, this would be a very good land someplace, but I'm really not sure where. It didn't feature the wildlife that a park like Animal Kingdom needs to do, but instead used it as an excuse to bring JTTCOTE to WDW. It would be a very pleasant land to visit, it had many enjoyable features, but it just didn't seem to be the best land you could have created for this challenge.
Antarctica at Animal Kingdom. Animal Kingdom has based their new land on the coldest continent on earth, Antarctica. Antarctica is home to penguins,orcas,blue whales,colossal squids and fur seals. Animal Kingdom has tried to capture the beauty of this land with Antarctica. Antarctica will feature 5 rides, 2 restaurants, 2 shops and a animal attraction.
Theme: Antarctica's theme is based on the animals and beauty of Antarctica.With awesome rides,restaurants,shops and a animal encounter makes Antarctica the place to be. Antarctica looks simple from the entrance, there are surprises in store!
Area: The area around Antarctica is amazing with icicle covered trees. The path to Antarctica is filled with cool things like an ice mountain and an igloo. At Christmas time the mountain and trees will be decorated beautifully.
Layout: Antarctica is located on the land by Rafiki's Planet Watch. The entrance is two penguins with the words Antarctica across them. As you enter you will see the rides on the left, The restaurants on the right and the shops up ahead.You will see performers singing and dancing. Stilt walkers, mimes and acrobats are the performers.
Shopping: Penguin Central is the main shop in Antarctica. They have penguin items, Antarctica Mickey ears and any other Antarctica related items you want. You can also get Antarctica I.D. bracelets and necklaces.
The Coldest Continent Shop: The CC shop (as some people say) is steered towards the collectors market with scale versions of a mountain, penguins, colossal squid and seals. They also have limited edition items, regular Mickey ears and stuffed animals for little and big kids alike!
Dining: The Antarctic Diner is a simple diner that serves fries to cookies. This is a place you would go for a light meal. The theme of this restaurant is of course Antarctica! The walls are painted like ice and the chairs and tables are made to look like ice blocks.
Polar Bears: Polar Bear's restaurant is the main restaurant in Antarctica. The theme of this restaurant is very similar to the Antarctic Diner's but it has polar bears everywhere! On the walls on the tables and everywhere! If you look closely you will find a couple of hidden penguins! They serve burgers, salads, seafood and of course Ice cream!
Attractions:
Penguin Drop: Penguin Drop is a kiddie drop ride with a cute twist! There is a penguin on top of the ride. When the ride goes to the top the penguin goes side to side and lights up! There is also "snow" on the bottom of the ride.
Antarctica's Story: Antarctica's Story is a dark ride about Antarctica's history. From 350 B.C. When the Ancient Greeks created Antarctica. To 1821 Where the first party of men spent the winter in Antarctica. To 1911 When Norwegian Roald Amundsen lead a party of 5 men to the South Pole. And finally Antarctica today. Antarctica's story will take 15-20 minutes.
Polar Express The Coaster: Polar Express The Coaster is a white B&M invert. This invert has 6 inversions an Immelmann, a batwing, two barrel rolls,110 ft loop and a 100 ft loop.
Polar Express The Coaster is themed and named to the 2004 movie Polar Express. I understand their was a motion stimulator ride at Seaworld but it wasn't a coaster So I figured I'd do a coaster.
Blue Whale Kiddie Coaster: The blue whale coaster is a Vekoma kiddie coaster. The train is painted like a blue whale with a cute face on the front. Your kids will love this roller coaster. They'll be begging to go back on!
Colossal Squid Swing: Colossal Squid Swing is a HUSS Giant Frisbee Ride like MaXair at Cedar Point. This is one of three that exist.
Antarctic Aquarium: Antarctic Aquarium is a 10-15 minute walk through aquarium depending on if you choose to go with your guide. You will enter into an ice cave and you can read facts about the beautiful animals that inhabit Antarctica. You will also meet your guide and decide if you want to go on yourself or the guide. If you choose to go with your guide you will see the animals getting fed (feeding time only) and you can also see the trainers interacting with them. But if you choose to go on by yourself you will still have fun! The animals featured in the aquarium are blue whales and colossal squid. On the outer part of the aquarium you can see penguins, fur seals and polar bears.
Antarctica at Animal Kingdom is not only another land with rides. It will show people young and old the history of Antarctica and the life of the animals on the coldest continent!
This discussion has been archived, and is not accepting additional responses.