Halloween Horror Nights: Ripped From the Silver Screen Preview
The Halloween Horror Nights haunting season officially begins this Friday September 25, 2009 but here is a little teaser review from the Employee Preview night.

The night started by walking past the Universal Palace Theater ticket booth. Right above the booth hangs the large LED video screen which last year was the mirror with Bloody Mary appearing in the video. You will come face to face with the usher as you make your way towards the security checkpoint.
The first house on the list to go to was Wolfman. First thing to notice was the great detail that was put into this set. From the beginning I felt like I was outdoors but I knew in the back of my mind that I was in a soundstage. The house was truly magnificent in the way of lighting and set detail. As for the costumes, they retain just good of a quality as the house and look great. The Wolfman placement and scenes in this house were A+. The story really is frightening, seeing a human transform into the creature we know as the "Wolfman". Overall rating of the house so far: 4.5 of 5 stars.
Next up was to head in line to Frankenstein. As we were waiting though the Orlando Fire department showed up and everyone had to evacuate the house and leave the queue back into the park. We found out that they had to practice a fire drill and that it would take approximately a half hour for the Fire Marshall to clear the house for re-opening to park guests.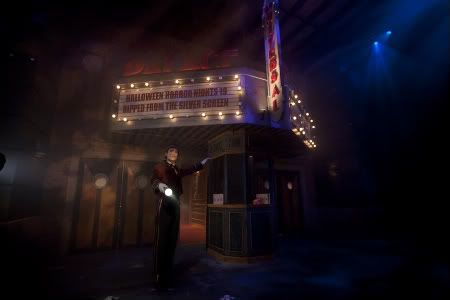 So we decided to go over and visit Silver Screams. The entrance façade to this house was again very, very well done. You walk in to seeing the Universal Palace Theater in its bright and glorious day displaying "Phantom of the Opera" on its sign, but just as you take a few more steps the scene changes. Now you see the theater in the present day with a gloomy abandoned ticket booth, burnt out bulbs and missing letters on the sign. You move on to walk through scenes of different movies including the scene where Julian Browning lost his life in the theater he so much loved. The scenes from the different movies were very accurately re-created and looked great. This house has a lot of potential for the event; I hope it lives up to it. Overall rating for the house I can only give it a 3.5 of 5 so far but the event has not officially begun yet so there is plenty of room for improvements to be made.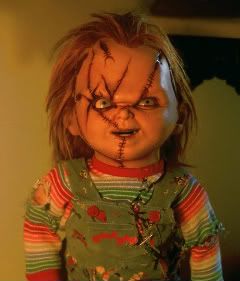 Up next was Chucky. I for one was really looking forward to this house ever since it was announced, and I can tell you I was not disappointed at all. As you walk in you really feel like you are in a toy store. Throughout the house you will see Chucky's favorite phrases and words painted all around the house. This is definitely the "funhouse" of this year's HHN event. The actors were spot on with their scares that night and truly did a magnificent job. The Chucky costumes looked great. You have lots of moments in this house where that little serial killer doll will be closer to you than you ever wanted to be to him. This house truly does contain a lot of 'Child's Play'. Overall rating for Chucky: 4.5 of 5
After leaving the funhouse we headed next door to The Spawning. Heading up to the spawning the facade was the entrance to the sewers. As you head more into the sewers there were scares coming out of different sewer pipes. The look of the house is definitely the look of a sewer system. I was surprised however that it did not actually smell even a little bit like a sewer. Of course this was still a rehearsal and there might be more definitely will be improvements coming all around the park. Overall there is great potential for some great scares in this maze. Overall rating of The Spawning thus far: 4 of 5 stars.
After The Spawning we skipped past Saw because of an outrageous 90-minute wait time and headed to Leave it to Cleaver. Right as you get into the queue for this house your attention gets drawn to the video being projected onto the building. The video was recorded for commercials decades ago. As you enter the Meetz Meats factory you get greeted by an employee. Inside you see disturbing scenes of the secret ingredients that makes Meetz Meats so good. By the end of the house you will know why no one beats Meetz Meats. The detail to this house was incredible. There did not seem enough happening with the scare actors though as most of them were more standing around watching you go by. I know it was the preview night and will not judge them for getting used to their house. I hope that this house really improves with its scare tactics. This house has a lot of potential and a really great story line from beginning to end. Overall rating for the best meats around: 4 of 5 stars.
Last but not least I got to go back and give Frankenstein another shot and this time we actually made it in. This house was really well pulled off and the Frankenstein's were not how you are used to picturing Frankenstein. In this house the monsters are taking revenge on Dr. Frankenstein and be sure to look up in the last scene of the house to see what they did to him. The costumes looked absolutely great and were very detailed. The very well placed scare actors in this house ensure that you have a few scares hiding around the next corner waiting for you. Overall rating: 4.5 of 5 stars.
Unfortunately I had not been able to make it to the last two houses myself but I picked up a few little mini review here and there.
Dracula's opening scene and façade are supposed to be very well done an in the detail you would expect. The house was said to be very foggy which made for much more amazing scares.
In Saw you can hear Tobin Bell's voice throughout the house. The house starts out in Jigsaw's Workshop and there is plenty of TVs playing Billy all around. In one scene Billy can be seen on his tricycle coming down the hall. The traps were from what I heard amazingly detailed and well done. From other reviews this house made for some great scares.
So I had decided that I wanted to go see the new Bill and Ted show. For the first time the show actually had a story line and plot to it which made the show all too more interesting. The show I would describe this year as the perfect Geek fest and definitely something someone is going to tweet about. And that is all I am saying about that, I do not want to be the one to spoil the show.
I cannot really judge the scare zones as there were a lot of kinks being worked out for those. A lot of effects were not working and some zones scare actors were either working hard or confused about what to do. I will not rate any of the scare zones till the event is actually underway.
Overall you truly feel like you are walking right into the screen to live the horror. Ripped from the Silver Screen is like a 5-D horror movie adventure where you come face to face with your worst movie nightmares. Be ready to live the horror that you have seen comfortably from a theater seat.
Overall event rating from one night of screams: 4 out of 5 stars and it will only get better.
Universal Orlando's Halloween Horror Nights runs September 25-26, October 1-4, 8-11, 15-18, 21-25 and 28-31. Pricing varies per event night. For more information on the event and to purchase tickets visit www.halloweenhorrornights.com/orlando
Readers' Opinions
This article has been archived and is no longer accepting comments.
More Theme Park News
Previous article: Kings Island/Cheez Whiz Open Thread
Stories from a Theme Park Insider
What's it like to work in a theme park?
Stories from a Theme Park Insider
takes you inside the famous tunnels and backstage at Walt Disney World's Magic Kingdom for a look at how theme parks really work, sharing the funny moments and embarrassments that can happen when your job is someone else's vacation.
Order now:
Kindle
|
iBooks
|
Paperback
|
Kindle (UK)