Last week at your amusement park...July 5, 2011
A digest of amusement park news and rumors...and a couple of rants...with a sense of humor...
Disneyland – While the Big Thunder Mountain pulls a Lindsey Lohan and goes back into rehab and Disney starts to see the light at the end of the tunnel for the Construction Adventure….excuse me….California Adventure park, there are rumors blossoming about the focus shifting back over to Disneyland for a major expansion in the flagship park. My hope would be the bulldozing of the Rivers of America and the pathetic and poorly located Winnie the Pooh ride, and put something better in that section of the park…maybe Marvel Comics or something.
Six Flags Magic Mountain – Magic Mountain finally got around to opening their Green Lantern coaster this week. Just what they needed, another undersized, low capacity, excessively long lined, pathetically short ride. Good work Six Flags! Not to get on a rant here…but…what is your problem over there? Do you have lead based paint in the offices of your designers? Does anyone read the specs of your rides before you sign the check? Do you realize that you haven't put in an appropriate ride in your park in a long time? Green Lantern – already addressed; Road Runner – kiddie coaster, Terminator – had been barely open a year before you got cheap and had to retheme it; Tatsu – You built it on top of four other rides, so you had to have half the park shut down in order to build it; Scream – the first roller coaster ever themed to a parking lot; X – great coaster, poor capacity, ridiculous lines, poor line control. Please, Please, PLEASE, take a look at the apprentice competition on this website and hire some of these people who are giving away great ideas for free.
Cedar Point – Now that they got that Windseeker thingie out of their systems, extremely early rumors are saying that the Point will get a new (impressive and high capacity) roller coaster in 2013. Start looking out for survey markers…
Six Flags Great Adventure – One of the baboons from their Monkey Ride Designer Jungle attraction had escaped and been on the run for several days and was captured. Rumors (that I started) say that they were trying to transfer the Baboon to Magic Mountain's ride design division when he panicked, chewed through several solid steel bars and went on the run, ravishing the local cat population and flinging poo. Rescue attempts were delayed when the would be rescuers found out they couldn't get anywhere near the park without paying most of a mortgage payment for parking.
Darien Lake – Early rumors point to Darien Lake getting a new roller coaster for the 2012 season. Don't get excited, though, it seems that the roller coaster is a small one rescued from Celebration City. In other news, 17 people were arrested after a Tim McGraw concert at Darien Lake. 5 for aggravated boredom, 7 for malicious sleeping, 3 for trying to change the channel, and 2 eighty-four-year-old ladies for throwing their underpants on stage.
Construction (California) Adventure – The Tron themed nighttime show has been extended to run through at least Spring 2012. Looks like Laserman gets to keep his cushy nighttime gig until Spring when he then has to go back to the mundane world of LANAP and Lasik treatments.
The Great Escape – It looks like Six Flags has put a For Sale sign up on the entrance.
General News – Cedar Point is the latest among a series of parks that have been victims of people counterfeiting tickets and selling them online. A word to the wise, never buy extreme discounted tickets from anyone other than a reputable establishment. Facts are that the best place to buy tickets are directly from the park, via the front gate or their website. As Theme Park Insiders and people who expect only the very best from our theme parks, we also understand that such quality and future expansions require money. Any discounts that you receive is only cutting into the bottom line of your favorite park and keeping them from the major expansion plans you have been hearing me rumor monger about. In fact, while you are happily paying full price for a ticket, tip them an extra $20 for use on the next big attraction.
American Dream Meadowlands (formerly Xanadu) – New Jersey just approved $200 million in government funds to resurrect this two year dormant eyesore of a project. This clears the way for the project to be restarted with plans for an indoor ski park, amusement park, and potentially a water park. Apparently Jersey Shore ran out of places to film fistfights at.
Navy Pier (Chicago) – There has been a proposal put forward to revamp Navy Pier into something other than a garish theme park. With a price tag of $200 million, one has to wonder if people are putting the right focus on the right thing. According to news sources, Navy Pier is Illinois' most popular tourist attraction, which is frankly pathetic in a state as big as Illinois. Why not invest that money into something else that would become a major tourist attraction instead of messing with the most popular one? Why not spend that money on an advertising campaign in order to get people to say the word Illinois correctly without the "s" on the end of it? Or what about financing a Spielberg movie about a fedora wearing archeologist named Illinois "Illy" Smith? One can hope that there will be thorough talks about this proposal and former Mayor Daley and his band of ninja city construction workers don't start demolition in the middle of the night before a plan is agreed upon.
Carowinds – Actual news article: "A car that was on fire when it entered Carowinds amusement park caused others to go up in flames shortly after 2:20 p.m. Wednesday, park officials said. In total, five cars were on fire at the park and three others were damaged by the heat, Flint Hill Fire Department Chief David Jennings said."………………amazingly, I have nothing to add to this……..well, maybe I do…….if you stop and think for a moment that they probably had to stop and pay the parking fee with the car on fire, and then get directed to a parking spot while the car was on fire, and then get out of the vehicle with parking lot security watching over them while the car was on fire…where was the breakdown here? Who was the moron who thought that it was ok to park a car near other vehicles that was already on fire? Who in their right mind would walk away from a car that was already on fire and leave the problem until later in order to enjoy a day at the amusement park? Fail! Fail! Fail! And shame on you all!
Minnesota – Taking a page from the book of the Son of Beast roller coaster, the Minnesota government is Standing But Not Operating. …but the Son of Beast has probably hurt fewer people….maybe the Minnesota government could use a retracking as well…
Steel Pier – For Sale…..yes, you would sell it to if it was associated with those Jersey Shore goofballs.
Transformers – If anyone has seen the new Transformers movie that just opened this last weekend, you can see that at least a portion of the movie takes place in downtown Chicago. An interesting story from last year about this time….they were filming the Transformers movie right outside of my wife's church on a Sunday that we happened to be visiting. The people in charge of the church had spoken with the production crew and had gotten them to put off filming while the church was in service from 10am until 11am. Since we all know that it is rare for people's watches to be on the precise correct time and the filming crew wasn't going to wait until people actually started leaving the church, the service was starting to wind down and the right after they said "let us pray" the church was filled by the sounds of a war going on in the street outside, machine guns, explosions, people screaming, cars crashing. Even though it was really funny, I still haven't forgiven Michael Bay for that terrible Pearl Harbor movie.
Create My Caption – In the discussion thread in post your best caption for the following picture taken at Disneyland's Indiana Jones Ride.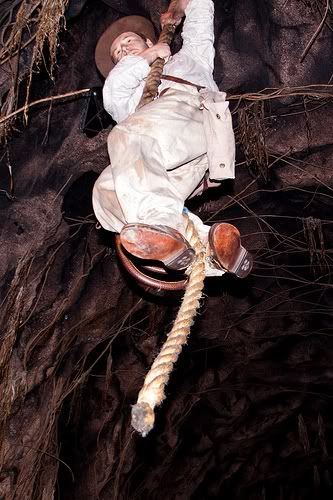 If I have missed anything (and I have, so no worries there) please post below. If you have some inside information, more news, more rumors, first rides, please share with the rest of us.
Sources: Screamscape, Amusement Today, and whatever else I happened to read this week...

Caption: "It is only a chihuahua? Okay, I'll come down..."
Caption: Muttering, "I never had to deal with rolling balls and snake pits when I was cruising the Death Star..."
Caption: "Hey, is that Ben Affleck? Wow, he's cute..."
((and if you haven't seen that video, do a YouTube search for Jimmi Kimmel & Ben Affleck.....but keep in mind that even with the bleeps it is pretty dirty but extremely funny....you have been warned))
I love these updates!! These belong on the front page of the site. On a related note, I miss the cast member stories on the front page.
That is completely up to Robert...
We actually had a discussion before I started writing these and Mr. Niles stated that the discussion boards somehow had more traffic on it, so it would be best to post here.....but it has been about 10 weeks and 10 updates since then....
.....I am pretty good about getting these done on the first working day of the week (usually Monday), but I was too late to catch the cutoff for the discussion board round-up this week....shame shame.....although it looks like Mr. Niles covered for me...
I miss the cast member stories as well....it was one of the first things that caught my eye on this site...
I have big news on the cast member stories front, which explains why I've not been adding new ones recently.
I'll announce it on the front page next week, but I'll leak it now for Jeff's readers: I've been spending the last several months putting together a 'cast members stories' book.
"Stories from a Theme Park Insider" is edited now and I'm putting the finishing design touches on it before it goes into all your favorite ebook stores. Look for the announcement and links where to buy next week on the front page.
Sold. :)
This discussion has been archived, and is not accepting additional responses.