Last Week At Your Amusement Park......October 10
A digest of amusement park news and rumors...and a couple of rants...with a sense of humor...
Knoebels - Black Diamond, Knoebels new inside and heavily themed roller coaster is now open. Now if we can only get Flying Turns open as well.
Canada's Wonderland - Leviathan has gone vertical and construction is moving forward at a breakneck pace. Since it is very dangerous to visit Canada during hockey season, the best we can do is drool over the following video until the violence ends after Lord Stanley's cup has been passed on.
Thorpe Park - The first piece of track for The Swarm has been dropped into place. Apparently the war is still coming....
Cedar Point - What is surely going to make every spine and neck twitch with joy, the Mean Streak is going to be closed for the rest of the season. Hopefully, Cedar Point is going to strike while the IRON is hot and get this HORSE fixed up right.
Dollywood - Construction is under way for Wild Eagle. Instead of doing the oddly jarring and ultimately unhelpful style of internet campaign similar to what Drayton is doing for The Swarm, Dollywood is coming right out and giving us what we want. Check it out:
SeaWorld - Since no one seems to care about the animals unless they are eating their trainers, the park has decided to install some roller coasters. Manta track is on site and vertical construction should start soon.
Kentucky Kingdom - The fair board is now looking for someone new to take over operations of the park. Seems like what they really want is some good patsy to blame the failure of the park on, especially if they are not planning on coughing up the cash to replace the rides Six Flags made off with in the dead of the night. I hope that Ed Hart buys up the plot of land across the street and builds a new park that buries the fair board under a mountain of debt.
Legoland Florida - By this time next week, the kingdom of plastic in Florida will be open for regular guests to enjoy plastic food, plastic people, plastic rides, and plastic fun.
Paramount Park (Spain) - While nothing is ever for certain until the shovels and paint brushes have finished their work and doors open to the public, it is looking more and more like this park is getting off the ground. Check out the preview video below...there are some really interesting rides proposed:
Alton Towers - In response to an uproar about unfair depictions of clowns and pulling a page out of Drayton Manor's playbook, Alton Towers is going to host a coulrophobics (this is not a dictionary, so go look it up) treatment day right before opening Scarefest. I gotta say, I think it would be really fun going to the park this Tuesday and participating in this if for no other reason than to make the problem worse in everyone standing near me.
Drayton Manor - Funday Fridays is back on. To purchase a ticket for £10 you just need to show up at the park wearing the correct color of clothing. Oct 14 is green, Oct 21 is white. You will also need to download the voucher from: Funday Friday Voucher and Contest
The Economy / Pixar / Apple - Coming as no surprise to economists in this downturned economy, Pixar and Apple have lost their Jobs.
Busch Gardens Williamsburg - Verbolten is starting to go vertical with an interesting piece of hardware. First thoughts are that this is designed to do a drop like 13 at Alton Towers, but to me it looks like it is not tall enough to do a full drop, so it almost likes like a bounce or tilt section. Check out BGWFans.com if you want the scoop firsthand, they seem to be at the forefront of discovery here.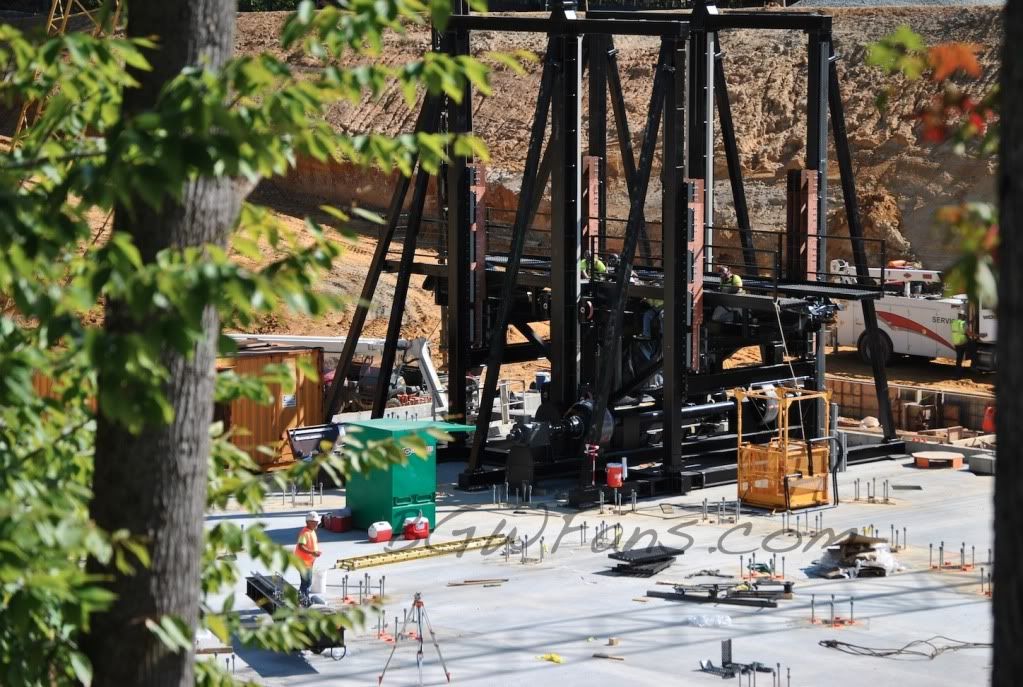 Walt Disney World Magic Kingdom - Board members of the Walt Disney Company became aware over the last week about Bob Iger's secret executive mansion and torture dungeon being built right behind where the current Fantasyland is at in the Magic Kingdom. One of the board members agreed to talk with us if we did not let anyone know that his name is Orin Smith. Mr Anonymous stated that they thought that the buildings were being put up for the expansion of Fantasyland and not Bob Iger's own personal fantasyland. "We didn't know what was going on until we started receiving invoices from chain, leather, and rubber toy manufacturers. We did the paperwork on Mr Iger as soon as we heard, but the guy has a golden parachute that would give him 85% of the company if we fired him, so the earliest we can get rid of him is 2015. Needless to say, the "Pleasure Mansion" is going to be rethemed to the Little Mermaid or Beauty and the Beast or something.....the Imagineers are currently working on it. I honestly thought that the picture Bob Iger showed us with the kid drinking a beer was merely showing that we were going to create some sort of Butterbeer drink, but I guess he was really trying to get kids drunk. I guess that is what we get for hiring someone who used to be a weatherman." Check out the video of the "pleasure mansion" construction:

Create My Caption - In the discussion thread below, post your best caption(s) for the following picture lovingly borrowed from Theme Park Review's trip to Keobels Theme Park last week where they are riding on the Pheonix after dark and this amazing park not only allowed them to take light swords and all manor of lighting items on the ride, but had workers stop what they were doing to have a look at how amazing it looked. Even Rick Knoebel got in on the fun and rode the coaster with the illuminated TPR crew.
If I have missed anything (and I have, so no worries there) please post below. If you have some inside information, more news, more rumors, first rides, please share with the rest of us.
Sources: Screamscape, Amusement Today, and whatever else I happened to read this week...
Got it posted (finally).....sorry about the wait....
From Tim W
Posted October 11, 2011 at 1:01 PM
Looks like the rumors for WDW are running rampant today. Sreamscape has announced that it is likely Test Track will be closed during Summer 2012 for an extensive refurbishment and redesign of the ride. They also released a news bit that Big Thunder Mountain will remain closed until the middle/end of May to possibly rebuild the whole track system. And if those two rumors weren't enough, Screamscape also posted that the Festival of the Lion King should be moving to a new theater in Africa to make room for the demolition of Camp Minnie Mickey. This means that Avatarland will be placed there. Could things get any better?
Yep I smell a makeover of Mean Streak too. The new Texas Giant was a success, so it's only natural that its old Dinn Corp brother would get a similar treatment. If that happens, people will be happy their wish to see the Mean Streak burn down didn't come true.
I might keep an eye on Kings Island too...as they also have a large pile of SBNO wood right now
Caption:
These lightsabers are very handy now that we don't have money to pay the electrical bill.
I am really sorry I didn't post this earlier.....I have to remember that videos are much better than just writing....coming from a writer, it is a painful thing to deal with.
BTW, they do swear a bit....they say the "sh" word, but they don't say the "f" word, "a" word, "m" word, "mf" word, "q" word, "y" word, "h" word, "z" word, "w" word, "k" word, "x" word, "g" word, "e" word, "zs" word, "j" word or "ds" word, so it shouldn't be that bad.....unless you are at work without headphones....
Enjoy!
Caption: Flashlights? We don't need no stinkin' flashlights! We have lightsabers!
Caption: "I think the Trekkies went this way!"
Jeff and Derek, I don't think Mean Streak is ever open during Halloweekends. While I would love to see it retracked, I'd be surprised if they did it this year. Nothing has been leaked that I have heard, and I was there this weekend and saw nothing going on around it at all, other than the sign that it was closed for the rest of the season. There were plenty of signs advertising the Dinosaurs attraction for next year, but nothing about Mean Streak.
This discussion has been archived, and is not accepting additional responses.