Last Week At Your Amusement Park......November 14
A digest of amusement park news and rumors...and a couple of rants...with a sense of humor...
Disneyland - Splash Mountain - As if being a rip-off of Knott's Berry Farm's log ride wasn't enough; as if being based on a movie about slavery wasn't enough; as if the ride wasn't a magnet for ladies to display the headlights for the ride picture; after the following promotional movie from the 80's surfaced on the TPI website, Disney officials have quietly shut down Splash Mountain in order to tear it down to be replaced by a churro stand.
Hersheypark - The crane is on site, looks like SkyRush is going to start going vertical this week.
Marineland - The killer whale that SeaWorld demanded back after killing their own was transported back to San Diego last Friday night by "a fleet of transport trucks, a crane, and more than a dozen Niagara Regional Police escorts cars." While I realize that the custody battle of the whale is the key part of this story, I can't help but wonder how a single whale would be transported by a "fleet of transport trucks"? Like maybe in tuna cans?
Universal Studios Hollywood - Transformers - The Transformers ride building is undergoing a new paint job. I can't help but being concerned about the karma of painting a building to make it look like it is on fire as often as the backlot burns down.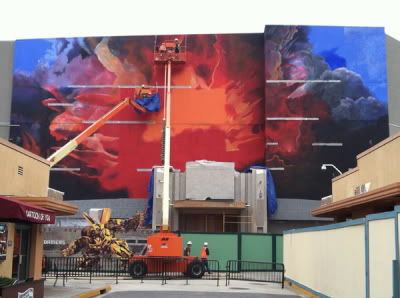 Happy Valley Wuhan (China) - The Gravity Group just finished with the structure on this new racing/dueling coaster. It is looking pretty good! Check out the video below of the coaster. What I find strange about this coaster is that they really don't race at all; the right coaster starts in the lead and stays in the lead the entire time. The high five element seems to be wasted with the staggered start.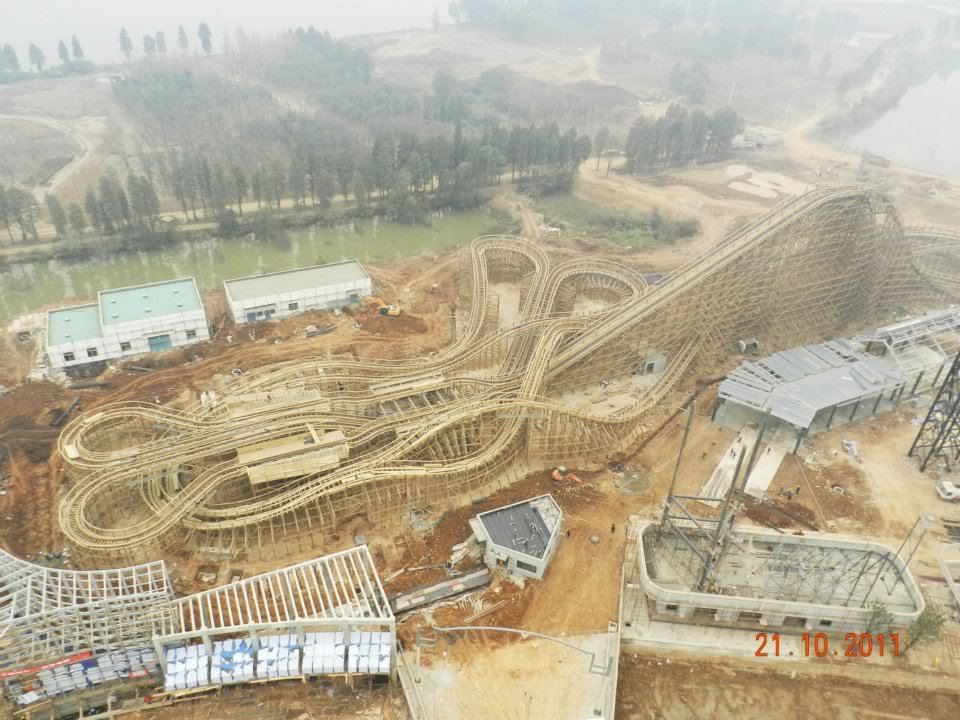 Hong Kong Disneyland - By this time next week, Toy Story Land will be open. The Disney and More website has posted a nice 2-part article with plenty of pictures showing off what it looks like: Click here for Part 1 and Part 2.
Six Flags Fiesta Texas - Larry Chickola, the chief engineer for Six Flags, allowed the Wall Street Journal to take a picture of his notebook in an interview with him talking mostly about the Iron Horse update to the Texas Giant. In the picture of the notebook, there is a sketch of a roller coaster coming off a cliff and attempts to reprofile the hill. While this only a sketch in a notebook, it looks like he is contemplating giving the Rattler an Iron Horse treatment, the second coaster on my list of rides that desperately need it, behind Son of Beast.
Tokyo DisneySea - Construction walls are up for DisneySea's version of Toy Story Mania.
Cedar Point - As a shout-out to my friend James Koehl, here is a video showing off the last week of operation at the Point, showing not only how irritating it is when someone can't figure out how to focus their camera, but also how slow and lame the rides are at the park.
Cedar Point // Slooooooooooow from Jimmy Wilderman on Vimeo.
The Walt Disney Company - If you want to know exactly where the company is right at this moment, check out this video with Bob Iger.
Disney World - The newest thrill ride at the Kingdom is going to be off the rails and on the track. The Disney World Speedway is acquiring two Ferraris, two Lamborghinis, a Porsche 911, and an Audi R8 for guests to take test drives around the track in. While this in itself could be very exciting, the choice of cars seems to be so utterly predictable as to have been chosen by a four-time impact tested toddler. If we really want to wow the heck out of people who will to pay up to $400 for 6 laps, let's get rid of the kiddie toys and go for some real power cars like the Aston Martin DBR9 Le Mans racer, the Ariel Atom V8 500, the McLaren MP4-12C, the Bugatti Veyron Super Sport, the Gumpert Apollo S, and the Ascari A10, just to name a few really cool cars. You can go to any car dealership and test drive any of the cars that they have selected, let's try to be a little exotic here and give customers something they don't see every day.

Create My Caption - In the discussion thread below, post your best caption(s) for the following picture: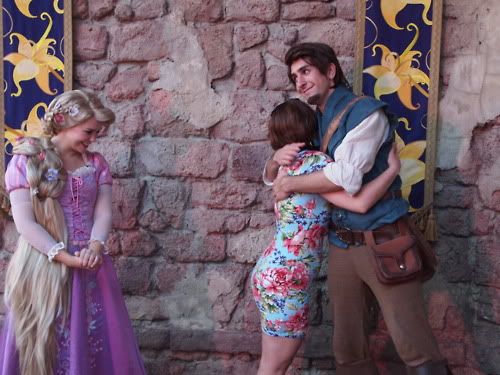 If I have missed anything (and I have, so no worries there) please post below. If you have some inside information, more news, more rumors, first rides, please share with the rest of us.

Sources: Screamscape, Amusement Today, and whatever else I happened to read this week...
Jeff, you forgot about next gen at Disney. It is so FUN AT WALT DISNEY WORLD! COME TO WALT DISNEY WORLD! WALT DISNEY WORLD IS THE GREATEST RESORT EVER!
If you don't get it, read the August 22nd edition of this series.
Caption: lol look at her butt rapunzel, churro stand lol mr jeff
Caption: No wonder it took so long for Disney to acquire Rapunzel...she seems a little...odd.
Caption: That's funny, I would have sworn that I saw you with an underwear line earlier...
From Tony Duda
Posted November 15, 2011 at 9:33 PM
Caption- "Hmmm? J-Lo, Kim or you? Hmmm?"
I wonder how many of the Slash Mountain ad dancers were in the Captain EO movie?

Don't worry, Rapunzel. I'm already behind her.
Caption: "Sorry Rapunzel, I love me some pigs in a blanket."
Caption: See the irony about how you climbed my tower and saved me, and now she comes here to see you dressed as a vine covered tower....makes me wonder what she wants you to take out of her tower....
From Tom Rigg
Posted November 16, 2011 at 2:48 PM
Caption: Oh. My. God. Rapunzel, look at her butt. It's so big! She looks like one of those rap guys girlfriends. But, you know, who understands those rap guys? They only talk to her cause she looks like a total "princess", 'kay? I mean, her butt, its just so big. I can't believe it's just so round, it's like, out there, I mean - gross! Look! She's just so ...DISNEY!
This discussion has been archived, and is not accepting additional responses.