Where Am I? A New Type of Trivia Challenge – Round 2
Everyone is welcome to play!

James feels really bad about posting all of the answers in the previous round, so the best strategy here is to click on my profile, then on "send a message", and privately send me your answers (if you privately send me your answers, I will post in the thread saying that I got them).

I have been having some issues with email lately, so if you want to post something, post that you sent me something, and your opinions of this round.

If we go through these too fast (again) I can publish more.....so take a try at all of them. Some of these are easy and some are really hard. I tried this week to up the difficulty level, so let me know how that went.

Note 1: There are no coordinate sets for an entire park, they are all for specific attractions or shops...and no, a children's museum is not a shop.

Note 2: Feel free to discuss your strategies on how to answer these questions in the talkback below.


Now on to the coordinates.......

Attractions
1) 29.54631°N 95.01731°W
2) 39.34131°N 84.26225°W
3) 43.61643°N 89.78771°W
4) 38.90431°N 104.97586°W
5) 36.13816°N 115.16624°W
6) 22.61449°N 114.29685°E
7) 41.48489°N 82.69312°W
8) 63.23162°N 22.85839°E
9) 40.87959°N 76.50670°W
10) 51.39648°N 5.98254°E
11) 51.65237°N 5.04570°E
12) 40.29077°N 76.65571°W
13) 55.26020°N 11.86467°E
14) 44.33670°N 12.26135°E
15) 49.03531°N 9.05186°E
16) 35.02981°N 136.73463°E
17) 40.38859°N 79.86356°W

Shops
18) 38.51520°N 90.67520°W
19) 35.10130°N 80.94119°W
20) 24.48442°N 54.60691°E
21) 49.13280°N 2.57053°E
22) 33.84217°N 117.99580°W
23) 38.55997°N 0.16431°W
24) 39.74885°N 105.01329°W
25) 41.89133°N 87.60957°W






With Google Maps, don't be fooled by the red marked spot with the letter, look for the green arrow that is sometimes off the screen....the green arrow is marking the correct spot, not the red lettered spot.

For an example - Last Week #25. 28.373277°N 81.547663°W
At least for my computer, if you put the coordinates into Google Maps, the letter spot marks something in the middle of Italy in Epcot. If you zoom out a bit, then you see the green arrow marking the entrance of Test Track.

Is anyone else doing it differently?

The one in the middle of the parking lot is correct. Although Google did me a favor on that one and made it nice and blurry...if you don't know what it is, a video of the park may be your best bet...

And in the shops, there is one that we will argue about, but I am right....and another shop that I do believe is impossible, so get as close as you can....older or scanned maps or pictures might be the key on that one.....since the park's website is worthless.....I know what is there, but that doesn't make it decipherable by anyone else....it was kind of snotty to pick what I did, and of course it comes back and bites me....

For one of the coordinates this week....here is the comparison:

Google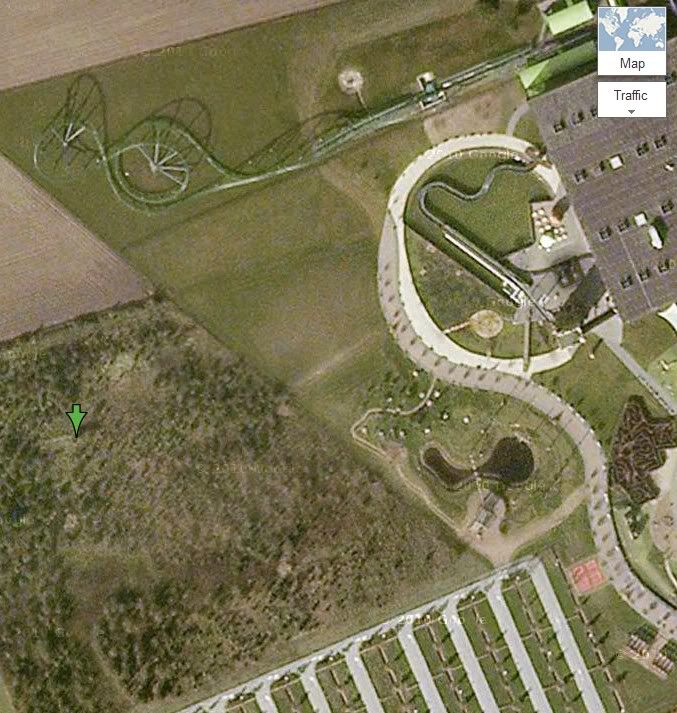 Bing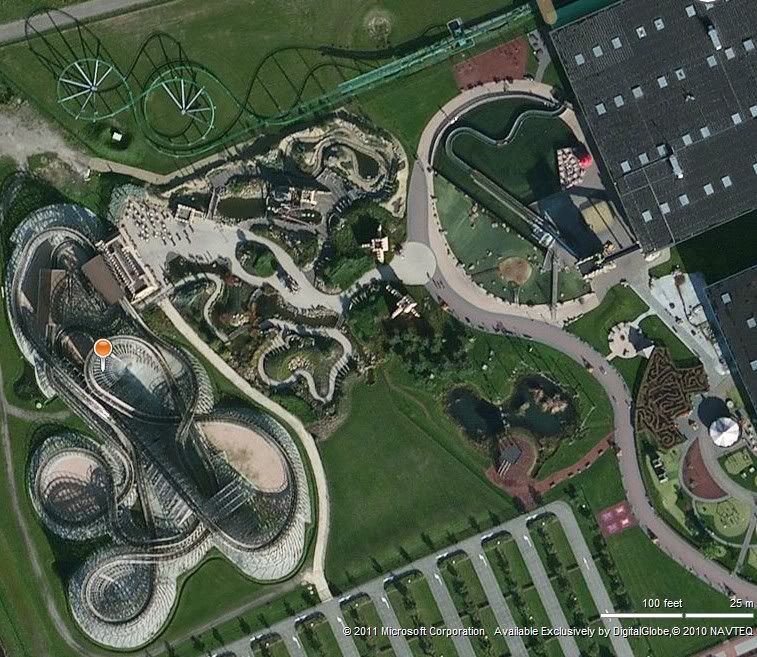 .....this is also a good once-in-a-lifetime opportunity to talk trash about me since I won't be around to defend myself.....
I think that plan is to publish 10-20 more on this thread tomorrow to help get people through the downtime this weekend.....the new ones will be in the easy to moderate category....and only take place at officially sanctioned "theme parks"...basically ones that we should all be able to guess at without too many problems....I'll attempt to score David and James tomorrow....maybe dole out some hints....
Jim Koehl - 17 correct (missed 4,5,12,15,16,20,21,25)
David L - 17 correct - 1/2 credit on #2 (you knew what you were talking about but didn't correctly name the attraction). Missed (4,5,6,15,21 and didn't guess on 24 & 25)
I know one person is still working on these, he was planning on posting today....so the answers will be posted on Thursday.