From the Trenches of Amusement……April 16, 2012
We bring the snark to recent happenings at your amusement park.

I don't know if you realized this, but Robert's vote of the week about whether or not you are a Disney fan or a theme park fan was Robert's subtle way of trying to figure out if he needs to fire me or not. After the stunning three way tie (or close to it) on the vote, it looks like I get to stick around for a little bit longer. Thanks for all of my supporters! I will now attempt to write an article that doesn't suck.

Note: Keep in mind that this is a humor article, if you want dry news, do the research and figure it out on your own…..we aim to amuse here…..if you have questions about what part is news and what part is humor, please feel free to ask in the talkback below……I may or may not answer…..but some of the other readers may set you straight…..

........................................................................................................

SeaWorld Florida – With only a week and a half left to go before Turtle Trek opens, SeaWorld has gotten themselves in trouble with local conservationists in their efforts to catch enough turtles to stock their aquariums. According to sources, a raiding party was even sent to Disney World to try and abduct Crush. According to those same sources, the members from the raiding party were last seen at various Orlando area convenience stores attempting to buy "munchies" after no doubt getting a contact buzz from getting too close to Crush and the "herbal supplements" that make him talk so weird and say "dude" every third word.

Six Flags Great America – I know that the name X-Flight had been recycled but I had no idea how bad it was really getting at Six Flags. Watch this Video and then answer the question below.

We know the name was recycled, but was the entire ride recycled? Watch it again and let me know if that ride and layout look familiar……I am not going to give away the answer here, but it would seem that some park a short swim away from France got the first one of this style and model opened first, and with a heck of a lot more fanfare. Not that Chicago could get away with a claim that the roller coaster rips limbs off. Color me very very disappointed, but at least I will get to ride the coaster without having to buy a plane ticket across the pond…..not that X-Flight will be themed anywhere near as well.

Universal Studios Hollywood – Early rumors are saying that Despicable Me will be ported to the California Universal park, no idea at the moment where it will go, although some theories are saying that it will replace T2-3D, which doesn't make a whole lot of sense in my book as Despicable Me's footprint is much smaller. We are also hearing that in addition to the Gibson Amphitheater coming down to make way for Potter, WaterWorld is also on the slate to be removed. If you look at the park map, you can now get a sense of where the boy wizard is going in.

Las Vegas – Speed: The Ride is currently being taken apart. Current rumor is that it is going to be recycled into the buffet at Circus Circus……as food…..

Six Flags Great Adventure – Batman & Robin Chiller – this coaster has been sitting in a field since 2007, but has just received a new lease on life. Apparently it has been sold and is being loaded up for transport to its new home. Hopefully my bid of $25 plus a lifetime subscription to this article was the winning bid……they could be dropping off the pieces into my backyard as we speak.

Stephen King – According to an interview with Stephen King by Neil Gaiman, the Master of Horror is currently working on a book called Joyland, a book about an "amusement park serial killer". Joyland must be one of the Six Flags parks and the killer must be a ride op……no weapons or sneaking around necessary….

Europa Park – Since the park finally put up a ride that was not designed and built by Mack, we should probably show how good it is in order to remind people that this is a pretty good park and not just a showroom.

PotterMore – The website is now open to all people. Although it looks like the server is getting the crap kicked out of it. Or maybe it just doesn't like my version of Internet Explorer…..Presto! A little Firefox action got me in……and $250 in an unmarked envelope under the stall door…..

.....................................................................................................

As always, the real information in From the Trenches of Amusement is brought to you by the letters "A T" and "S" (Amusement Today and Screamscape)

Create My Caption - In the discussion thread below, post your best caption(s) for the following picture lovingly borrowed from "F*** Yeah Face Characters"……don't ask how I found my way to that site……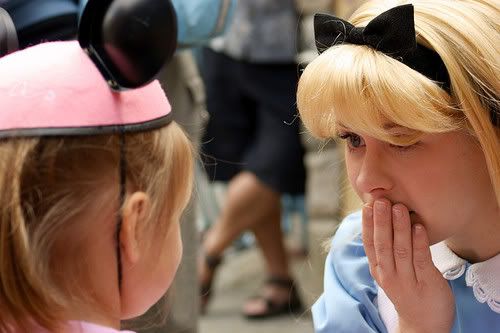 If you know of anything I missed…..first rides, interesting trips, bad breakups, or fresh smelling rumors, please post below and let us know.





Comments in chronological order. Most recent at the bottom. Scroll down to respond.


Caption: "Your brother did what to the cat?"

Caption: "Your parents sold your brother to the circus to afford this trip?"

Caption: "I....see.....creepy.....people...."

Caption: "That guy in the black shorts and sandals has been following you all day."

Caption: "Yes, your breath stinks."

Caption:

Little Girl: I have something to tell you.

Alice: Go ahead!

Little Girl: I touched your butt!

Dom, that may be the worst caption ever submitted in Jeff's contest. Sorry, but it had to be said :)

It was The Swarm. Too easy.


What on earth Field has Chiller been sitting in? I've checked most of the images for that area over and over again looking for it (and the mystery of the second X track) for a few years now and haven't spotted it yet. Then again, they own a TON of land out there :/

The original post was a woman's chest, but I'm trying to be family friendly here :)

@ Carrie

Drop the following coordinates into Google Maps and it will show the field they have been sitting in.....in fact you can see the tracks and the insignia on the satellite image.

N 40.10012 W 74.49257

Little girl – "I waited my whole life to see you and I got so excited I just shotted…"


Caption: "Come, we've been expecting you."

@Jeff

Damn I never looked that far out, I've been wondering where that stuck that thing for a good year or two now. Crap, Now I'll be searching the rest of the Barrens for years on the hunt of the mystery of the "X" second track!

Yeah, I don't know if it's real either but that's half the fun!

This discussion has been archived, and is not accepting additional responses.

Plan Your Vacation with Theme Park Insider!