At Universal Orlando, Mythos' chef creates anniversary memories
Anniversaries are special events. For two Orlando residents that are theme park enthusiasts, they can become even more special because of the vast number of parks and restaurants available to host a celebration.
Each year we try to do something different to celebrate special event days and holidays. Even with the wide selection of choices, every once in a while I try to create something extra special. Here is the story of one very special day.
I thought it would be really cool if a well-known chef would create a special menu for our anniversary. One of our favorite restaurants in a theme park (or in general for that matter) is Mythos at Universal Studio's Islands of Adventure. We have been dining at Mythos since spring of 2000 and have always been a fan of Chef Mark Wachowiak. He is an artist at layering flavors and a master at creating high-end dishes at the most reasonable prices.
I contacted guest services at Universal and explained I wanted to create a special experience for my wife for our 13th wedding anniversary. I wanted to see if Chef Mark was willing to create a special menu for an anniversary lunch to remember. The person said they would pass the information on to Chef Mark and I honestly didn't expect to hear back from him due to the increased traffic generated from the opening of the Wizarding World of Harry Potter. I was about to be surprised!
Three days later I received a phone call from Mark telling me he would be honored to create a menu for our special day. After a leisurely "get to know you" conversation, Mark asked what are likes and dislikes were. I told him my wife loved lobster and the meal had to end with the classic Warm Chocolate Banana Gooey Cake! He could get as creative as he wanted.
Here is our Anniversary Menu!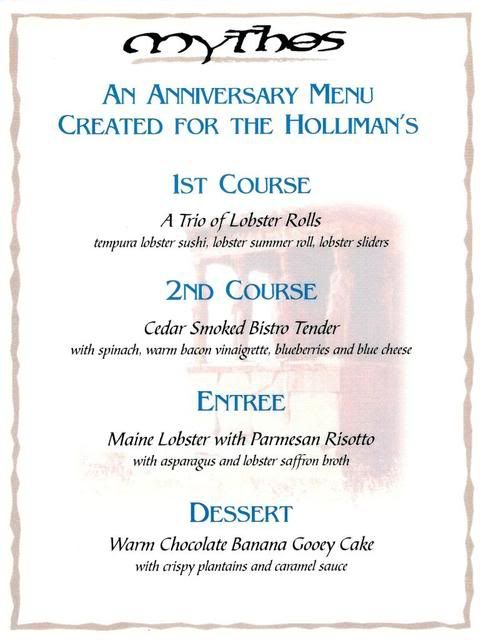 The first course was A Trio of Lobster Rolls. The dish consisted of tempura lobster sushi, lobster summer roll, and lobster sliders. You can tell by the photo this dish excited us because we had already eaten two pieces before I could take a photo!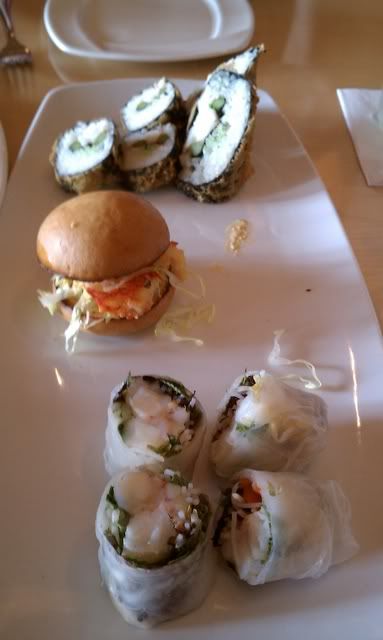 The tempura lobster sushi is already on the daily menu using shrimp instead of lobster for the protein. I am a sushi purist that does not usually like my sushi cooked, however, this is the one exception. The breading and seaweed form a delicious outer shell covering perfectly cooked sticky rice and chunks of roasted lobster. The pieces were warm but not overly warm. I enjoyed dipping them in the sesame sauce accompanying the dish. The sauce was light and finished with a hint of spearmint.
The lobster summer roll was a Vietnamese style roll with a rice wrap that held portions of roasted lobster meat, rice noodles, some chopped lettuce, a hint of cilantro. They were very refreshing and light.
The lobster sliders were a show stopper! Simple, yet superb! If these were offered on the regular menu I could easily order them every time we visited. You can get the burger version when you visit Mythos, but they have ruined me with these! These delights featured large pieces of lobster on petite buns with just a little shredded lettuce and a light Dijon dressing.
The Trio of Lobster Rolls was an impressive start to our anniversary lunch! Bring on round two!
The second course was Cedar Smoked Bistro Tender served on spinach with blueberries, petite tomatoes, blue cheese (feta for my wife) and a warm bacon vinaigrette. The beef was melt in your mouth tender. Chef Mark smoked the steak for two hours to create one of the finest pieces of beef I have ever experienced. The blueberries and bleu cheese complimented each other. It was another hit that was big in flavor. Complex, yet very light. Now for the main event...
Our luncheon entrée was Maine Lobster and Parmesan Risotto with asparagus and lobster saffron broth. The lobster was removed from the shell and incorporated in the risotto. The claws were also removed from the shell for easy eating.
The saffron broth was bursting with flavor! I have always loved using saffron whenever possible when I cooked and I was very pleased to see it added to the broth. The broth itself was very light, but when it was soaked into the risotto it resulted in rich, creamy goodness! Did my wife Allison like the dish? Does this look like a happy camper?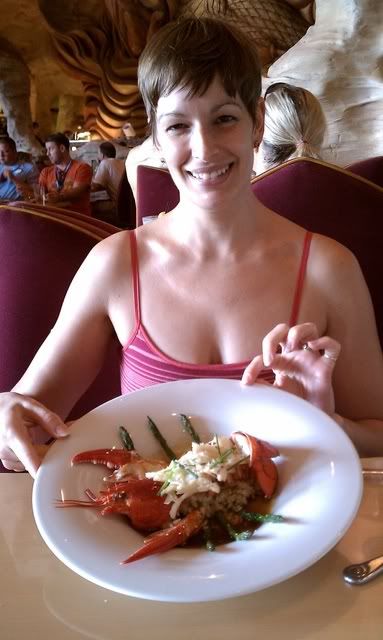 In our humble opinions there is only one way to end a great meal at Mythos and that is with the finest dessert either of us have ever tasted!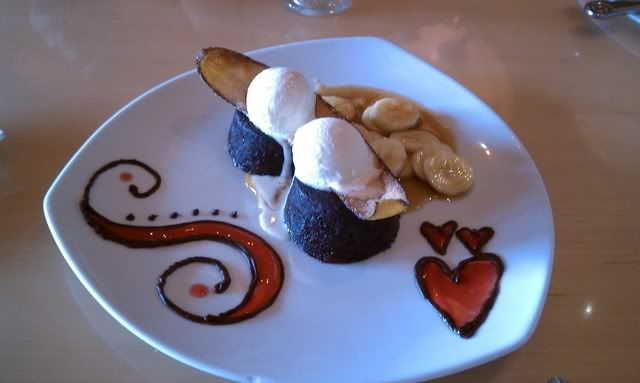 Warm Chocolate Banana Gooey Cake. Say it again, slowly. Now look at the picture and say it one more time. Can you taste it?
There are a few dessert items on the menu besides our favorite. I cannot name a single one. It doesn't matter. I will never try them.
I have eaten many desserts in my life. My wife is a dessert wizard and she makes my second and third favorites, but this… it is just… well, if you have eaten it you know what I mean, and if you haven't, there is nothing I can say to do it justice.
The centerpiece to the dessert is a warm, dark chocolate cake with a very moist (gooey) center. It is beyond rich. It is Trump rich! It is accented with crispy plantains, a scoop of homemade peanut butter ice cream, and banana slices swimming in caramel sauce.
Once should never visit Mythos without having this dessert. It's just not right. It is, however, acceptable to just go in for dessert. The staff at Mythos is happy to have you!
I could not imagine a more special lunch to have with my best friend on our lucky 13th wedding anniversary. Chef Mark went out of his way to make our day special, including personally presenting each course to us. It was VIP treatment we have never experienced before.
Now what to do for our 14th?
Replies (6)
This article has been archived and is no longer accepting comments.