Halloween Update: Busch Gardens' Howl-O-Scream Freaky Preview Review
Saturday night we went to Howl-O-Scream's 'Freaky Preview' night at
Busch Gardens Tampa
. It was quite an enjoyable evening, but I didn't remember how much walking there was between different areas inside of the park. That said, we didn't make it to every house but for the ones we did make it to here are my initial thoughts:
My X: Revenge Rocks - In this house you go backstage at a My X concert and you pretty much feel like you are in a backstage area. I got to preview the first half on Thursday last week with the ScreamCam attached. Here is the video:
I could hardly see anything that day as it had been a bright Florida afternoon and my eyes were not yet adjusted to the dark. Now that I've seen the house again I noticed some more details that I had seen only on the video previously. Overall the house was not as scary as it was hyped to be. It did have a few great jump spots but those are overshadowed by how few of them there were.
Delta Epsilon Delta: Extreme Rush (D.E.D.er) - This is one messed-up sorority house. Let's just say I would not want anything to do with any of these crazy sisters. As you walk in to the sorority house you can hear Sylvie of My X singing a song especially written for the D.E.D. sisters. This house to me was a bit disappointing, and there wasn't any jump spots that caught me by surprise. Most of the time I could tell exactly where they would try to get me.
Trapped in the Walls: Ghostchasers - This house was a bit better than the first two. This house is set up as a paranormal research team attempting to reveal the houses history and what is trapped in its walls. Walking through the house is almost as if you are walking inside of the walls, with electrical wiring and insulation everywhere. The house made for a few good scares.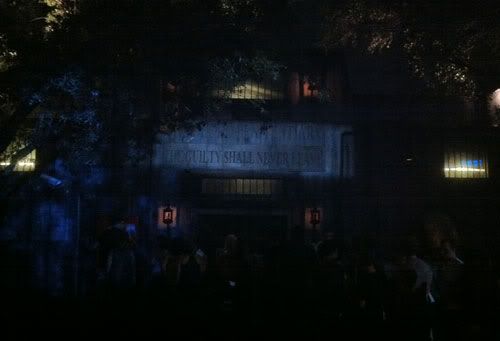 Death Row Vengeance: No Escape - This one had me quite interested from the minute I saw the well done facade of the building. It is set up as a penitentiary where inmates are slated for execution. Pay attention to the writings on the doors - one of them really had me worried. One of the doors read "Childcare". Why in the world would you have a childcare inside of a penitentiary with its inhabitants being on death row? This was one of the better done houses at Howl-O-Scream and had some really nicely done scares inside.
Deconstruction: The Doctor is Out of Control - Crazy Dr. Edger VonAngst is a reconstructive surgeon that has gone insane and is putting human parts back together with mechanical pieces. It's quite the interesting house. Deconstruction has a really well done disorienting effect towards the end of that makes for some really well-done scares. They definitely got me a couple of times in this place.
Nightshade Toy Factory: Son of Nightshade - This by-day abandoned-looking Toy Factory looks a whole lot less abandoned than you think by night. Of the normal haunted houses that are included with the admission, this is definitely my personal favorite. It's a really fun house to go through that has quite a few great scares including the biggest scare of the night for me.
I do have to mention that I saw a few scare actors inside of the houses with the most pathetic looking wound make-up I had ever seen. The wounds were actually coming off and you could tell they were those same ready made wounds that you can purchase for Halloween. I would have expected the make-up artists to be making their own wounds, as they are not as hard to create as they appear to be.
Overall the detail of the houses was OK. It's definitely not as detailed as the rival event at Universal Orlando, but it made do and worked for the event. Something that did bug me is that in every single house you will see references to this years theme band, My X, even when it seemed to be completely out of context. Too much self branding in the houses for my taste.
As for the scarezones, I do have to say that I really only like one of them: 'Spiders and Snakes'. The advantage this scarezone has over the others is its dark location near the Garden Theater. It had one scare technique I thought was just awesome and I hadn't seen used in that manner before. The other scarezones just were not really as good. Most of those were plagued by too bright of lights or scareactors being too obvious.
We managed to catch a song of Sylvie performing live with her band My X.

We also managed to catch the show 'Blood Relations'. 'Blood Relations' is Howl-O-Screams humor show making fun of events that happened over the last year in a musical way. It's a fun show to see and I recommend doing the Fright Feats which includes a dinner buffet, the 'Blood Relations' show, early access to houses, and front of line house access until 8:30 for only $24.95.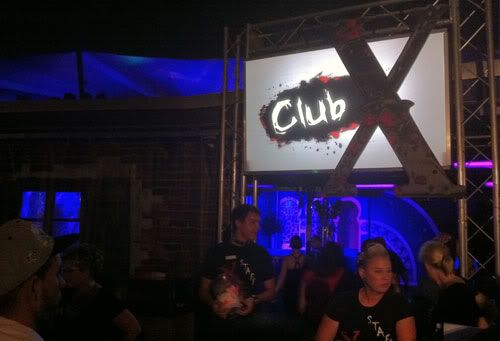 Howl-O-Scream also features an exclusive 21+ dance club including appearances by Howl-O-Screams celebrities like Sylvie.
Unfortunately we did not get to see 'Taste of Blood' or the raved about 'Alone' house. All I am hearing is good about Alone. Hearing many people say it is the best haunted house ever done. We will be back Friday night to see those houses and bring back a full report of 'Alone.'
Replies (2)
This article has been archived and is no longer accepting comments.