Star Tours 3D debuts at Walt Disney World's Hollywood Studios
Tonight I got to join other press at the media sneak peak at the
newly revamped Star Tours 3D attraction
. The night started off by Disney reps escorting us through the backstage area of Hollywood Studios to the entrance right next to the Star Tours compound. We were greeted cast members with drinks and then got to walk through a fog screen on the red carpet joined by Star Wars characters with cast members piled on each side cheering us on (I gotta admit, that was a pretty cool touch on Disney's part).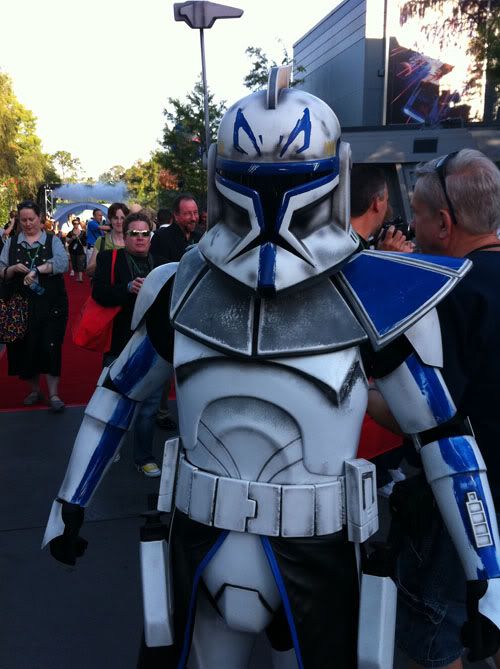 Once inside we were greeted lots of delicious food, drinks, and some pretty cool displays including Star Wars models and Ice Bars with the "Star Tours" logo engraved in them.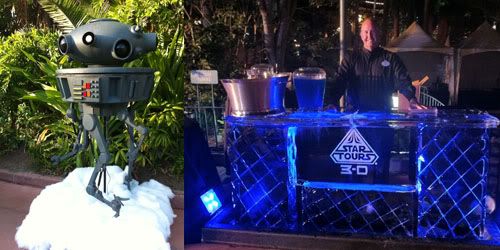 In addition to the Disney-catered food and drink items, cake designer Carter Holton from the "Food Network Challenge" created a Star Tours inspired cake (which FYI was delicious!).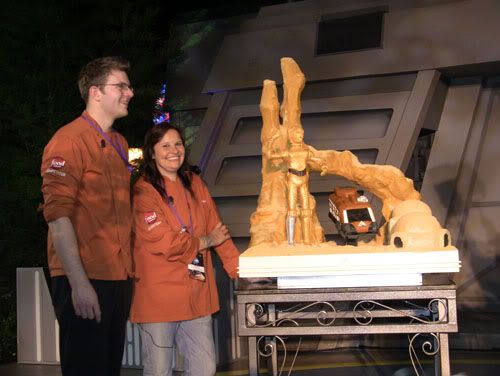 After a little bit of mingling with other media at the dinner table it was time to take on what the event was all about, the newly revamped Star Tours 3D. Walking up to the attraction you get greeted by the new Star Tours mural, but pretty much everything just got touched up on the outside. Once you first enter the building is when you have that moment of "wow" they did an amazing job. The entire queue line is pretty much an airport-like scenario. In the first room you get greeted by that oh-so common voice you hear in the airport all the time... with the exception that we are talking intergalactic travel, not international or domestic. You will also encounter a couple of very familiar faces, or, well, droids.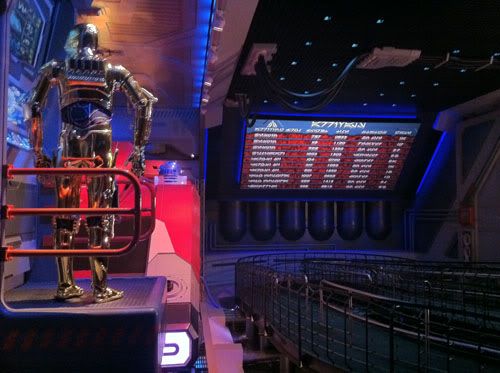 C-3PO and R2-D2 are doing systems checks on the new Star Speeder 1000, prepping it for flight and a large HD Screen is informing you of all the destinations you can experience with Star Tours. In the second room we encounter the DSA, Droid Security Agency, and all luggage and passengers will get screened prior to flight. Take note that as you walk past the droid that is scanning you, that on the screen that is in fact a live picture of you being scanned. Listen for some nifty comments that are very much directed at you and leave you feeling like someone is watching.
Next up is the boarding station, here you will be sent to your Gate and will pick up your "protective" 3D glasses. The glasses are newly designed and look more like sunglasses than the traditional 3D glasses we are used to seeing at theme park attractions. I do have to say this is the best experience I've had with 3D glasses as their design allows for me to easily wear my glasses underneath without jeopardizing a good quality 3D experience. Now that we are waiting in line you will hear the usual safety instructions told in a comic, light-hearted manner and will get introduced to the captain. Finally everything is ready and we are set to board. The cabin itself hasn't' changed much but definitely has gotten a few touch ups. On our flight we were joined by some special guests.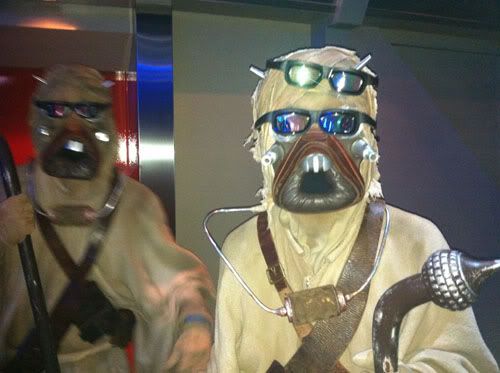 Once inside and after all the safety procedures have been completed, Star Tours Flight #1401 is ready to go, except due to a few mishaps, C-3PO is in the pilot's seat. This is where the adventure begins as C-3PO and R2-D2 navigate us through the galaxy while the Imperial forces try to obtain the rebel spy aboard your Starspeeder 1000 (I was chosen as the spy once tonight, but shhhh don't tell anyone). On the ride you have a chance to encounter many famous Star Wars characters which depending on the story you experience can include Darth Vader, Boba Fett, Yoda, Sebulba, Admiral Ackbar, Chewbacca, Jar Jar Binks, and/or Princess Leia. On your trip you have a chance to visit (again depending on your experience) Kashyyyk, Hoth, Naboo, Coruscant, Tatooine, and/or The Death Star above the planet Geonosis.
*Disclaimer* this video is actual ride footage and does reveal bits and pieces in no particular order, but nothing that would give away the story.
The ride is made up of 4 segments which together can give you a total of 54 different possible combinations meaning you'll have to ride at least 54 times to get every possible combo. The ride has been designed in such a way that makes it easy for Disney to add more destinations and possibilities to the ride sequence in the future. Overall the ride is a not a jerky and bumpy as it used to be, the 3D on the large screen is crisp, the story's are great, and that all together just makes for a great revamped attraction. I loved every bit of the ride and enjoyed riding it multiple times to get different stories and outcomes. Star Tours 3D definitely will be worth visiting multiple times, over and over again.
Of course it wouldn't be Disney if the night didn't end with fireworks themed to fit the occasion.
(I apologize in advance for the shaky camera and not that great vantage point, I had just got off the ride again and had no idea this was about to take place.)
On Friday, May 20th, at 10:15 a.m., Disney will officially open the new Star Tours 3D attraction. I'll be there and will have a video up of the opening ceremony later in the day. For those of you that can be at a computer at 10:15 a.m. EST, you can watch the ceremony live on the Star Tours Facebook page.
Update: Here is the complete opening ceremony, in two parts:
And here is a shorter version, with just the highlights, from Disney:
Replies (7)
This article has been archived and is no longer accepting comments.