Review of Busch Gardens Tampa's Howl-O-Scream 2011
The 2011 Howl-O-Scream debuted this weekend at
Busch Gardens Tampa
. From the minute you walk up to the ticket booth and front gate area zombies begin their attack preying on unsuspecting guests. The theme for this year's Howl-O-Scream is the
Dark Side of the Gardens
.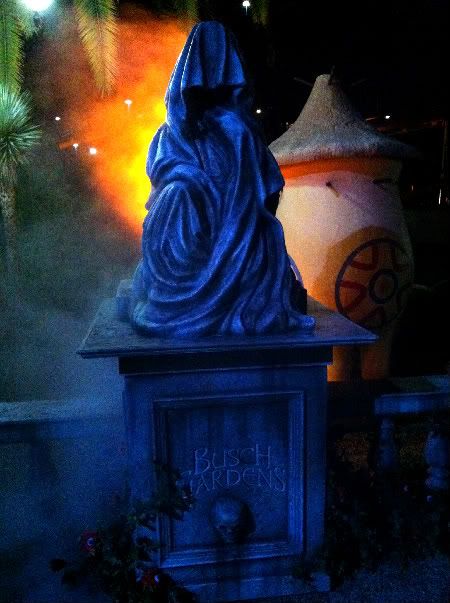 The entire park is one gigantic scare zone themed around the Dark Side of the Gardens; no place is safe from the zombies that have invaded. There are hundreds of zombiefied scare actors roaming the streets dressed up as regular park employees, clowns, cheerleaders, biker gangs, etc.. You don't know whom you can trust and whom you can't.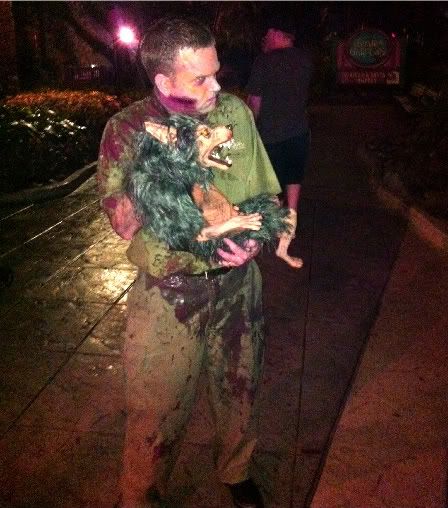 This year there were three new houses so I visited those first. Just like with my Universal Halloween Horror Nights review, this year I will give each house two ratings. The first will be for detail and eye-candy of the house design and costumes. The second will be for how scary the house is on the scare-meter.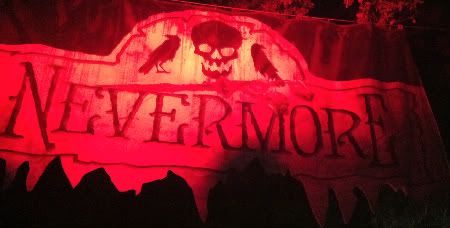 First I went through Nevermore. This house, like the one of the same name at Universal, is based on Edgar Allen Poe's greatest works. Waiting in line you'll hear Poe's works recited all the way until he personally greets you from a tower high above.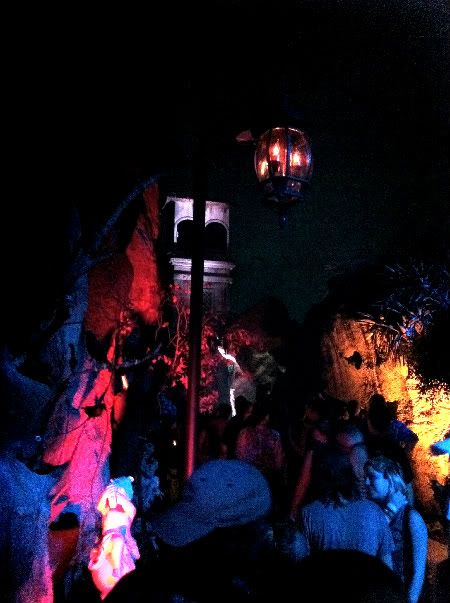 Walking into the house feels the same as last year, as you have to make your way past a bunch of statues. Throughout the house you'll encounter ravens, cats, and even Poe himself. From room to room there are representations of the stories of Poe. The house utilizes quite a few effects including some really disorienting strobes. The house definitely has a lot of good corners and spots for scares. Overall the house feels too much like last year's DED house still even though a lot of it was re-themed for Poe's stories. I'd give this house a 2.5 for detail and a 4 out of 5 on the scare-meter.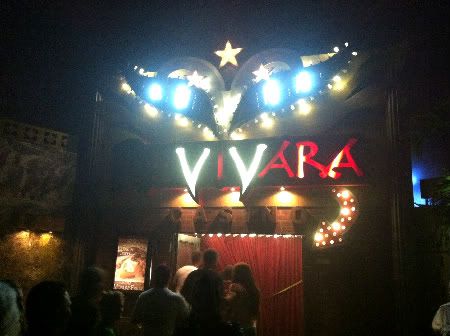 Next I visited the Ultimate Gamble: Vampire Casino house. When you get up to the house the first thing you will notice is the grand casino façade and you get invited in for a visit. Inside the Vampire Casino you first walk through the floor area where a bunch of obvious mannequins are sitting at the slots gambling. I was kind of disappointed that there weren't any scare actors sitting on the chairs to blend in with the mannequins for a good scare. On the other side of the room with the slots is the bar, which would work well as a distraction but didn't get used in that way. Next you walk through a series of broken mirrors, which kind of reminded me of Bloody Mary. They do use a few clever mirror tricks in here. The remainder of the house you walk through the kitchen then move into a room filled with catering items. The catering room does offer several great scare opportunities that I was not expecting. In the end the house abruptly ends. This is a very well themed house with a few good scare spots. I'd give this house a 4 out of 5 for detail and a 3 out of 5 on the scare-meter.
Next up is the Zombie Mortuary. This house plays around a funeral home and cemetery. First walking into the house you walk into the small funeral home where the dead have come back to life. Inside you walk through a little chapel, a casket storage area, and finally end up walking six feet under ground. The walking dead come out of all sorts of hidden corners. You never know where they'll try to get to you next. This house is the perfect place for a great scare. The theme works perfectly for the re-used sections of the house from previous years. Overall this is a solid house and definitely the best at Howl-O-Scream this year. I'd give this house a 4 out of 5 for detail and a 5 out of 5 on the scare-meter.
After visiting the new houses I went through and revisited the houses that returned from last year's event. First I went through Deconstruction: The Doctor is Out of Control again. The house is the exact same as last year but it does have a few more scare actors in the first room. Next I went through Death Row Vengeance: Fear the Dead which as well is the exact same as last year. And the final house of the night was Nightshade Toy Factory. It also is the same as last year with one small change in the baby doll room. Instead of having the baby's on the wall sprinkle water on you there now is an actor with a baby in her hand and having that baby pee on you.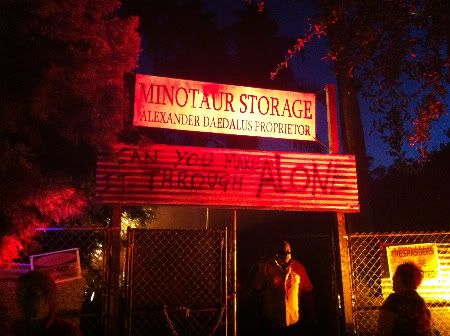 Also coming back is the upcharge, exclusive house, Alone that I reviewed last year.
Have a look at the inside of some of these houses:
Howl-O-Scream this year also has two terrific shows. Midnight Hour is a musical comedy that changes around some of the lyrics to some of todays top songs while making fun of today's pop culture. The entire show is based around a game show that has four judges, President Obama, Sarah Palin, Charlie Sheen, and Snooki. But one show making fun of todays pop culture is not enough, Howl-O-Scream also offers the hilarious Fiends. Dr. Freakenstein, his sidekick Igor, and his naughty nurses take over the stage in this funny, and exciting show. Both shows are solid shows and you should definitely make room to see them both.
Here are a few excerpts:
Also throughout the night you can ride the new Cheetah Hunt, Gwazi, Montu, Sand Serpent, Scorpion, and SheiKra.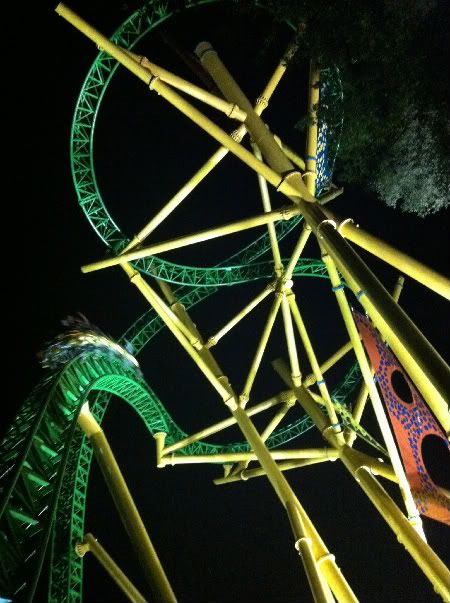 Howl-O-Scream runs Thursday through Saturday nights, Sept. 29-Oct. 1, 6-8, 13-15, 20-22 and 27-29. Operating hours are 7:30 p.m. to 1 a.m. on Thursday nights. Friday and Saturday hours are 7:30 p.m. to 2 a.m. For more information visit TheDarkSideOfTheGardens.com.
Replies (4)
This article has been archived and is no longer accepting comments.