Disney's Horticulture plants the holidays
Now, fall and winter might seem like a strange time to bring up gardening. But if you'll notice, this time of year, between Halloween and Christmas, the parks go under the most dramatic changes. Not just with decorations, but over the course of several nights, flower beds and gardens will change from fall colors to a palette of red and white, featuring hundreds of thousands in-house-grown poinsettias. Right now, Disney parks across the globe are working in the biggest landscaping transition of the year, preparing for the winter.
Disney parks are like botanical gardens. It's pretty obvious when you notice the lush landscaping that permeates in all the lands. Most commonly noted is the famous Disney topiaries and parterres (a parterre is a bed of flowers that make a pattern or shape, like the Mickey heads in front of every Main Street train Sstation). The expertise of Disney landscaping is a long and proud tradition started by Bill Evans who landscaped Disneyland on a shoestring budget for it's opening day.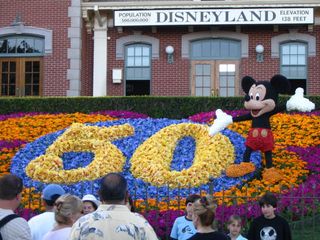 Disney parks have a diverse landscape of themes, which demands a wide theme of landscaping. The Magic Kingdom and Disneyland alone have drastically different sections, from frontier to lush tropical jungles to quaint European village. Disneyland's Fantasyland features some of the most unique landscaping, from the long term hard to do topiaries outside of it's a small world to the bonsai style landscapes of Storybook Land. Magic Kingdom's Frontierland features tumbleweed desert landscapes, which are a challenge with Florida's rainfall that will easily kill such plants. Disneyland's Tomorrowland's landscaping looks to the future with function and style as all plants there feature edible parts. One of my favorite things is the Liberty Tree in Liberty Square at the Magic Kingdom. As a Texan, I have a love for great oak trees, and this tree is a crowning jewel. It is actually two trees grafted together, and while it looks nodded and natural, the tree was trained to it's beautiful shape. The tree is also the oldest thing in the park, estimated to be well over 150 years old.
Walt Disney World uses massive amounts of plants. Disney World has a vast system of green houses and experimental gardens hidden on property. Disneyland too has it's own greenhouses. What's more unique is Disneyland and Walt Disney World share plants. They ship plants back and forth, not wanting to waste perfect specimens. Disney World's horticulturist produce 10,000 hanging flower baskets a year, each with 10 or more in house grown plants. So imagine the number of plants they have to grow for the flower beds! Do you know how many seeds Disney buys a year? The answer is zero. Disney buys clippings of genetically ideal plants and grows those to form their plants. So next time you look at the American Rose garden in front of Cinderella Castle, remember those roses are genetically identical, sharing the exact same DNA.
Epcot is an exceptionally challenging park to landscape. Future World has it's own style with flowing beds and massive peterres. Living with the land features futuristic greenhouses where real research on growing techniques like aeropondics and hydroponics. To make it all the more amazing, all the produce grown is featured in the restaurants in the Land Pavilion, a theme park one of a kind experience. As cool as that is, World Showcase is a beast of it's own kind. From Asian bamboo rainforest, Norwegian sod roofs, to English tea gardens to French formal gardens, all these exotic places must flow from one to another, making each country unique but all part of the message unity. It's no wonder that Walt Disney World features over 300,000 species of plants from all around the world.
Another unique challenge is Animal Kingdom. Disney has done jungles before, so that was not a problem, but landscaping the animal habitats were. The horticulturist for the first time had to consider things like something actually consuming their plants and what is toxic to the different animals. On top of that, they had to find plants to fit in the cages that matched the theming that could survive Florida weather and need little attention, because most horticulturist were not fond of going in places like the tiger habitat.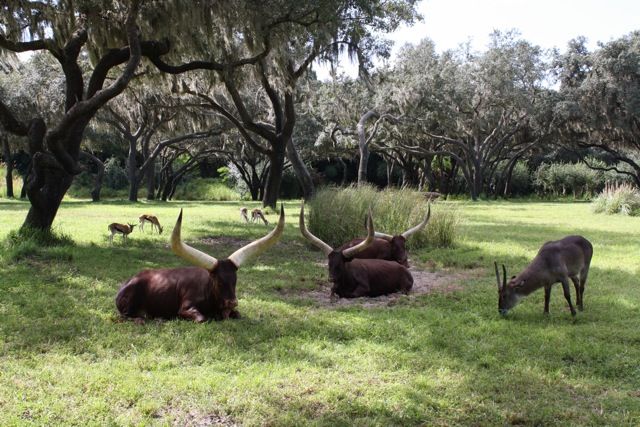 The pinnacle of Disney's horticulture is the Flower and Garden Festival, which is as much a celebration of the artistic genius and know how of the 650 professional horticulturist employed by Disney as it is the beauty of nature. Epcot's already visually stunning landscaping that flows so well with the park is enhanced will little effort with brilliant exhibits on landscaping. People from around the globe travel to this plant paradise, looking to learn from the best of the best.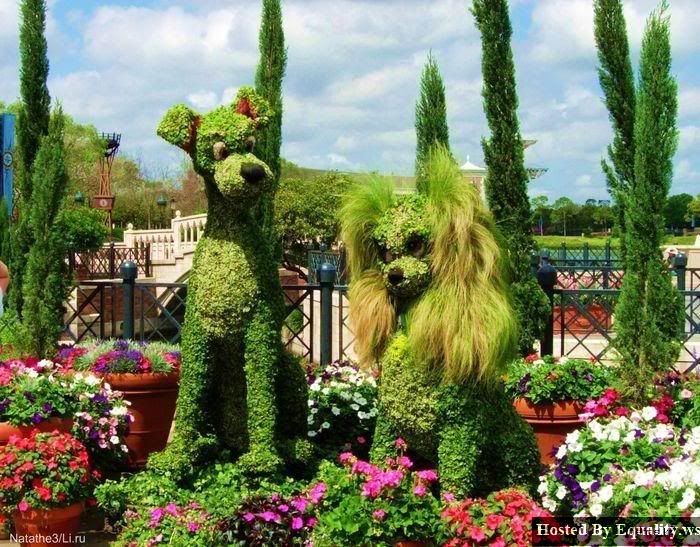 So next time you are at Disney, take a break from the rush to ride or eat or beating hte crowd and take time to stop and smell the flowers. Or at least to look at them.
Replies (12)
This article has been archived and is no longer accepting comments.