Theme Park Insider's 2011 Year In Review - January
Note: The editor of these articles has insisted that I make the soon to be obvious point that while there may be some real news in here, the key to these articles is a sense of humor. While your own recollection of these stories may be a little different than what is presented below, your recollection is quite possibly closer to truth. While it was requested that I keep to the facts, I realized quite quickly in this process that 1) Facts have to be researched and 2) I am lazy….
If you are like me, when someone asks you what you did last weekend, you typically default to an, "I don't know, not much," unless you just returned from your latest vacation at some eyeball-searing billion-dollar theme park. In my case it is particularly bad, and if someone were to ask me what I had for dinner last night or for breakfast this morning, I would probably say, "I don't know… um… food of some sort?" It is not as if I don't remember things, I can name the manufacturers, height, speed, and year opened for most rides I have been on as well as some unique trivia bit about each one…..but after that there seems to be little left over for what I consider to be a moving target of garbage knowledge. I mean, who really cares if you can remember your kid's names? "Hey, you" works just fine.
This leads me to our actual topic today: the news. I think we would all be stuck on the answer of "nothing much" if we were to ask about what happened during the last year, but as the resident news person around here, I have to say that a ton of things happened this year. In fact two tons, maybe even three. This has been a fantastic news year for theme parks, started off with a fire on New Year's Day and it only got better after that. As a public service to everyone who reads this site, I will go over the last year in news, split down into the different months, recounting what was so great about this year, so that when someone asks you what happened over the year, we don't give them the, "I don't know, not much".
The captain has turned on the no smoking sign. Please fasten your seat belts. Keep your hands and feet inside the vehicle at all times. And try not to feel sorry for the poor bullet filled hippo.
Theme Park Insider's Year In Review - January
Islands of Adventure – On New Year's Day and several weeks before
finalizing the sale of Universal Studios to Comcast
, the departing executives tried one last ditch effort to cash out with the insurance companies and tried
to burn down Islands of Adventure starting with Dudley Do-Right's Ripsaw Falls
. What we found out much later was that the fire was meant to spread all of the way into Jurassic Park on one side, keeping Universal from having to break the news to Spielberg that they were going to knock down one of his rides again to expand the Wizarding World of Harry Potter. On the other side, the fire was supposed to spread all of the way down to Spiderman and thoroughly gut that ride as well, so that Universal could get out of the Marvel contract that Disney now owns, while at the same time getting all of the insurance money that they needed to start over from scratch with Transformers. Much to the relief of log ride fans across the world, Dudley Do-Right's Horse was able to put out the fire by urinating on it after having been held over on a long shift without a break. Realizing the size of crowds drawn by something burning,
Universal raises their admission fees
and passes out free books of matches to all guests under 10 years of age.
Magic Kingdom – Not to be outdone by Universal,
Disney attempts to burn down the Tiki Room: Under New Management
, but even a fire couldn't stand being in that place longer than a couple of minutes and puts itself out of its own misery. Citing "smoke damage," Disney charges cast members $20 a swing to take sledge hammers to everything the fire didn't quite get to. While most cast members were tentative about trashing something that Walt built, after turning the show on, they suddenly had a line stretching into Tomorrowland.
Islands of Adventure – After a mere seven months of being open, the
Wizarding World of Harry Potter sold it one-millionth Butterbeer
and increased attendance at the park by 30% with a single new ride and a themed mini-mall. After scratching their collective heads for several months, Disney responded
by closing down Magic Kingdom's Fantasyland
to have the whole thing replaced by a gigantic themed mini-mall and dueling Dumbo rides.
Disneyland and Magic Kingdom – Within weeks of each other, the two parks
started broadcasting TV on their castles
instead of the traditional fireworks. While the concept started out to be a gimmick to show maybe 15 people of the 50,000 that are at the parks on any given day, they quickly realized that cute kids really don't keep the ratings up. They then decided to take a page out of their own show, America's Funniest Home Videos, and show people falling, cutting in line, fist fights, pouring drinks down themselves or others, and many similar type videos. After being threatened with a lawsuit for publicly airing these videos, the two parks have decided to just project reruns of Dancing with the Stars and The Bachelor on the side of the castle.
Disney California Adventure - In an attempt to get more people to actually enter the park, California Adventure decided to take down its most popular attraction:
the letters spelling California
out in front of the park. This was also in response to many guest complaints about not having all of the other letters of the alphabet. In other news,
the steel structure that will eventually become the wraparound mountain range for Cars Land
has gone up. RIP: Timon and Pumbaa parking lot… we hardly knew thee…. I don't quite understand why when they want to make a land about cars, they rip up the parking lot. It would seem to me that the parking lot would be a perfect place to run into a bunch of cars….
Wallet Disney's Animal Kingdom – As if just doing the Jungle Cruise or the Kilimanjaro Safari wasn't good enough, guests who want to get closer to the animals while at the same time wasting three hours of their paid admission, can cough up and extra three digits to go on
a VIP tour of the park
. Highlights include being trampled by wildebeests, stepping across a stream on the backs of crocodiles, and becoming the afternoon snack of the lions.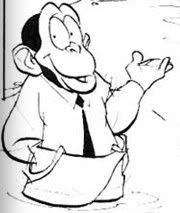 So there you have it: January. If you don't remember the month like I do, please set a monkey-boy straight in the discussion below.
All monkey pictures have been lovingly borrowed from the amazing artist Frank Cho and his long deceased comic strip Liberty Meadows. No monkeys were harmed during the production of this article, but we think that it may be a good idea if monkey boy doesn't start writing these things a bit faster….
Replies (5)
This article has been archived and is no longer accepting comments.