Theme Park Insider's 2011 Year In Review - May
Note: The editor of these articles has insisted that I make the soon to be obvious point that while there may be some real news in here, the key to these articles is a sense of humor. While your own recollection of these stories may be a little different than what is presented below, your recollection is quite possibly closer to truth. While it was requested that I keep to the facts, I realized quite quickly in this process that 1) I am unlicensed in most states and 2) I could really use a breath mint.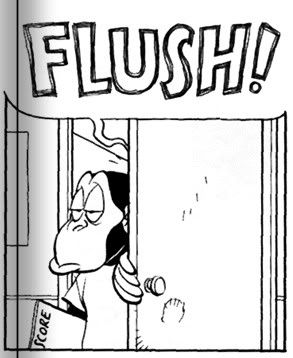 May, the start of the season while the bratty little young'uns are still stuck in school. Finally, at long last, we get a stinkin' day off from work, but unfortunately, so does everyone else, so getting out to the parks is really not much of an option…. It would be more fun to stand in front of your TV for three hours at a time, watching infomercials pausing for two minutes for to do the greatest thing in the world and the back to standing in front of the infomercials again. Oh, and nothing really happens in May.
The captain has turned on the no Jihad sign. Please be sure to pull down firmly on the overhead restraints so our ride ops can more easily come in right behind you and give the restraint the one last click that pinches your junk. Keep your arms and legs inside the vehicle at all times. And feel free to hum along with the robotic dolls when the ride breaks down.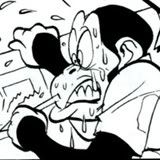 Theme Park Insider's Year In Review - May
Universal Studios Singapore – Language is a strange thing, while they do speak English in Singapore, apparently some of the words they use don't quite match up to what they mean in the other English-speaking nations (although let me take a moment and un-include Texas in this discussion, I can't understand anything they say). Apparently the term "grand opening" means a date that is nearly a year after the park really opens when management no longer needs an excuse for why certain rides are not working. (But even the word birthday is one that I have problems with… you only have one birthday, and getting trashed on it may stunt your later development; although like many of my later "birthdays", I don't remember much of it. What most people call their yearly birthday is actually your birth anniversary. So let's try to get this right.) Without further delving into a linguistic symposium,
Universal Studios Singapore held its grand opening
that they had been rehearsing for a year. But you know how it is trying to get everyone's schedules to line up….apparently the executive assistant tasked with finding a day that everyone was available for the grand opening was unable to find room between all of those important donut and coffee meetings until they had looked an entire year into the future. To go along with their grand opening/reopening the park opened its Madagascar ride. The Madagascar ride should be a case study of what can go wrong with a ride system, since the attraction was originally supposed to be a two story attraction, but they were unable to keep the second story from leaking water everywhere and had to redesign the attraction mid-build.
Cedar Fair – Drinking at the corporate offices is officially banned. No champagne, no beer after work with co-workers, no Irish cream in the coffee, no wine at the corporate dinners. This ban came shortly after a very impressive toaster showed up at the company headquarters, the free gift for purchasing 27 WindSeekers. The toaster has 35 special functions, can be preloaded with 6 different types of bread, auto detects the level of toastiness, can be programed for the preferences of 150 different users, automatically smears your bread with your choice of 14 different jellies or 18 different cream cheeses, and communicates wirelessly with the coffee maker to make sure that both items are timed to be completed at the same time. The WindSeeker, however, just spins around. I wonder if the queue line for the toaster is themed…
Six Flags – This park chain opened the new season by graduating up from ridiculously high parking fees to just committing armed robbery as people pull through the front gate.
Universal Orlando – In a major announcement that the park had been hinting at for nearly a month, the park confirms
that Despicable Me is going to replace Jimmy Neutron
, completely disappointing people like yours truly who had gone so far as to plan for shutting down most of the park and installing How To Train Your Dragon, Lord of the Rings, more Harry Potter stuff, Avatar, Madagascar, and an innovative attraction built around crappy comedy romance movies.
Disney Company – On both coasts, the
Disney Company opened Star Tours: The Adventure Continues
, an innovative attraction that allows the simulator to
randomly play different sections each time you ride it
. I am personally a fan of the combination of Jiggle – Shake – Vomit – Shake pt2 – Vomit pt2 & pt3 & pt4.
Busch Gardens Tampa –
Cheetah Season opened
with their new launched roller coaster, Cheetah Hunt. After taking a ride on this new thrill machine, I went over to the Cheetah Meat and Pelt Company for lunch and found that cheetah does taste quite a bit like chicken.
Disney's California Adventure – After having nearly the entire park closed for construction, the park finally decided to
open the Little Mermaid ride
that had been in the design stages for nearly 15 years. Like many nostalgic things, within minutes of the ride opening up, people realized how old and boring the Little Mermaid was.
Notable openings also include the Dare Devil Dive at Six Flags over Georgia and Dinosaurs Alive at Kings Island. Neither of which received much press here, because they are not in "theme parks." The Dinosaurs Alive attraction is one that I am particularly disgruntled with. Yes, it is an upcharge attraction with an additional upcharge movie that goes with it, but my real beef is with the name. If the name is Dinosaurs Alive, I want to see some actual dinosaurs that are actually alive. The name of the attraction is not Crappy Single Pivot Point Robotic Dinosaurs that Sound Like a Dog Fight Through a Rubber Tube, but that seems to be what we got. I would not expect crappy robotic zebras if the attraction was called Zebras Alive.
So there you have it: May. If you don't remember the month like I do, please set a monkey-boy straight in the discussion below.
All monkey pictures have been lovingly borrowed from the amazing artist Frank Cho and his long-deceased comic strip Liberty Meadows. No monkeys were harmed during the production of this article, but monkey boy did get mentally traumatized with the press of post-holiday shoppers last night after he was able to chew through the chains keeping him at his writing desk.
Replies (3)
This article has been archived and is no longer accepting comments.