A look at Universal's Cinematic Spectacular in soft-opening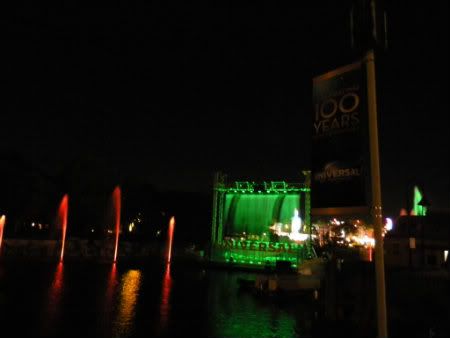 On my current Orlando vacation, I was lucky enough to experience Universal's Cinematic Spectacular in soft-open twice! The first show was on April 25th and the second was on April 30th. The show started at 8:30pm both of those nights. It lasted approximately 20 minutes and could be viewed from every angle in the lagoon. I grabbed a seat about 10 minutes before the show started. Almost all the seats were taken, but I was able to find a few still empty on the deck behind the Richter's Burgers Co. building. The area was posted "Splash Zone". During my first viewing, I hardly got wet. An occasional mist cloud blew in my face during a breeze. The second show was a different story. I only sat one table further down from the previous show, but this time there were 25mph wind gusts. High winds, plus 50 foot water fountains, equals SOAKED! I had to laugh because I told my family that we'd be fine because I knew that I didn't really get wet the first time around. Well there goes my credibility!
The show itself was great! The water screens are surprisingly clear and the colored fountains help set the mood for what is on the screen. There are clips from pretty much all of Universal's most memorable movies over the last hundred years. Everything from action, to comedy, to romance, and of course horror. And the commentary from Morgan Freeman really brings everything together. It even gave me the chills a couple of times... or maybe it was the water and wind!
Universal did a great job all in all. I have seen some of Disney's night time shows and I'd have to put this on par with them. This show is way better than the Universal 360 lagoon show in my opinion.
I asked a team member and they told me that the show should be running in soft-open every night that the park is open until 8:30pm from now to the official open on May 8th (weather permitting). To find out for sure, check for signs around the lagoon that say sneak preview or ask a cast member at the gate.

Replies (12)
This article has been archived and is no longer accepting comments.