Mickey's Halloween Party: Trick-or-treating for the rest of us
When did you (or your children) stop trick-or-treating?
I suspect that, for many, once someone gets to middle-school age, trick-or-treating on Halloween begins to fade into childhood memory. Kids in double-digits are more often likely to get a disapproving look along with their candy. Friends might start laughing or sneering at classmates who still choose to dress up and work the neighborhood.
But some kids love trick-or-treating, and don't want to give it up.
If you look young enough, I suppose you can keep trick-or-treating for a long time. One of my wife's college friends was small enough that she could pass for a child and get away with trick-or-treating well into graduate school. But what do you if you're a normal-sized middle- or high-school student who just wants to keep being a kid for one more night?
Fortunately, for people who live in Southern California or the Orlando area, we have an out: Mickey's Halloween Party. (Throw in a "Not-So-Scary" if you live in Orlando.) At the Disney Halloween party, everyone can trick-or-treat and no one's going to look at you funny for getting your candy fix. That makes this party a great alternative for families with kids who are at that "in between" age when they still want to dress up and collect candy, even if some of the neighbors don't approve. Heck, it's a fun option for grown-ups who'd like to get their own candy stash, too, without having to raid their kids'.
C'mon. Raise your hand if you've ever enforced the "daddy tax" or the "mommy tax."
At Mickey's Halloween Party, everyone in the family can dress up (or not), grab a bag and fill it up with candy all evening long. Or if candy's not your thing, you can enjoy ride time on several of Disneyland's or the Magic Kingdom's top attractions, a special fireworks show, and a Halloween parade. Both parks put out many Halloween-themed sweets for sale, for anyone looking for a non-candy treat.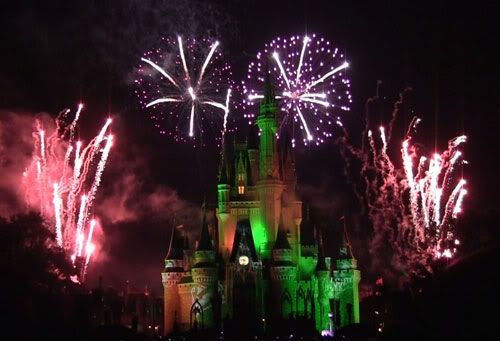 This year, I've heard that visitors with diet restrictions, including nut allergies, can go to City Hall in the Magic Kingdom to exchange the candy they collect during the evening for more acceptable treats. (Disneyland's party hasn't started yet, so I haven't heard if the same policy will be in effect on the west coast, too. *Update: See the comments.)
If you go, here's my number-one tip: Go as deep into the park as you can, as far away from the castle as possible, before you start collecting candy. Disney distributes candy in several zones around the park, and the ones nearest the castle can be mobbed with nearly hour-long waits early in the evening on some nights. Start at the far edges of the park and work your way in - the opposite approach that most families will take.
And don't be afraid to hit some rides while lots of other visitors queue up for the sweets. Disney won't run out if you wait until later in the evening to fill your bags. Disney trucks in a ton of candy for each night. That's not a euphemism. They literally have one ton (or more) of candy on hand for each night of the party.
Trick-or-treating doesn't have to end with elementary school. You can keep on acting like a kid on Halloween. That's why I love living in Southern California, where every fall we can go to Mickey's Halloween Party.
Mickey's Halloween Party runs at Disneyland on select nights from Sept. 28 - Oct. 31, with tickets from $54-$69.
Mickey's Not-So-Scary Halloween Party runs at Walt Disney World's Magic Kingdom on select nights from now through Nov. 2, with tickets from $56-$70.
Replies (13)
This article has been archived and is no longer accepting comments.