How not to plan a trip to a theme park: Iron Rattler edition
For the past several months the Six Flags Fiesta Texas website had heralded
Iron Rattler
as opening this spring. This left considerable room for conjecture, as spring officially began on March 20 and summer doesn't begin until June 21. Repeated telephone calls to the park failed to yield any definitive information so everything was still up in the air. The website is now advertising the new thrill ride as opening this summer but it would appear that the official debut will actually take place in the spring, on May 15. So there it is; we now have a date and an end to the suspense. Mark your calendars! However, I am getting ahead of myself and telling the story in reverse, so I will start at the beginning.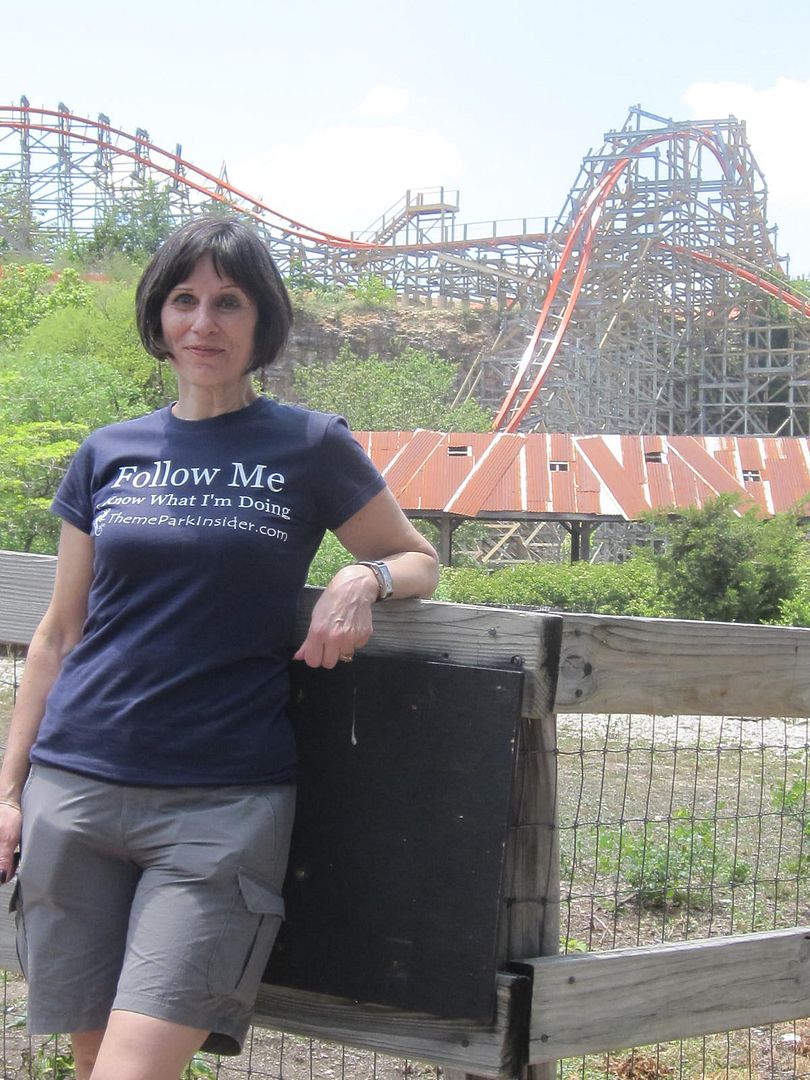 Planning a trip around the anticipated opening of a roller coaster is a serious mistake, as I recently discovered. Several months ago I purchased a non-refundable flight from Philadelphia to Phoenix with a stop in San Antonio along the way, the purpose of the stop in San Antonio being to ride Iron Rattler. Unduly optimistic, I had had high expectations that Iron Rattler would be up and running by the time I was scheduled to depart. Of course, it was not yet up and running but because US Airways was going to charge me $300 to postpone my trip, I ended up going anyway.
Shortly after arriving at Six Flags Fiesta on Sunday, April 28, I went to the hospitality booth, explained that I write about roller coasters and had come all the way from Philly, and asked whether it would be possible to at least get a behind the scenes tour of Iron Rattler. (I did not misrepresent myself as a member of the media, which I am decidedly not, but did mention that I had had an article published on Theme Park Insider.) It would appear that no-one in the PR department was available so this never came to pass. (More poor planning on my part, leaving it to the last minute, although I had a good excuse insofar as I had been battling a virus and didn't know whether I would be up to making the trip until the day before my scheduled departure.)
My visit to the park therefore began on a note of frustration. All I could do was look longingly at Iron Rattler and although I knew that they had been testing the ride with water dummies for some time, I never even got to see one train go up. So I had to made the best of a bad situation and try to get some enjoyment, thrills, kicks, whatever from the rides that were operating. Superman Krypton Coaster struck me as the most promising of the lot, and I was not mistaken in my perception. The scenery (lift hill and first drop hang over a cliff), angle of the drop, 145-foot vertical loop and zero-G roll followed by 4 additional inversions made for a pretty good ride -- good enough that I rode it 3 times in succession.
Next up was Poltergeist, which I thought was fun but nothing to write home about. The launch out of the station was indeed a blast and the compactness of the track is rather remarkable but otherwise I didn't find it in any way exceptional except for the fact that this was this first time I'd ridden a coast with inversions without a harness. (The restraint is a lap bar; so much the better, as this was sort of an audition for Outlaw Run, which is on my list for this season and which of course has nothing in common with Poltergeist other than inversions and a lap bar as the primary restraint.)
Boomerang Coast to Coaster was the least attractive of the options but because it was there, I felt obligated to ride it. Although I've ridden some of the biggest and baddest coasters around and consider myself a seasoned veteran, this coaster really threw me for a loop. Being pulled up the first lift hill backwards had me completely unnerved, as it felt as if I was going to pitch forward at any moment and I had to brace myself hard with my feet. I could hardly wait for the catch car to release the train so that we could go hurtling downhill and get out of this uncomfortable position. Fortunately, going down the second lift hill backwards was a lot easier than going up the first lift hill backwards although going through the vertical loop and cobra roll in reverse was more disorienting than going through these inversions with the train facing forward, I came to the conclusion that Vekoma and I simply do not get along and will make it a point not to ride this type of coaster again.
Between rides I kept returning to Iron Rattler in an attempt to get closer to it. This was impossible. I couldn't find a path that would lead me around the side and wasn't at all certain about the location of the entrance. I did see one large area that was fenced off and covered; this would logically be the best way to enter the loading station but what do I know?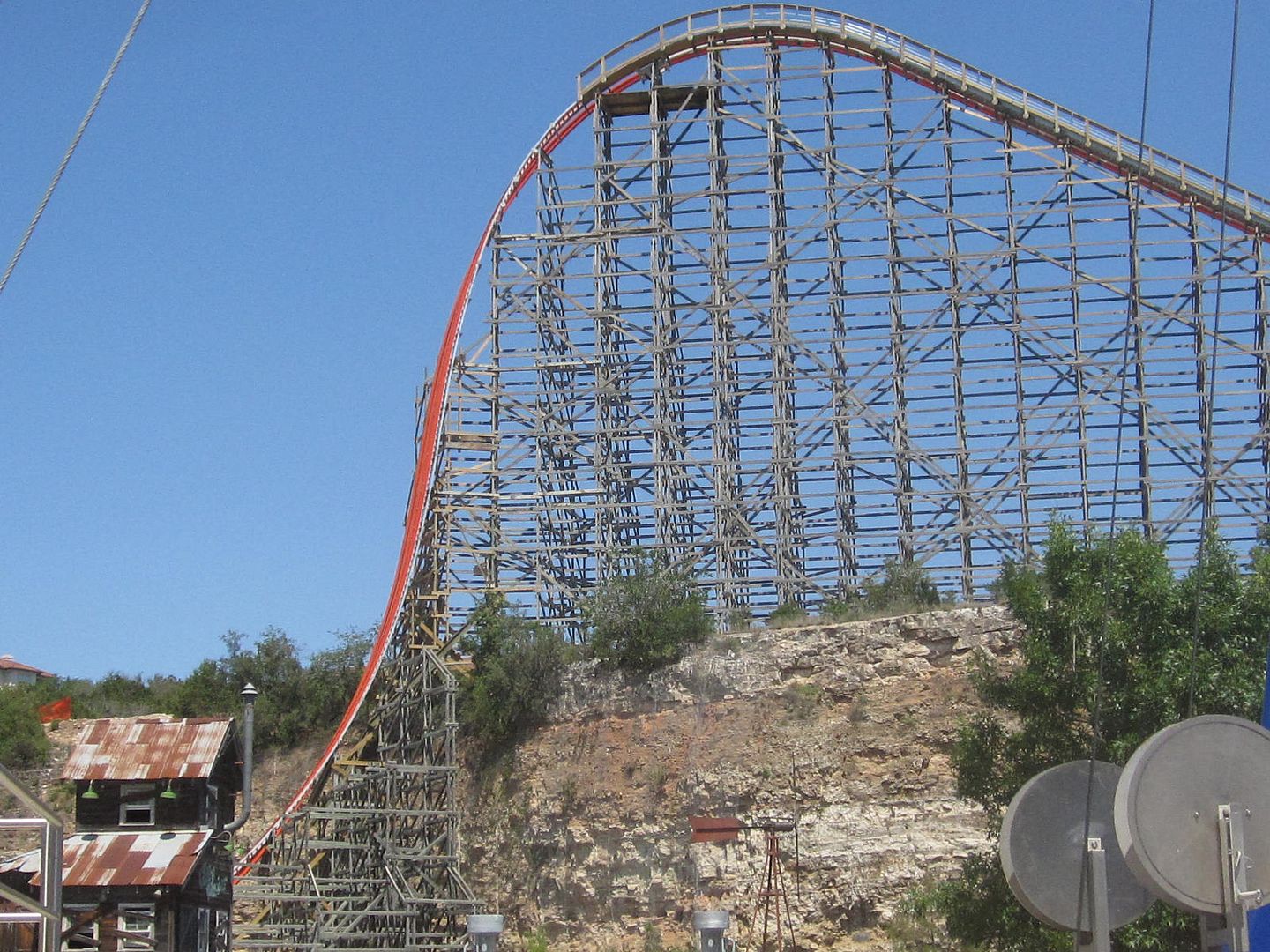 It was almost time to head back to the airport to catch my flight to Phoenix but Goliath, close to the park's entrance/exit, in its third incarnation since being transplanted and renamed twice, certainly deserved a shot. This proved to be a fun ride but again, nothing earthshaking. It's an enjoyable coaster with 5 inversions and a limited drop (80 ft.), pretty much a case of been there, done that.
Six Flags Fiesta Texas is a beautiful park but my take on the ride lineup is that it's less than exceptional -- although that may change with the opening of Iron Rattler. The rides, in my opinion, are simply not of the same calibre as those at my home park, Six Flags Great Adventure. I also felt that there was an overemphasis on inverted coasters and the park could use a ride like El Toro or Nitro. Still, it wasn't a waste of time to go there. The park staff was great and one of them engaged me in an animated discussion of roller coasters. Anyone who likes to talk coasters is OK by me. This guy highly recommended Six Flags Over Texas, claiming that the rides there were better than at Fiesta, and I do not doubt it. Despite my disappointment over the Iron Rattler situation, I managed to enjoy myself, have new experiences and get fresh material for my roller coaster blog.
As a footnote, I should mention that after my visit to Six Flags Fiesta Texas, I received a very nice email from the marketing director of the park, inviting me to the media event on May 15 and offering me the opportunity to be among the first to ride Iron Rattler. This would certainly be an exciting opportunity but having just returned from Texas, I don't think that I can afford to go back there quite so soon or take more time off work. My timing is so off I could cry. Don't ever take my advice about planning a trip to a theme park.
Replies (10)
This article has been archived and is no longer accepting comments.