Universal's Islands of Adventure... Best theme park?
Universal Orlando:
Does this revolutionary, state of the art theme park still reign as the top-dog?
While many would argue that Magic Kingdom, Epcot or Disneyland are the best, I lean towards my all time favorite theme park, Islands of Adventure. This is probably the park I've visited the most in my 16 years of existence, and it continues to be my favorite theme park. From the moment you walk under "The Adventure Begins" and into the Port of Entry where you hear tranquil and exotic bells and chimes and the distinct roar of The Incredible Hulk Coaster in the distance, to the moment you've explored some of the greatest theming offered and you pass under "The Adventure Lives On", knowing you've had a full filling and true theme park experience.
I do agree that some things need work, such as the sketchy theming throughout Ripsaw Falls and the seemingly awkward transition between WWoHP to Jurassic Park where you can still see the huge, white show building for The Forbidden Journey. But these are minor flaws and don't restrain the park from being beautifully themed and of course, well maintained.
Does anyone else agree that Islands of Adventure still holds that amazing impact that it had when it first opened in the late 90's? I do, and I think the park will only get better and better. That's why I think Islands of Adventure is the epitome of theme parks. (Atleast in the U.S. because it does have to compete with DisneySea...)
Suess Landing: When I was here a month ago, this island was in need of fresh paint. I would go on Cat in the Hat more often if they intensified the spinning. The rest of the rides hold little to no interest for me. NEXT!
Lost Continent: Oh yeah, this is still here? The shows aren't good and I've yet to eat at Mytho's, but there's good themeing. SKULL ISLAND PLEASE! Oh, and NEXT!
WWOHP: By far the best themed island in IOA. It really puts you in Harry's world! The shops are amazing, as is Butterbeer ;) As far as rides go, FJ is good but highly overrated. Dragon Challenge is too intense for me, and FOTHG is a waste of time IMO. NEXT!!
Jurassic Park: How can you not hum John William's theme while walking through here? Amazing themeing, but it's in desperate need of a ride, namely the coaster they're about to build. JPRA is useless in the winter (AKA now), and of course, the Pterylideon, sorry, Pteryglyer, nope not that, Pteryla.. WHATEVER THE FIRST WORD IS Flyers, where you need a kid to ride it. NEXT!!
Toon Lagoon: Good if you're looking to get soaked, which I'm not. NEXT!
Marvel Superhero Island: Home to one of my favorite rides, The Amazing Adventures of Spider-man! I love that ride, nuff said. As far as the other rides go, it's gonna be a while until I go on Hulk, and the other two are just typical carnival rides.

Overall, while a great park with great themeing, it's in need of a new ride. For those wondering what my top five parks are,
1. Magic Kingdom
2. Universal Studios Florida
3. Disney's Hollywood Studios
4. Islands of Adventure
5. Epcot (if Test Track is good enough it moves up to 4)
Personally love IOA but my issue with it is the lack of depth
If you take the E-tickets
Hulk, Spiderman, Ripsaw Falls, Popeye, River Adventure, Forbidden Journey, & Dragon Challenge
versus
Magic Kingdom
Pirates, Jungle Cruise, Big Thunder, Splash Mountain, Haunted Mansion, Little Mermaid, Space Mountain
It's actually fairly close on big ticket rides the difference is the depth between the two while I actually like Hippogriff for what it is as Kiddie Coaster, and Seuss landing is under utlized as a theme (but is freshly painted)
heck come late spring for those that enjoy shows I can see a pretty good debate for sea world if "Harry Penquin" is as good as advertised, pending a wild artice refurbishment
But best theme park? Nope. Disneyland holds that crown. Always has, always will.
One Fish, Two Fish…
WWOHP is epically beautiful… Butter beer is sweet and delicious. FJ is underrated.
Magic Kingdom is nice but overcrowded with many non-exciting attractions…

While I get that some people might not like it and prefer the pace at the Magic Kingdom I serously dont get trying to compare the two. They are massivly different experiences and using a Magic Kingdom slanted view to judge IOA does not work as for example if I was to use my IOA view to look at the Magic Kingdom, Id say
It has two bring your granny coasters !!
3 fall asleep outdated effects water rides one of which is falling apart
A whole load of filler rides which are basically nicked from carnivals ie Dumbo
A massive castle that just a boutique and restaurant
and a whole load of sit their and drift off to sleep rides like the Hunted Mansion, Small world etc that just give you something to do to kill the time
Now thats not fair and its completley wrong The Magic Kingdom is a great park its been around for as long as it has for that reason. But you cant fairly stand back and judge it with your IOA glasses on and its the same vise versa.
At the moment IOA is the best park you will be blown away by the theming the rides and the whole Universal experience if you let yourself
I don't understand the allure of Disney either. No one seems to realize it is a collection of attractions exactly as you described above. Every tame ride has a story to make them seem better than they actually are.
As for Magic Kingdom, I don't see the high praise either. They let their attractions fall into disrepair (Splash Mountain), some look and feel like they haven't been touched since the 70s (Space Mountain) and others are too much of a drab to even bother (Enchanted Tiki Room, Country Bears, Stitch, etc.). I feel like the reason that Magic Kingdom is held so high is because it relies on the few great classics in the parks and the fact that people just want "Disney". I mean the last legitimate E-Ticket was Splash Mountain...
Having said that, I still do love Magic Kingdom. I just think it's losing it's charm for me... I would love to visit Disneyland, as it seems to be a much better park that Magic Kingdom. Until then, Islands of Adventure remains my favorite theme park.
On a side note, that designation could change in the near future (with either a visit to a park I've never been to before, or a major transformation *hint, hint*).
Besides fj and Spiderman there really isn't anything for me or my family.
Now when they add the grinch coaster or lorax ride hopefully both, change toon lagoon from shamoo's show to a well themed island, lc into potter or something relevant, add something to marvel then maybe but usf is on its way to being number 1 by 2016. They need to ship toon lagoon to the rumored water park on site.
The perks of staying at the resort makes everything seem connected as a whole. The CityWalk, theaters, both parks and all three hotels are basically one big entertainment complex.
1. The world's only launched B&M.
2. The world's only dueling B&M inverts.
3. Harry Potter and the Forbidden Journey's technology.
4. The Amazing Adventures of Spider-Man helped re-define the idea of a dark-ride.
5. Dual S&S drop towers.
6. The world's steepest log-flume that has a finale that is part roller coaster.
7. Arguably the world's best rapids ride.
The theming of each "Island" carries out into each attraction, greatly increasing the experience for each ride. This is something Disney has been doing for years but also something Islands of Adventure also proves to excel at. Then add in the fact that most of the rides use amazing technology throughout each ride such as massive HD screens, 3-D technology, audio-animatronics, lighting effects, fire effects, fully detailed sets, etc.
All of these factors, thrown in with the art of story-telling, are what makes Islands of Adventure's attractions so amazing.
Oh how mad that makes me! >:(
The good news is, UOR will more than likely use the revenue to take it even further. I see Fear Factor, Shrek 4D, Tony Hawk, T2-3D all being replaced with something soon.
The Simpsons expansion, Suess, and Triceratops demolition are all apparently a go as well. Still waiting for the Hulk to get the long-awaited green LED treatment.
I have to say, I am really impressed at the work they are pouring into the entire resort.

Foolish to add that if its getting closed

kind of thought Wicked made more sense going to T-2's building
Nothing is known on what would replace Shrek. All I know is it will be gone once Diagon Alley opens. (My sources are from Orlando United)
Port of Entry transports me to an exotic world even before I enter the park. Neat gimmicks abound everywhere! However, the unthemed areas of the Islands of Adventure Trading Company (Please correct me if I'm wrong about the name) really ticks me off and breaks the theme of the land. The park lacks both a parade and a night time spectacular, attractions that would make the park much better. Some lands are well themed (Wizarding World, Lost Continent, Suess Landing), while others (Jurassic Park, Marvel, Toon Lagoon) are some of the weakest lands in Orlando. Major flaws include the lack of attractions in the Lost Continent, Dragon Challenge, Lack of open attractions in Jurassic Park, Rip Saw Falls, Hulk, Fearfall, Accelatron, Cat in the Hat, and the Trolley Train Ride.
Other Orlando parks have their flaws, but they do more things right compared to Island of Adventure. If Islands of Adventure fixed more things and added a few more attractions, it may be the best park in Orlando, but it has a long way before becoming the best park in the US, let alone the world.
Jurassic River Adventure and the Jungle Cruise are very different attractions. Jungle Cruise derives its amusement from the Skipper,amazing scenery, and fun AAs. JRA provides its riders with a thrill, cool scenery, and AAs. As a big coaster fan, It's understandable for you to enjoy JRA more, but anyone who isn't could easily enjoy JC more. I personally enjoy the JC the most, but JRA isn't far behind.
I've never understood why people like Rip Saw Falls so much. The drops are fun, but Splash Mountain's drops are just as thrilling. Even in its current state, SM's scenes blow RSF out of the water! There is no comparison between these attractions until Universal decides to better theme RSF.
Between Haunted Mansion and the Forbidden Journey, I completely understand why people love FJ more. I think your judgement is correct with it.
But Dumbo and the Fish? Dumbo has far more detailed in theme. The Queue for Dumbo moves faster and is a paradise for young children and parents alike. And Dumbo doesn't have annoying loud music! Fish does have some water effects, but they don't compare to Dumbo's attributes.
Hulk has a fun launch and the rest is a decent B&M. The queue is poorly themed and poorly kept (unless they've changed it since April). Magic Kingdom coasters are not super large, but they provide decent thrill and are very well themed. In my opinion, they are much more fun than a six flags style coaster.
I'll save a detailed Fantasyland/Harry Potter argument for another day as I have yet to see the new Fantasyland. However, the rest of Magic Kingdom (minus Tomorrowland) is just as well themed as Wizarding world, something you can't say about most of Islands of Adventure.
My only complaint about them is that the Forbidden Journey's show building is very visible from Jurassic Park and Toon Lagoon needs another ride.
The only thing I could see that people would gripe about are the super-hero cut-outs on the buildings. They do add the super-hero presence, but I would love for them to be 3-dimensional. But then again, that wouldn't be like stepping into a comic book, would it?
I noticed you said Marvel Super-Hero Island had Six Flags theming...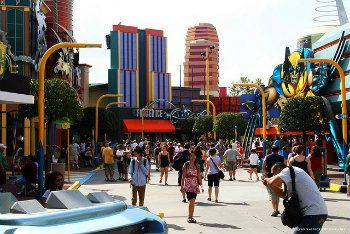 At Islands of Adventure, you walk into a fully detailed super-hero comic book city where the action is all around you.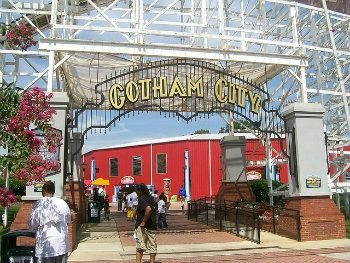 At Six Flags America, you walk under a wooden roller coaster and a sign that says Gotham City. Then you find a... Warehouse! At least the sign looks nice...
As for Toon Lagoon, I find the theming to be very immersive. You are literally stepping into the pages of the Sunday comics. Dudley Do-Right's Ripsaw Falls and the area around Popeye & Bluto's Bilge Rat Barges look positively amazing. My only gripe about these lands is the transition to and from Marvel. It looks really bare.
I'm not saying these lands are, "OMG PERFECT THEMING WOW IT JUST TOOK MY BREATH AWAY", but they deserve more credit than they get and I believe they are up to par with the rest of the park.
"Marvel Superhero Island is pretty much like Six Flags: amusement park rides slapped with a comic book character's name on it."
Maybe you should go to a Six Flags park before you compare IOA to one. I think you'd think twice before making that comparison if you did. And there's that boring old ride called Spiderman. Six Flags or Disney for that matter would love to find the amusement park ride that one is based on so they can slap their comic book character theming on it and put it in their parks.
"And Toon Lagoon really isn't themed good TBH."
Compared to what? I can think of several locations in Epcot and Disney Studios that are far less themed than Toon Lagoon.
I also think you are missing the intent of the theming. It is supposed to remind you of the comics section of the Sunday morning newspaper. I don't particularly like it myself, but I recognize what they are trying to do.
I'm not going to say that IOA is better than the Magic Kingdom because there are a few weaknesses in their array of rides (indoor dark rides for the family), but it seems like I go to IOA and USF a whole lot more these days than I go to the Disney parks.
You need to learn to ride a few big boy coasters and thrill rides so you can fully appreciate IOA.
Tim, did you ever think I can't handle the coasters?
Still trying to figure out if that "typo" was intentional.
For someone who doesn't go to any parks outside the Sunshine State and has made his feelings about "real" roller coasters pretty clear, you've got a lot to say about something you don't know. And please don't use "Well, I've seen pictures/reviews/videos" as a defense.
There's an old(ish) saying, Dom...Don't knock it 'til you've tried it.
Honestly, a large B&M, The Incredible Hulk Coaster is amazingly themed. The launch tunnel is amazingly themed from the outside, as is the queue building. The launch tunnel itself has lighting effects and audio. The ride is even accompanied with a story-line. Plus, the way the ride interacts with the Marvel Super-Hero Island by diving under the bridge itself, corkscrewing around the launch tunnel and of course the iconic cobra-roll and loop over the park's central lake is just beautiful, making The Incredible Hulk Coaster one of the most iconic and photogenic roller coasters on the planet.
Doctor Doom's FearFall is also themed very well. No it doesn't have an elaborate haunted hotel built around it, but it does have an ominous alley that leads to the ride. If you look closely at the pavement, you'll see the prints of the Fantastic Four who have fallen off of his contraption. The queue is very impressive and creepy. Definitely an awesome queue and story, as you're having the fear sucked out of you to help give him power to defeat the Fantastic Four.
I can't say much about Storm Force Accelatron. I does have some lighting effects and audio, but it is no better themed than the Mad Tea Party at Magic Kingdom.

IOA is great and the best of the Universal parks, but there is no comparison to Disneyland.
I would love to visit Disneyland actually! It seems so much more charming and beautiful than Magic Kingdom here in Florida.
I guess I shouldn't judge since I haven't visited Disneyland yet, but there is no denying that Universal's Islands of Adventure is an amazing theme park.
The truth is that IOA is a great park, but thats because they went "Disney" on their concepts. They made themed lands and filled it with both detail and attractions. I believe its really the only non studios park in the Universal Line.
I would highly suggest going to DL, but also to visit USH. That parks makes DHS and USO look like pretend. USH is where the movies ACTUALLY are made!
And yeah, I want to go to Califonia so bad!
But I for one dont care about the outside of the ride building as long as the storyline and the ride inside are amazing...
Now Ill say straight out I dont get the notion that Disney Theming is so much ahead of everyone else from my experience its not.Again the Magic Kindom is the example ill use
Space Mountain = a big white circus tent ??? How does it fit i with the park and where is the theming
Splash mountain = Animatronics and rock effects no que theming??
Big Thunder mountain = Tame roller coaster going around a mountain Im always being told their is a storyline but all I ever noticed was the blandest que area in Orlando and the slow coaster
Haunted Mansion = entertaing effects ride with outside que with a couple of funny headstones and a long boring cue. It looks like the Munsters house from outside and is totally out of place in its section of the park
Pirates= Big long boring que in the dark no outside theming that has anything to do with the ride whatsoever
Jungle Cruise : So unoticable that you can walk right past it
Tommorow Land : Has no connection with the rest of the park whatsoever and stands out like a sore tumb if it was in Universal Disney fans would be caling it tacky
(have not visited Fantasy Land)

Epcot = Theme golf ball and concreate with restaurants themed as copy of other palces in the world
Hollywood studos = Themed to look like what Disney thought Universal studios would look like
Animal Kindom = Designed to look like a Jungle so they got that one 85% right the 15% wrong being Dinoland (Canival Rides) Seriously how is this a well themed fit it looks so Tacky that if it was on International Drive no one would think it was out of place ?????
So simply put no longer am I willing to listen to the Theming argument from Disney Fans it actually dosent stack up when you look closly you will see far more jaw dropping theming at Universal its done to a better standard and follows it up with a ride thats amazing and if you can see a tiny corner of a ride building well get over it
MK vs IOA
Lets try and go apples to apples
Port of Entry vs Main Street: Draw, while i prefer Port of Entry and its quirky feel, I understand why people opt for the classic main street
Jurrasic Park/Toon Lagoon vs Adventureland/Frontierland
The reason these are grouped is the while theming for Jurassic most resembles Adventureland but attractions match up with Frontierland better
River Adventure is slightly below a fixed Splash Mountain but having Rip Saw Falls defintly gives IOA better flume combo
But no answer for Big Thunder at IOA (yet)
Popeye while different than Jungle Cruise is a superior ride by virture of the fact name a rapid ride with better theming length, while Jungle Cruise you need the right skipper
The Flyers vs Aladin yes its not fair: But the flyers are actually a good fun time (i have a kid so no problems) but funny how it gets crucfied for its line while Toy Story Mania gets a pass
Camp Jurrasic vs Tom Sawyer: Current Day It's Camp Jurrasic by a landslide, Tom Sawyer's upkeep makes Splash Mountain seem pristine. Everything in Camp Jurrasic works with Superior Caves and a rope course
IOA has no answer for Country Bears, Tiki Birds or POTC
But Discovery Center over Swiss Family
Theming a draw as Jurrasic is probably Superior but Toon Lagoon while I like is not as complete as Frontier Land
So an edge to MK so far
Theming Even both incomplete
Hulk beats Speace Mountain
Storm Force draws with Tea Cups but to be fair Storm Force is actually attemping to do more
Webway vs Trolley draw the stories keep this one closer than you think
Carosuels Draw But no one picks their park via Carosuels
If I ran the Zoos vs Casey Jr : If I ran the Zoo
Dumbo vs One Fish: One Fish wins
The Cat vs Winnie the Pooh: The Cat wins a close one
No answer for Peter Pan (unless you count ET which is superior)
No answer for Phillarmagic, Monsters, INC, Grand Prix or Small World which is a problem for IOA
No answer for Spiderman at MK and that kind of sums it up IOA doesnt have the depth to match up with MK but it's "E-tickets" have no real parrel at MK
Harry Potter is Superior to Haunted Mansion with all due respect to a great ride
Hall of Presidents loses to Posiedons Fury barely but again neither attraction is a draw
Sinbad loses for still being open
Odds/Ends Dragon Challenge beats Big Thunder in an unfair competion
After all that: MK has superior depth of attractions while IOA has the Superior "e tickets"
honestly theming is pretty close between the two parks
Where MK would eventually have the edge is IOA's lack of a night show and day time lagoon show to balance out the parades and fireworks at MK

By the way I would put the Hipogrif(not sure on the spelling) as pretty good competition for Thunder Mountain Both are tame coasters you can bring the kids on !!!
Its the que that drives me mad having stood in it many a time. BTMR the ride itself is still v good but my point taken from Disney Fans is that theming is the whole park/land/ride/building/que.
So givin that definition a ride whos main ride area is themed brillianly but has a que which does not follow through on this theming or a ride building that is not equally well themed is overall not well themed....Thats the logic used when Disney fans are discussing Universal so the same should be applied to Disney
Ps I am totally biased as I love Universal ;)
I which hippogriff is far superior via ride,theme andviews
Yes WWoHP build out is incredible i actual take points off for it due to the visible tracks of its three coasters
but its theme doesnt make up for the lack of depth or park wide shows
MK has a lot of legacy rides with 60's technology, Epcot is about learning (for the most part), Animal Kindgom was built to compete with Busch Gardens and MGM/Hollywood was definitely Disneys quickly built answer to Universal.
UOR will continue to remove older rides / areas and replace them with new technology and the fans seem to get over the changes pretty quickly.
Disney's best bet is something spectacular involving Star Wars, but they will be forced to tone it down so small children can ride. Same goes with Avatar. If the leaked plans are authentic, it looks a lot like Soarin 2.0. You can bet there will be a Dumbo spinner involving the flying animals (I forget what they called them, but they weren't referred to as dragons).
Let's just come to a compromise by saying both parks are pretty dang good!
Danny, I agree.
Some of you Disney diehards need to come to the realization that "magic" in theme parks isn't the sole domain of Disney anymore. You need to give the folks at Universal their due for out-hustling, out-designing, out-investing, and out-"Disneying" Disney for well over a decade.
The debate is really going to get intense in a few years when all of the construction at Universal and IOA is complete or nearing completion and Disney is stuck in slo-mo with no Epcot fix, an on-again off-again Avatar land in a half day AK, no new Star Wars attraction in DHS, no new Pixar attractions, and only the upgraded Fantasyland and the Seven Dwarfs coaster in the MK to show for it.
Somebody is listening to the unwashed masses and it sure isn't Disney!
Tim, spot on....
Mine was an objective look, note I visit Universal virtually daily, sea world weekly and disney monthly
It's not a fan boy view, and irony is I have severe motion sickness and can't ride many of universal's e tickets , but I try and view them from my experience and exclude that portion as not everyone has that issue
Note sure if it will link or you will need to copy and paste but this is an article I wrote for Orlando Informer on improving their parks.
And #9 should make Dom happy and maybe a few others

There are only a couple of people on TPI that I consider a true Disney fanboy, but I don't think you are.
I think I can be categorized as a Universal fanboy, but my choice is based on multiple family vacations to both resorts. Disney was decent when my girls were little. My wife and I didn't have nearly as much fun, however.
Now that my youngest is 54" tall, there is nothing we can't ride together as a family and my daughters never stop taling about the next visit.
The difference between on-site stays at Disney and UOR is simply amazing, and that is why we choose to go back year after year. Yeah, we have to pay to park each day at the hotel.... that is the only plus at Disney, IMO.
I read the list at the link you posted. I agree with almost everything....
And did you read the HHN one I wrote on the same site

Yes, I have read the HHN article, but I don't go to HHN.
thanks patrick
I respond: So a Disney owned property has product placement in another company's theme park (drawing revenue from licensed retail sales) ... and that's a "problem?"