Busch Gardens' Verbolten drops (and drops) on May 18
Written by Robert Niles
Published: April 5, 2012 at 8:53 AM
Busch Gardens Williamsburg just put out the word.
Verbolten
will open on Friday, May 18.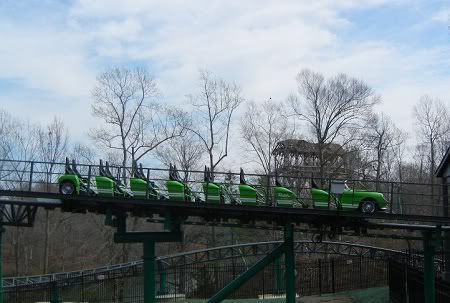 Verbolten's coaster train. Photo by TPI member Tom Rigg
The Virginia theme park's Zierer drop coaster will be the nation's first, featuring a free-fall drop inside a show building in addition to familiar elements borrowed from its predecessor, Big Bad Wolf.
We're planning to be on site for Verbolten's media day next month so keep reading Theme Park Insider for reviews, photos and video when the coaster opens.
Readers' Opinions
This article has been archived and is no longer accepting comments.
Previous article: Magic Mornings coming to California Adventure?
Enter the Wizarding World of Harry Potter
Insider's Pick: There's only one place in America to where you can enter the world of Harry Potter: the Universal Orlando Resort. With Universal Orlando 2014: The Ultimate Guide to the Ultimate Theme Park Adventure, you'll learn everything you need to know to save money and time while enjoying Harry Potter and all the other world-class attractions at Universal Orlando.
Get it! In paperback | For Kindle | For iBooks